Is it just us, or do you also see the uncanny resemblance between Ivanka Trump and Kate Upton? They're as different as night and day in terms of background.
One is a socialite and businesswoman, while the other is a Sports Illustrated cover girl and budding actress. However, if you put them next to each other, anyone clueless will easily mistake them for sisters. We've put them side by side below just to prove our point. Check out the pics, and then tell us if you disagree: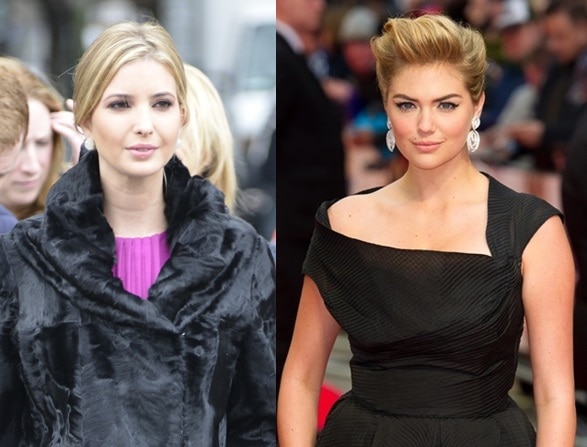 Separated at birth? Ivanka Trump and Kate Upton looking very much alike
See? Their eyes are very similar. No, scrap that. It's really the whole profile. Both ladies are tall, blonde, leggy, busty, and blessed with naturally pouty lips.
Speaking of Ivanka, the heiress was spotted shooting some scenes in Central Park for the latest season of 'Celebrity Apprentice' yesterday. Other familiar faces who were part of the cast were also there, but it was Ivanka who got majority of the attention. The blonde beauty looked exceptionally regal in a black fur coat and a magenta-hued frock peeking out from under the coat. She also had on a pair of standout heels. We couldn't look away from them because they were completely bold and exotic.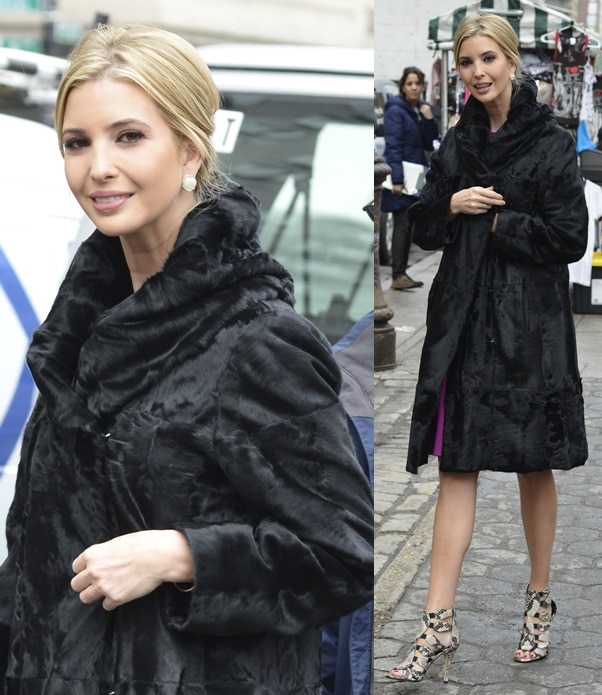 Ivanka Trump shooting some scenes for 'Celebrity Apprentice' at Central Park in New York City on April 8, 2014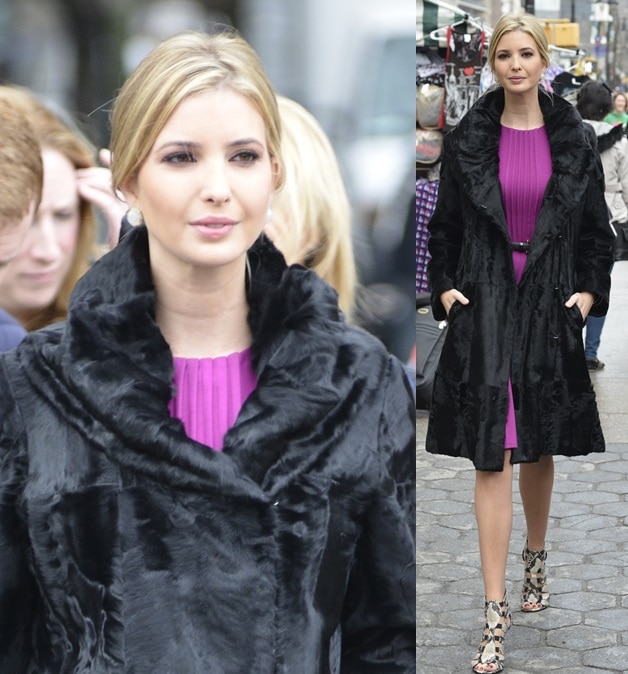 Ivanka Trump looked exceptionally regal in a black fur coat and a magenta-hued frock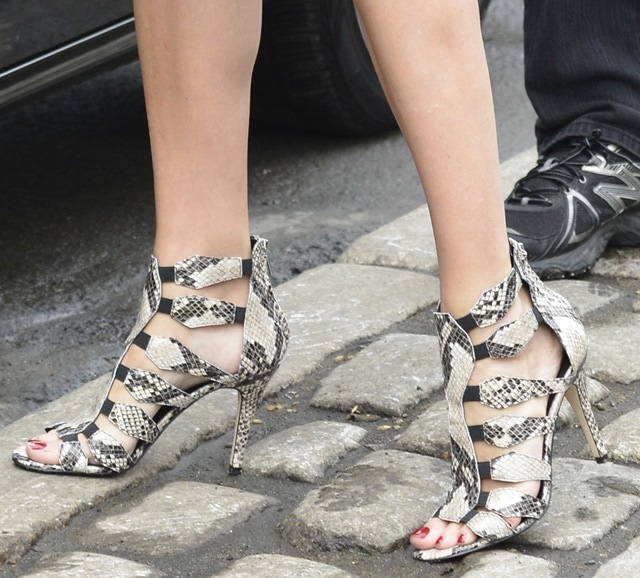 Ivanka Trump's pedicured toes in Sergio Rossi shoes
Ivanka Trump's feet in snakeskin sandals
As much as we'd like to think that Ivanka's sandals are from her very own fashion line so that we can easily afford them, sadly, they are not. It's a bit disappointing to know that most celebrities with their own labels don't really wear what they sell. But then again, we're also not surprised.
Ivanka's exotic heels are from Sergio Rossi. It took us a while to ID the pair, but we finally managed to locate them at Saks Fifth Avenue. They're part of the label's latest collection but are currently only available for pre-order. Below is a darker variant for you to scrutinize. They are made of snakeskin leather and feature straps with elastic insets for a more comfortable fit. These sandals sit on 4.25 inch heels, so they are moderately high.
Sergio Rossi Strappy Snakeskin Sandals, $1,295 at Saks Fifth Avenue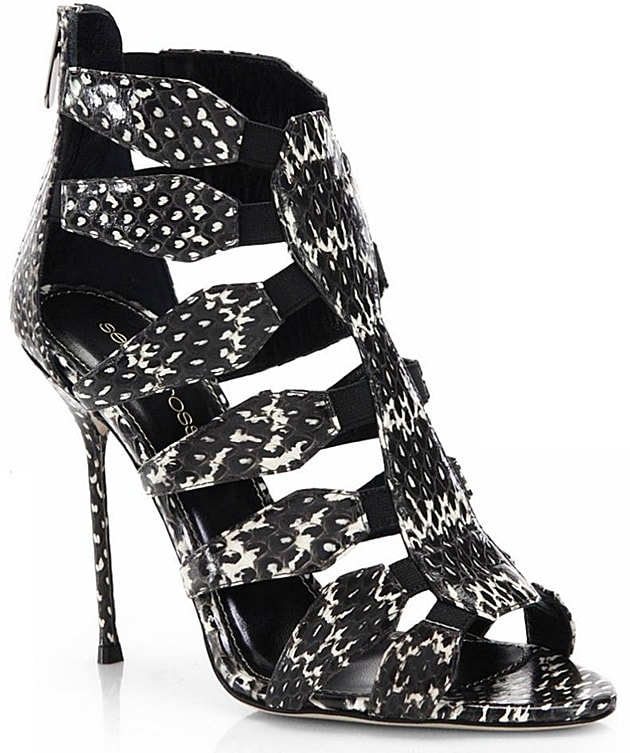 Below are other styles from Sergio Rossi that are also fashioned in snakeskin. These are available and are ready for shipping at Shopbop. Be warned, though, because a pair will cost you over $1,000.
Sergio Rossi "Ker" Basic Painted Sandals, $1,650 at Shopbop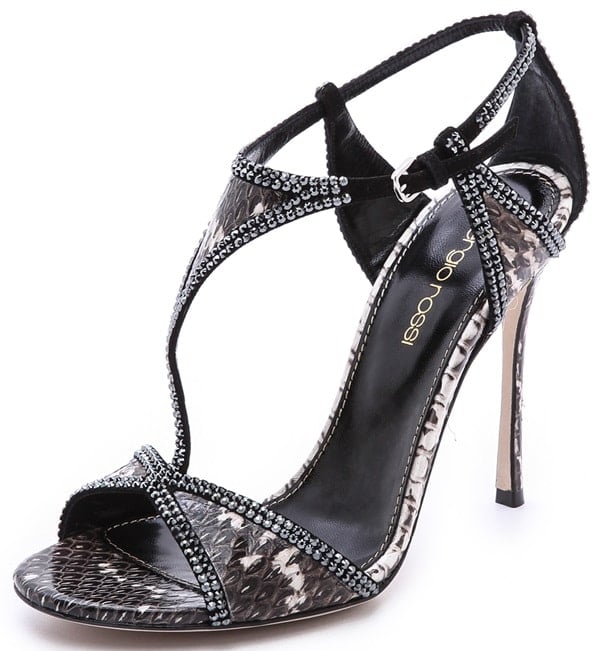 Sergio Rossi Cross-Over Ankle-Strap Platform Sandals, $1,195 at Shopbop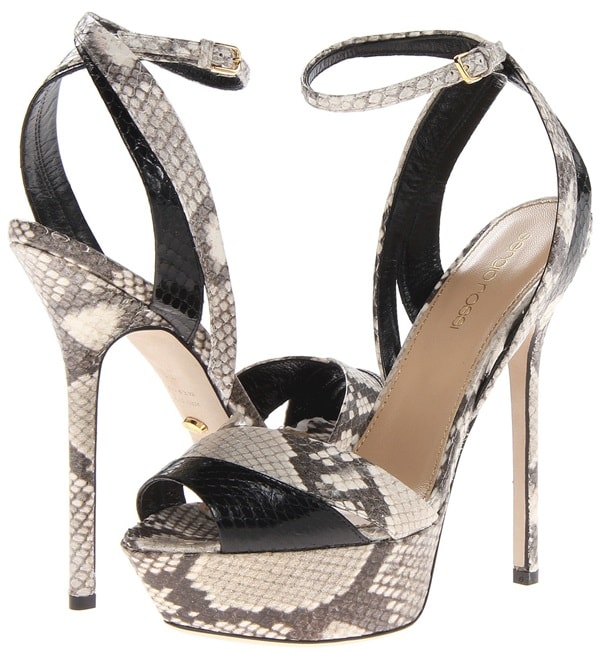 That said, if you want sandals as strappy as Ivanka's but don't want to spend loads of money on them, simply look through Ivanka's own shoe line because you'll actually find a lot to choose from at Zappos. They're not in exotic shades, but the basic hues will make them last longer in your closet.
Ivanka Trump "Manis" Sandals, $130 at Zappos
Ivanka Trump "Maxy" Sandals, $130 at Zappos
Ivanka Trump "Elston" Sandals, $160 at Zappos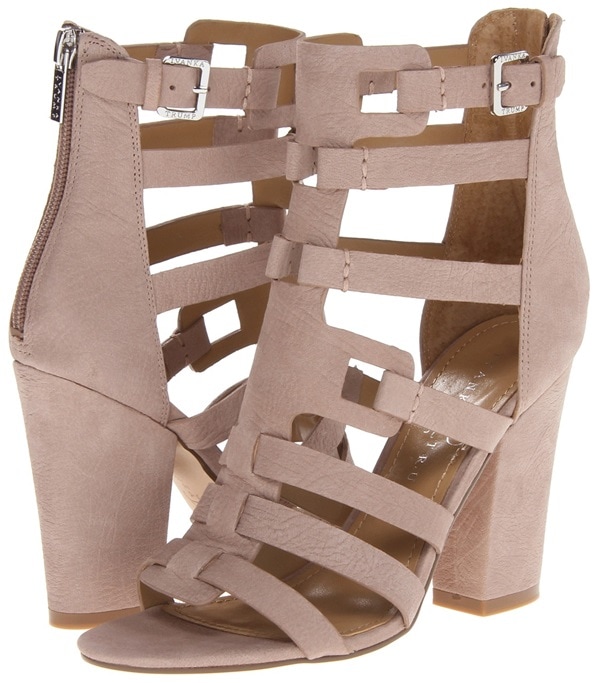 Credit: TNYF / WENN