If you've never heard of the androgynous king of cosmetics, Jeffree Star, then buckle up.
Star is a force to be reckoned with not only in the beauty world with his cosmetics line Jeffree Star Cosmetics, but also in the YouTube bubble—famous for his 'cut to the chase' and honest makeup reviews, designer hauls, and the tribe of Pomeranians roaming his new 25,000 sq. ft. mansion worth $14.6 million, according to E! Online.
Tyler 'Ninja' Blevins (L), Jeffree Star (C), and Jessica Goch attend Sports Illustrated The Party Brought To You By The Undisputed Group And ABG Entertainment With DaBaby, Black Eyed Peas, And Marshmello at Fontainebleau Hotel on February 01, 2020, in Miami Beach, Florida
Putting Star's accomplishments aside, you may also know him as someone who has weathered several drama storms. This isn't the first time Star has been called out for his problematic past (probably not the last).
However, even some long-time viewers of Star are finding his most recent dramageddon a tough pill to swallow. Already it has cost him his professional ties with Morphe cosmetics.
Let's dive into the world of Jeffree Star and uncover what other assets keep his wild, free-spirited, and bold lifestyle afloat; and finally answer the question—is Jeffree Star a billionaire?
The Secret World of Jeffree Star
While some may know Star as a makeup mogul and YouTube personality, others were surprised to learn about Star's underground music career and other secrets through Shane Dawson's documentary mini-series encompassing all aspects of Star's past life called, "The Secret World of Jeffree Star."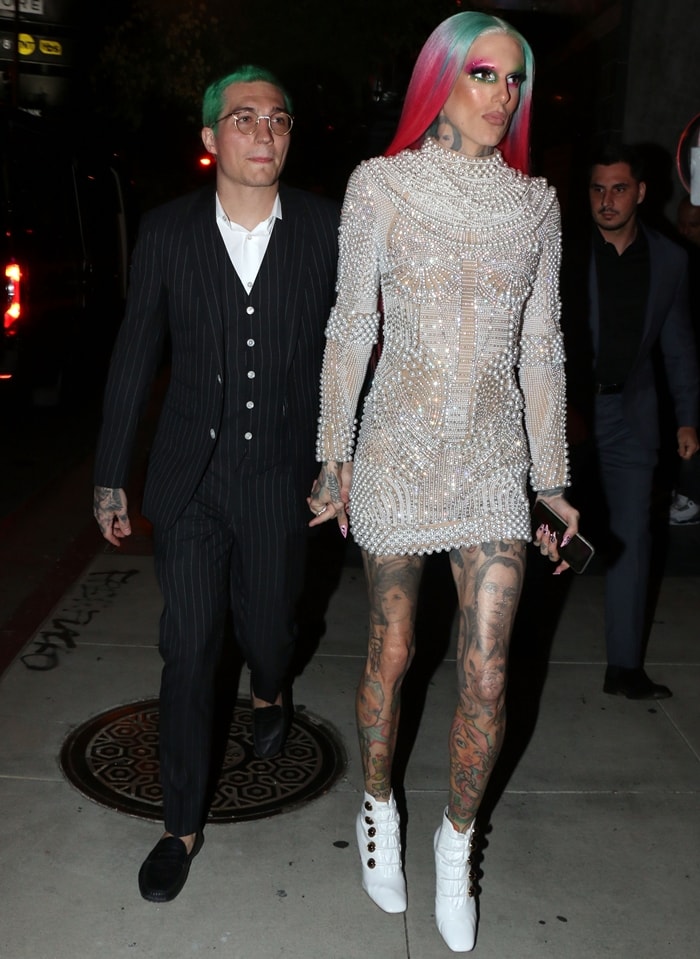 Cosmetic CEO and beauty influencer Jeffree Star and boyfriend Nathan Schwandt arrive at his x Morphe launch event on Sunset Boulevard. Los Angeles, California, on August 12, 2019
The five-part series on YouTube takes the audience through the past of Jeffree Star before he became known for Jeffree Star Cosmetics.
According to iTunes, Star released his first album "Beauty Killer" in 2009, which included featured artist Nicki Minaj. Star was picked up by music icon Akon, who described Star as "the next Lady Gaga," according to OC Weekly.
Star's love for makeup was documented via MySpace before the birth of Jeffree Star's YouTube channel where he currently has 17.2 million subscribers.
It is a HUGE audience and attractive to brands and businesses in the market for influencers to test-run their latest products to a vast supportive audience.
Investing in more than makeup
Forbes published an article in December 2019 including Star as one of the highest-paid YouTube stars of 2019, revealing estimated earnings of $17 million from Star's channel featuring makeup tutorials and reviews.
Jeffree Star had 16.8 million subscribers at the time the article was written; now compared to his subscriber count in 2020, Star has increased his audience by roughly 400,000 subscribers.
Social Blade estimates Star's yearly earnings to be anywhere from $38K to $608.3K from views alone. This estimate doesn't begin to include the amount earned from paid sponsorships and brand deals featured on Star's channel and social media pages.
Once Star tweeted he was offered major moolah by a brand to include their product in an upcoming video, "this video idea is important and I find it funny how brands are afraid to expose the $$$ they pay influencers but it's advertising. Just like Pepsi paying to be in a movie. But makeup companies want it to be a secret. WHY? This brand offered me $165,000 to use their new product."
Jeffree Star claims he was offered $165,000 to use a makeup product
In Star's docuseries with Shane Dawson, he revealed his other investments and ventures. "I own investment properties around the world, I invest in the marijuana business," Star explained.
Jeffree Star's tattooed feet in pink pumps
"I own an entire shipment and fulfillment center, I own a merchandise company, I print and manufacture everything myself. So I have about ten businesses that I'm currently running besides my brand which is my cosmetics company."
Which by the way, Star confirmed in April 2020, on the Mom's Basement podcast that "in this moment, net worth of Jeffree Star Cosmetics is like 1.5 [billion]."
The 'ugly' side of the beauty community
While Star is a mogul in his own right, we've barely cracked the surface on his latest dramageddon which is alleged to have cost him a pretty penny in the backlash from subscribers and other cosmetics company Star has worked with in the past.
In a public statement, Morphe severed ties with Star, "today we've made the decision to cease all commercial activity related to Jeffree Star and affiliated products."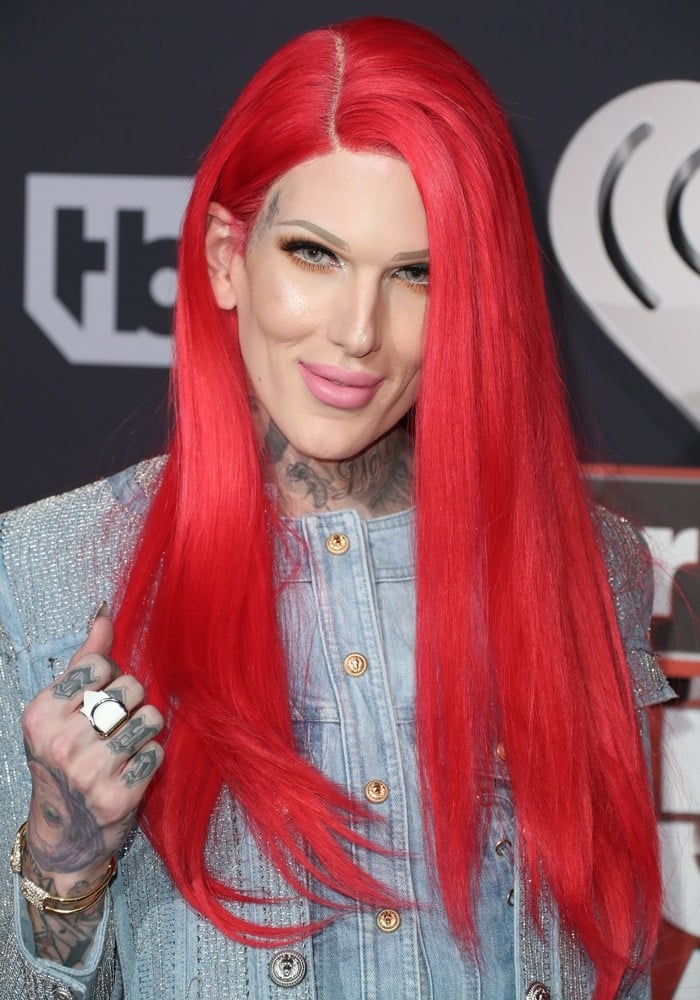 Jeffree Star attends the 2017 iHeartRadio Music Awards at The Forum on March 5, 2017, in Inglewood, California
Jeffree Star Cosmetics responded with "we are shocked and extremely saddened by the decision of our former retail partner Morphe Brushes on parting ways with our brand and Jeffree. Over the past 5 years, we've accomplished amazing things together and released iconic products. We are proud of everything we've accomplished with them."
Since Morphe cut ties with Star, they reduced the price of the Jeffree Star Cosmetics collection on their website and are in the process of selling off all remaining affiliated merchandise and cosmetics.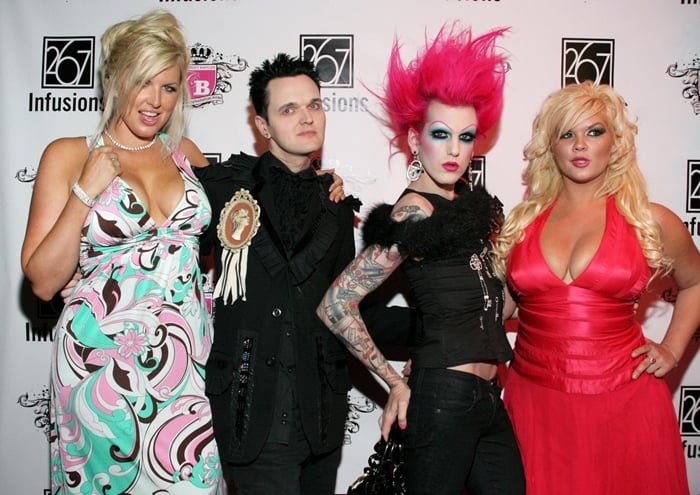 Model/Actress Ivory May, Clint Catalyst, singer Jeffree Star and actress Nicole Johnson attend an Anna Nicole Smith Tribute Event at HERE Lounge on April 24, 2007, in West Hollywood, California
What's the drama you ask? Well, not to take up too much of your time… once close friends and mentors in the beauty world, Jeffree Star and Tati Westbrook turned against the young, promising and increasing in popularity James Charles—spouting off alleged slanderous statements online without providing any solid proof.
But it doesn't end there. Fans felt relieved when they finally saw Star's apology video notification pop up, assuming he would address his past, alleged drama, and more—but for some the video only led to more disappointment.
Jeffree Star's YouTube lost roughly 300,000 subscribers after he posted his apology video on July 18, 2020, according to Social Blade.
The main reason why many fans opted to say goodbye for the last time was because of Star's alleged lack of change and alleged indifference to the Black Lives Matter movement.
Viewers felt Star was using BLM as a distraction because Star didn't include any BLM donation links in the video's description. Of course, fans were quick to call out Star in the comment section which he disabled (including the likes to dislikes feature).
The future of Jeffree Star
It is unclear or verifiable whether Star is worth a billion dollars. One could assume so solely based on his own self-promotion, but it's important to always remember no amount of money or makeup holds a candle to inner beauty.
Not yet a billionaire, Jeffree Star is believed to have a net worth of around $75 million to $200 million
Most analysts believe his net worth is in the range of $75 million to $200 million. If his cosmetics company continues its impressive growth, it's not unlikely that he'll become a billionaire in a few years.
Credit: WENN / Instar / Avalon / FayesVision / Rachel Worth