Caitlyn Jenner turned up to help roast Alec Baldwin at the Comedy Central Roast of Alec Baldwin on Saturday at the Saban Theatre in Beverly Hills, California. However, she also ended up taking some jabs.
Blake Austin Griffin, an American professional basketball player who used to date Kendall Jenner, brought up Jenner's children, specifically reality television stars Kylie and Kendall Jenner.
He said, "On behalf of the NBA and half of the rappers on the Billboard charts, I want to thank you for giving your daughters their daddy issues."
Caitlyn Jenner attends the Comedy Central Roast of Alec Baldwin at the Saban Theatre in Beverly Hills, California, on September 7, 2019
Nikki Glaser, an American stand-up comedian, also made fun of the former Olympian's relationship with her children, declaring, "Even Casey Anthony knows the current location of her daughter. Seriously, Stevie Wonder sees his sons more than you do."
Wearing a black dress with matching pointy-toe pumps, Caitlyn Jenner joked about having simply "retired" her male genitalia after raising 10 children, and passionately defended herself at the end of her set.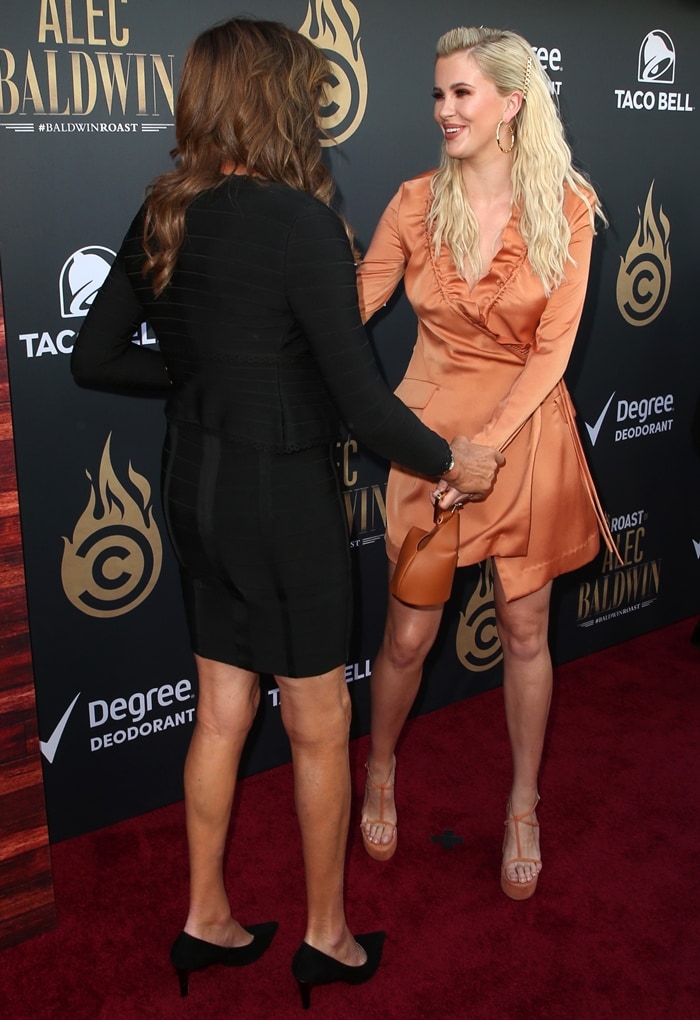 Ireland Baldwin and Caitlyn Jenner are the exact same height
"I'm not perfect," she said. "I'm a person trying to figure out my life, just like everyone else. All I want is for future generations of transgender people to know that if I can find the courage to be who I am, then you can too. If you have a problem with that, then you can suck my d—. If you can find it!"
Other stars at the event included Alec Baldwin's daughter Ireland Baldwin, Robert De Niro, David Spade, Ken Jeong, Sean Hayes and husband Scott Icenogle, SNL's Chris Redd, Broad City actor Arturo Castro, YouTuber David Dobrik, model Dita Von Teese, comedian Jeff Ross, and Billy Bush.
Ireland Baldwin made fun of her father Alec Baldwin
His daughter joked that the 30 Rock alum "wasn't the kind of dad who would play catch, but he would throw things at me" and referred to him as "the guy from like, half of my birthday parties."
She also referenced her mother, American actress/model Kim Basinger, in a jab at her father. "It hasn't been easy being the daughter of an iconic movie star, but I'm not here to talk about my mother," she said. "Or her Oscar. Or her continued respect in this industry."
Ireland Baldwin called her father Alec Baldwin "the guy from like, half of my birthday parties"
Credit: WENN / FayesVision