Jeremy Renner, the actor famous for playing Hawkeye in the Marvel Cinematic Universe, has opened up about his thoughts on handing over the dangerous Marvel stunts to a stunt performer following his near-fatal snowcat accident earlier this year.
During a tell-all interview with Diane Sawyer on ABC that aired on Thursday night, the 52-year-old star emotionally recounted the tragic New Year's Day incident on his Reno, Nevada, property, leaving him with over 30 broken bones requiring chest surgery.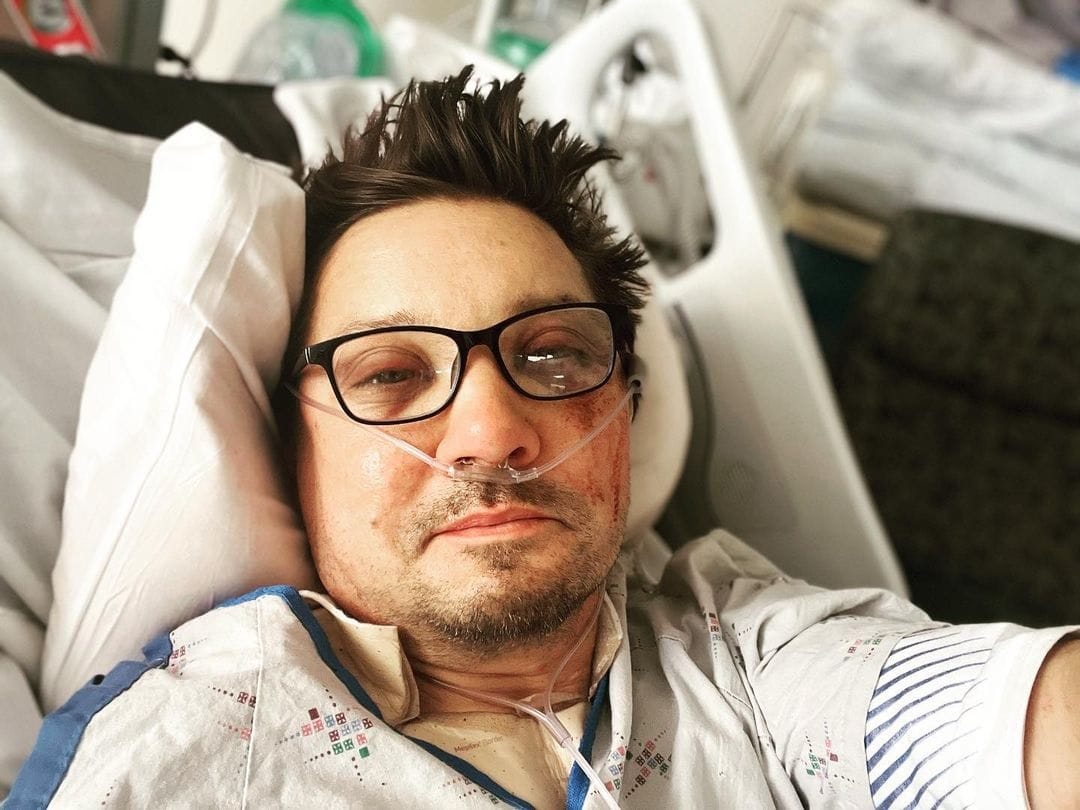 Jeremy Renner's snowcat accident on New Year's Day left him with over 30 broken bones and necessitated chest surgery (Credit: Jeremy Renner's Instagram)
Since the accident, Renner has decided to prioritize his health and safety and has admitted he's "OK" with a stuntman taking over the pernicious Marvel stunts, even though he's not back on set yet.
Renner said, "I'm OK with a stunt guy doing it at this point. I'm 52. It's fine. I've done enough. I'm OK to do more, right? But I'm Ok. I have no ego. Yeah, go for it. I don't care."
He jokingly said, "I'll be in my trailer."
In the interview, Renner shared in excruciating detail the pain and sadness he experienced after the accident, which required an airlift to the hospital and left him in a critical state.
Even though the video shown to ABC showed Renner using a cane to walk, the actor still experiences occasional agony due to his major surgery, which left him with screws, metal plates, and elastic bands.
He also mentioned, "I'm also re-learning. I'm re-learning to speak again with this broken jaw."
Sawyer read a long list of Renner's injuries, including eight shattered ribs, a broken right knee and ankle, a broken left leg, tibia, and left ankle, and a damaged right shoulder.
Renner explained that he's still "triggered," which recalls "all of" the accident and that the painful recollections of what happened frequently come in waves.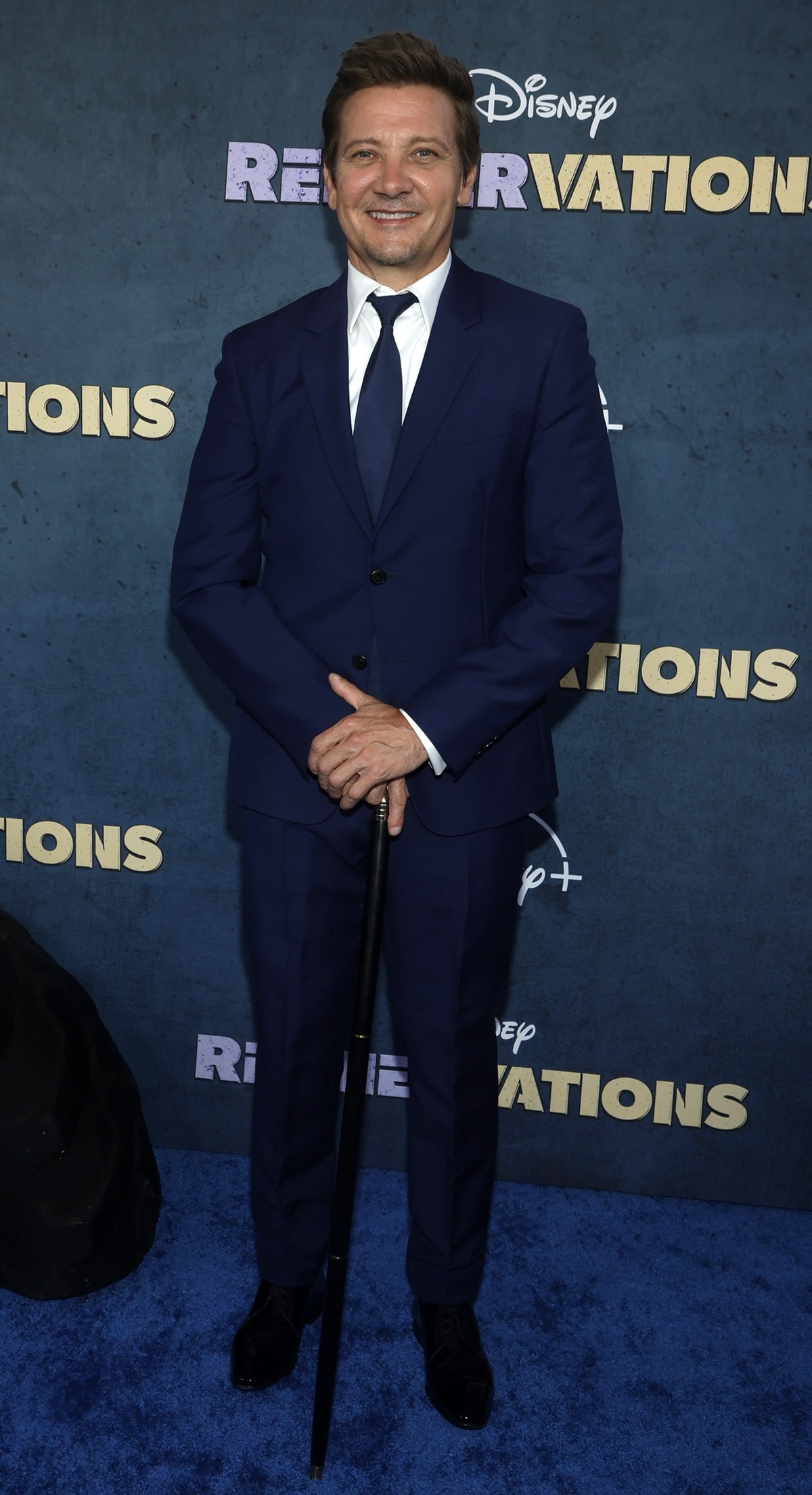 Jeremy Renner made his first red carpet appearance since his near-fatal snowplow accident at Disney+'s original series "Rennervations" Los Angeles premiere at Regency Village Theatre on April 11, 2023, in Los Angeles, California (Credit: Faye's Vision / Cover Images)
He told Sawyer, "I was awake through every moment."
Renner also discussed his family's role in assisting with his recovery, including his 10-year-old daughter Ava. He recalled what his daughter told him following the terrifying incident and said, "She didn't have to say anything. She said she's scared. She said she loved me."
The actor, who was trying to stop his 14,000-lb Pistenbully Snowcat from ramming into his nephew on New Year's Day, claimed he would respond the same way to save his nephew's life, even if he came close to passing away in the incident.
He also mentioned that he whispered "I'm sorry" to his family after the incident.
Renner continued, "This is what I talk to my family about from all their perspectives, which are horrifying, that I put upon them. What we just endured. That's real love. It's suffering. But that feeds the seeds of what love is."
View this post on Instagram
The actor talked about his drive to live, saying, "I chose to survive – it's not going to kill me, no way. I've lost a lot of flesh and bone in this experience, but I've been refueled and refilled with love and titanium."
While Renner was trying to survive the tragedy, he was also preparing for the worst. The actor revealed that when hospitalized and in critical condition, he was " writing down notes in my phone – my last words to my family," fearing he would pass away after having his chest and knees crushed.
Renner added, "If I was there, on my own, that would've been a horrible way to die. And surely, I would've. Surely. But I wasn't alone – my nephew [was there.] Sweet Alex. And the rest of the cavalry came."
Jeremy Renner made a remarkable recovery from his near-death snowplow accident as he walked into Jimmy Kimmel's studio in Hollywood on April 10, 2023, in Los Angeles, California, using only a cane for support (Credit: BauerGriffin / INSTARimages)
Despite the accident's severity, Dr. Christopher Vincent, who has been treating the actor, has a positive outlook on Renner's miraculous prognosis.
In an interview with Access Hollywood on Thursday, Vincent claimed that fans might anticipate seeing Renner do Marvel-caliber stunts on the big screen again, this time with "no physical limitations" and "sooner" than they might have thought.
The doctor said, "Absolutely, there's no doubt he may be a little more reserved to do all of his own stunts, but there will be no, absolutely no physical limitations," noting that Renner may already be considering returning to the set.
Jeremy Renner's 10-year-old daughter, Ava Berlin Renner, was his special date for the premiere of Disney+'s original series Rennervations, and the father-daughter duo coordinated their outfits in navy (Credit: Faye's Vision / Cover Images)
Vincent added of the Oscar nominee, "If it was up to him, he would probably be trying to do it next week," adding that he "could be ready" in "the next few months."
Although it may take the "better part of a year" for Renner to regain a full range of motion that will allow him to "run, jump, and fly through the air" again, the doctor believes he is already ahead of schedule and could be ready to return to action movies in the next few months.
Vincent added, "When I say a year of recovery, it's to get him to kind of athlete, high-performance mode. But there's no doubt he'll be doing stunts, doing action movies again, and probably sooner than we expect."