Jessica Alba's whirlwind promotional tour for Sin City: A Dame to Kill For in New York City has come to an end on Thursday. She was back in Los Angeles that same day and was spotted touching down at the Los Angeles International Airport in an edgy outfit that consisted of a gray Heartloom mesh sweater, a white tank top, and a pair black Pam & Gela leather track pants.
The 33-year-old actress kept her look simple after her unintended Marilyn Monroe moment (which revealed her lace underwear) on Wednesday in a black bustier, a burgundy Katharine Kidd skirt, and a pair of Giuseppe Zanotti Safety Pin sandals.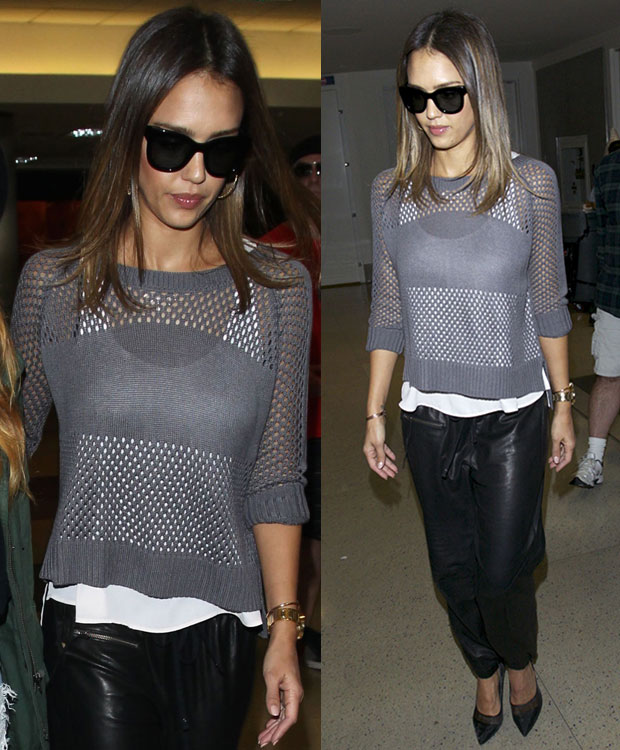 Jessica Alba arriving at Los Angeles International Airport on August 13, 2014
The Machete Kills star accessorized her chic and sporty airport look with gold accessories, black sunglasses, and black pumps by Diane von Furstenberg. They are a classic pair updated with mesh panels and tonal leather trims. Self-covered heels measuring about 4 inches finish off these elegant shoes.
Jessica Alba wearing Diane von Furstenberg pumps
These Diane von Furstenberg "Bianca" pumps are already sold out in various online retailers. If you're interested, check out other versions of these heels below.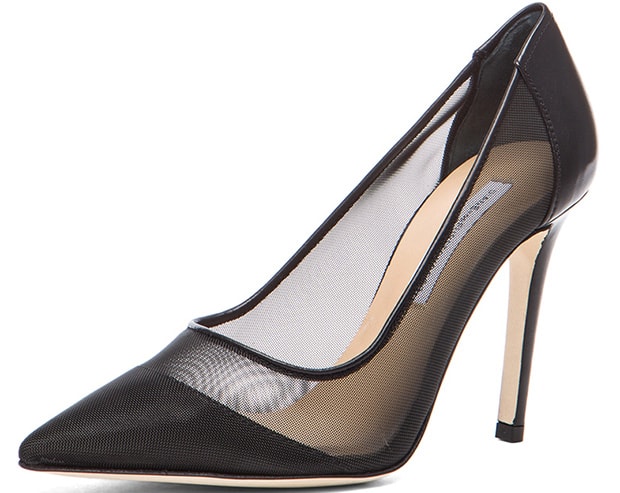 Diane von Furstenberg "Bianca" Mesh & Leather Pumps, (sold out)
Diane von Furstenberg "Bianca" Pumps in Gold, $350
Diane von Furstenberg "Bianca" Pumps in Leopard Flock Mesh, $350
Diane von Furstenberg "Bianca" Leather & Lace Pumps, $350
Credit: WENN