Love stories that intertwine with work always seem to captivate us. And when it comes to actress Gina Rodriguez, her tale of finding love on the set of the hit show Jane the Virgin is truly enchanting.
While her career soared beyond the series finale in 2019, Gina's on-screen journey sparked an off-screen romance that would change her life forever.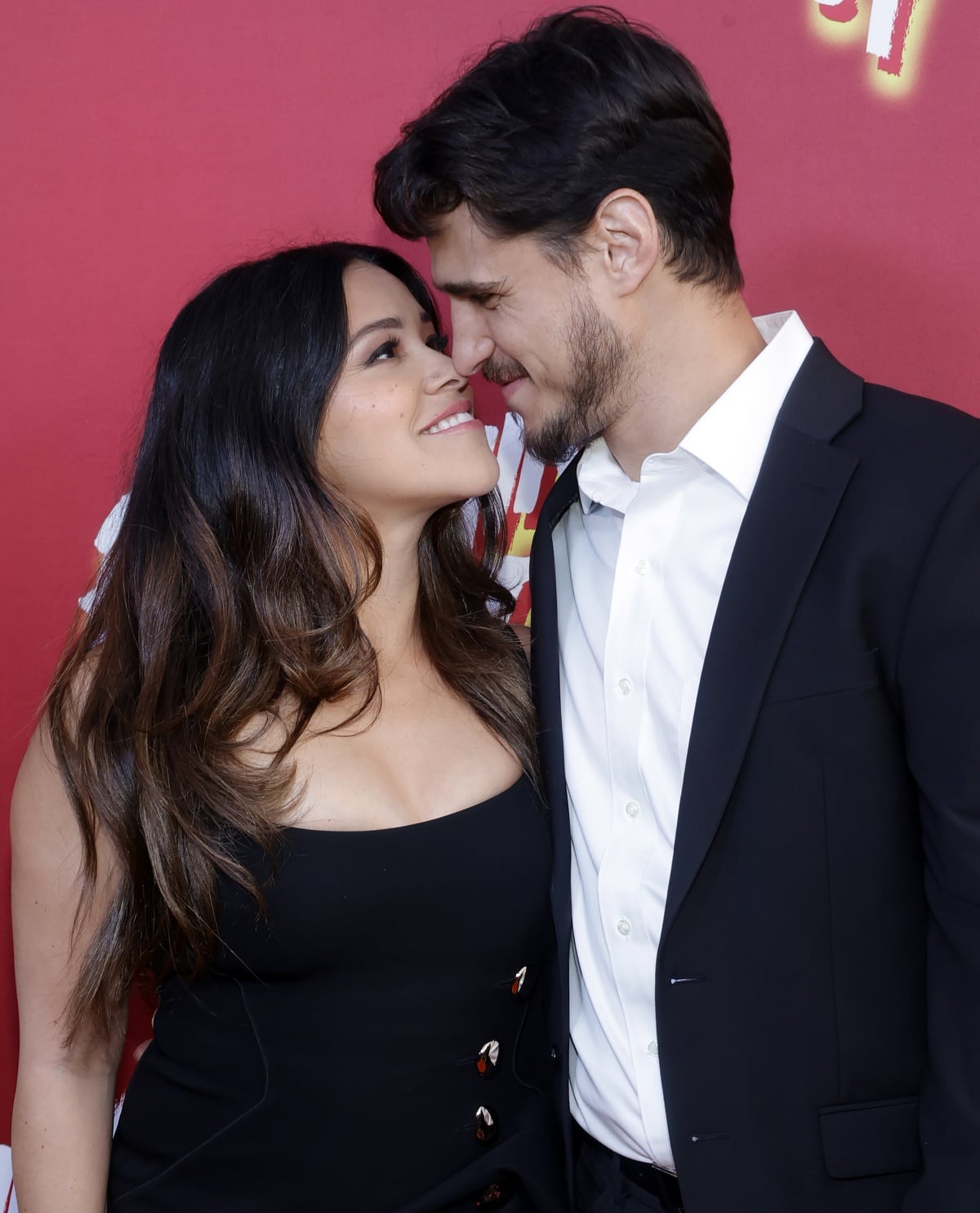 Gina Rodriguez and Joe LoCicero couldn't keep their eyes off each other at the special screening of Flamin' Hot held at Hollywood Post 43 in Los Angeles, California, on June 9, 2023 (Credit: Faye's Vision / Cover Images)
As fate would have it, Joe LoCicero, now her husband, made multiple appearances on Jane the Virgin, and their connection blossomed into something beautiful.
Their love story reached its pinnacle when the couple exchanged vows in May 2019. Let's embark on a nostalgic journey through their remarkable love story as we celebrate their enduring bond.
Meet Joe LoCicero: Gina Rodriguez's Real-Life Leading Man
Joe LoCicero is not just an ordinary actor and model. He's a charismatic force with a passion for Muay Thai. With his striking looks and undeniable talent, Joe has made a name for himself in the entertainment industry and the fighting arena.
One of his memorable appearances was in Season 2's "Chapter Thirty-Nine" of the hit show Jane the Virgin. In this episode, Joe portrayed a Don Quixote impersonator/stripper who found himself accidentally sent to perform for Jane while she was giving a heartfelt speech to prospective new students at the college where she worked.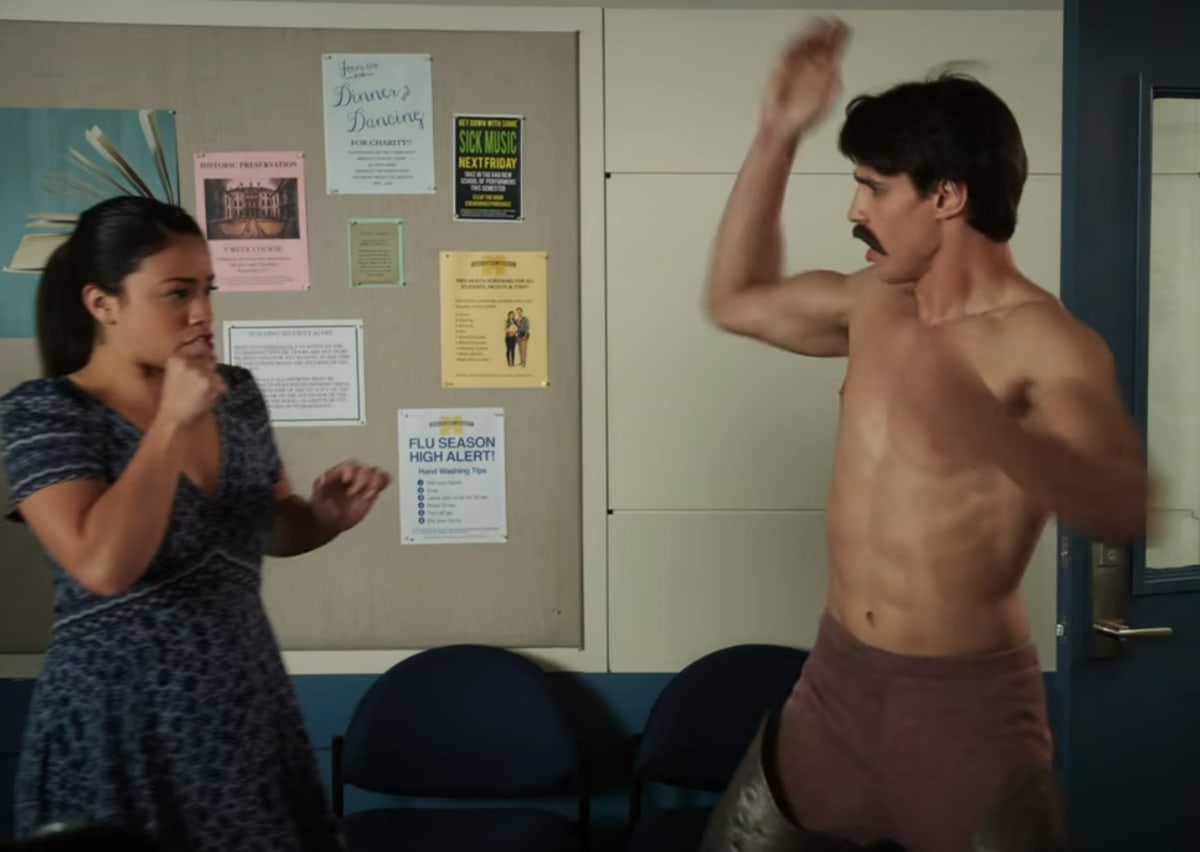 Gina Rodriguez and Joe LoCicero met when the latter played a stripper in Chapter Thirty-Nine, the 17th episode of the second season of the romantic comedy-drama Jane the Virgin (Credit: CBS Television Studios)
His performance was so impressive that he reprised the role twice before the series concluded, even captivating Jane's mother with his seductive dance.
While his role in Jane the Virgin brought him into the spotlight, Joe's acting journey extends beyond the small screen. He has showcased his talent in indie films like Welcome to Willits and Spaghettiman, proving his versatility as an actor.
Most recently, he graced the screen in a captivating movie on Amazon Prime titled Cop Chronicles, displaying his ability to immerse himself in diverse roles.
View this post on Instagram
It's not just his acting prowess that sets him apart. Joe LoCicero is also an accomplished writer. Alongside his notable acting credits, he has appeared in several films and TV shows, including Miss Bala and Someone Great, all of which also starred his wife.
Moreover, he dedicated two years of his career to portraying Vincent "Vinny" Walker on the renowned soap opera The Bold and the Beautiful.
Beyond the realm of entertainment, Joe LoCicero's life takes an exciting turn. He has an undeniable passion for Muay Thai and has diligently pursued it.
View this post on Instagram
In 2018, he achieved a remarkable milestone by becoming the new WCK Middleweight California Amateur Muay Thai Champion, showcasing his discipline and skill in the fighting arena.
How a Boxing Gym Brought Joe LoCicero and Gina Rodriguez Together
Love can find its way into the most unexpected places, and for Gina Rodriguez and Joe LoCicero, it all started on the set of the hit TV show Jane the Virgin.
In early 2016, fate brought them together as they crossed paths while filming an episode of the popular CW series. Little did they know that this encounter would eventually lead to a beautiful romance.
Months after their initial meeting, fate intervened again when Gina and Joe bumped into each other at a boxing gym. This unexpected reunion sparked their romantic journey.
Gina later shared in an interview on The Tonight Show Starring Jimmy Fallon, "I met him six months later at a boxing gym after we shot together. It was the boxing gym that brought it together."
Reflecting on their time on Jane the Virgin, she humorously recounted during an interview on Live With Kelly and Ryan how they misinterpreted each other's kindness.
Gina said, "He thought I was being nice to him because I like being nice with everybody coming to the show. It means a lot to me if you come and share your talent with us. And I thought he was being sweet with me because … I'm the lead!"
Joe LoCicero and Gina Rodriguez posing for photographs together at the screening of Someone Great in Los Angeles, California on April 17, 2019 (Credit: Famous / ACE Pictures / INSTARimages)
Co-host Ryan Seacrest asked, "Do you think he tracked you down?" when Gina shared that she was surprised to find out Joe's boxing involvement, to which she playfully affirmed, "Yes!"
Their love continued to grow, and in January 2017, they made their first public appearance as a couple on the red carpet of the SAG Awards. From then on, they became each other's biggest supporters, attending various events together.
Joe LoCicero and Gina Rodriguez's Engagement
Gina Rodriguez, born on July 30, 1984, is currently 38 years old, while Joe LoCicero, born on August 9, 1986, is 36 years old, making him two years younger than his wife. Standing at an impressive height of 6 feet and 1 inch (185 cm), Joe towers over Gina, who stands at 5 feet and 3 inches (161 cm).
In March 2018, all eyes were on Gina Rodriguez and Joe LoCicero as they graced the red carpet at the prestigious Oscars. The couple's undeniable chemistry sparked speculations about the possibility of their union.
The chemistry between Joe LoCicero and Gina Rodriguez was undeniable at the 90th Annual Academy Awards in Los Angeles, California, on March 4, 2018 (Credit: ACE PICTURES / INSTARimages)
Observant eyes caught a glimpse of a ring on Gina's wedding hand, triggering whispers of an engagement. However, no official confirmation emerged, leaving fans to wonder about the true nature of their relationship.
View this post on Instagram
The veil of mystery was lifted in July 2018 when Gina shared a captivating photo of herself sitting at a beachside table, proudly flaunting a stunning rock on her finger.
In the post, she wrote, "34. 'They thought I was a Surrealist, but I wasn't. I never painted dreams. I painted my own reality.' – Frida."
The image sent shockwaves through social media, and a week later, the news was confirmed – Gina Rodriguez and Joe LoCicero were engaged.
In an exclusive interview with Us Weekly during that time, Gina couldn't contain her joy as she revealed her engagement, expressing her deep affection for her partner.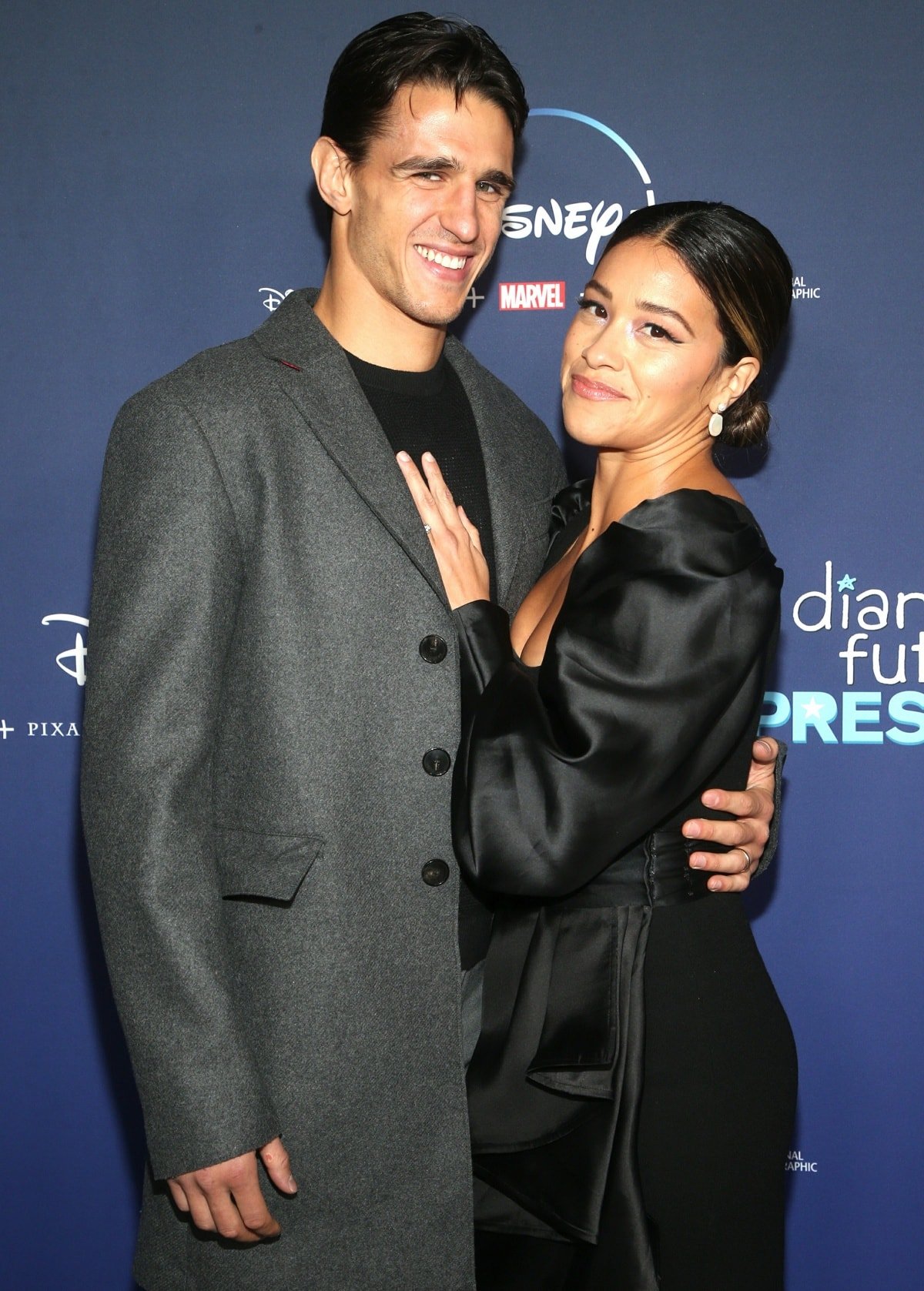 Joe LoCicero and Gina Rodriguez kept close to each other on the red carpet at the premiere of Diary of a Future President in Hollywood, California on January 14, 2020 (Credit: Faye Sadou / Media Punch / INSTARimages)
She revealed, "I have a very, very special man in my life. I am engaged. You're the first people that I've told. I am marrying a feminist. I am marrying a man that is incredible and loving and understanding and kind and patient. I'm marrying a really incredible human being. That's what it is. I met a human that, like, knows he's a human."
Gina Rodriguez further delighted fans by sharing her excitement with People, confessing, "He's the best. He's the f***ing best. We've been engaged for like a month – I've kept it a secret for a while."
However, Gina also expressed her desire to keep certain aspects of their relationship private, cherishing the moments that remained exclusively theirs, saying, "I just want to live! I think there's a huge blessing in the fact that people care. That's a beautiful thing, so that feels really good. But another part of me wants to keep a little something that's just mine, 'cause there's not too many things I have like that anymore."
Joe LoCicero and Gina Rodriguez were all smiles as they posed together on the red carpet at the premiere of Five Feet Apart in Los Angeles, California on March 7, 2019 (Credit: Milla Cochran / Startraksphoto)
In January 2019, Gina's adoration for Joe radiated through her words during her cover interview for Cosmopolitan. She reflected on her personal growth and self-discovery journey, acknowledging that being with Joe was a transformative experience.
She shared, "Dating Joe was a new experience for me because I put myself first. For so long, I put every man in front of me. As a successful woman, it is so hard because of our cultural norms that, like, the man has to be the breadwinner! And the man has to be the more powerful one. It was so difficult for me to find a man who didn't want me to dim my light for his ego."
When Forever Began: Joe and Gina's Wedding Ceremony
Gina Rodriguez and Joe LoCicero, the couple who managed to keep their wedding details under wraps for a whole year, finally celebrated their union in a remarkable event.
The duo made their love official in an intimate wedding during the enchanting spring season.
View this post on Instagram
In an Instagram video capturing the magical nuptials, Gina expressed her gratitude towards Justin Baldoni, her Jane the Virgin co-star who initiated the ceremony, and her brother-in-law Mike, who graced the event with his heartfelt performance.
Sharing her overflowing happiness, Gina expressed her gratitude to her mother-in-law for orchestrating the wedding of her dreams. She also acknowledged the immense support and love from her beloved community, who came together to make the day unforgettable.
At the end of the caption, she wrote, "May 4th, 2019 was absolute MAGIC. To my husband Joseph, I am yours forever. ❤️."
Joe LoCicero and Gina Rodriguez Embrace Parenthood
In September 2020, Gina Rodriguez expressed her desire to have a family, emphasizing the importance of providing loving homes for needy children.
During an interview with Access Hollywood, she shared, "There's a lot of children that need homes," adding, "I want a family. Family's everything." This sentiment laid the foundation for their journey toward starting a family.
Nearly three years after their wedding, the couple joyfully announced in July 2022 that they were expecting their first child together.
View this post on Instagram
Gina shared an Instagram montage to commemorate her birthday, which included heartwarming footage of the couple looking at a positive pregnancy test and shedding tears of happiness.
She admired her husband during her pregnancy, highlighting his support and dedication. She affectionately mentioned that Joe was training to be her doula, describing him as "next level" and "magical," telling Entertainment Tonight, "He's definitely the better half, so I'm hoping that he'll just go on in there and pull our baby out."
In an exclusive interview with People in August 2022, Gina opened up about her pregnancy journey and expressed her excitement, acknowledging the overwhelming yet empowering experience of becoming a mother.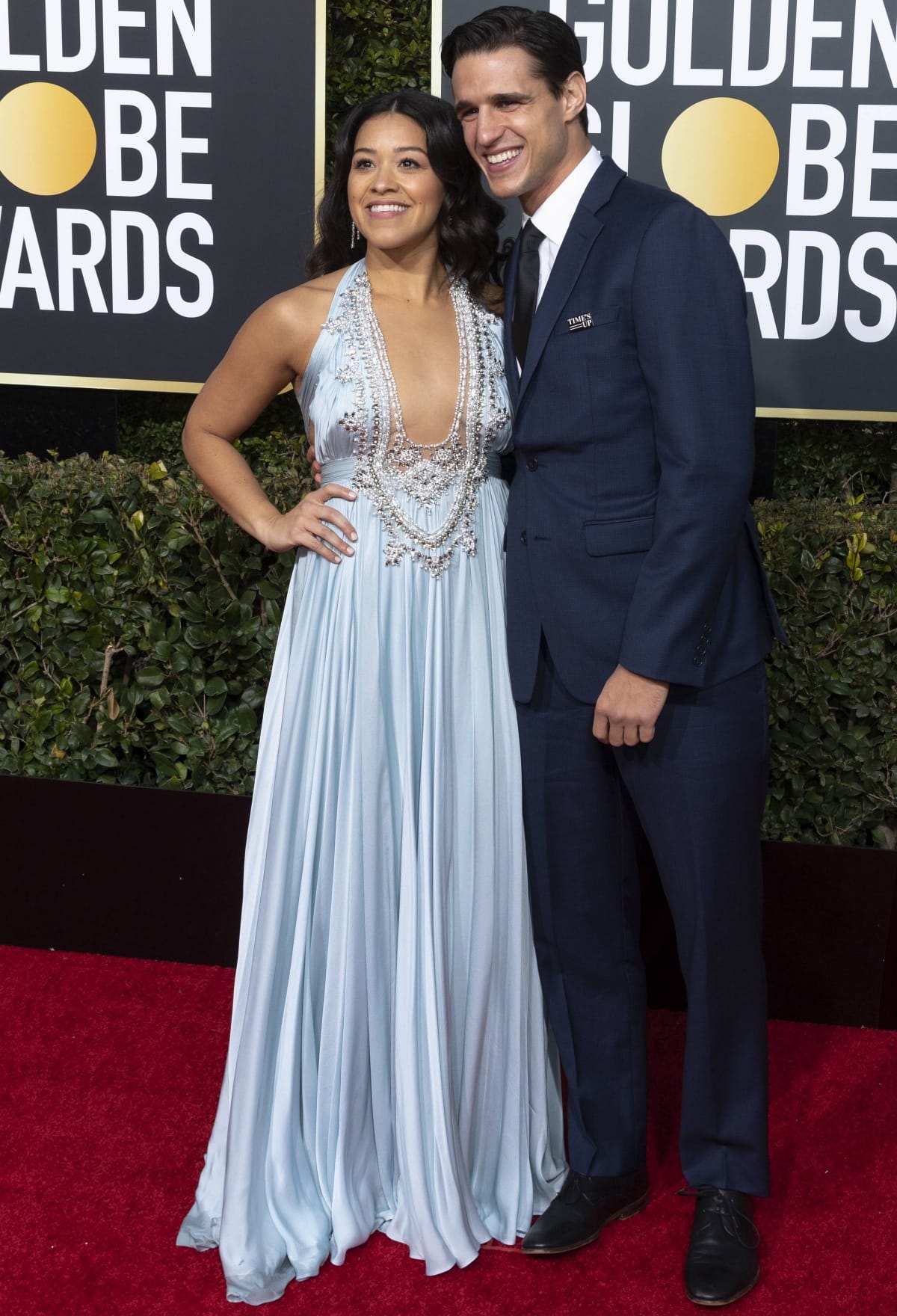 Gina Rodriguez and LoCicero made a stunning pair in matching blue ensembles at the 76th Annual Golden Globe Awards in Los Angeles, California, on January 6, 2019 (Credit: Hubert Boesl / picture-alliance / Cover Images)
She considered herself "a superwoman," adding, "I feel like every day is bizarre and different, and I have so much appreciation for every human being that has brought a child onto this planet. Anytime I see somebody with a child, I'm like, 'Congratulations, you're a superhero.'"
In March 2023, Gina Rodriguez confirmed the arrival of their first child when she was spotted on a walk with her newborn, revealing her postpartum body, as reported by Daily Mail.
While the couple did not immediately share their child's name, birth date, or sex, Gina revealed on April 5 that they had welcomed a son named Charlie.
View this post on Instagram
She shared glimpses of her baby boy and a heartfelt message on Instagram. In a series of photos and videos, including a touching moment of breastfeeding while dancing alongside professional dancer Sasha Farber, Gina expressed her love for her son, appreciation for her new ABC series Not Dead Yet, and gratitude for the support she had received.