Few figures in Christian media are as polarizing as Joel Osteen, the 59-year-old televangelist, best-selling author, multimillionaire, and pastor of Lakewood Church in Houston, Texas—which is considered to be one of the largest megachurches in the United States.
Amidst his numerous scandals and constant criticism from the public, there is a recurring rumor that Osteen and his wife, Victoria, are getting divorced. Is this rumor rooted in truth or just a way for Osteen's critics to lash out at the seemingly untouchable pastor?
Pastor Joel Osteen and his wife Victoria, pictured in 2013, are rumored to be getting divorced (Credit: Johnny Louis / WENN)
Keep in mind Osteen is disliked by many Christians and non-Christians alike. Due to the wide breadth of beliefs upheld by Christianity—there are over 200 Christian denominations in the United States alone—Osteen's teachings don't align with many people. That's not necessarily why Osteen is such a polarizing figure, though.
Most recently, Osteen came under fire during Hurricane Harvey in 2017, when floods ravaged Texas and left many without shelter. Twitter users criticized Osteen for not opening Lakewood Church to those who needed temporary shelter.
Alan Spencer (@MrAlanSpencer) summed it up best in their tweet, referencing the tax-exempt status of churches in the United States, saying: "Joel Osteen won't open his church that holds 16,000 to hurricane victims because it only provides shelter from taxes. #HoustonStrong"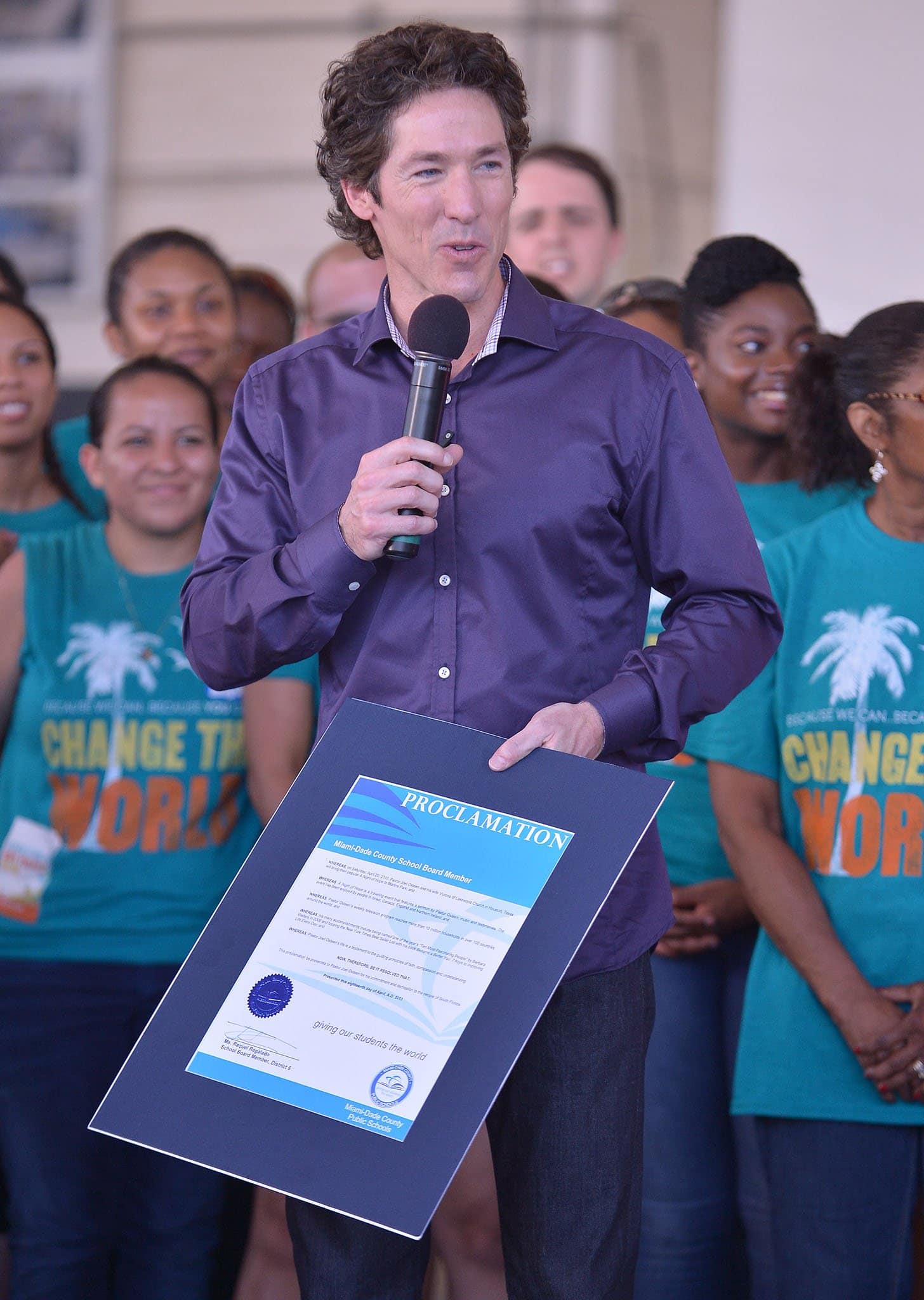 Pastor Joel Osteen was criticized for not opening Lakewood Church to the victims of Hurricane Harvey in 2017 (Credit: Johnny Louis / WENN)
For many Christians, the Bible preaches generosity and helping those in need. They were upset that Osteen seemed to ignore this idea, leaving thousands of Texans quite literally out in the cold, despite possessing a place that could house them.
"We have never closed our doors. We will continue to be a distribution center for those in need," Joel's father-in-law Donald Iloff told CNN. The church was reportedely "inaccessible due to severe flooding" following Hurricane Harvey.
"We are prepared to shelter people once the cities and county shelters reach capacity. Lakewood will be a value to the community in the aftermath of this storm in helping our fellow citizens rebuild their lives," Donald added.
"I know that there's been some controversy about Joel Osteen and him not opening doors of the church. Let me tell you something: Joel and Victoria are amazing people. There is no way they would lock people out of the church and not let people in for shelter," Tyler Perry said in a Facebook video.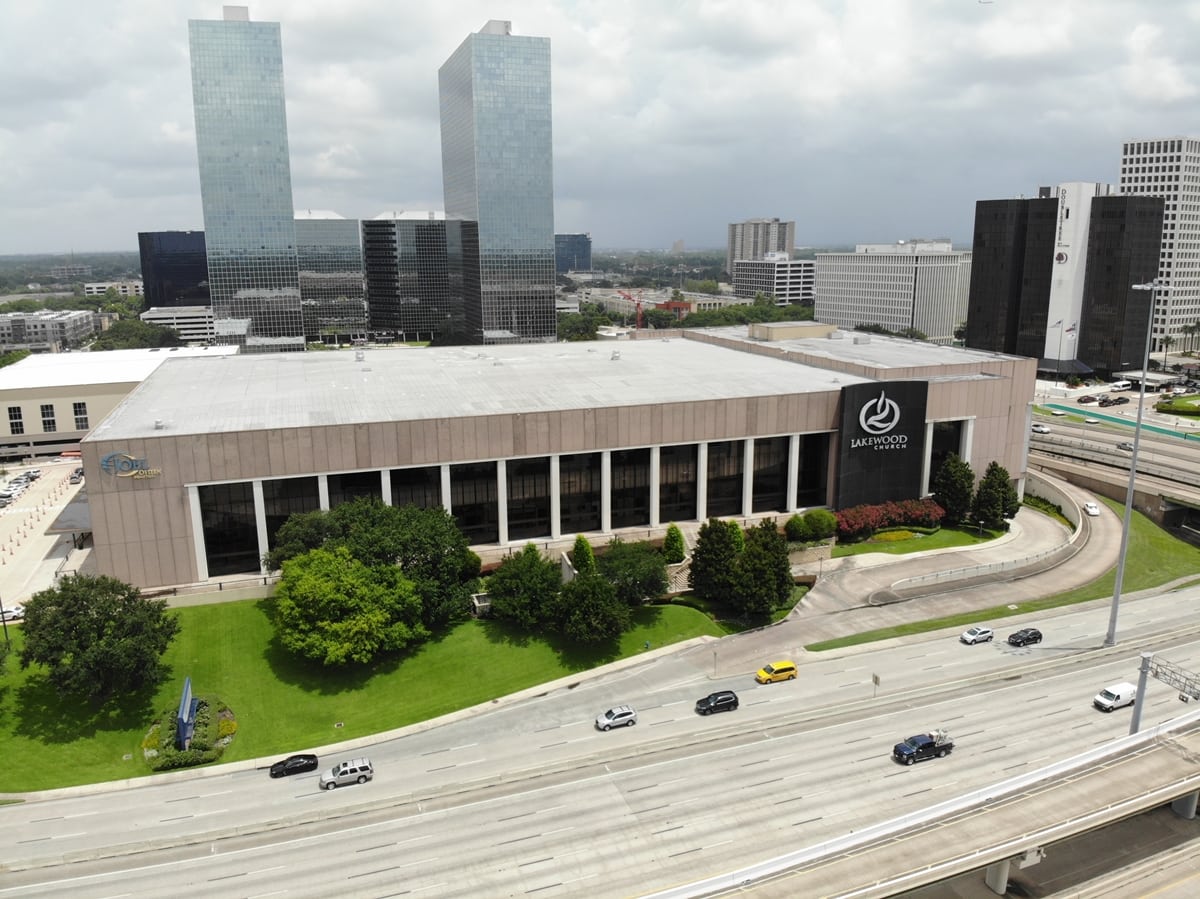 Lakewood Church is a megachurch located in Houston, Texas, and has grown to become one of the largest churches in the United States (Credit: Tallmaple / Shutterstock)
"There were some safety concerns. I spoke to them on the phone, and it all made perfect sense to me so before you just run and judge somebody really quick, you need to know the whole circumstances … This million dollars, I'm breaking it up into quarters. I'm sending $250,000 to Lakewood to make sure that they can get all the supplies that people need. I know that they will, I know for sure that they will, because that's the kind of person he is," the American director added in defense of his longtime friend Osteen.
Osteen's idea of "prosperity gospel" is problematic for a growing population of Christians. This idea insinuates that God wants his followers to be prosperous (i.e. become rich).
"I think prosperity, and I've said it 1,000 times, it's being healthy, it's having great children, it's having peace of mind," Osteen said in 2013 to The Christian Post. "Money is part of it; and yes, I believe God wants us to excel."
What Is Joel Osteen's Net Worth?
Osteen certainly talks the talk and walks the walk when it comes to the prosperity gospel.
Currently, he is a multimillionaire—his net worth is an estimated $50 million—and lives in a $10.5 million mansion, owns another $2.9 million home, and has a bevy of expensive cars and other luxury items.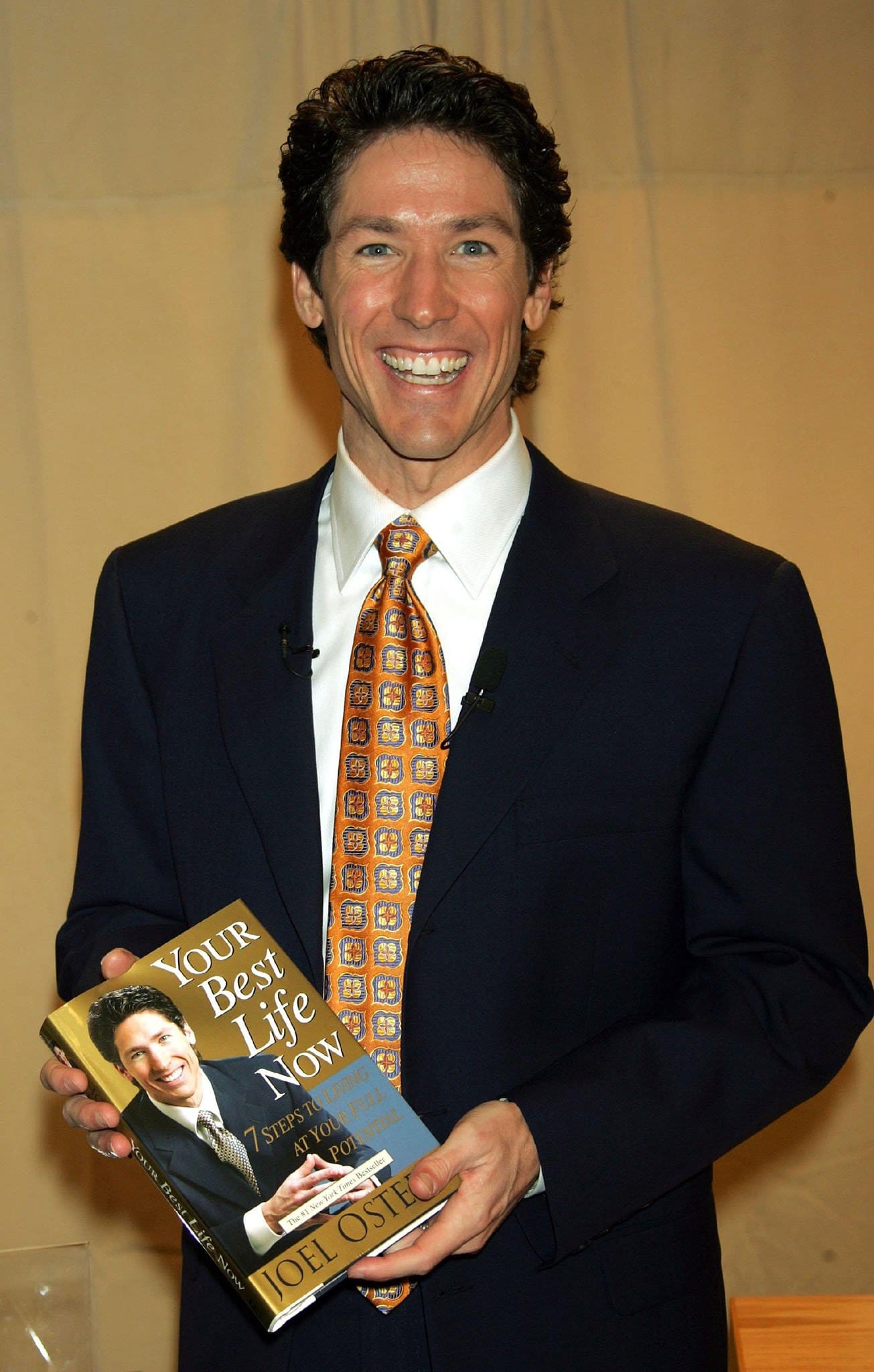 Pastor Joel Osteen, pictured at his Your Best Life Now book signing in 2005, is currently a multi-millionaire with an estimated net worth of $50 million (Credit: POP / WENN)
For these reasons (and many, many others), Osteen has become a pastor that many people love to hate. Could this be why rumors of Osteen's divorce refuse to die?
Who Is Victoria Osteen's Father?
His wife, Victoria Osteen, was born in Huntsville, Alabama, on March 28, 1961, and raised as a conservative Christian.
Much like her husband, whose father was also a pastor, Victoria grew up in the Christian church where her father, Donald Iloff, was a deacon and her mother, Georgine Iloff, was a Sunday school teacher.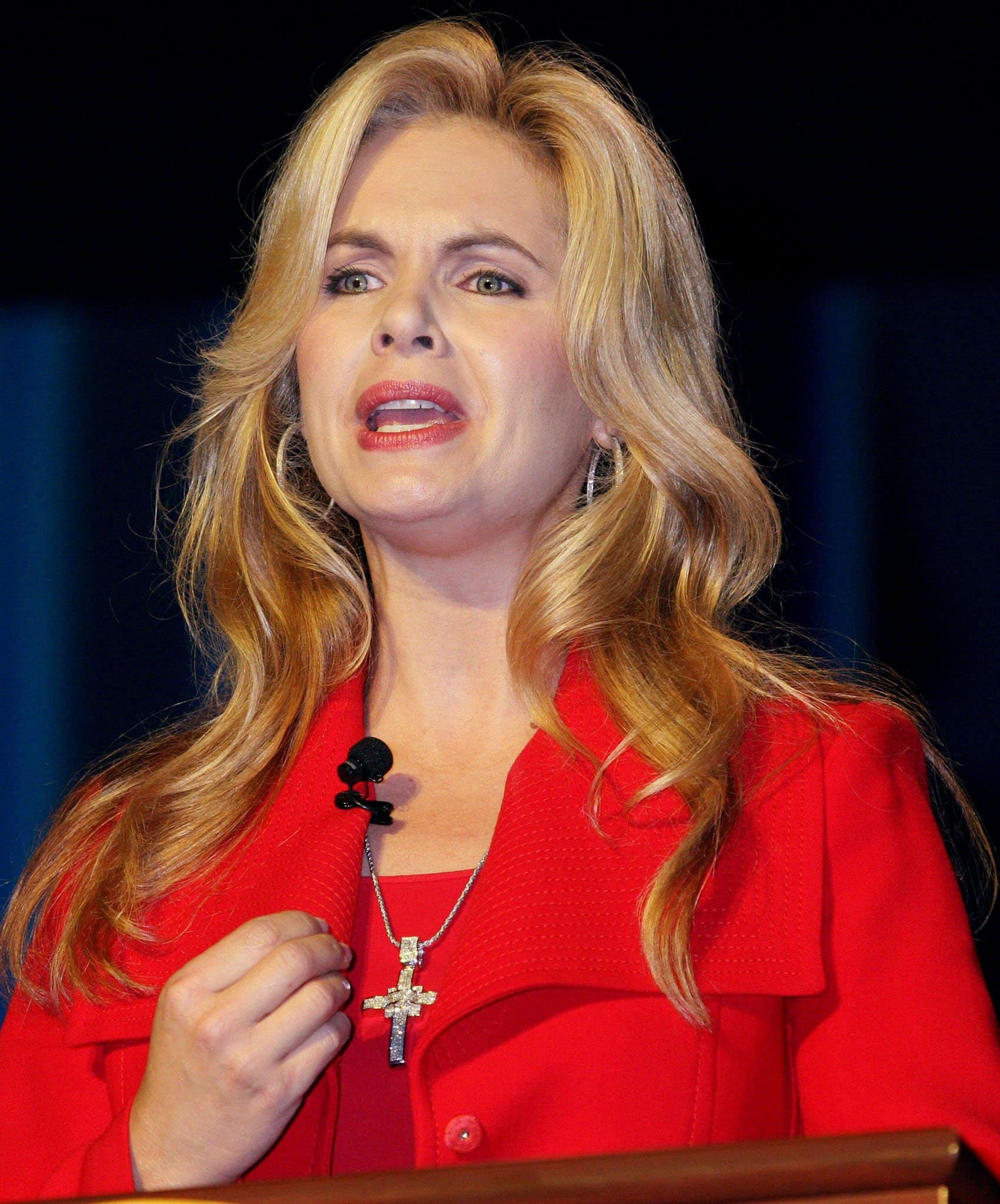 Victoria Osteen at An evening with Joel Osteen at Madison Square Garden on October 19, 2007 (Credit: Michael Carpenter / WENN)
The Osteens have been married since April 4, 1987—roughly 36 years—and have two children together. Their oldest, Jonathan, was born on April 20, 1995. He also works in the family business and preaches youth sermons at Lakewood Church.
Their daughter, Alexandra, was born on November 9, 1998, and can now be seen singing in a worship band, LYA, at the church alongside her brother.
Victoria is also a prolific author and has written 12 books by herself and co-authored a few with her husband. She is also active on social media and can be seen posting videos of herself singing along with the congregation and speaking nearly every day.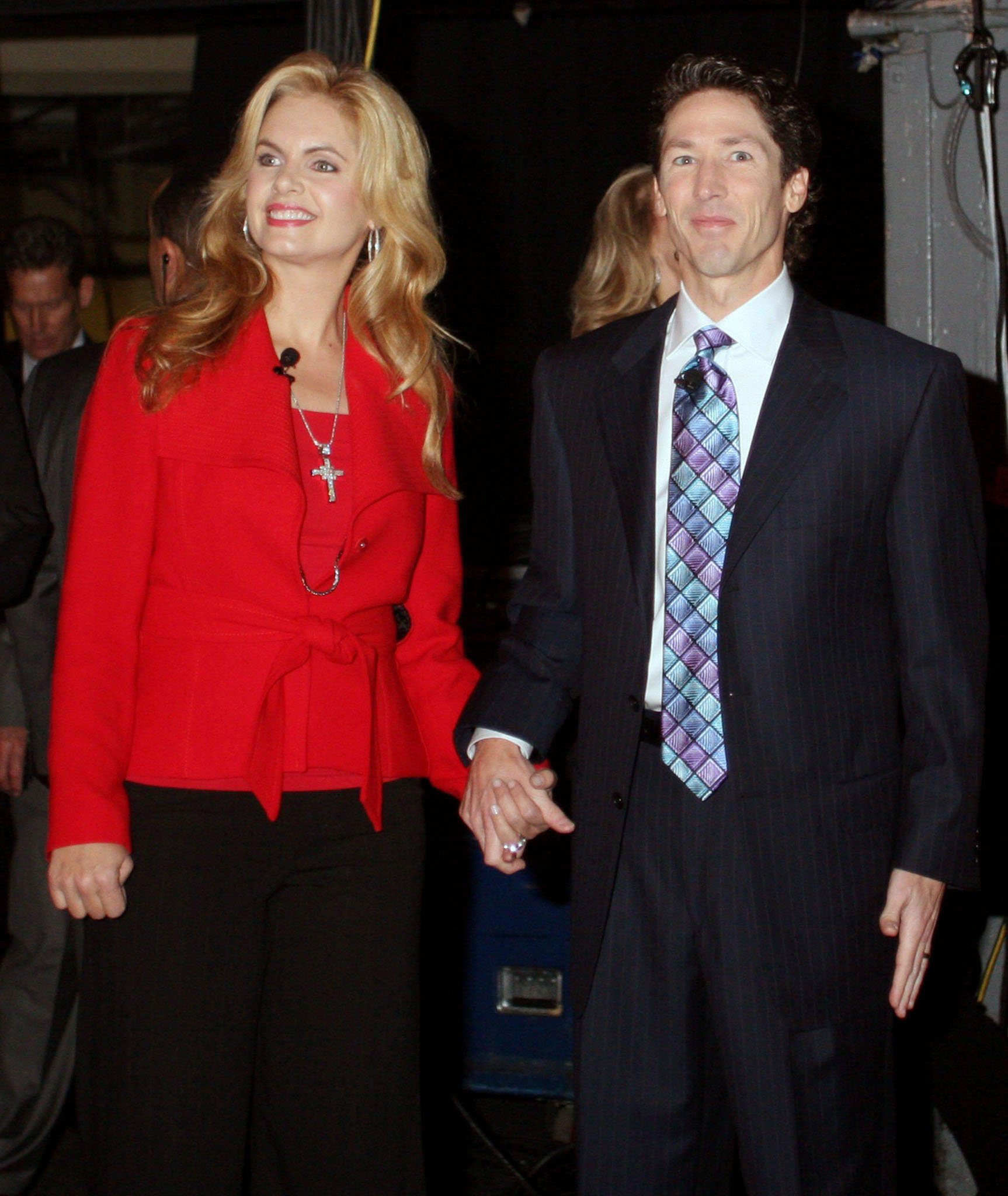 Pastor Joel and Victoria Osteen have been married since 1987 and share two children together (Credit: Michael Carpenter / WENN)
Despite Victoria's picture-perfect image of a Godly wife and mother, she has had her fair share of scandals throughout the years.
In 2008, a lawsuit was filed against Victoria by a flight attendant who asserted that the pastor's wife (allegedly) assaulted her during a flight.
While the lawsuit was eventually dismissed, Victoria was hardly without fault. In fact, she was fined $3,000 by the Federal Aviation Administration for "interfering with a crew member" and delaying the flight in question by over two and a half hours.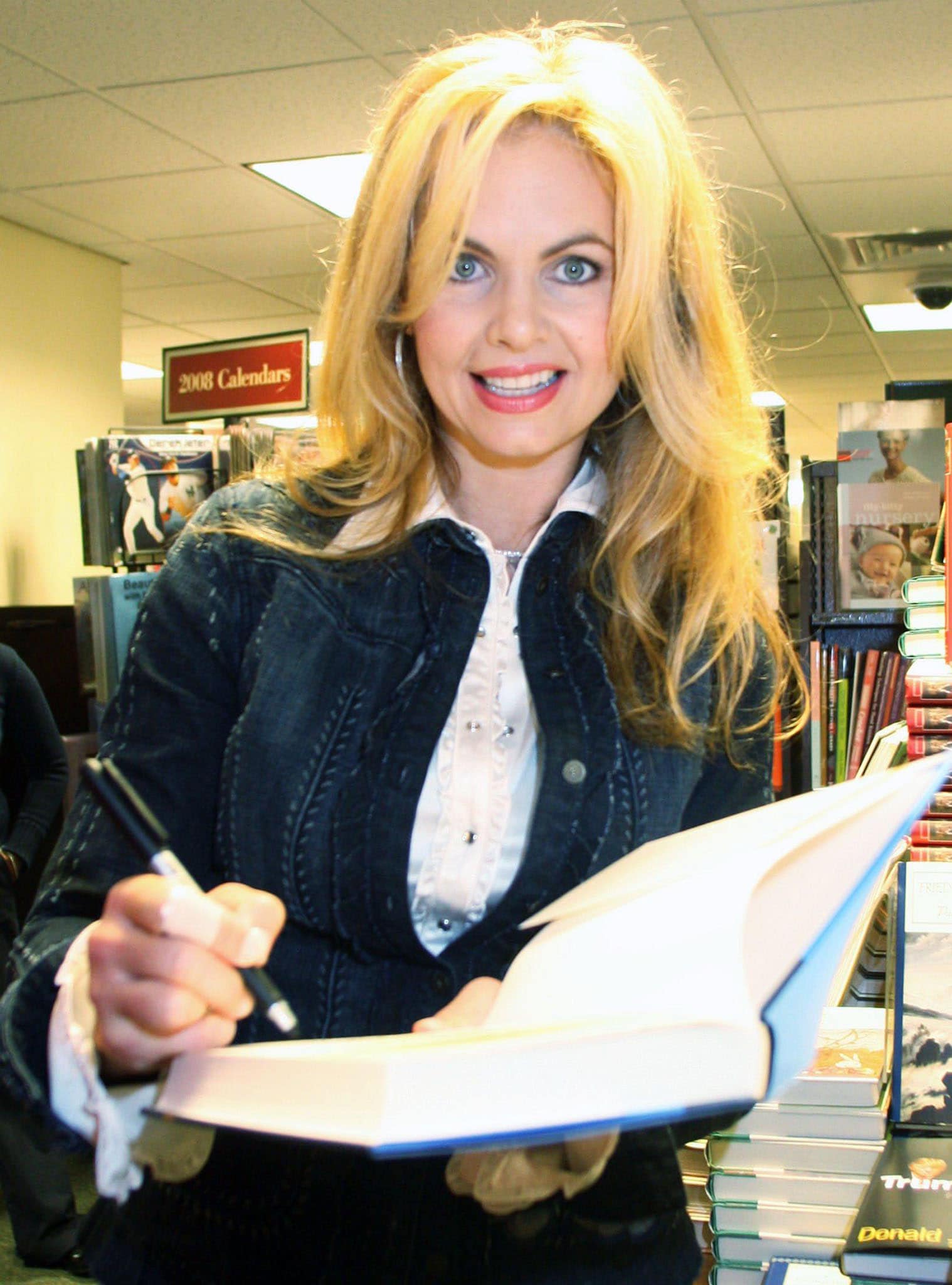 Victoria Osteen, pictured signing Pastor Joel's Become a Better You book in 2007, allegedly assaulted a flight attendant in 2008 (Credit: Michael Carpenter / WENN)
How Victoria and Joel Osteen Met
Victoria and Joel met while she was working at her mother's jewelry store and pursuing a degree in psychology at the University of Houston.
Osteen walked into Iloff Jewelers to get a new watch battery. They tied the knot in 1987, just two years later.
Victoria stated on Get Up! Mornings, "When we got married, we weren't pastors. We were just two young people … We have grown together and learned together, and really learned how to love people together. It's a beautiful place to be, something I didn't expect when I got married."
Did Victoria And Joel Osteen Get Divorced?
Despite the Osteen couple being repeatedly bathed in controversy, rumors of their divorce are just that: rumors.
These rumors may have been sparked by a blog post penned by Joel Osteen in 2014. The post, entitled "Let Go of the Ashes", contained the words: "The enemy would love for you to spend your whole life sitting in the ashes, bitter over a relationship that didn't work out… It's time to turn those ashes loose. If you went through a divorce, let it go. God has somebody better in your future."
While many could interpret this as simple religious advice given by a pastor, some felt that he was hinting at unrest in his marriage or even a divorce.
However, it was not a subliminal message. Joel and Victoria Osteen are still together, and the two can be seen together frequently on social media, looking very much in love.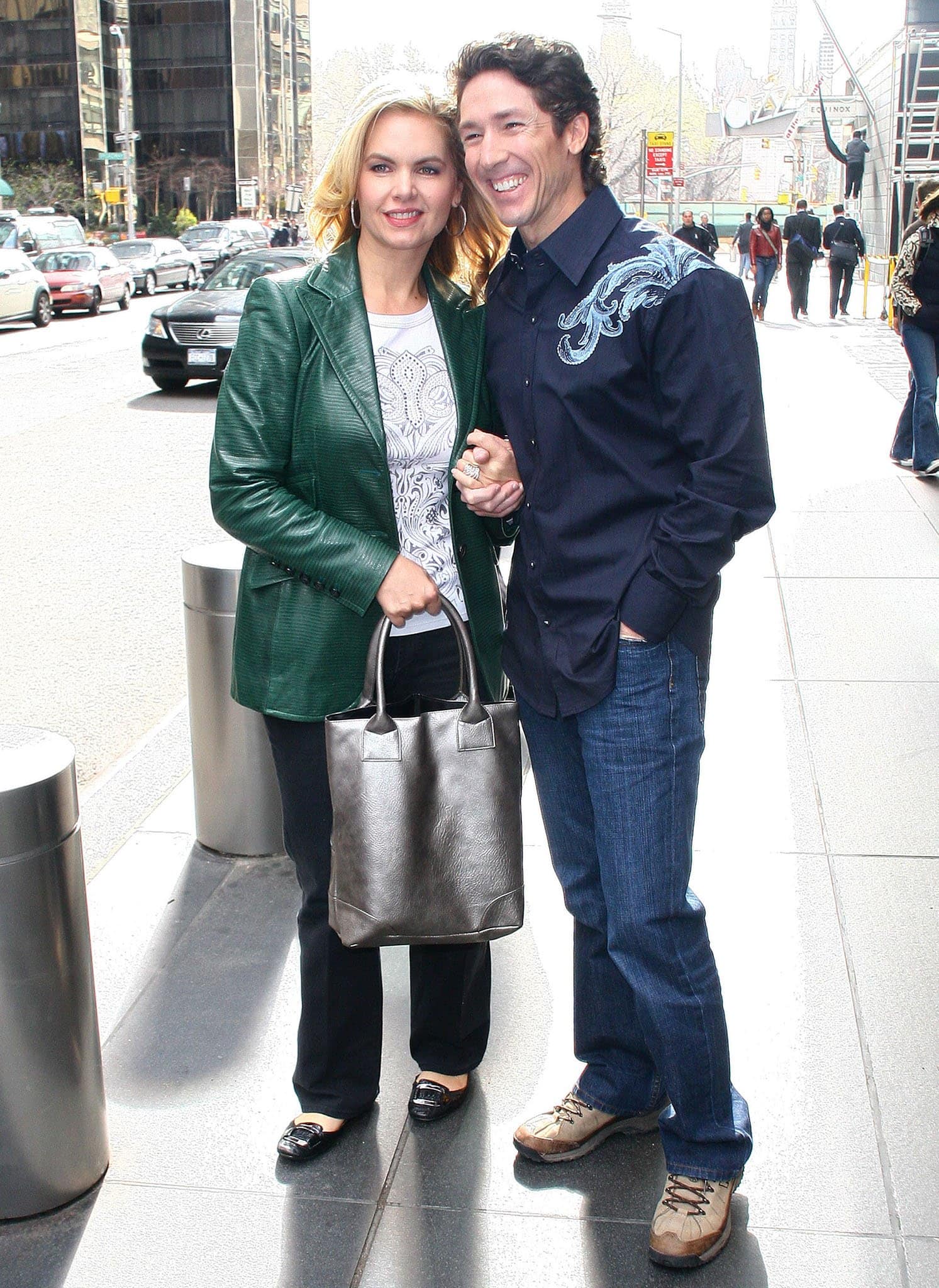 Victoria and Joel Osteen looking all loved-up outside their Manhattan hotel on April 7, 2009 (Credit: WENN)
Even if you aren't a fan of the Osteens, you have to admit that an almost 36-year marriage is nothing to sneeze at, even if the couple has some unorthodox methods of keeping their relationship alive.
For example, Osteen follows what he calls "the Billy Graham rule", which dictates that he does not talk to or fraternize with women unless there are "witnesses" present. Whether this is to protect his marriage or protect his image is up to interpretation.
The pastor also has expectations when it comes to his wife's looks. Osteen famously told Piers Morgan on CNN, "Wives, don't look good for everybody else. Look good for your husband, too."
Victoria, who was also at the interview, quickly clarified for her husband before the media could tear into him, agreeing and saying, "Don't wear that same old bathrobe you've been wearing for the last 10 years. That's what he meant. We all needed to be reminded, you know, that, 'Hey, you know what? We do need to take that extra time.'"
So, no, Joel and Victoria Osteen are not getting a divorce. However, that rumor seems to be the least of their problems.