Jordana Brewster is turning out to be quite the stylista. She may not have the "look-at-me" kind of fashion sense, but her simple, quiet, minimal yet always effortlessly chic way of dressing makes the actress somewhat stalk-worthy in our books.
The other day, she was spotted out and about in Brentwood in a really casual outfit made up of a printed pink tunic, ripped folded-up jeans, and flat Tory Burch "Amalie" sandals. It was one of those relaxed-boho ensembles any girl would love to wear — easy, loungy, fashionable, and very comfortable. She finished the look with sunnies and a classic tan tote — the perfect accessories for such an attire.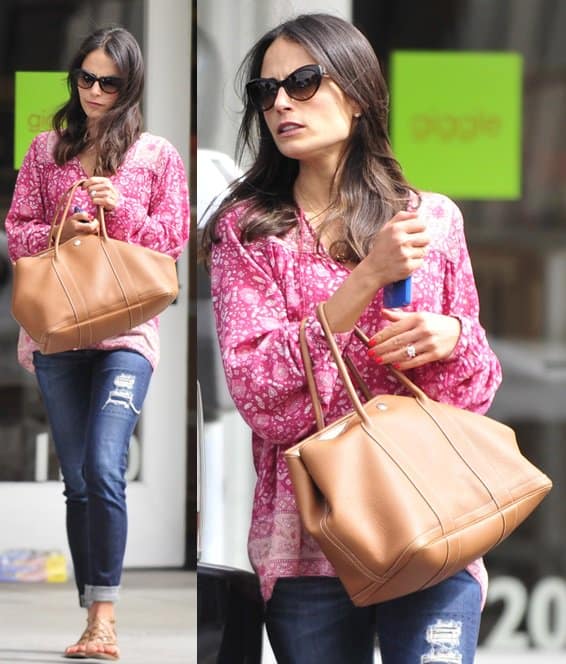 Jordana Brewster running errands while decked in a simple but boho-chic outfit in Brentwood, Los Angeles on June 5, 2013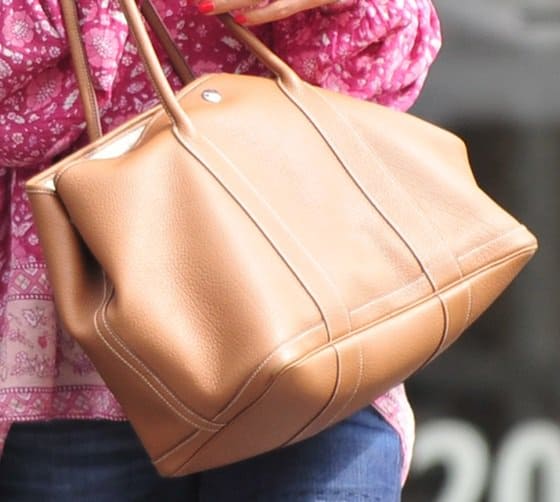 A closer look at Jordana's tan tote
How do you like Jordana's off-duty style? Simply lovely, yes?
Jordana's bag is from Hermes — the "Garden Party" or "GP." She actually has it in two other colors — black and light blue. The tan version, however, is the most attractive. It is obviously a very understated purse. Save for the metal button detail at the center and the stitching on the handles, you could say it looks like any other tote. But then again, it's Hermes.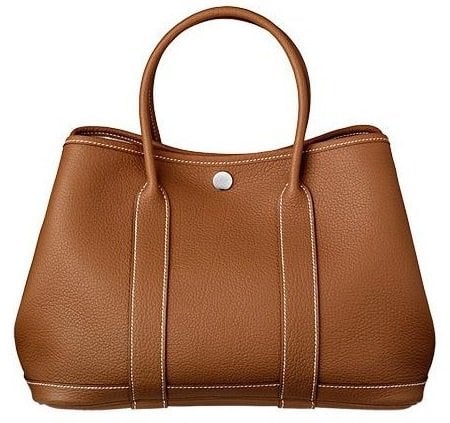 Hermes "Garden Party" Bag in Gold Negonda Leather, $3,275
Now, speaking of the classic tan tote, it's the kind of accessory that is perennial and timeless. It never goes out of style, and it stays in circulation all year round. However, it is most necessary during summer. Tan simply looks great with florals, prints, white, and denim — trends that go in full swing during the really warm season.
If you love the look of a tan leather tote, why don't you check out these yummy buttery brown leather options we found at Amazon? These are just as fantastic, though certainly not as pricey:
MICHAEL Michael Kors Saffiano Medium Travel Tote, $278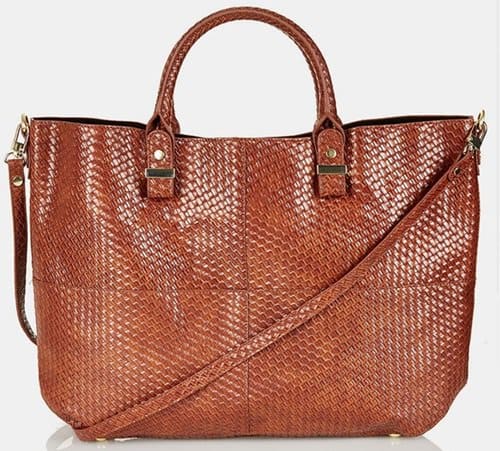 Topshop Woven Lady Faux Leather Tote, $72
And if it's the one-button center detail you want, you can try this piece from Monserat de Lucca instead. It isn't in tan, but it's a tote and it's just as timeless:
Monserat de Lucca Fatima Tote, $379
Credit: WENN