Hollywood's newest It couple isn't Megan Fox and Machine Gun Kelly. It isn't Pete Davidson and Kim Kardashian, either. It's Kardashian's ex Kanye West and his new lover Julia Fox.
Julia Fox and her boyfriend Kanye West in black leather jackets and dark leather pants at the Schiaparelli Haute Couture Spring/Summer 2022 show as part of Paris Fashion Week on January 24, 2022, in Paris, France (Credit: MEGA / WENN)
The two have taken the world by storm and are an undeniably fascinating couple to watch. Here's what we know about the two:
Who Is Julia Fox?
Julia Fox is an actress who recently rose to prominence through her breakout role in the hit movie Uncut Gems.
She has "Sancti" tattooed on the right shoulder and "Spiritus" on the left. In addition to being a city in Cuba, Sancti Spíritus is the genitive case of Latin Sanctus Spiritus ("Holy Spirit").
Revealing the "Sancti Spiritus" tattoos on her shoulders, Julia Fox shows off her boobs and glittering necklace from Hammerman Jewels (Credit: Avalon / WENN)
In December 2019, she turned heads for all the wrong reasons in an Alexander Wang lace jumpsuit at the GQ Men of the Year event.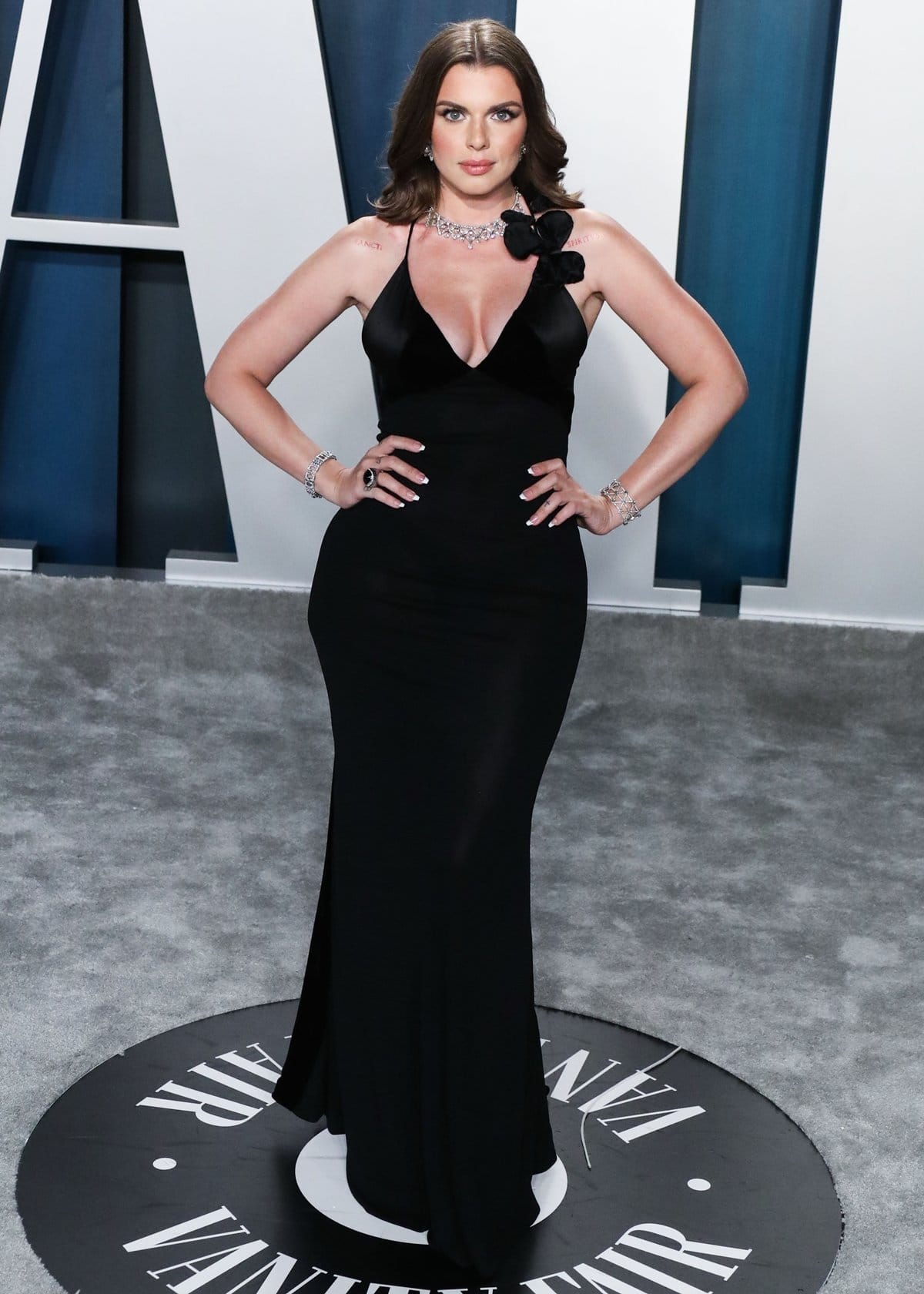 Julia Fox in a black Jean Paul Gaultier gown at the 2020 Vanity Fair Oscar Party held at the Wallis Annenberg Center for the Performing Arts on February 9, 2020, in Beverly Hills, Los Angeles, California (Credit: Avalon/ WENN)
Fox has a child with her ex-husband Peter Artemiev, and she's also been featured in magazines like Vogue and Paper for her modeling work.
| Who does Julia Fox have a child with? | She has a son with her ex-husband Peter Artemiev, a private pilot. The birth of her son was announced on February 14, 2021. |
| --- | --- |
| Full Name: | Julia Fox |
| Born: | February 2, 1990, in Milan, a metropolis in Italy's northern Lombardy region. |
| How did Julia Fox become famous? | She made her debut performance as Julia De Fiore in the 2019 film Uncut Gems, for which she was nominated for the Breakthrough Actor Award at the 2019 Gotham Awards. |
| How old is Julia Fox compared to Kanye West? | She is 13 years younger than Kanye West. |
Who Is Kanye West?
Kanye West is one of the wealthiest and most famous men on the planet. He's best known for his work as a rapper, but he's also made a name for himself as a fashion designer.
West was famously married to Kim Kardashian for many years, and the two share four children together.
How Did Kanye West and Julia Fox Meet?
Kanye West and Julia Fox met at a New Year's Eve party in Miami, Florida. Soon after the new year began, the two were rumored to be dating.
Fox, in an article she wrote for Interview magazine, confirmed the two are together. "Juliye," she wrote on her Instagram Story for the couple name she has created for them. Perhaps not surprisingly, Julia has been accused of dating Kanye for his money.
Julia Fox in a Rick Owens red leather dress and oversized trench coat heads out for dinner with Kanye West in Paris during fashion week on January 22, 2022 (Credit: MEGA / WENN)
"It's funny cause I'm getting all of this attention, but I really couldn't care," she said during an episode of her podcast Forbidden Fruits.
"People are like 'Oh, you're only in it for the fame, you're in it for the clout, you're in it for the money.' Honey, I've dated billionaires my entire adult life, let's keep it real."
Inside Their Relationship
Since Kanye West and Julia Fox began dating, the two have been inseparable, and new photos of them seem to be released constantly.
The photos often feature the two in close contact, hanging out with other famous people, like Madonna and Floyd Mayweather, and wearing designer clothing. They were most recently spotted watching shows at Paris Fashion Week.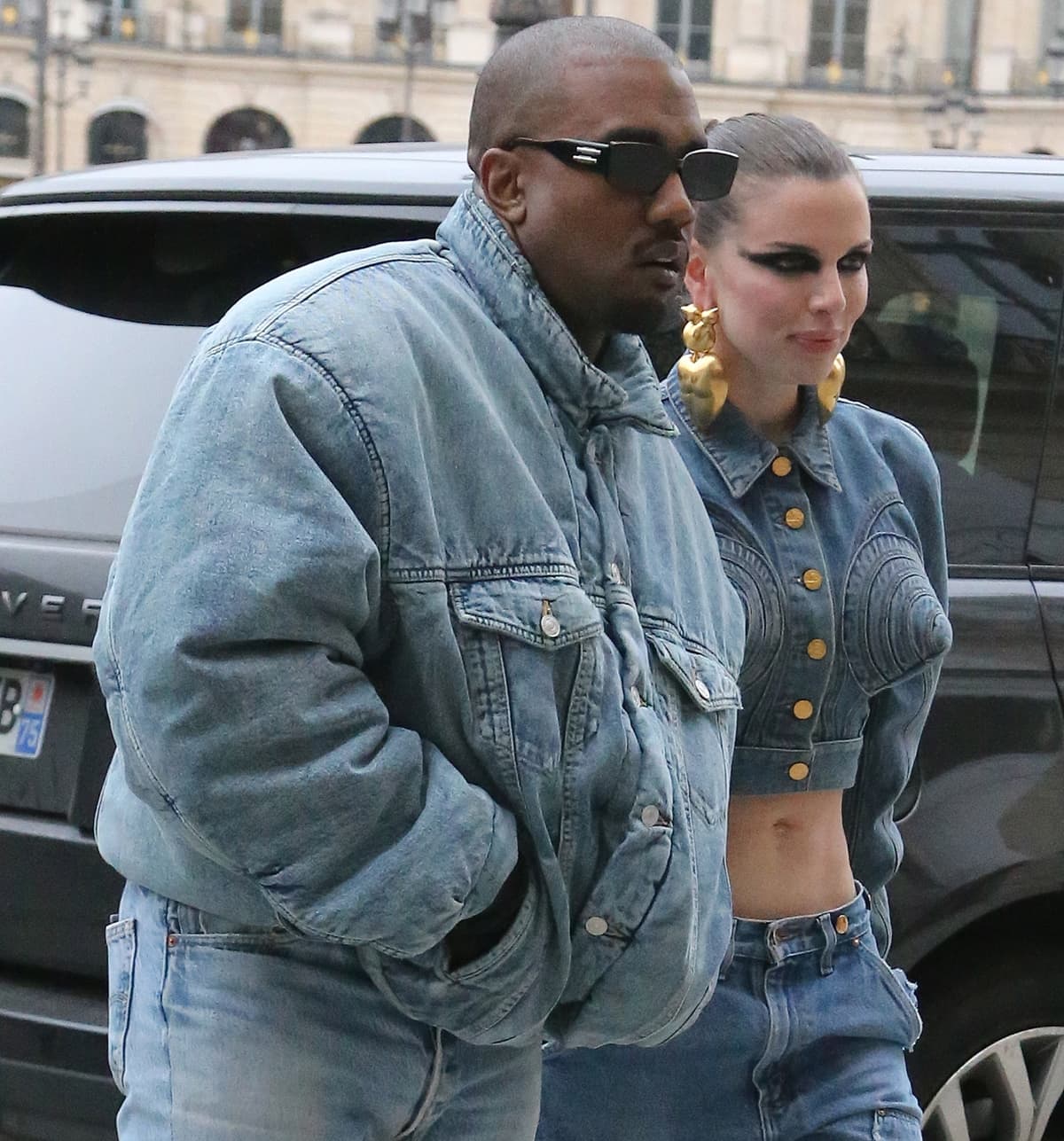 Kanye West and Julia Fox started dating after meeting in Miami on New Year's Eve (Credit: WENN / MEGA)
When Fox wrote about their relationship, she noted that the two instantly bonded and that West has kept her in the finest clothes, eating gourmet food, and experiencing five-star entertainment. She added that the future of their relationship remains uncertain, though.
More About the Two at Paris Fashion Week
As mentioned, the two have been photographed at Paris Fashion Week. West, obviously a fan of fashion and prominent in the sartorial world, has scored front row seats to some of the biggest shows, including Kenzo and Schiaparelli.
West and Fox stepped out in matching denim outfits made by Schiaparelli. West paired his outfit with black boots resembling galoshes and black sunglasses, while Fox stunned in distinct black eye makeup, chunky earrings, and slicked-back hair.
Kanye West and Julia Fox arrived in matching denim ensembles for the Kenzo Men's Fall/Winter 2022/2023 fashion show at Galerie Vivienne during Paris Fashion Week on January 23, 2022, in Paris, France
The two were also seen in matching leather outfits. West kept his look monochromatic in all black, save a gray head covering, and Fox opted for a red dress, silver boots, and a black trench coat.
What Does Kim Say About Julia Fox?
According to unconfirmed reports, Skims founder Kim Kardashian is somewhat happy that Julia Fox is a fan of the Kardashian clan. "She appreciates that Julia admires her and her family — and would much rather prefer that over someone who is a hater," a source told Page Six.
"I'm gonna miss Keeping Up," Julia Fox said on her 'Forbidden Fruits' podcast with co-host Niki Takesh. The reality television series Keeping Up with the Kardashians (often abbreviated KUWTK) concluded on June 20, 2021.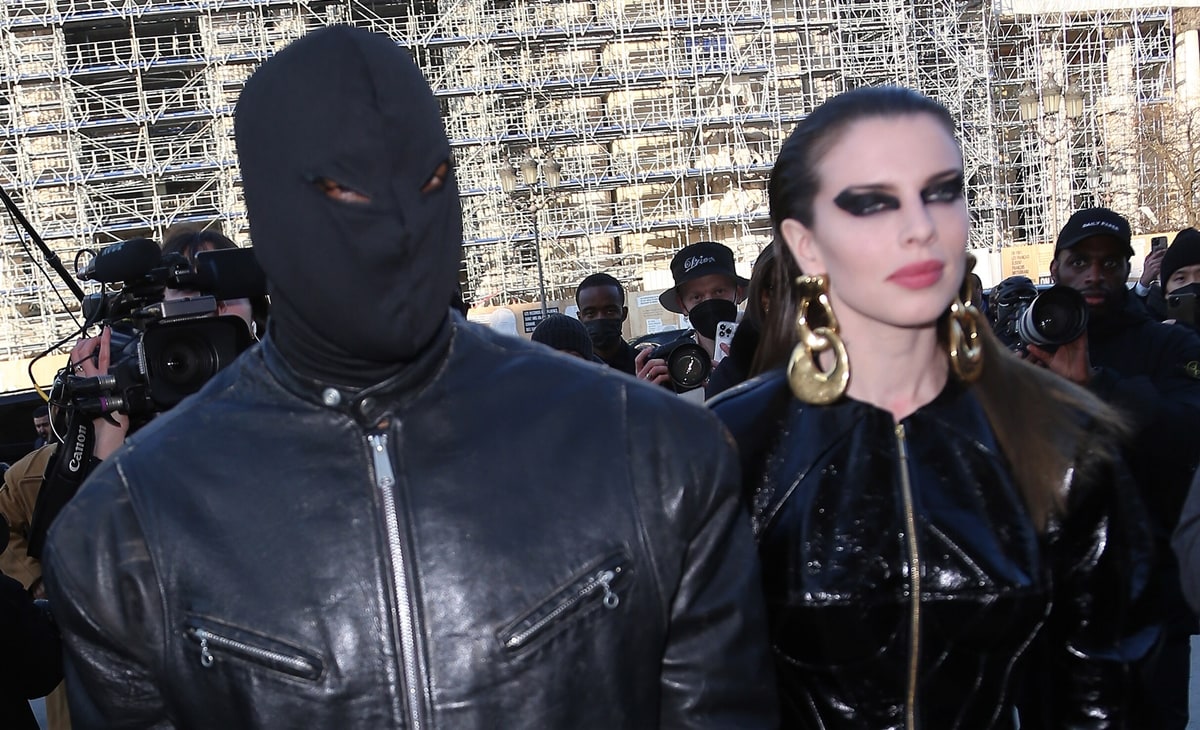 Kanye West covers his face with a head mask while his girlfriend Julia Fox wears dramatic eye makeup and gold earrings at the Schiaparelli Haute Couture Spring/Summer 2022 show as part of Paris Fashion Week on January 24, 2022, in Paris, France (Credit: MEGA / WENN)
"I have been watching keeping up since it first came out in 2007 when, like, watching it was embarrassing. I wanted them to be my family. You feel like you know them. "
"It's like you are happy for them when something good happens to them," she added.
What's Next for the Couple?
Julia Fox has been very open about her relationship with Kanye West. She's written about it and talked about it on a podcast. She's noted that she's dated other billionaires, and she's not with West for the money, but many are still skeptical.
It's hard to say where West and Fox's relationship will go from here, but the two will definitely continue making headlines no matter where they end up.
After celebrating Easter in April 2015 with their extended family at what looked like an all-white party, Kim Kardashian and Kanye West were seen catching a flight out of town at LAX.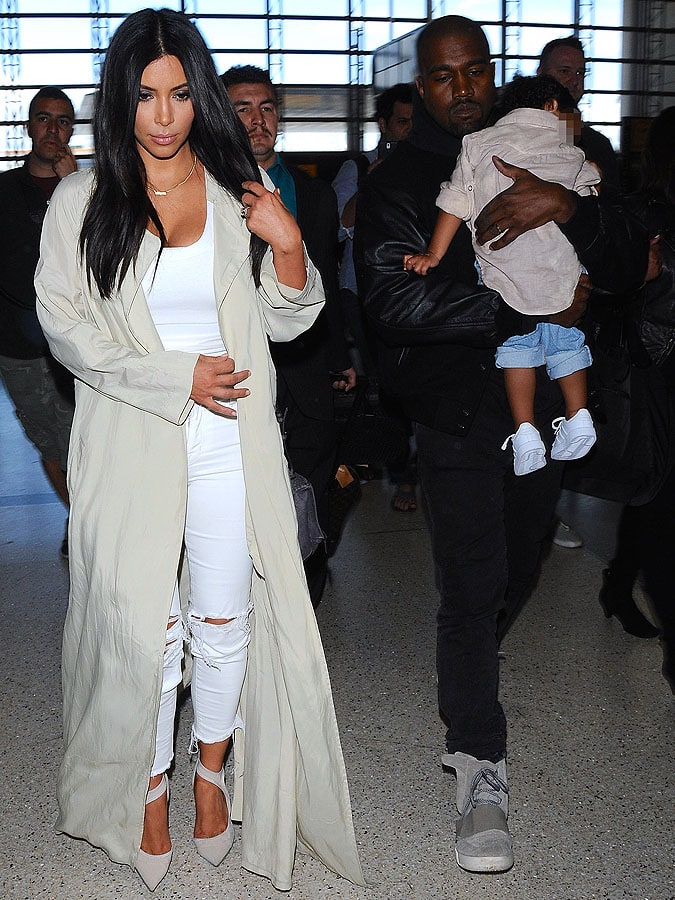 Kim Kardashian, Kanye West, and their daughter, North, on their way to catch a flight out of Los Angeles International Airport in Los Angeles, California, on April 7, 2015 (Credit: WENN)
Kim retained the all-white look and wore a white tank, white ripped jeans, a beige trench coat, and tonal Balenciaga elastic-strap d'Orsay pumps.
Kanye, on the other hand, not only ditched the theme but went the complete opposite in a black stadium jacket, a black t-shirt, and faded black jeans.
The only thing breaking up the all-black was the sand-colored "Yeezy 750 Boost" sneakers, Kanye's very own sneaker design that he collaborated on with Adidas.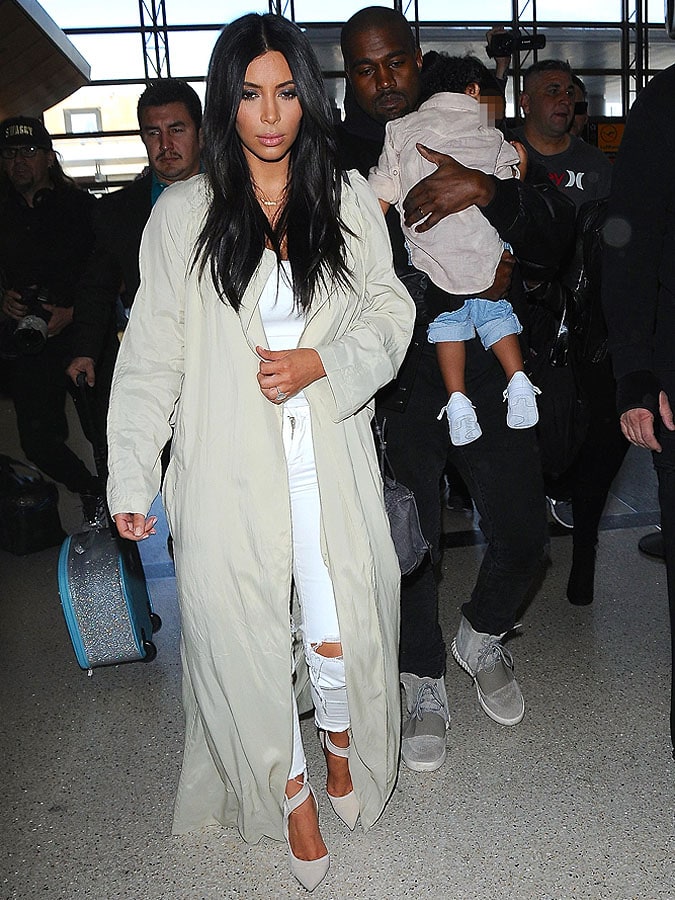 The Wests making their way through a throng of paparazzi inside LAX (Credit: WENN)
Kim was just spotted wearing the Adidas x Kanye West Yeezy 750 Boost sneakers, so it seems that the husband-and-wife are taking turns wearing the sneakers.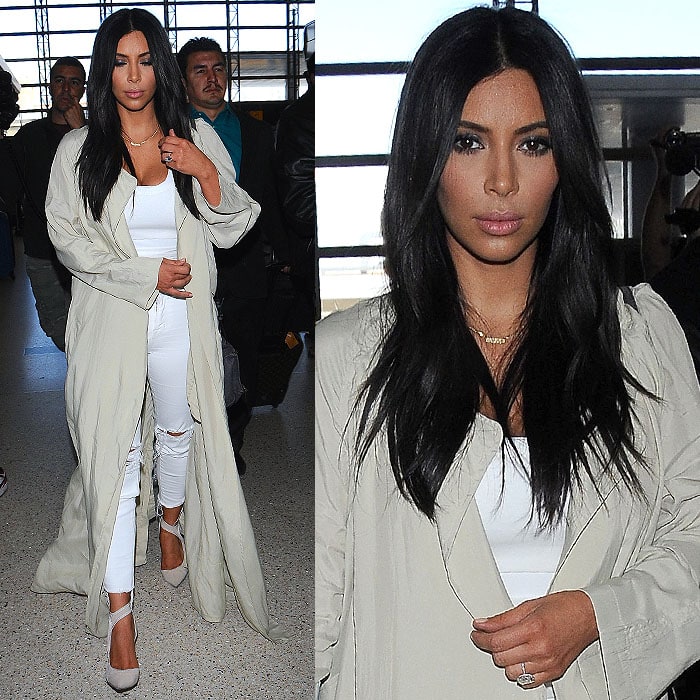 Kim Kardashian remaining expressionless (Credit: WENN)
Not only that, but it seemed the two also swapped moods that day; expressionless Kim was bordering glum, while usually surly Kanye was uncharacteristically smiley at the paparazzi.
Kanye West flashing a rare smile at the paparazzi (Credit: WENN)
Kim wore her old Balenciaga half d'Orsay ankle-strap pumps for their flight out of LAX that day.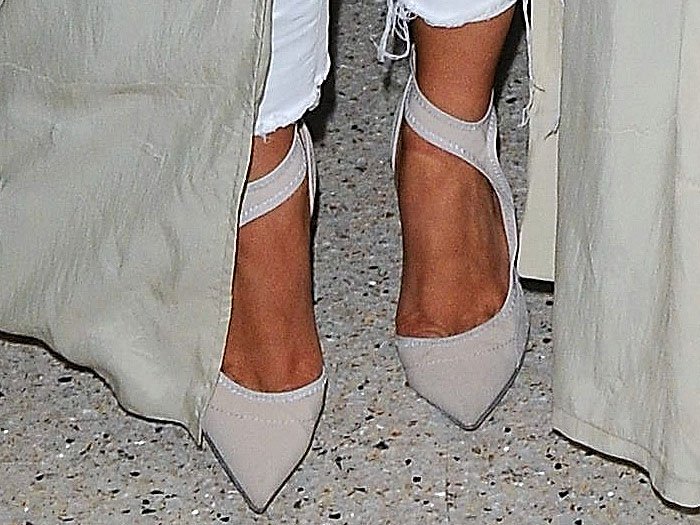 Kim Kardashian's feet in Balenciaga half d'Orsay ankle-strap pumps (Credit: WENN)
She has called them her favorite shoes and has worn them on numerous occasions including the 2014 Teen Choice Awards and a visit to a London art gallery.
Balenciaga Perforated-Suede and Elastic-Strap Half d'Orsay Pumps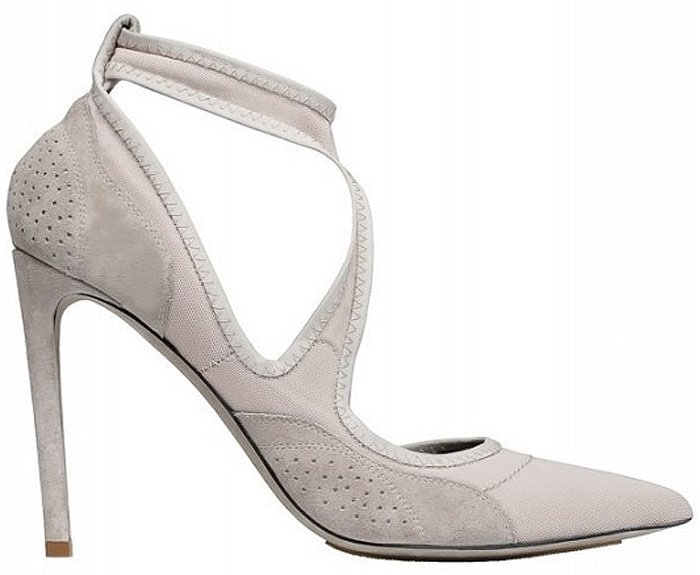 Kanye's own sneakers quickly sold out after the launch. Make sure you don't end up with a pair of fakes!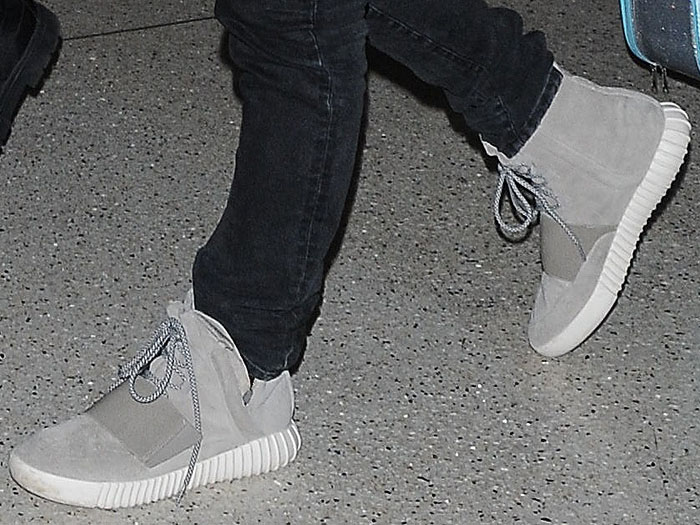 Kanye West wearing his own design, the Adidas x Kanye West "Yeezy 750 Boost" sneakers (Credit: WENN)
Adidas Originals x Kanye West Yeezy "750 Boost" Sneakers