Julianne Hough's dancing career might require a lot of physical fitness, but that doesn't mean she didn't go through her own struggles with her body.
The former "Dancing With the Stars" judge dealt with body image struggles at the age of 20-years-old, just like so many others. After coming out victorious, she's giving the wisdom back to her fans through fitness posts and free Fitbits.
Jules was spotted at her "Extra" guesting before handing out Fitbits to fans in Universal Studios.
Julianne Hough arrives on the "Extra" set at Universal Studios on October 3, 2017.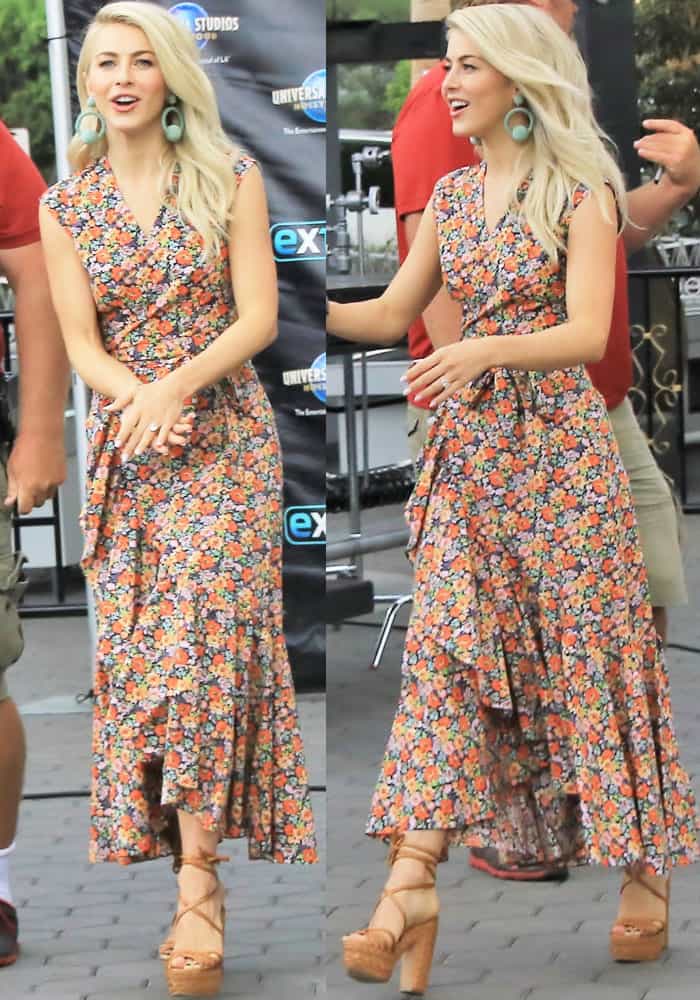 Jules looked sweet in a Rebecca Taylor floral dress.
The ever-positive Julianne wore her personality on her clothes as she stepped out in the floral "Moonlight Garden" dress by Rebecca Taylor.
To add some fun to the femininity, Julianne wore a Rebecca De Ravenel "Claudia Lala" hoop earrings in mint green with oversized Chloé "Carlina" sunglasses.
Julianne finished the look with the Starthberry "Nano" tote and a pair of Alchimia di Ballin "Eryn" sandals in brown eel skin.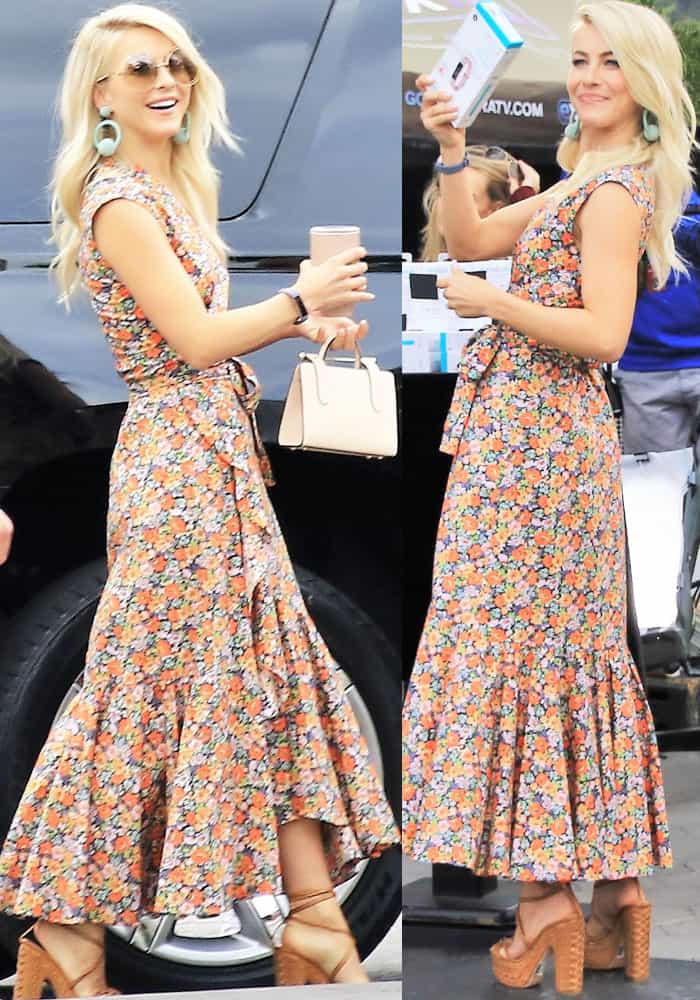 The Fitbit brand ambassador was spotted giving away free merchandise.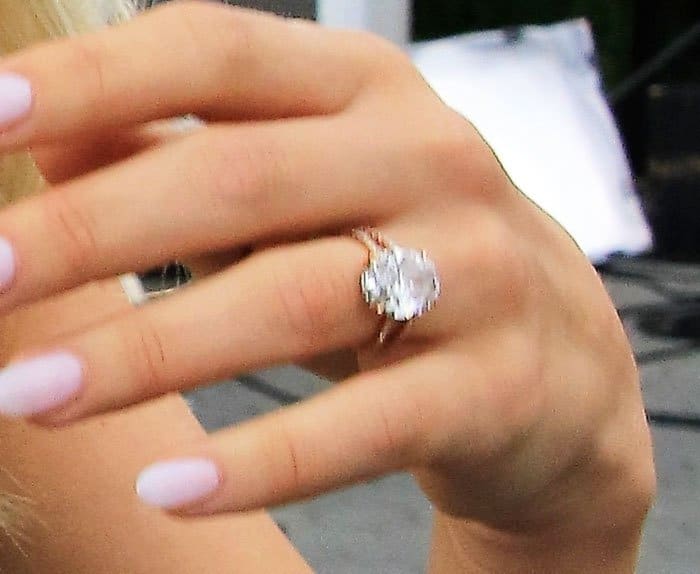 Julianne shows off her gigantic ring after almost three months of marriage.
Jules and "Extra" host Mario Lopez fool around in between takes.
Julianne dished on newly-married life. She said being a wife is much different than being a single, independent woman, and said that giving 100 percent in her marriage to Brooks Laich has allowed her a greater understanding of herself.
The actress also said leaving DWTS was partly because she wanted to enjoy her marriage. Her main reason for leaving, however, was because she wanted to focus back on her acting.
Jules also talked about the adorable bromance between her husband and brother, Derek Hough.
Grab the Alchimia di Ballin "Eryn" sandals in two colors at Barney's Warehouse.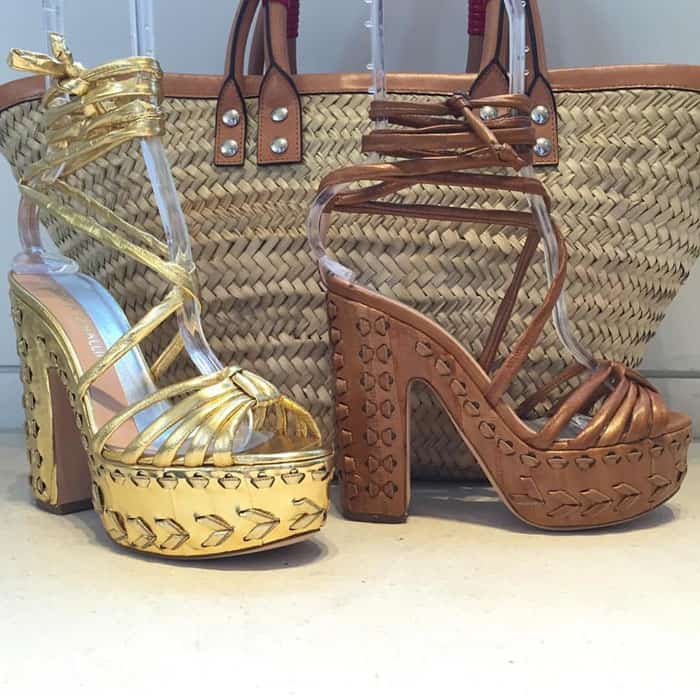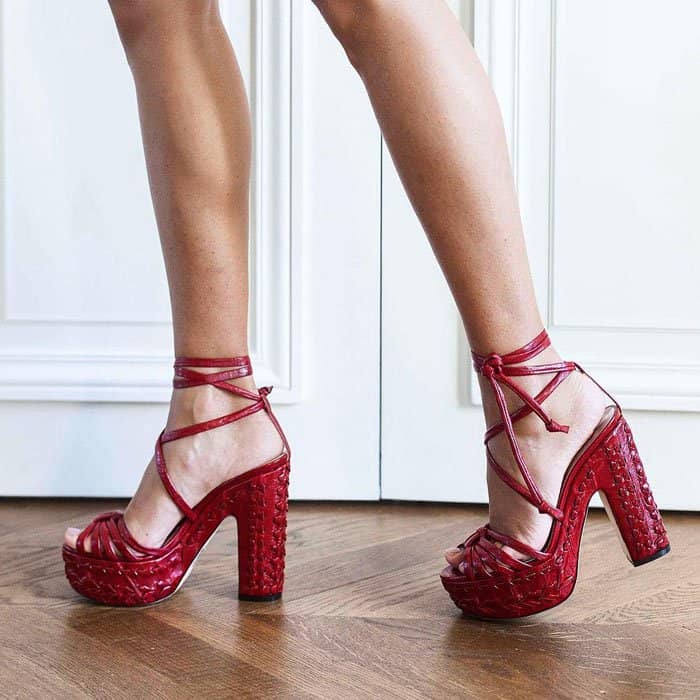 Alchimia di Ballin "Eryn" eel-skin platform sandals, $519 (original: $1,295)
Credit: WENN