While Claire Danes and her Zac Posen dress obviously won the technology x fashion theme at this year's Met Gala, we think Karlie Kloss deserved an award for the way she handled a fashion emergency.
Karlie was spotted looking ethereal in all-white as she stepped out for the cameras at the 2016 Met Gala.
Karlie Kloss at the Metropolitan Museum of Art Costume Institute Gala "Manus x Machina: Fashion in the Age of Technology" at the Met Museum in New York on May 2, 2016
Karlie Kloss gets a butt slap from the cheeky Irina Shayk
Karlie, who got a butt slap on the red carpet from her cheeky (pun intended) model friend Irina Shayk, shed layers from her dress one at a time. The top model started out with a turtleneck cape cover up before arriving on the red carpet. Then, she revealed the sexy cutout underneath right before she slashed her skirt off at her thighs. The gorgeous white dress was from designer Brandon Maxwell.
Karlie arrives at the after party after noticeably snipping her Brandon Maxwell skirt
After we noticed Karlie's dress after party skirt wasn't even hemmed, we dug around to find out what happened. As it turns out, Brandon Maxwell's creation took a little wine spill, which led to this unplanned beauty.
Karlie switched from her Giuseppe Zanotti "Anne" sandals to the Olgana Paris "La Delicate" heels. If you ask us, her outfit would have been much better off had she decided to stick to her gorgeous Giuseppe Zanotti pair. They would have looked super with her makeshift mini skirt (unless she spilled wine on those too, that is).
The supermodel also switched from a Lisa Perry clutch to a Jimmy Choo one. Karlie wore jewelry from Repossi and Kwiat.
White to black: Karlie Kloss switches from her Giuseppe Zanotti 'Anne' sandals to the Olgana Paris 'La Delicate'
Luckily for us, Karlie documented her entire behind-the-scenes with designer Brandon Maxwell. As it turns out, there was a spare dress in case anything was spilled on the one Karlie was wearing, so we're not sure why she opted for the scissors.
Maybe she felt like going a bit sexier for the night? Not that her dress didn't have enough holes in it already.
Grab Karlie's Giuseppe Zanotti "Anne" sandals at Giuseppe Zanotti and her Olgana Paris "La Delicate" shoes at Ssense and Barneys New York.
Giuseppe Zanotti "Anne" Sandals, $710 at Giuseppe Zanotti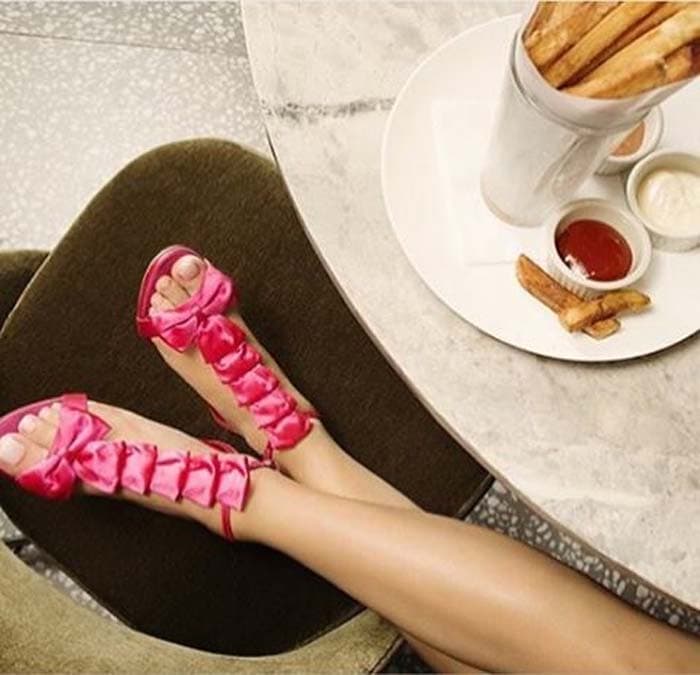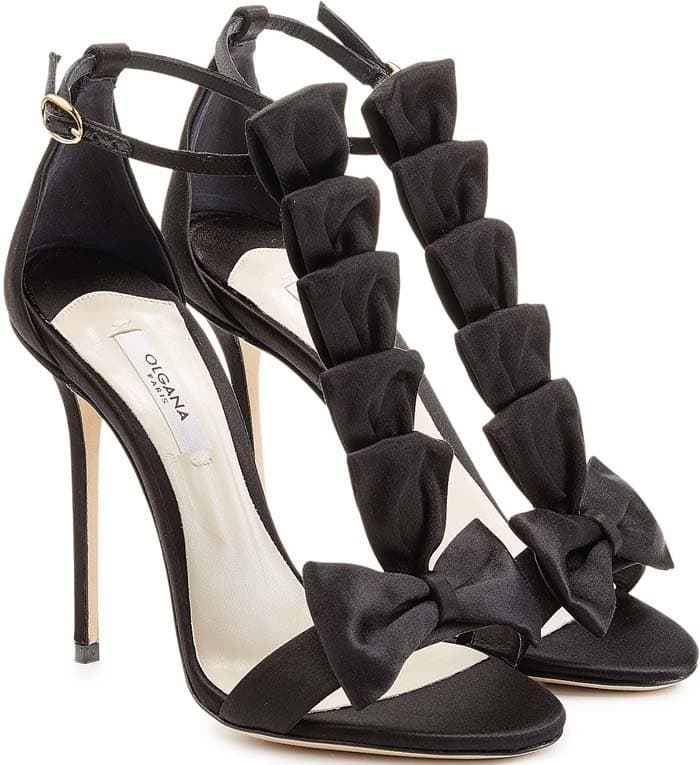 Olgana Paris "La Delicate" 10 Satin Sandals, $875 – $876 at Ssense and Barneys New York
Credit: Olgana's Instagram / Andres Otero / WENN