Kate Hudson has given birth to three children: Ryder Russell, Bingham Hawn Bellamy, and Rani Rose Hudson Fujikawa, all with different fathers.
First Son: Ryder Russell Robinson (born on January 7, 2004)
She gave birth to her first child, Ryder Russell, in 2004, when she was 24 years old with then-husband Chris Robinson.
According to People, her son's name was inspired by the song "Ride," because every time he heard it in the womb he would start moving around. It is also an homage to "I Know You Rider," a traditional blues song that was adapted by The Grateful Dead in 1971.
Kate Hudson and her son Ryder Russell arrive for the premiere of DreamWorks Animation and Twentieth Century Fox's "Kung Fu Panda 3" held at TCL Chinese Theatre on January 16, 2016, in Hollywood, California
Being a relatively young mother wasn't easy, which Kate Hudson revealed in an April 2019 interview.
"In terms of a Hollywood actress, I was like a teen mom," Hudson told Kelly Ripa and Ryan Seacrest on Live with Kelly and Ryan. "Me and Reese [Witherspoon] were like teen moms. We had kids super young."
Second Son: Bingham Hawn Bellamy (born on July 9, 2011)
After divorcing Ryder's father, American musician Chris Robinson, on October 22, 2007, she became romantically involved with Muse frontman Matthew Bellamy.
The two began dating in 2010, became engaged in April 2011, and welcomed Bingham Hawn Bellamy in July 2011.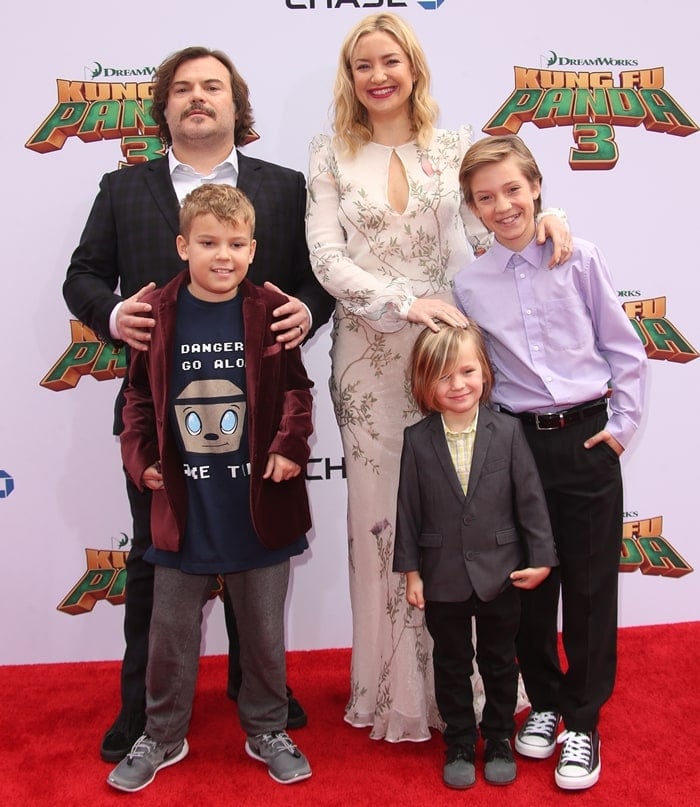 Jack Black with his second son Thomas David Black and Kate Hudson with her sons Ryder Robinson and Bingham Hawn Bellamy
First Daughter: Rani Rose Hudson Fujikawa (born on October 1, 2018)
Hudson announced on December 9, 2014, that she and Matthew Bellamy had ended their engagement. In December 2016, she started dating musician Danny Fujikawa, who is 7 years her junior and stepbrother of her friends Sara Foster and Erin Foster.
Their daughter, Rani Rose Hudson Fujikawa, is named after Danny's grandfather, who passed away just a few years earlier.
View this post on Instagram
"Some days I feel like I should win best mom of the day award," Hudson told InStyle in an April 2016 interview, "and some days I find myself doing strange things that don't have any real purpose, in faraway corners in my house."
In January 2019, Hudson was asked by AOL News how raising a girl is different from raising her boys.
"It doesn't really change my approach, but there's definitely a difference," Hudson responded.
"I think you just raise your kids individually regardless – like a genderless [approach]," she continued.
"We still don't know what she's going to identify as. I will say that, right now, she is incredibly feminine in her energy, her sounds, and her way. It's very different from the boys, and it's really fun to actually want to buy kids' clothes. With the boys, it was just like onesies … actually, I did pretty good with the boys. But with her, it's a whole other ball game. There's some stuff that I'm like, 'I can't do that to her, because it's so over-the-top.'"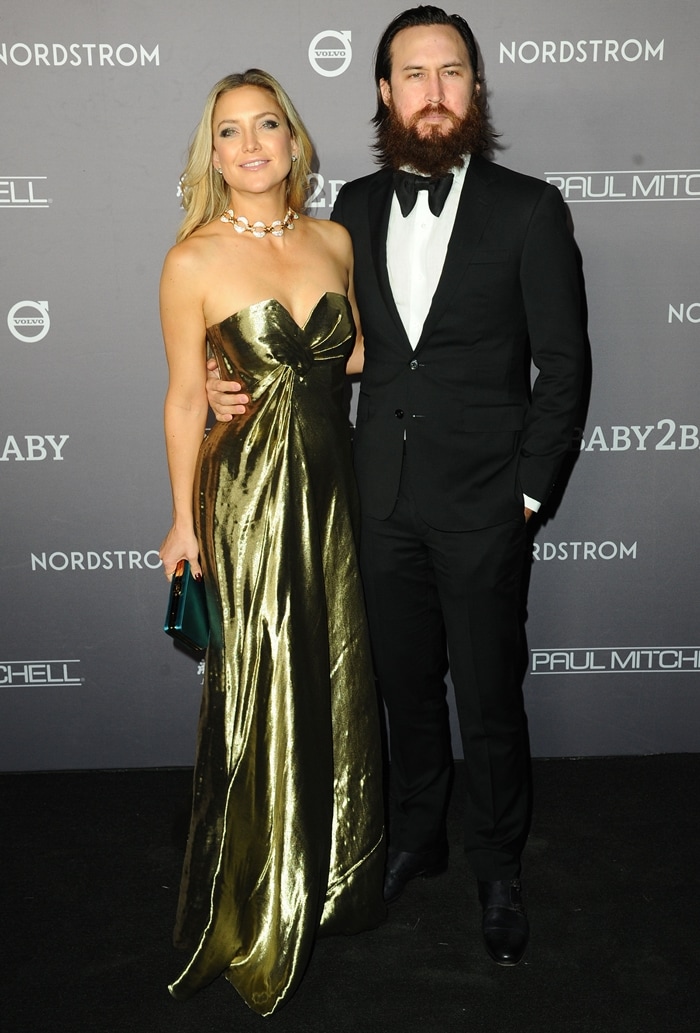 Kate Hudson and her boyfriend Danny Fujikawa attend the 2019 Baby2Baby Gala held at 3LABS in Los Angeles on November 9, 2019
After her use of the word "genderless" started generating headlines, Hudson decided to clarify her statement on social media.
"Recently someone asked me something along the lines of, if having and raising a girl is different from boys," she wrote on Instagram.
"My response was simple. Not really. This whole clickbait tactic of saying I'm raising my daughter to be 'genderless' is silly and frankly doesn't even make sense."
"I raise and will continue to raise my children, both my boys and my girl, to feel free to be exactly who they want to be," she added and emphasized that she won't force any gender norms on her kids.
"To feel confident in their life choices and feel loved and supported no matter what. Me saying a 'genderless approach' was a way of refocusing the conversation in a direction that could exist outside of the female stereotype. It just felt a little antiquated to me. Not all girls want to be a princess, some want to be a king. And that's fine with me."
"I recognize some want to take the headline earnestly as if I have some new age method of raising my kids and I really do hate disappointing people but, I don't," she wrote. "I just try to raise my kids to be good people with the best tools to face this big crazy world."
Kate Hudson wearing an Alessandra Rich dress on her way to attend the launch of her new vodka brand King St. Vodka at King Restaurant in New York City on December 9, 2019
Who doesn't love a good power suit? In September 2012, Kate Hudson was all business as she arrived at the "Glee" season 4 premiere held at Paramount Studios in Hollywood.
The actress wore a black-and-white Alexander McQueen tuxedo suit over a black lace camisole.
Goldie Hawn's daughter accessorized with chunky gold chain bracelets, a gold box clutch and black suede platform pumps that were studded with gold eyelets.
Kate Hudson poses on the red carpet at the "Glee" Premiere Screening and Reception at Paramount Studios in Hollywood, California on September 12, 2012
The only eyesore here is the way Kate fitted her pants. They're a bit too baggy and are awkwardly cuffed to boot.
But then again, if Kate Hudson didn't haphazardly roll her pant hems, we wouldn't have been able to see her shoes.
Have you ever intentionally cuffed your jeans or pants too high just so you could show off the shoes you were wearing?
Kate Hudson shows off her Brian Atwood pumps underneath her awkwardly cuffed pant hems
Kate is wearing the "Hamper" pumps from Brian Atwood.
This style has unfortunately sold out, but you can shop for other Brian Atwood shoe styles on Amazon.
Brian Atwood 'Hamper' Eyelet Studded Platform Pump, $1,010.00
Credit: WENN / FayesVision / Nikki Nelson / Instar