Kate Mara and her husband Jamie Bell have always tried to keep their private lives out of the limelight and away from the media's attention.
The couple, who married in July 2017, have also been private about their daughter since they welcomed her into the world last year.
On Wednesday last week, the 37-year-old actress got some fresh air with her daughter and stepson Jack Matfin Bell. They strolled around their trendy Los Feliz neighborhood, sans Jamie.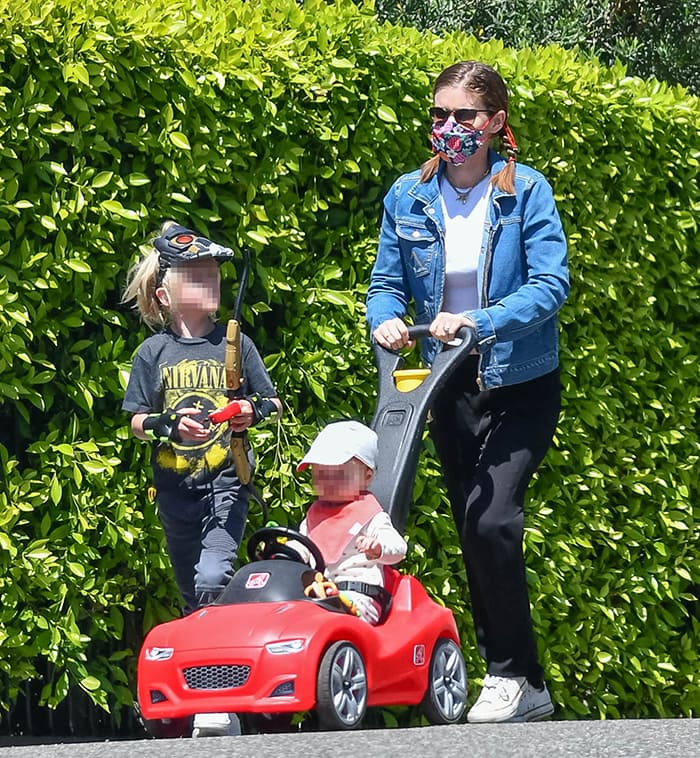 Kate Mara takes her daughter and stepson Jack Matfin Bell out for a stroll in Los Feliz, Los Angeles on May 22, 2020
Wearing a personalized printed face mask, Kate pushed her daughter in a red Step2 Whisper Ride Cruiser as she walked alongside her stepson, who donned a Nirvana tee and a costume toy mask.
Kate wears a printed mask with a denim jacket, black pants, and Converse sneakers
For the casual outing, Kate opted for a white long-sleeved top, a pair of loose-fitting black pants, and a Wrangler Retro Premium Heritage denim jacket ($89 at Wrangler), which she later tied around her waist.
Kate Mara wraps her jacket around her waist as she pushes her daughter in a red car-shaped buggy
With her hair styled in braided pigtails, the House of Cards star completed her look with a necklace and authentic Converse Chuck Taylor All-Star sneakers (available at Zappos).
Kate Mara completes her casual look with black-and-white Converse sneakers
Earlier this month, Kate and Jamie celebrated their daughter's first birthday while on lockdown amid the coronavirus outbreak. Kate's husband, Jamie Bell, was previously married to Evan Rachel Wood, an American actress, model, and musician.
Kate, who had a small role in Iron Man 2, posted an Instagram photo of her Strawberry Shortcake-themed cake, with the caption: "Baby's first Birthday cake @justwhatikneaded.la #vegan #glutenfree"
She ordered the cake from Justine T. Hernandez of Just What I Kneaded vegan bakery.
Justine posted a video of the cake on her Instagram, captioned: "Even strawberry shortcake kneads to wear a face mask! Gluten-free Chocolatey goodness with vanilla buttercream," to which Kate commented: "She loves it! Thank you!"
Credit: Instar / WENN