From Forever 21 to Chanel, Kendall Jenner has really come a long way from being a fledgling model and a reality show star to an haute couture darling.
Kendall Jenner styled her cracked leather jacket with Hudson Stark Moto Pant jeans (Chanel show)
At this point, it would seem like everything is handed to the 18-year-old on a golden platter.
Before donning the punk-inspired Chanel tweed dress and sporting a faux hawk that everyone is buzzing about, the model came to work looking like her usual self.
Kendall Jenner wears a Nour Hamour cracked moto leather jacket at the Paris Fashion Week Women's Haute Couture Autumn/Winter 2014/2015 (Chanel show) in Paris, France, on July 8, 2014 (Credit: WENN)
That means skinny jeans, a shirt, and a jacket over it. All that's missing in this look is a fair amount of distressing on her jeans, and it would be the typical Kardashian/Jenner getup.
Kendall Jenner styled her jeans with Celine skate slip-on shoes
Kendall looked impeccable and stylish in her Nour Hamour cracked moto leather jacket that she wore over a sweater and a collared top and partnered with a pair of Hudson Stark moto pants in jet black coated. She completed her ensemble with Celine Skate slip-on shoes and a Celine Nano bag.
Her cracked moto jacket is still available if you guys fancy something edgy to wear this season: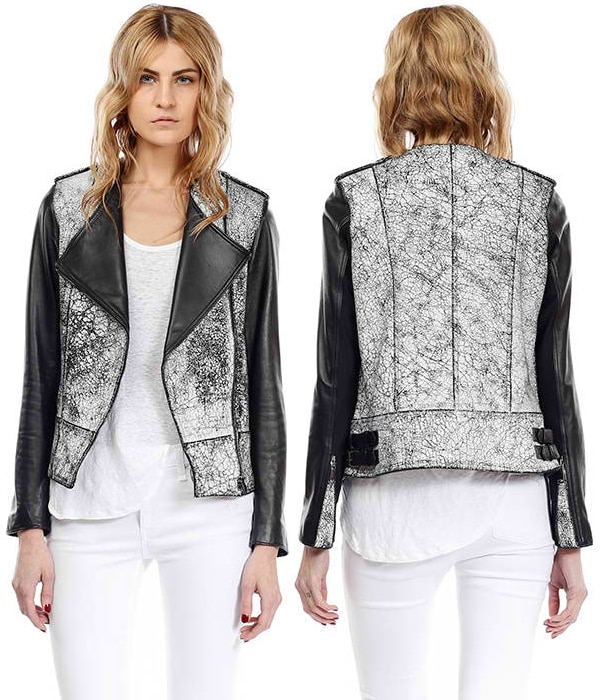 Nour Hammour "Maya" Cracked Moto Jacket
Moto jackets are great because they make even simple jeans outfits stand out. Just take it from Kendall! Here are similar finds from Shopbop:
Blank Denim Mixed Vegan Moto, $97
Sachin + Babi "Navarre" Striped Cascade Jacket, $425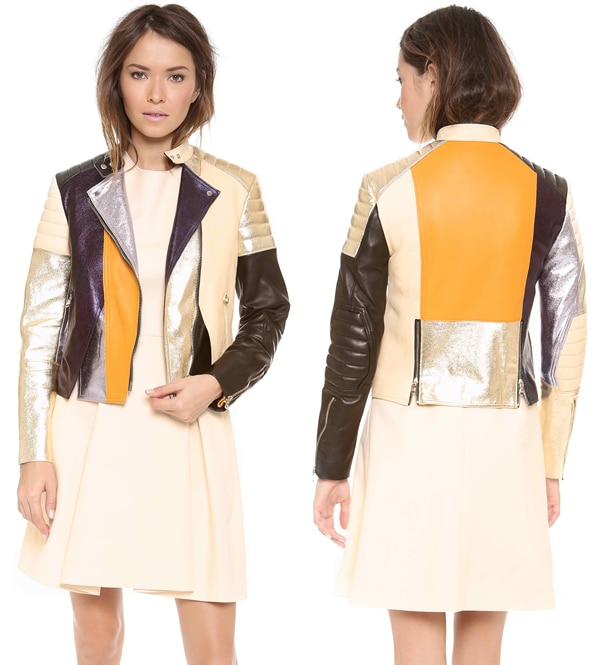 3.1 Phillip Lim Colorblocked Biker Jacket with Shoulder & Elbow Padding, $997.50
endless rose Pop Moto Jacket, $68.60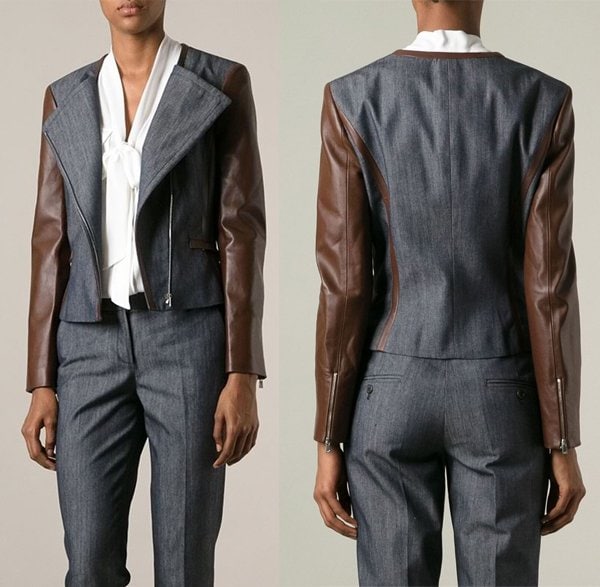 Michael Kors Fitted Jacket, $1,631.03
So, guys, what are your thoughts on Kendall Jenner hitting the haute couture runway?