Paris Fashion Week is upon us again, and that means an influx of model sightings in the city of romance. Kendall Jenner was the first to make an appearance out in the streets of Paris and boy, did she know how to make a grand entrance.
Kendall was spotted leaving L'Avenue with friend and co-model Bella Hadid in a head-turning, barely-there winter look.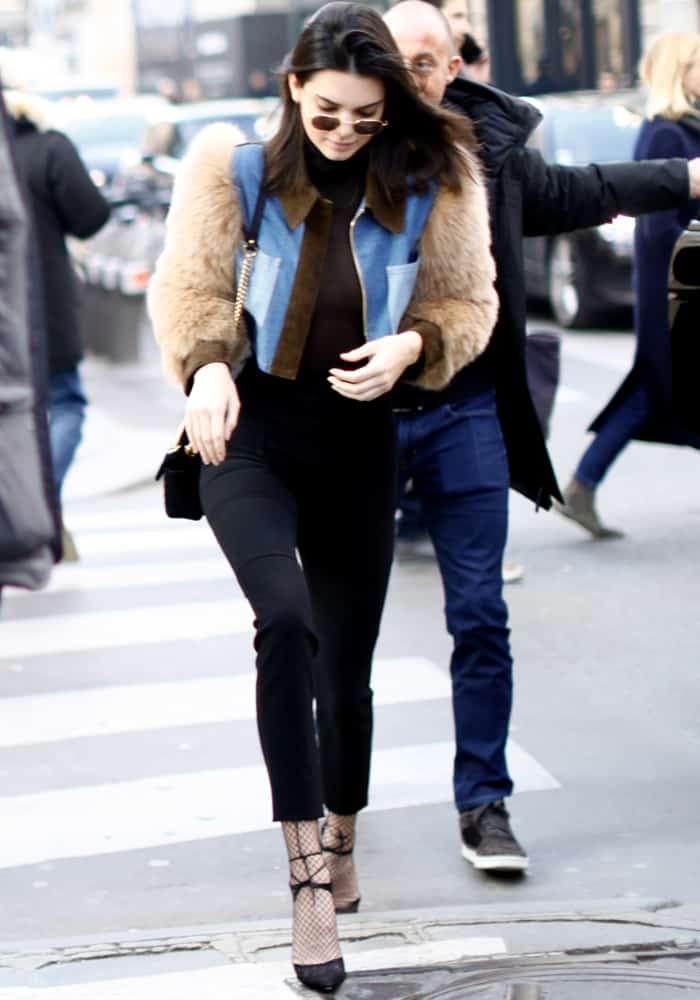 Kendall Jenner out in Paris on January 21, 2017.
Kendall steps out in a pair of Soebedar "Charissa" pumps.
Kendall is no stranger to baring her top, and has even mentioned before how much she enjoys doing it. However, the young model decided to cover up this time in an almost comedic manner. Kendall wore a see-through top with star nipple pasties underneath for a "conservative" look.
Kendall finished her look with high waisted pants, a Sonia Rykiel denim jacket with fur sleeves, a pair of Krewe "Ward" sunglasses, the Gucci "Marmont" bag in black and the Soebedar "Charissa" mesh pumps.
Kendall covers up with star nipple pasties.
Kendall was later spotted arriving at the Chanel Paris headquarters presumably to have her final fittings for haute couture week. The model missed out on the last Chanel show for unknown reasons.
At the Chanel fitting, the 21-year-old seemed to have taken off her pasties. Maybe she thought Karl Lagerfeld wouldn't approve of them? Luckily, everything stayed in place even as the cameras were going off on the young model.
Shop Kendall's Soebedar "Charissa" pumps at Soebedar.
Soebedar "Charissa" Mesh Pumps, $610.25 at Soebedar.
Credit: WENN