Kim Kardashian is dead serious on getting her pre-pregnancy body back. And we hear she's doing it the healthiest way possible for the benefit of her baby, whom she's currently breastfeeding. The secret to Kim's weight loss has recently been revealed — the Atkins diet. And along with it came an unfiltered selfie of Kim showing off her deadly curves in a white swimsuit, a picture that she gladly shared on Instagram. Check out Kimmy's sexy booty below.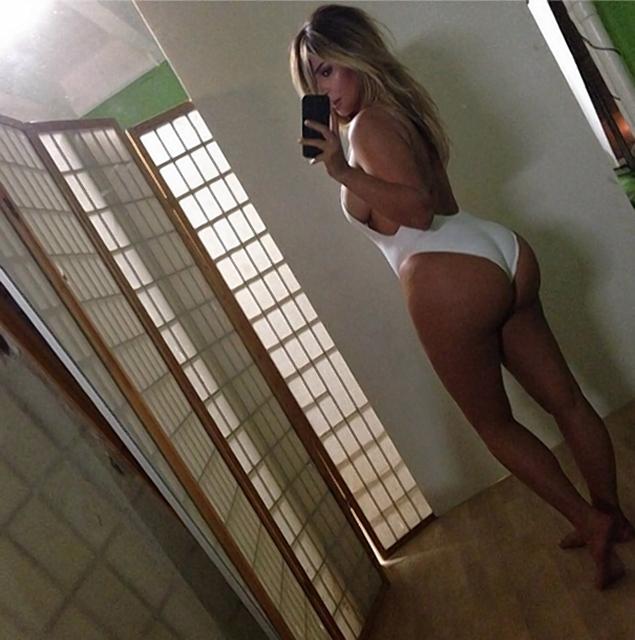 Kim Kardashian's picture of herself in a sexy swimsuit shared on Instagram
Well, you have to hand it to her. She actually looks good in that photo, yes?
Prior to this recent revelation of 'ass-ets', Kim was also spotted flaunting the same curves in a conservative yet revealing gray wrap dress while shooting scenes at the DASH boutique in Los Angeles last week. The long-sleeved frock hugged her body like a glove. It also showcased a good amount of legs and featured a sinfully low neckline.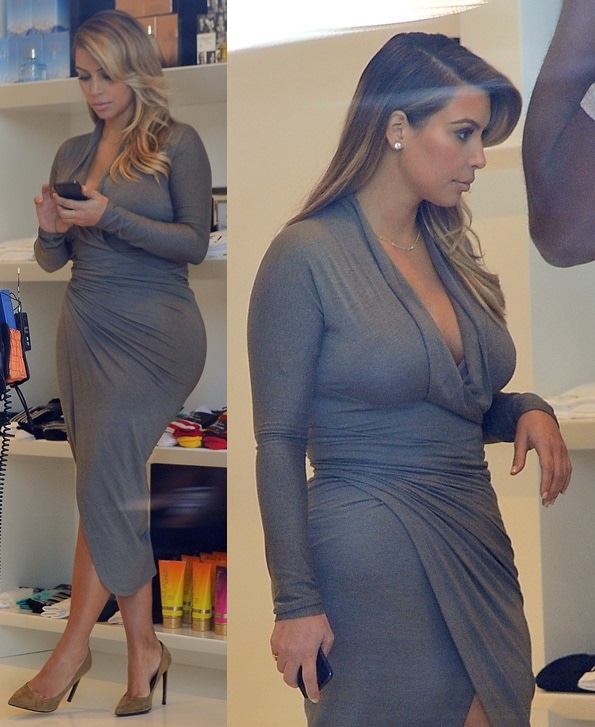 Kim Kardashian shooting scenes for her show at the DASH store in Los Angeles on October 12, 2013
Kim Kardashian flaunting her curves in a fitted gray long-sleeved wrap dress with a plunging neckline
Of course, Kim looked stunning per usual. The subdued gray color looked gorgeous with her tan, and it brought out the blondness of her hair. Kim finished the outfit with pointy suede pumps in rich nutmeg color — an unexpected choice, though it perfectly matched her hair color.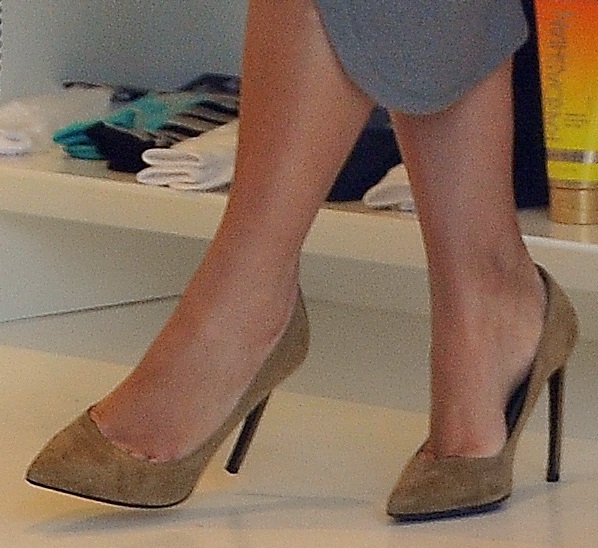 A closer look at Kim's light brown suede pumps
What do you think of Kimmy's outfit? Like? Maybe on a more slender figure, the mix will look classier. Would you agree?
That said, the dress actually looked very flattering on Kim. In case you're wondering where she scored it, that would be Donna Karan.
Donna Karan Draped Plunging Neck Midi Dress, $1,895
As for Kim's pointy pumps, those are the Saint Laurent 'Paris'. We've featured them here on YNS several times. They come in many renditions, from classic leather to patent and from studded to suede. What you see is what you will get with this style. The shoes feature lowered pointy vamps to elongate the legs, and they come with slim 4.25-inch-tall heels.
Several stores offer the 'Paris' pumps online, but the brown suede version on Kim can only be found at LuisaViaRoma. Other colors such as dark green and earth gray suede are available at Barneys.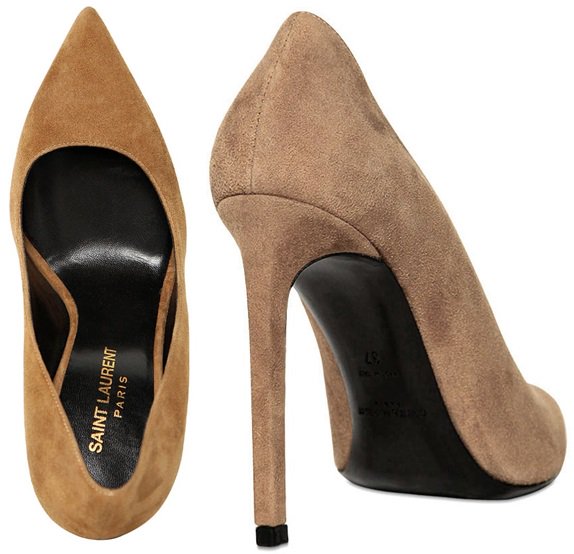 Saint Laurent 'Paris' Pumps in Light Brown Suede, $645
Saint Laurent 'Paris' Pumps in Dark Green Suede, $645
Saint Laurent 'Paris' Pumps in Earth Gray Suede, $645
Credit: WENN