Kim Kardashian is expanding her empire with the launch of her new skincare line, SKKN by Kim, a vegan and cruelty-free nine-step skincare ritual that she has developed with celebrity facialist and aesthetician Joanna Czech.
The products—a lush and creamy foaming cleanser, toner, exfoliator, hyaluronic acid serum, vitamin C8 serum, eye cream, face cream, vitamin C-infused oil drops, and nourishing night oil—come in refillable, neutral-colored cylindrical and spherical packaging, which she credited to her ex-husband Kanye West.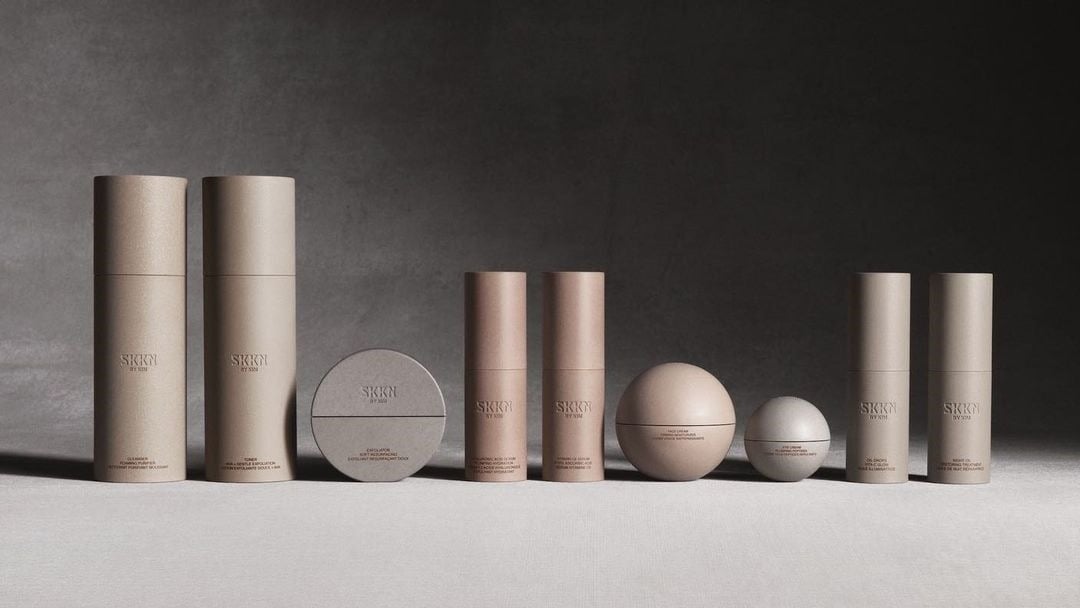 Kim Kardashian's new 9-piece skincare collection is called SKKN by Kim (Credit: SKKN by Kim)
"My creative process wouldn't have been complete—and I always give credit where credit is due—without Kanye or Ye," Kim said while giving her followers an inside look at her new personal office.
"He brought his team and introduced me to Willo [Perron] and we came up with the new name. That was actually his idea, and the packaging shapes were his, and even the font he did just like Skims."
"You guys should have seen the first set of packaging. Kanye walked in the room and was like, 'This is not it.' And he was right. Packaging is definitely his thing."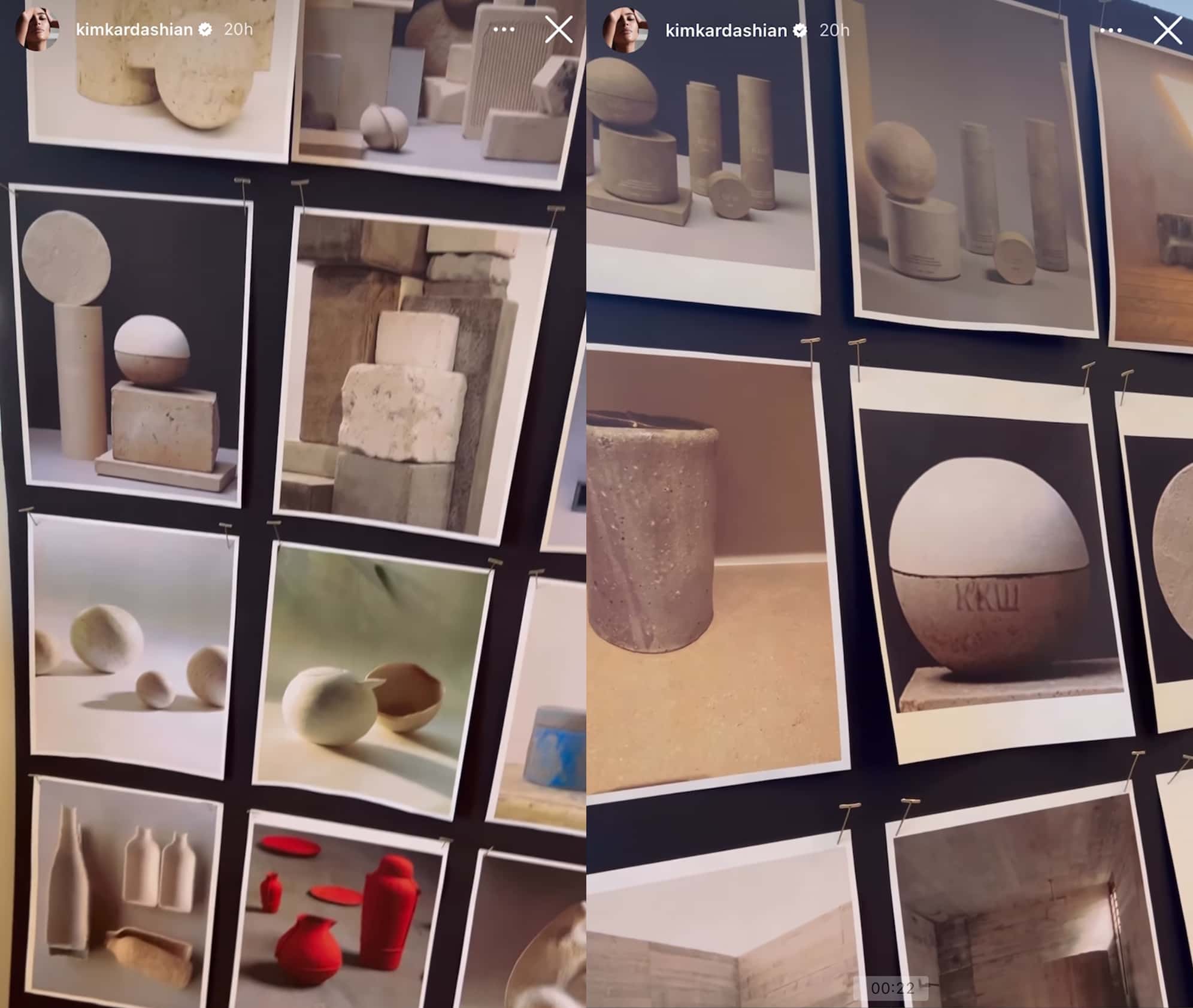 Kim Kardashian credits her ex-husband Kanye West for helping with the creative process for SKKN by Kim (Credit: @kimkardashian / Instagram)
Kim's own battle with psoriasis inspired the launch of her new skincare line. "What began as a psoriasis diagnosis became the catalyst for my journey of skincare discoveries, inspiring me to learn more about my skin and how to care for it."
"Working with some of the top dermatologists and estheticians over the years has given me the incredible opportunity to learn from their expertise, and I knew I had to share my learnings."
View this post on Instagram
On Tuesday, the wealthiest of the Kardashians dropped by Conde Nast's New York headquarters at One World Trade Center to promote her new beauty venture.
Never afraid to make a bold fashion statement, the media personality arrived in a futuristic-looking outfit that put her slimmer waist on display.
She wore a Re/Done 1960s slim white tee with a back knot that created a cropped effect and a pair of skintight Balenciaga pantaleggings from the Spring 2018 Ready-to-Wear collection.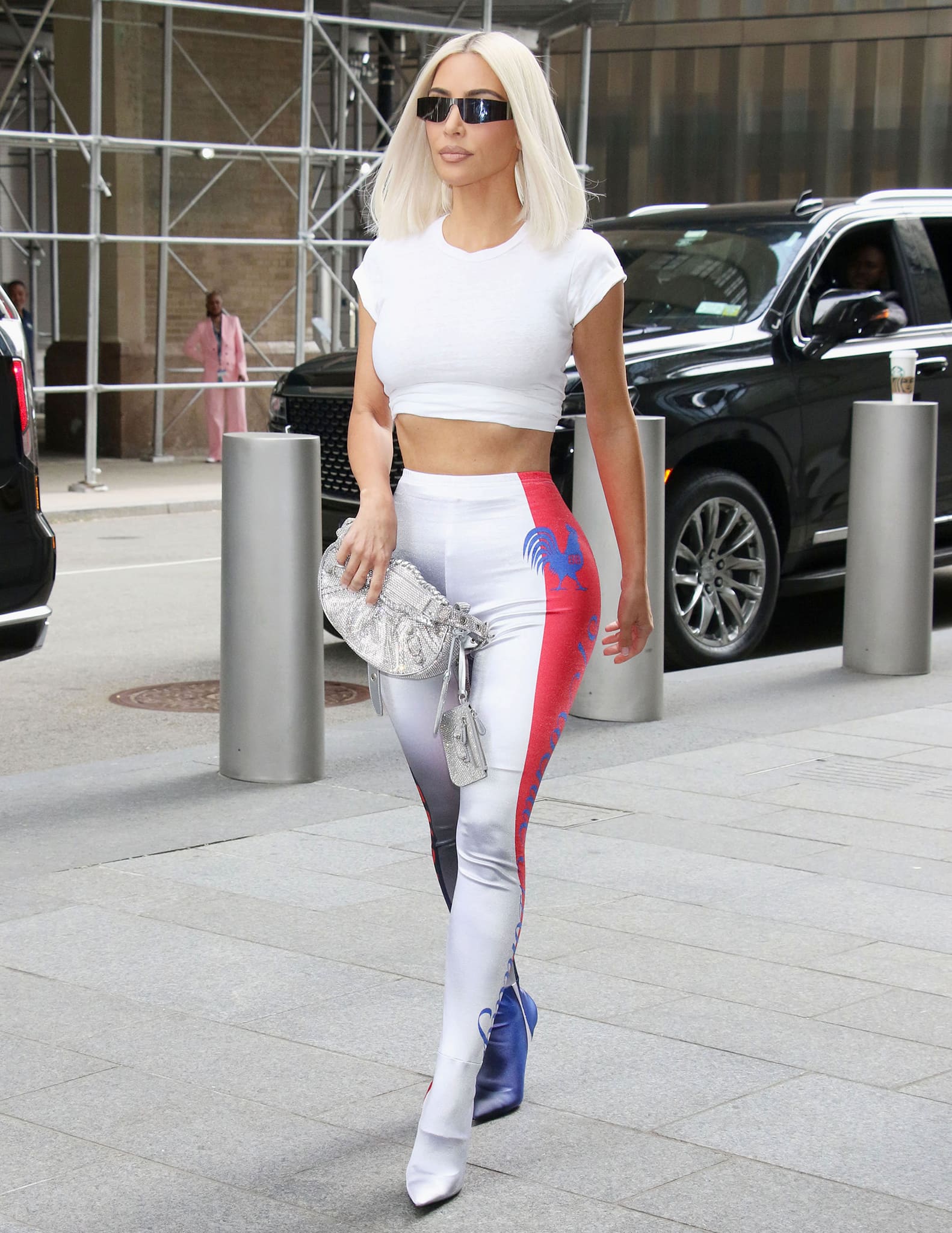 Kim Kardashian shows off her slimmer figure in Re/Done white tee and Balenciaga Spring 2018 pantaleggings (Credit: ROGER WONG / INSTARimages)
A pair of the signature Knife pumps were hidden underneath her trousers, which had red, white, and blue panels, a "Balenciaga" text on one leg, and the house's Paris store address on the other.
Wearing her sleek middle-parted platinum blonde tresses, Kim carried a crystal-embellished Balenciaga Le Cagole Xs shoulder bag and rounded out her space-age look with rectangular Balenciaga sunnies.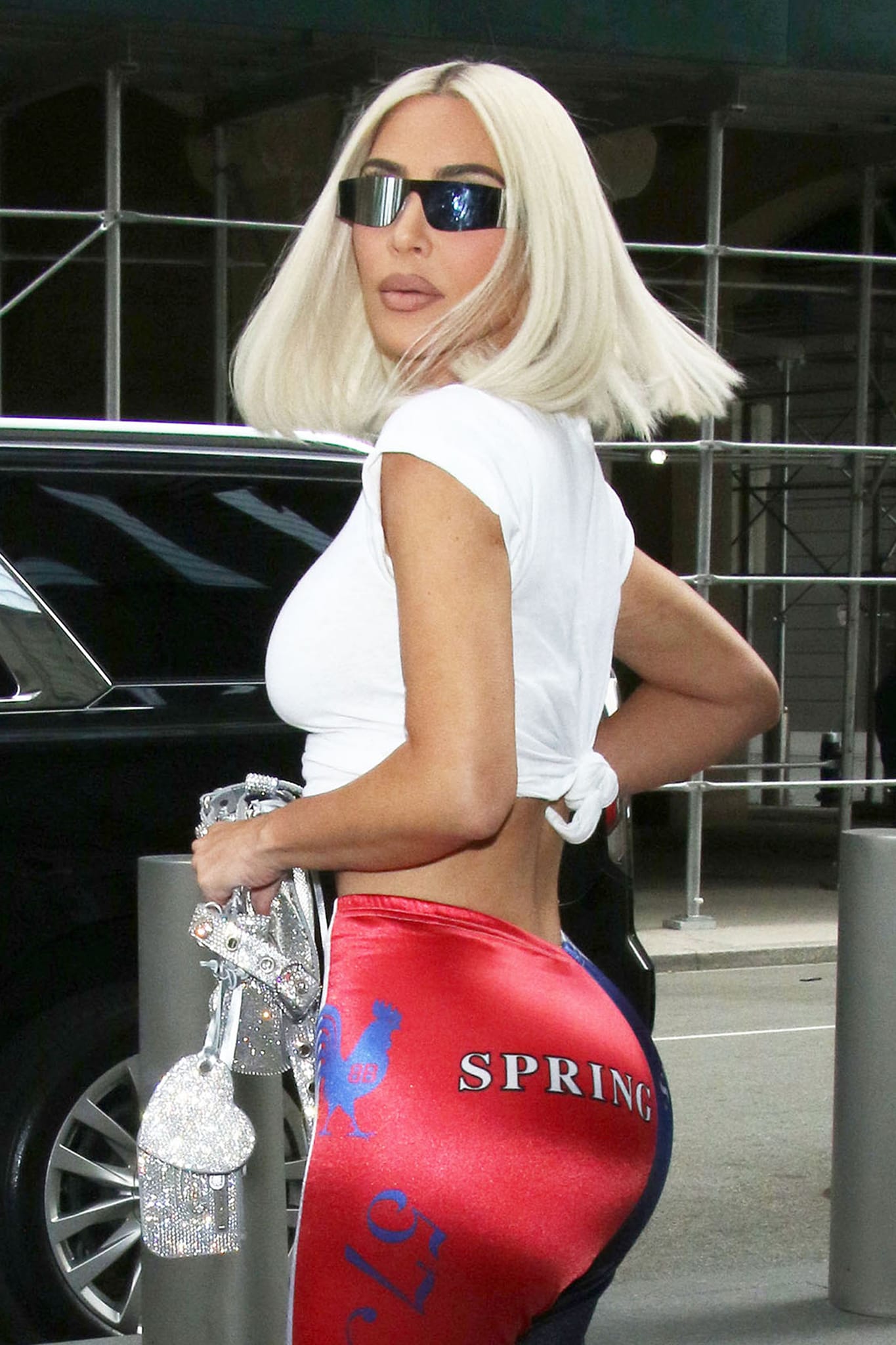 Kim Kardashian keeps the look futuristic with space-age rectangular Balenciaga sunglasses (Credit: ROGER WONG / INSTARimages)
The business mogul sat down with Allure Editor-in-Chief Jessica Cruel to talk about her billion-dollar business empire, as well as her current personal style, which she described as "Future Alien Barbie."
Kim also admitted she struggles to dress herself up casually but is "trying to get better at that" and added she's "having more fun" being blonde again.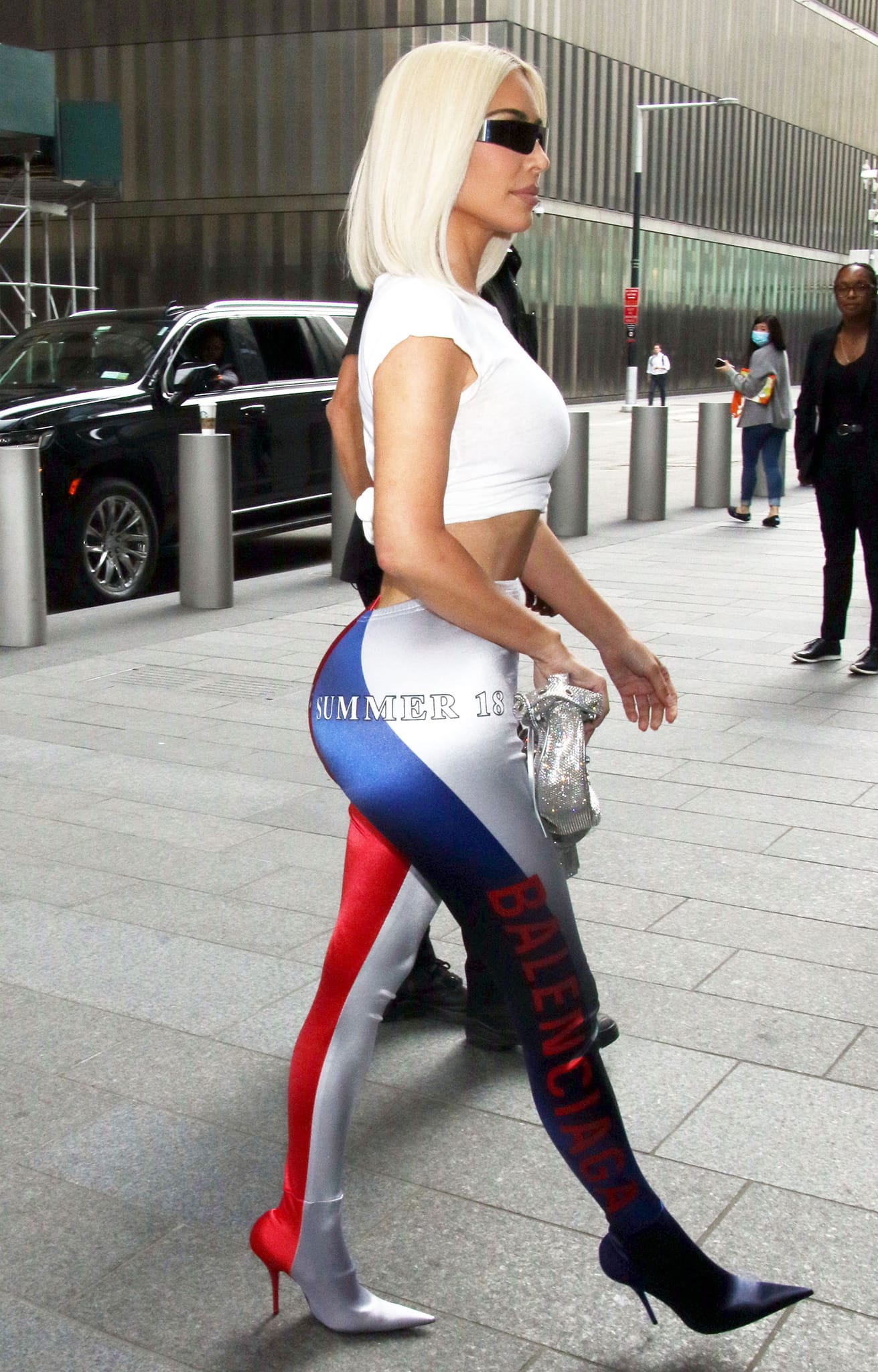 Kim Kardashian calls her present style Future Alien Barbie (Credit: ROGER WONG / INSTARimages)
The mom-of-four also opened up about the backlash she received for losing 16 pounds in three weeks just to fit into Marilyn Monroe's iconic Happy Birthday, Mr. President gown for the 2022 Met Gala.
"There was a lot of outrage that I had lost weight for that [dress]. I still support my decision because I just started eating way healthier. I consulted with a nutritionist and my trainer."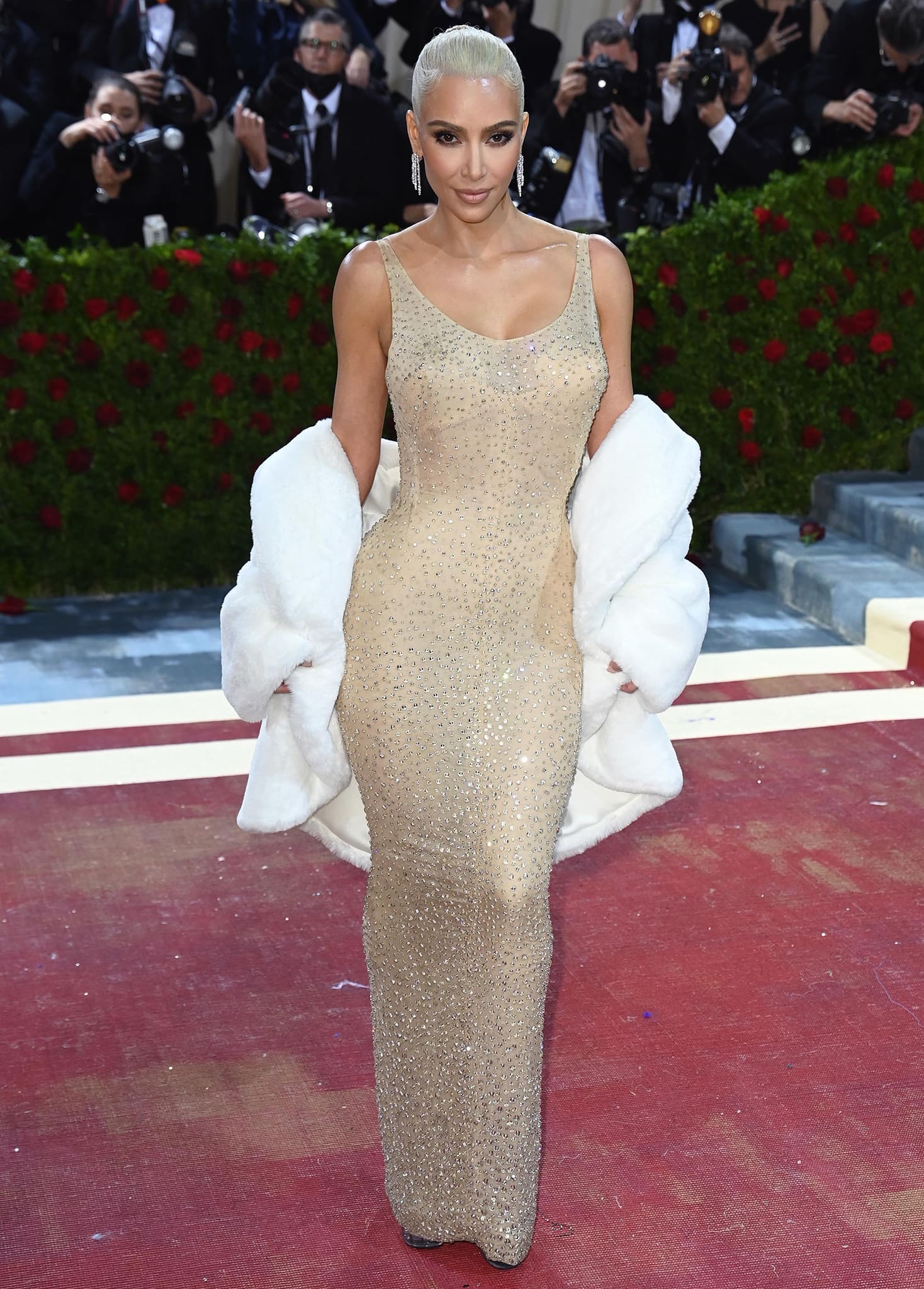 Kim Kardashian faced backlash for losing 16 pounds to fit into Marilyn Monroe's iconic dress (Credit: PA IMAGES / INSTARimages)
Earlier in the day, Kim made an appearance on The Today Show, where she revealed losing five more pounds since the Met Gala.
Host Hoda Kotb later brought up the issue about the dress, "We keep seeing stuff like the dress is ruined, the dress is this… all of that is not true?"
"No. And I mean Ripley's… we worked together so well. There were handlers and gloves that put it on me," Kim replied
View this post on Instagram
Savannah Guthrie added, "Ripley's has said the dress wasn't damaged. By the way, you had to lose 16 pounds to fit into the dress."
The socialite responded, "Yeah, you know, I looked at it like a role. I really wanted to wear this dress. It was really important to me. It actually taught me a lot about my lifestyle and my health and since then, afterwards, I continued to eat really healthy."
"I am down 21 pounds now. I'm not trying to lose any more weight, but I have more energy than ever. I cut out so much sugar, a lot of junk food I was eating. I didn't even realize it. A lot of fried foods. And I completely changed my lifestyle," she added.
Following her Today Show appearance, Kim was pictured leaving her NYC hotel on her way to visit The Tonight Show Starring Jimmy Fallon with her two sons, Saint and Psalm, in tow.
Showing her much slimmer figure, Pete Davidson's girlfriend wore a skintight black spandex bodysuit from Balenciaga's Fall 2022 collection.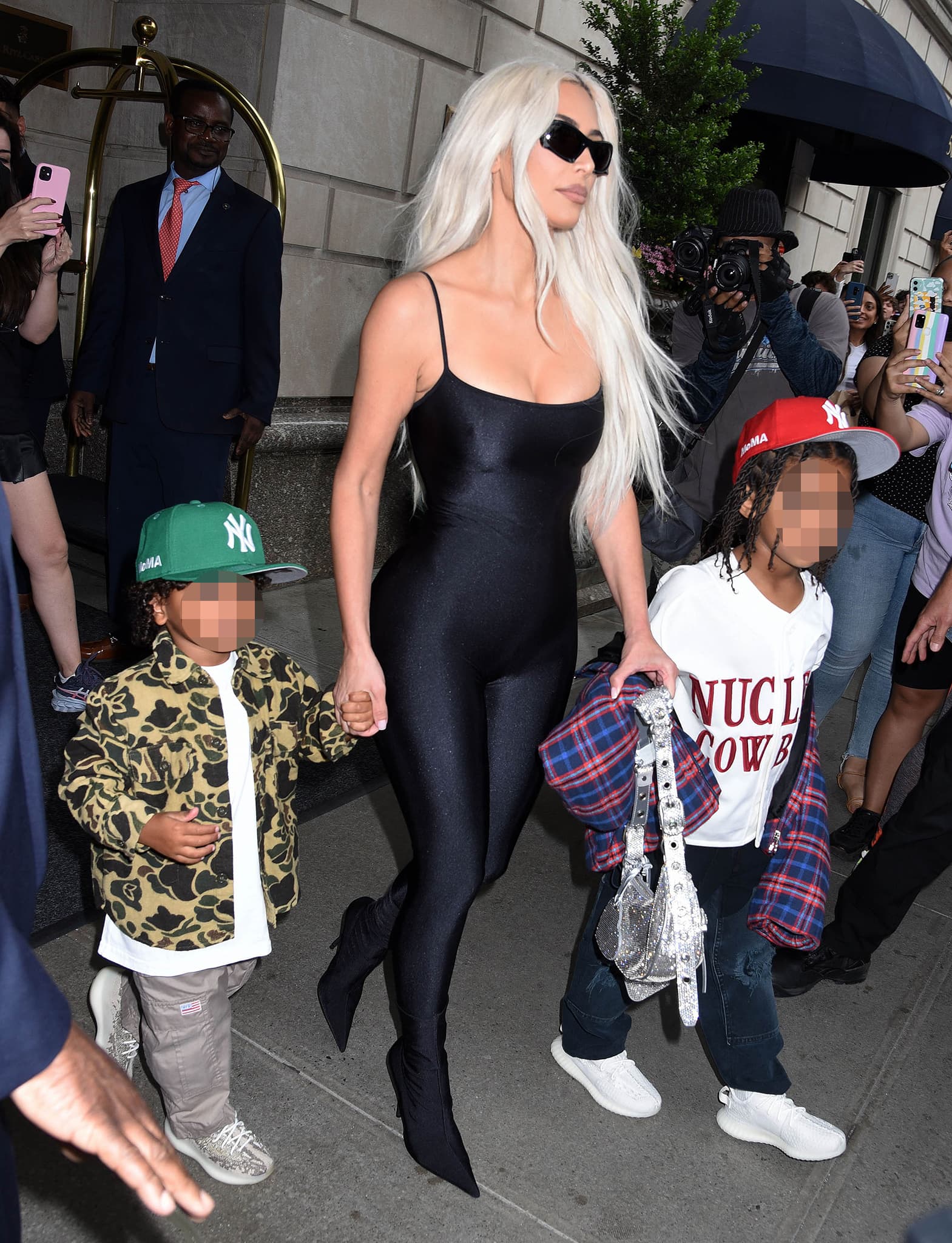 Kim Kardashian on her way to The Tonight Show Starring Jimmy Fallon to promote her new skincare SKKN by Kim (Credit: JOHN EDDY / INSTARimages)
She let her famous assets do the talking as she skipped the accessories and instead wore a pair of rectangular black sunglasses and black ankle boots.
Wearing her long platinum tresses in loose waves, Kim rounded out her look with a crystal-embellished Balenciaga bag and a swipe of her signature matte nude lipstick.
Kim Kardashian wears her long platinum hair in waves and glams up with her signature matte nude lipstick (Credit: JOHN EDDY / INSTARimages)
Kim brought along her two sons, who sat off-cam inside the studio. In the middle of the interview, Jimmy pointed out that he was hearing some kids making noises.
Kardashian quickly turned her head and told her kids, "Guys, guys, can you stop? This is like your first time at work with me. Can you please?"
The audience then laughed as the camera panned to Saint and Psalm with Kim's friend Tracy Romulus' daughter Remi.
Kim again told her kids, "Guys, this is your first time at work with me. Don't mess this up, C'mon."
SKKN by Kim Trademark Controversy
Earlier this month, Kim Kardashian announced her new skincare line, SKKN by Kim, "a rejuvenating nine-product skincare ritual" with "science-backed ingredients designed to nourish all skin types, tones, and textures at all stages of maturity."
Critics, however, called out the businesswoman for "stealing" the name SKKN from two Black-owned beauty brands: SKKN+ and Lori Harvey's SKN by LH.
After Kim's Kimsaprincess Inc. filed to trademark SKKN for her skincare line on March 30, 2021, her legal team received a cease and desist letter from Beauty Concepts LLC, owned by Cydnie Lunsford, who claims she's been using the name SKKN+ since 2018.
View this post on Instagram
"I have painstakingly built my successful small business with my own sweat equity, hard work, and research. It's clear that I established my brand first," Lunsford said in an email to Forbes.
Her lawyer Erik M. Pelton added that "Ms. Lunsford established her business in 2018 and earlier this year, filed an application (Serial No. 90608147) to protect the SKKN+ brand name in the U.S. Patent and Trademark Office prior to any U.S. trademark filings by Kim Kardashian's business. We contacted her lawyers as soon as possible after learning about the launch seeking to protect my client's brand, demanding that they cease plans to launch the SKKN brand."
In addition, Kim was criticized by fans of Lori Harvey, who launched her skincare line SKN by LH last year.
Kim naming her skincare brand SKKN when Lori Harvey's skincare brand name is SKN doesn't sit right with me. Seems like they're stealing from a black woman for the thousandth time.

— kay (@makaylamdavis) June 1, 2022
So Lori Harvey launched a skincare line called SKN and not long after that Kim K launches a skin care line with the same/similar products called SKKN???? One thing the Kardashian's will always do is steal from black culture/creators for a profit

— Erin Cella (@ErinCella) June 3, 2022