When Ice Cube was a teenager, he got into rap music and started performing. In 1989, he spotted Kimberly Woodruff for the first time as she came down an escalator in a shopping center, and he felt an immediate connection with her.
"When I saw her, something automatically went through my head and said, either that could be your woman or that should be your woman," he revealed on "In Depth with Graham Bensinger" in September 2021.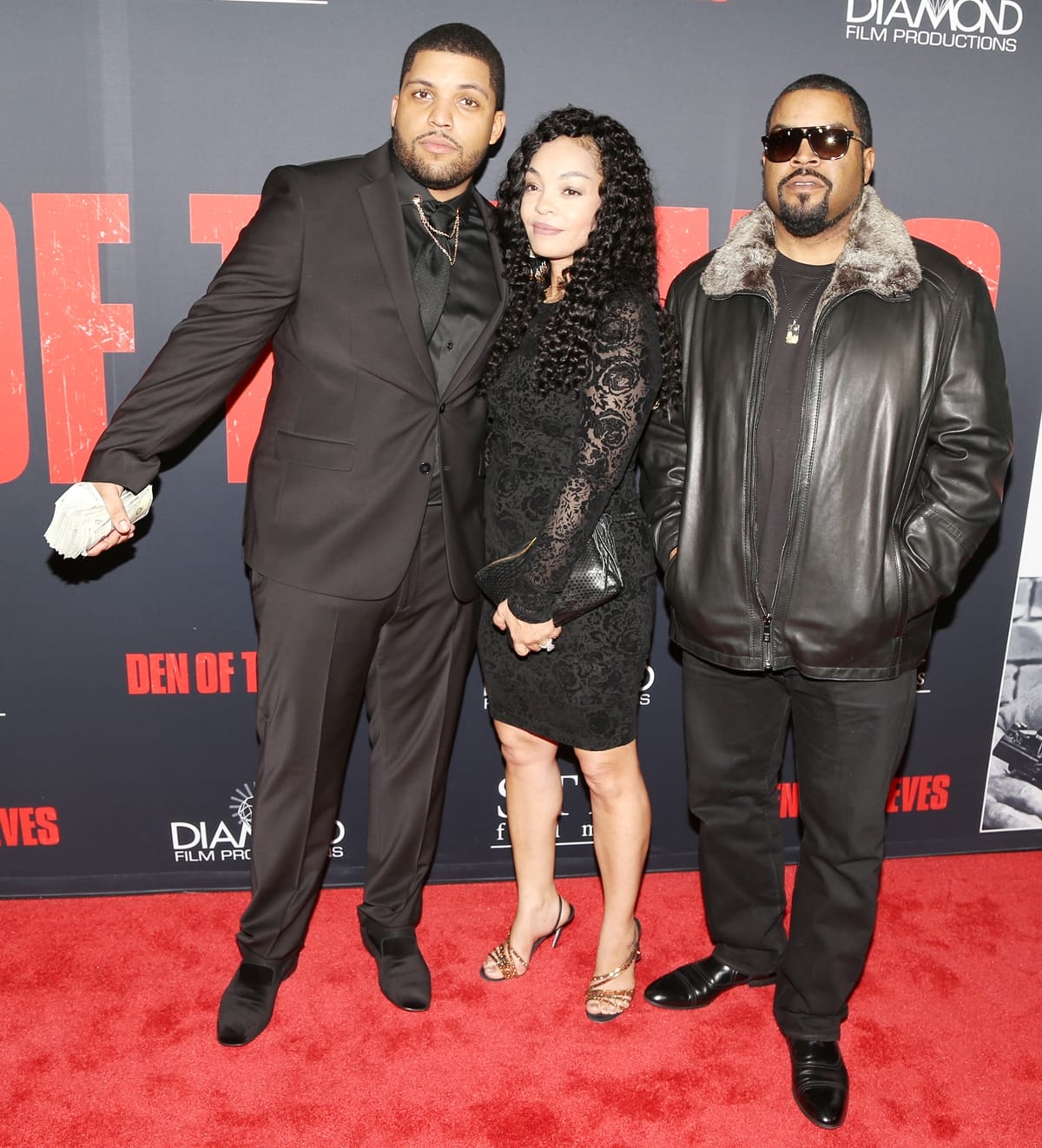 Actor O'Shea Jackson Jr. and his parents Kimberly Woodruff and Ice Cube at the Premiere Of STX Films' "Den Of Thieves" held at Regal LA Live Stadium 14 on January 17, 2018, in Los Angeles, California (Credit: Milla Cochran / Startraksphoto)
After turning down Ice Cube's initial advances, Kimberly Woodruff became open to his wooing six months later, and the couple has been together ever since.
They started dating, and Ice Cube decided to try monogamy for the first time in his life. Ice Cube and Kimberly Woodruff got married in 1992. They're still together today and have five children and one granddaughter.
O'Shea Jackson Jr., son of Ice Cube and Kim, is an actor and rapper, known for his roles in films such as "Straight Outta Compton," "Godzilla: King of the Monsters," and "Just Mercy."
Darrell Jackson, the second child, is also a rapper and has teamed up with Ice Cube and O'Shea in the past. The third child, Karima Jackson, has chosen to live out of the spotlight.
Deja Jackson, the fourth child, is also not in the public eye. Shareef Jackson, the fifth child, is a huge basketball fan. Ice Cube has stated that becoming a father changed him from a boy into a man, and he takes the role of being a dad seriously.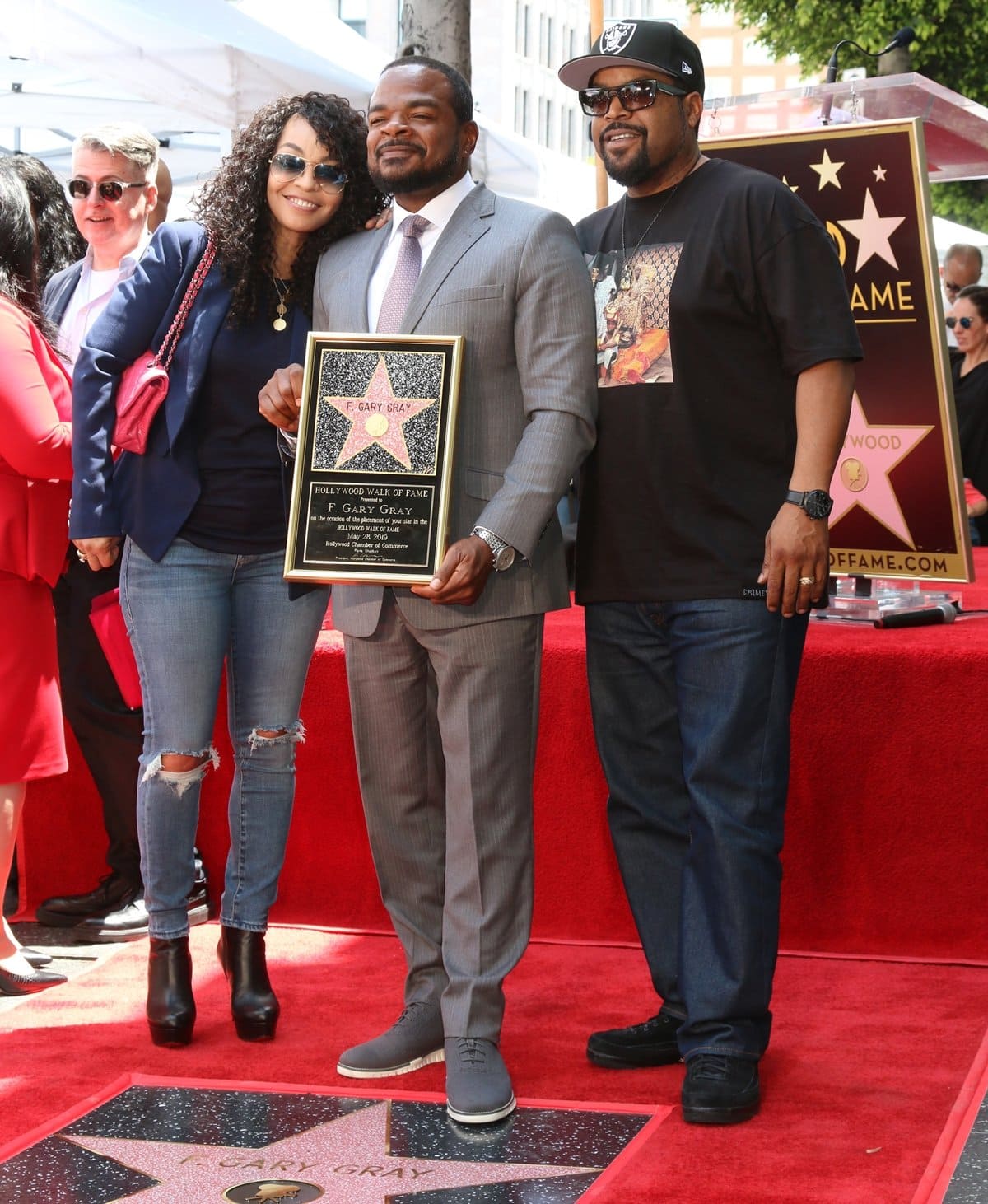 Ice Cube and his wife Kimberly Woodruff were in attendance at the Hollywood Walk of Fame event honoring Director F. Gary Gray on May 28, 2019, in Hollywood, California (Credit: Nicky Nelson / WENN)
Ice Cube is best known as a rapper. However, he is also a dedicated actor and filmmaker.
To date, Ice Cube has made over a dozen albums, including his debut album "AmeriKKKa's Most Wanted." Ice Cube is also famous for co-founding the group N.W.A. with Dr. Dre.
The Start of Ice Cube's Career
Ice Cube and his friend Sir Jinx established the group C.I.A. in 1984, with Ice Cube as the leader of the group.
The crew performed at Dr. Dre's L.A. bashes, among other events hosted by Dr. Dre. In 1987, Ice Cube released a song produced by Dr. Dre titled "My Posse."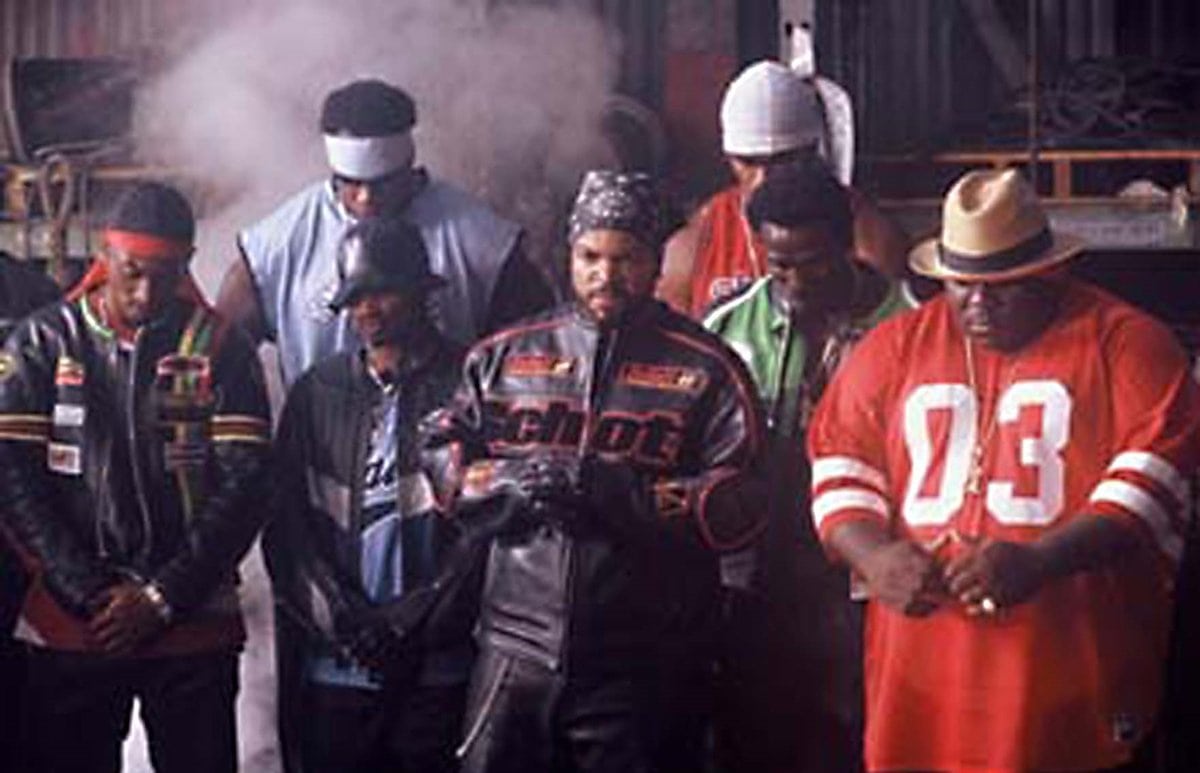 Ice Cube stars as Trey Wallace in the 2004 American action film Torque (Credit: Warner Bros. Pictures)
After producing a hit with Dr. Dre, Ice Cube showed Eazy-E the lyrics to a song he had composed called "Boyz n' the Hood." Eazy-E initially disliked the lyrics but eventually recorded the song for N.W.A.'s debut album, "N.W.A. and the Posse."
Ice Cube also wrote Dr. Dre and Eazy-E's rhymes and half of the lyrics for N.W.A.'s breakthrough album, "Straight Outta Compton," in 1988.
N.W.A. and The Start Ice Cube's Solo Career
Ice Cube left N.W.A. in 1989 because of a disagreement over money and the group's management. After leaving the group, Ice Cube pursued a solo career.
Ice Cube's solo album "AmeriKKKa's Most Wanted" was Ice Cube's best-selling album. Ice Cube also made popular songs like "You Know How We Do It."
In addition, Ice Cube helped write the screenplay for Straight Outta Compton, a film about him and the other members of N.W.A.
Moving on as a Solo Artist
After experiencing success as a solo artist, Ice Cube continued to make albums. In 1991, his second album, Death Certificate, was released and proved successful.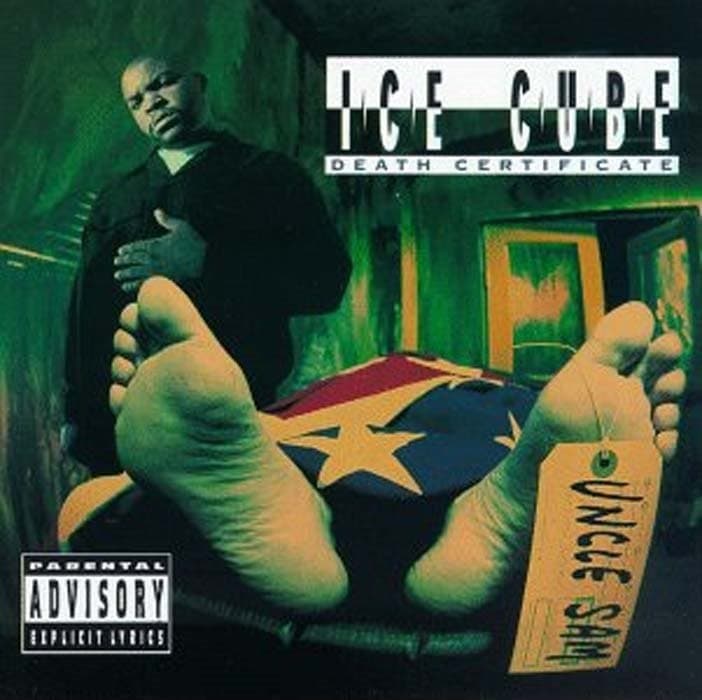 Death Certificate, Ice Cube's second studio album, was released on October 31, 1991, when he was 22 years old (Credit: WENN)
However, after doing so, further controversy met ice Cube regarding the content in his albums. Ice Cube's lyrics were accused of promoting racism and violence against law enforcement.
Ice Cube continuously defended himself, stating that all people are entitled to their own opinions. Ice Cube further clarified his stance by saying he felt rap was about voicing the concerns of one's community.
Ice Cube continued working as a solo artist and dropped several hit albums. In total, Ice Cube made several popular hit songs such as "It Was A Good Day," "Check Yo Self," and "We Be Clubbin'."
A Successful Music Career
In November 1992, after a one-year break, Ice Cube released his third studio album, The Predator. This was the first time an album debuted on both the R&B/hip-hop and pop charts.
This wildly successful album has sold over three million copies in the United States.
Ice Cube's fourth album, Lethal Injection, was released in late 1993. While some critics criticized it, the record generated several hit singles.
In 1995, Ice Cube joined and formed a side trio, the Westside Connection. Bow Down, The Westside Connection's first album, achieved certified platinum.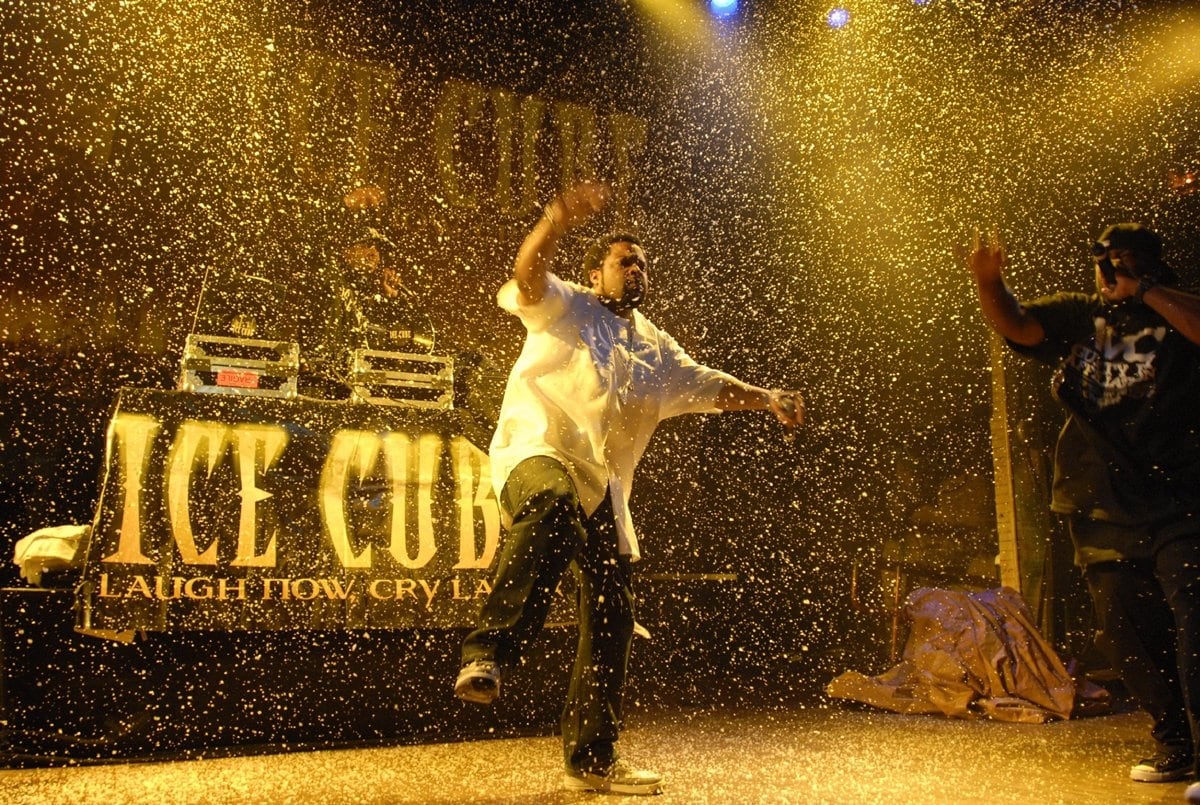 Ice Cube live in concert at the House of Blues in West Hollywood, California, on April 28, 2007 (Credit: Charlie Steffens / WENN)
Ice Cube released his fifth solo studio album, War & Peace Vol. 1, in 1998. He published volume 2 of the delayed sixth album later that year.
In 2003, Westside Connection's sophomore effort, Terrorist Threats, was released. In 2005, the Westside Connection disbanded after Ice Cube and Mack 10 disagreed about Ice Cube's film work reducing the group's tour time.
Ice Cube released his seventh solo album, Laugh Now, Cry Later, in 2006. It sold 144,000 units in the first week and was certified gold.
On August 19, 2008, Ice Cube released his eighth studio album, Raw Footage. In 2010, Ice Cube's ninth solo effort, I Am the West, was released with a new creative direction from any of his other albums.
Ice Cube performing at the House of Blues inside of Mandalay Resort and Casino in Las Vegas, Nevada, on May 27, 2006 (Credit: Mike Stotts / WENN)
The record debuted at #22 on the Billboard 200 and sold over 20,000 copies in its first week. Ice Cube's tenth studio album, Everythang's Corrupt, was released several years later in 2018.
Now, Ice Cube has teamed up with Snoop Dogg, E-40, Too Short, and other artists to form the supergroup Mt. Westmore. The debut album of the group was initially released via blockchain under the title "'Bad MF's'" in mid-2022, and later on December 9, 2022, the album was released on streaming services.
Ice Cube's Film Career
Ice Cube has found success as an actor and has acted in almost forty films. In addition, Ice Cube appeared in the Friday series and many other popular movies, such as Three Kings and Barbershop.
Ice Cube also continued his career as a director and producer of several films.
Ice Cube's character in John Singleton's groundbreaking movie Boyz n the Hood, released in July 1991, was Doughboy, a personality that Ice Cube portrayed well.
The following year, Ice Cube also starred with Ice-T and Bill Paxton in Walter Hill's 1992 thriller movie Trespass. He later acted in Charles Burnett's 1995 drama The Glass Shield. In 1995, Ice Cube played the university student Fudge in Singleton's film Higher Learning.
Ice Cube as Calvin Palmer, Jr. in the 2004 American comedy film Barbershop 2: Back in Business (Credit: MGM Distribution Co.)
Later, Ice Cube collaborated on the 1995 comedy Friday with comic Chris Tucker. Friday was a massive hit, earning $28 million worldwide. Two sequels followed to create a successful franchise: Next Friday and Friday After Next.
In 1998, Ice Cube returned to writing with the film The Players Club. Then, he played a staff sergeant alongside George Clooney and Mark Wahlberg in 1999's Three Kings. In 2002, he appeared in Kevin Bray's All About the Benjamins and Tim Story's comedy Barbershop.
In 2004, Ice Cube followed his Barbershop success with the sequel, Barbershop 2. The following year, he took on the part of Vin Diesel's replacement in the second chapter of the XXX film series and appeared in Are We There Yet?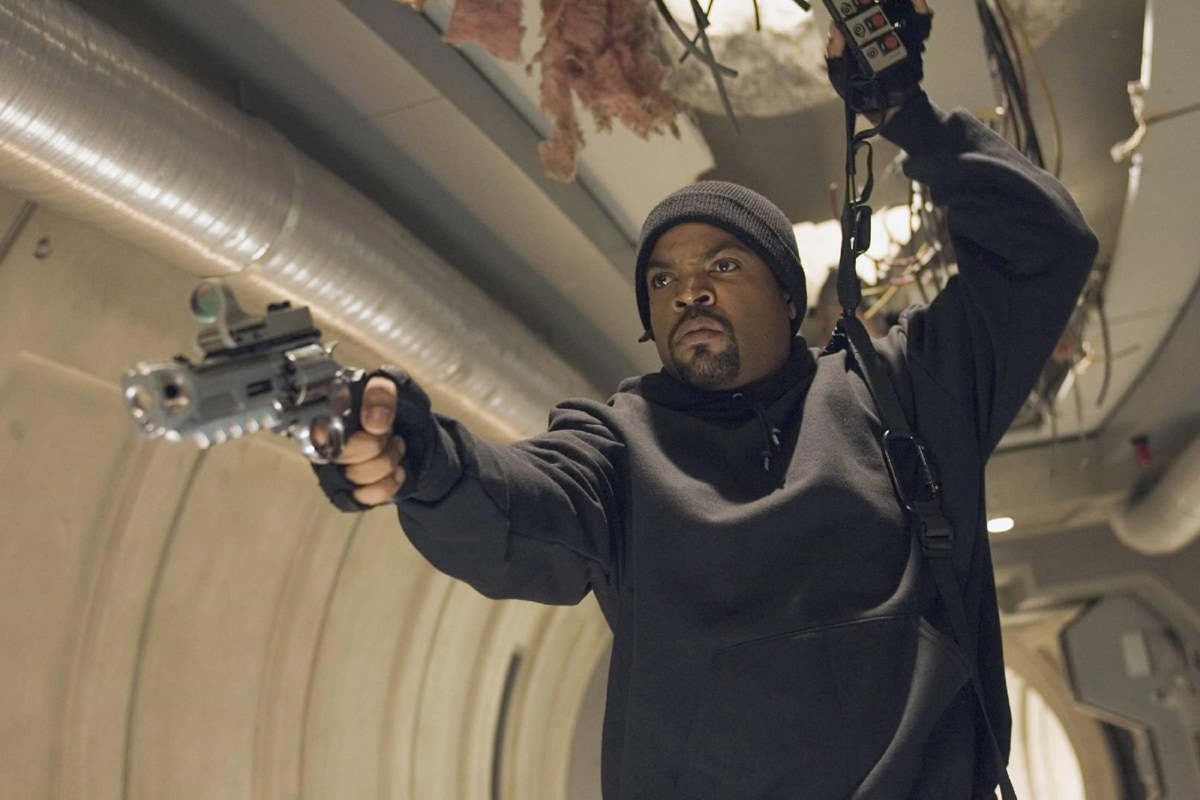 Ice Cube as Darius Stone in the 2005 American action spy film XXX: State of the Union (Credit: Columbia Pictures)
After taking a hiatus from acting, Ice Cube returned and appeared in 21 Jump Street in 2012. He also appeared in its sequel, 22 Jump Street.
In 2016, he reunited with comedian Kevin Hart in two more Tim Story films, Ride Along and its sequel, Ride Along 2. In 2016, Ice Cube reprised his role as Calvin in the Barbershop's third franchise film.
He also starred with Keke Palmer in the 2008 American comedy-drama sports film The Longshots and with Jennifer Lopez in the 1997 American adventure horror film Anaconda.
Ice Cube's Net Worth
Ice Cube has experienced a ton of success. Currently, his net worth is estimated at $160 million. Ice Cube has shown that he is a successful artist, with Ice Cube's career spanning over three decades.
He continues to use his fame as an influential figure in the hip-hop industry. Ice Cube has created a distinct image for himself by staying true to himself and remaining involved in film and music projects.
How Ice Cube Met Kimberly Woodruff
Kimberly Woodruff first met Ice Cube in 1989. While Ice Cube was instantly attracted to Kim, Kim's feelings were the exact opposite. Kim was not impressed by Ice Cube since she was already dating someone else.
Kimberly later started to develop feelings for Cube after seeing him again after six months. It was just a matter of time before they started dating. They got engaged after dating for almost three years.
"The first thing I thought I was, 'Wow, she could be your woman,'" he said about meeting his future wife for the first time.
"The first time we met, she wasn't feeling me, she was NOT having it. She did not dig me. I think she was in a relationship, so she wasn't having it. But I ended up seeing her about six months later, and the next time, we had more time to get to know each other. She could feel my vibe and fell in love with your boy!"
Ice Cube and his wife Kimberly Woodruff with three of their children at the premiere of The Three Kings in Los Angeles on September 27, 1999 (Credit: Nicky Nelson / WENN)
Kimberly and Ice Cube had their first kid, a baby boy named O'Shea Jackson Jr., on February 24, 1991. A year after giving birth, Kimberly walked down the aisle to marry Ice Cube in an intimate ceremony on April 26, 1992.
Ice Cube explained that he had a clever plan to propose to Kimberly and surprise her with a fantastic birthday present at the same time. "I wanted to propose to her, but it was also close to her birthday. I bought her a BMW and pulled it in there, and I had the ring sitting on the seat."
He explained the thrill he felt when she saw the ring, "I was happy that she said yes, and that we was going to start a life together, and I always felt like I wouldn't be nowhere near as successful as I am without her."
Ice Cube was asked what secret he believes is at the heart of his long, happy marriage. He responded by saying that it's a matter of communication and being a partner in your spouse's life.
He stated, "I think you've got to be friends first. Many people get together, and they want to go and do their thing and jump right into a relationship, but I think that's the wrong approach. You've got to have somebody you're cool with, that you're friends with, and start the relationship."
Kimberly Woodruff was a college student when she met Ice Cube for the first time in 1988 (Credit: FayesVision / WENN)
Ice Cube has also expressed how much he likes spending time with his wife. When asked about their long-lasting relationship, he stated, "I like to hang out with my wife, talk about things, get some coffee, you know. Sometimes just understanding where the other person is coming from is helpful to getting along and being happy."
"It's a true partnership. I respect my wife and she respects me. I still get the butterflies when I see her," he told Black Doctor about staying married since 1992.
"It's all about keeping it fresh. I still want her to look at me and say 'this is the man I still want to be with.' So have to keep yourself up, your P's and Q's, and go for what you know."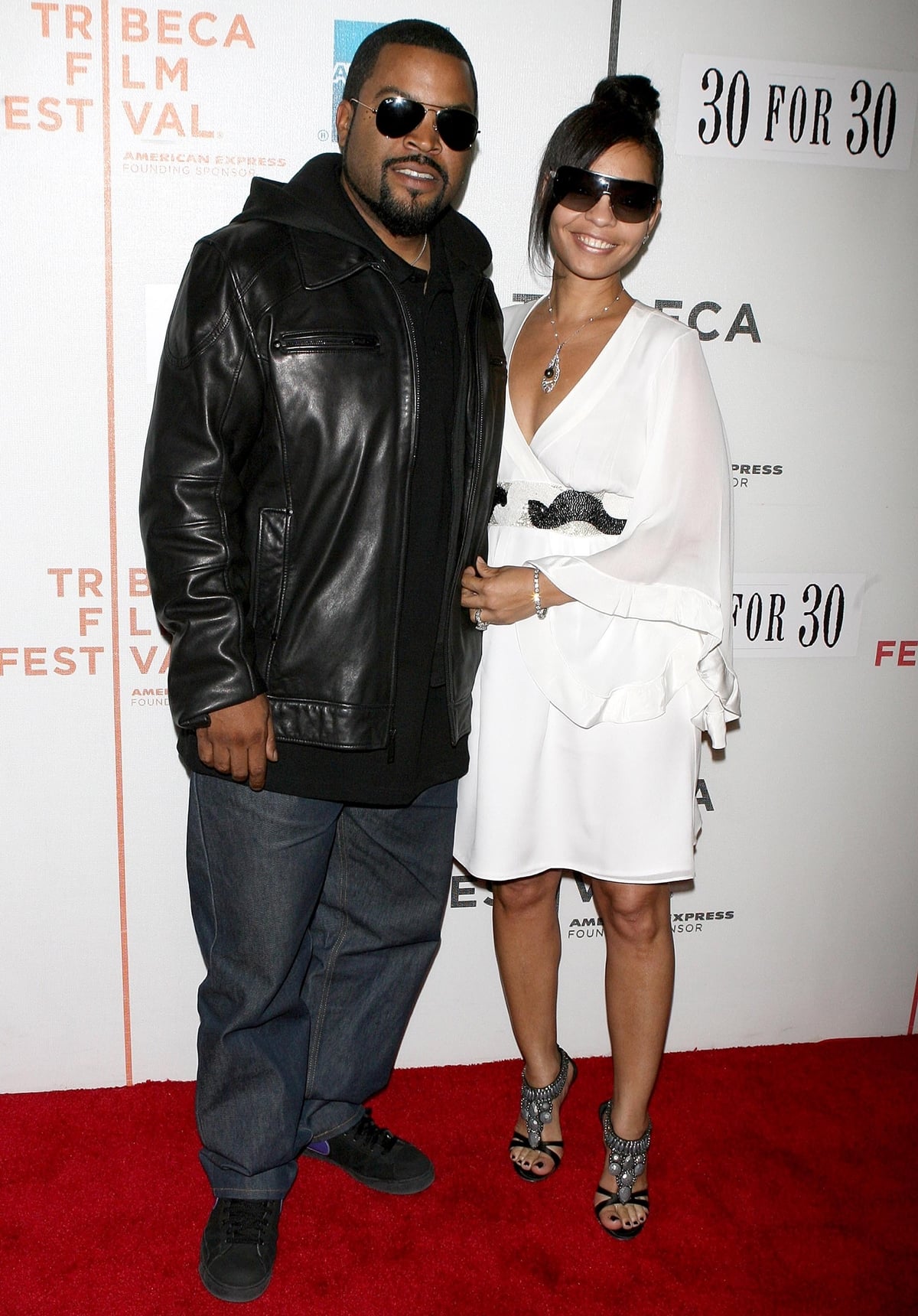 Ice Cube and Kimberly Woodruff married on April 26, 1992, and have four children together (Credit: PNP / WENN)
With such a happy, long-lasting family, it's easy to feel jealous. On Kimberly and Ice Cube's 25th anniversary, he even proposed to her again to honor their long, loving relationship.
He said, "The second time I basically said, 'If I propose again, would you say yes?'. She said, 'Yeah I would,' so I didn't really have a lot of pressure. I had built up 20 years of good faith."
When honored with a star on the Hollywood Walk of Fame in Los Angeles in 2017, talked about Kimberly Woodruff during his speech.
"She's been everything to me, from a home girl to a muse, to a wife, to a confidante," he said. "She's been everything. She's been a great mother to my kids and a great inspiration to the family."
Ice Cube, Ice-T, and Michael Jackson
Although they both get confused all the time, Ice Cube is an entirely different person than Ice-T. In fact, the two of them have talked about people getting them mixed up on Ice-T's show with his wife, Ice & Coco.
On the show, Ice Cube said it happens frequently, and Ice-T said, "I even wrote a rhyme, I said 'Every day on the street somebody calls me Cube, I tell them that's my loved one, but it's Ice-T dude.'"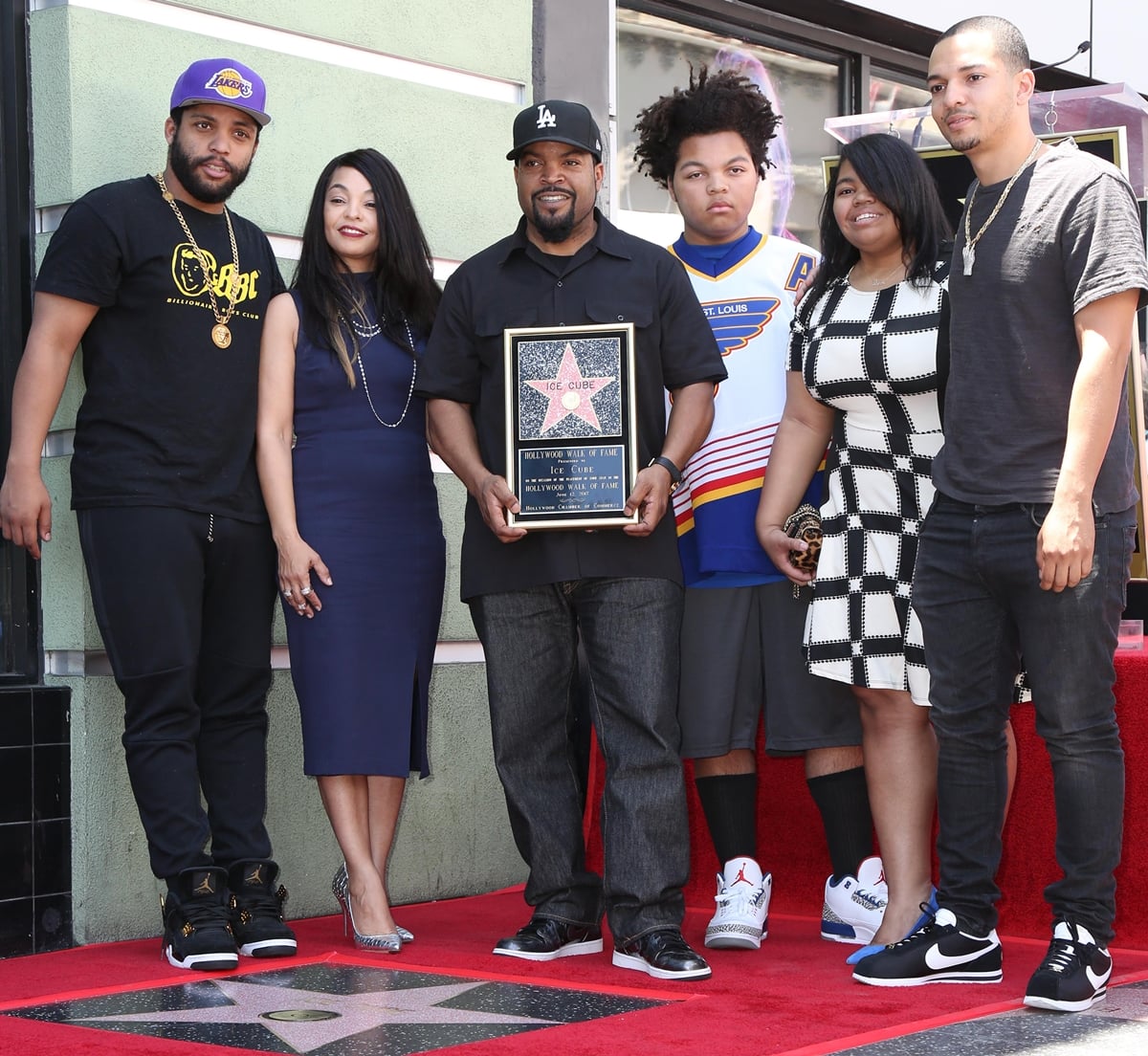 O'Shea Jackson Sr. with his wife Kimberly Woodruff and four of their five children, sons O'Shea Jackson Jr., Darrel, and Shareef, and daughter Kareema, at the ceremony honoring Ice Cube with a Star on The Hollywood Walk of Fame held on June 12, 2017, in Hollywood, California (Credit: FayesVision / WENN)
Ice-T even pointed out, "It's fortunate that we're friends because imagine getting named somebody you didn't like. That would be a problem."
Furthermore, since Ice Cube's birth name is O'Shea Jackson, people often think he is related to pop superstar Michael Jackson. However, this is a common misconception, and Ice Cube is not related to Michael Jackson in any way.