Kristin Davis has been in the spotlight for a long time. She's one of those actresses who keeps chugging along, working hard, and staying relevant. But has she had any plastic surgery?
As we all have witnessed, Kristin Davis is one of the biggest stars in the world. Her career spans decades, and she began in the soap opera circuit with roles on Melrose Place and General Hospital before landing her breakthrough role as the always-upbeat Charlotte York on Sex and the City in 1998.
Kristin Davis as Charlotte York in the romantic comedy-drama television series Sex and the City (Credit: HBO)
The role catapulted her to fame and established her position in entertainment lore. She received nods for both the Golden Globe Awards and the Primetime Emmy Awards.
She and her co-stars Sarah Jessica Parker, Cynthia Nixon, and Kim Cattrall also won two Screen Actors Guild Awards for outstanding performance by an ensemble in a comedy series.
Did Kristin Davis Get Plastic Surgery? What The Doctors Say
Despite her immense success, many people have accused her of having plastic surgery done on her face over the years.
In July 2021, OK Magazine published an exclusive interview with doctors discussing the Sex and the City star's almost eternal youth.
Before and after rumored plastic surgery: Kristin Davis's face in 2005 (L) and in 2022 (Credit: Tinseltown / Lev Radin / Shutterstock)
"Her face has certainly changed over the past couple years," Michael Somenek, a facial plastic and reconstructive surgeon in Washington, DC, shared.
"It doesn't appear that she has had surgical procedures to her eyes but may have had something in the form of a necklift to her neck region."
Dr. Somenek explained that the most plausible explanation for her changed facial appearance is using fillers to add volume. "Her cheeks appear to be overfilled, creating a rather distorted appearance to her eyes and making her face look much wider than her traditionally slimmer face from the past," he expounded.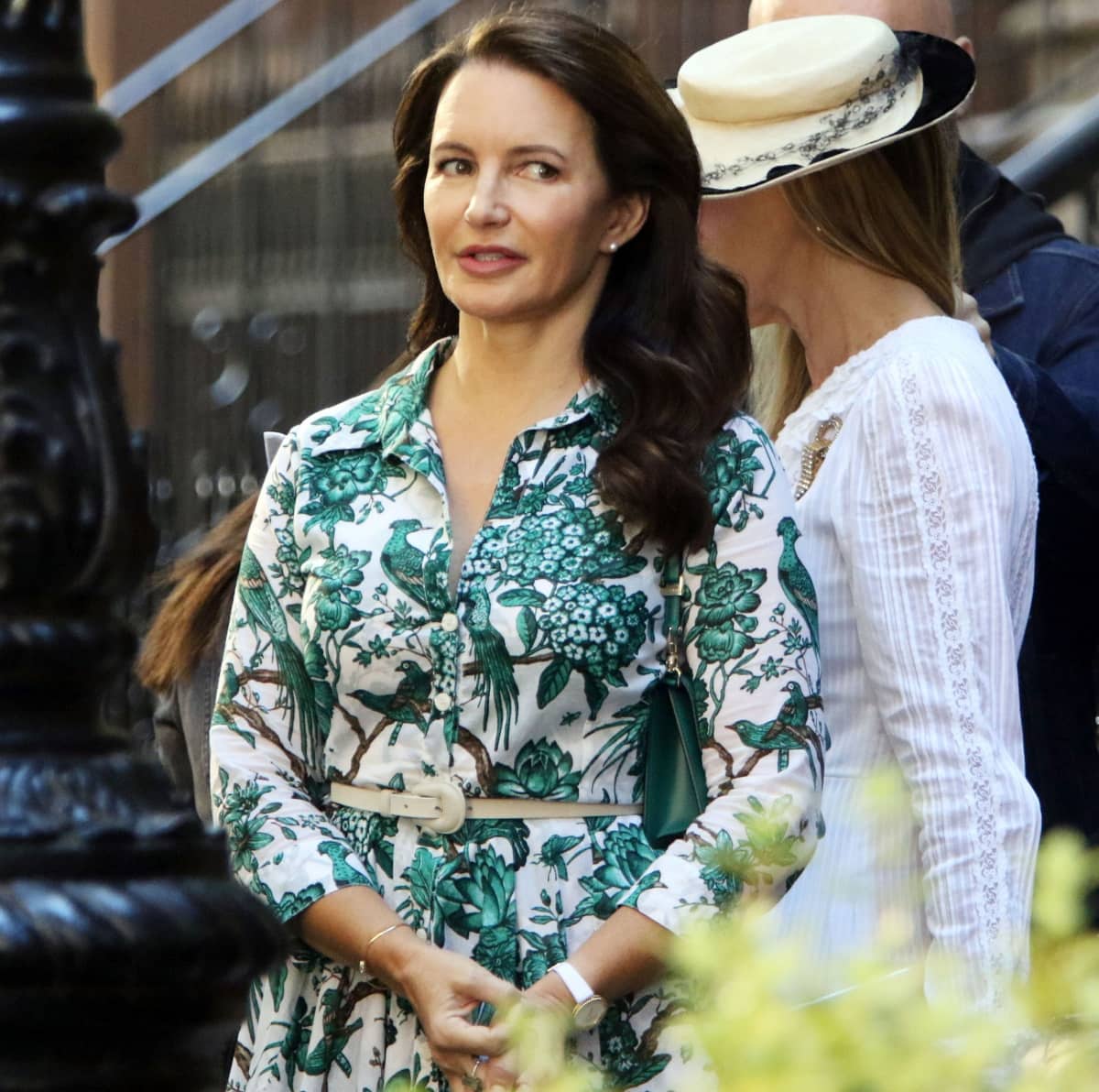 Kristin Davis filming on the set of And Just Like That in New York City on November 3, 2022 (Credit: ROGER WONG / INSTARimages / Cover Images)
"Her lips have been injected, which is why they have a somewhat stiff appearance when she is smiling. Alternatively, she may have also gotten a lip lift to elevate her upper lip. Overall, it has created a rather disproportionate look to her face," the doctor added.
Kristin's face "does appear to be changing," asserts Anthony Youn, a plastic surgeon in Michigan. "I suspect that she's had injections of filler into her cheeks and smile lines to plump and smooth them out, respectively," he explains.
"This may be giving her face the somewhat 'stiff' appearance that you are seeing. She may also have undergone injections of Botox into her forehead, causing it to look smooth."
Kristin's Take On Her Controversial Plastic Surgery Speculations
Let's look at what the beautiful actress has said about these scandalous accusations and see if we can make any conclusions about whether or not she's had work done by a cosmetic surgeon.
Kristin gave an interview to The Sunday Times Style Magazine in 2021 in which she addressed the criticisms and expressed "shock" at the negativity she had received.
"Everyone wants to comment, pro or nay or whatever, on our hair and our faces and our this and our that," she stated. "The level of intensity of it was a shock." She said, "I feel angry, and I don't want to feel angry all the time, so I don't look at it, I just know it's there."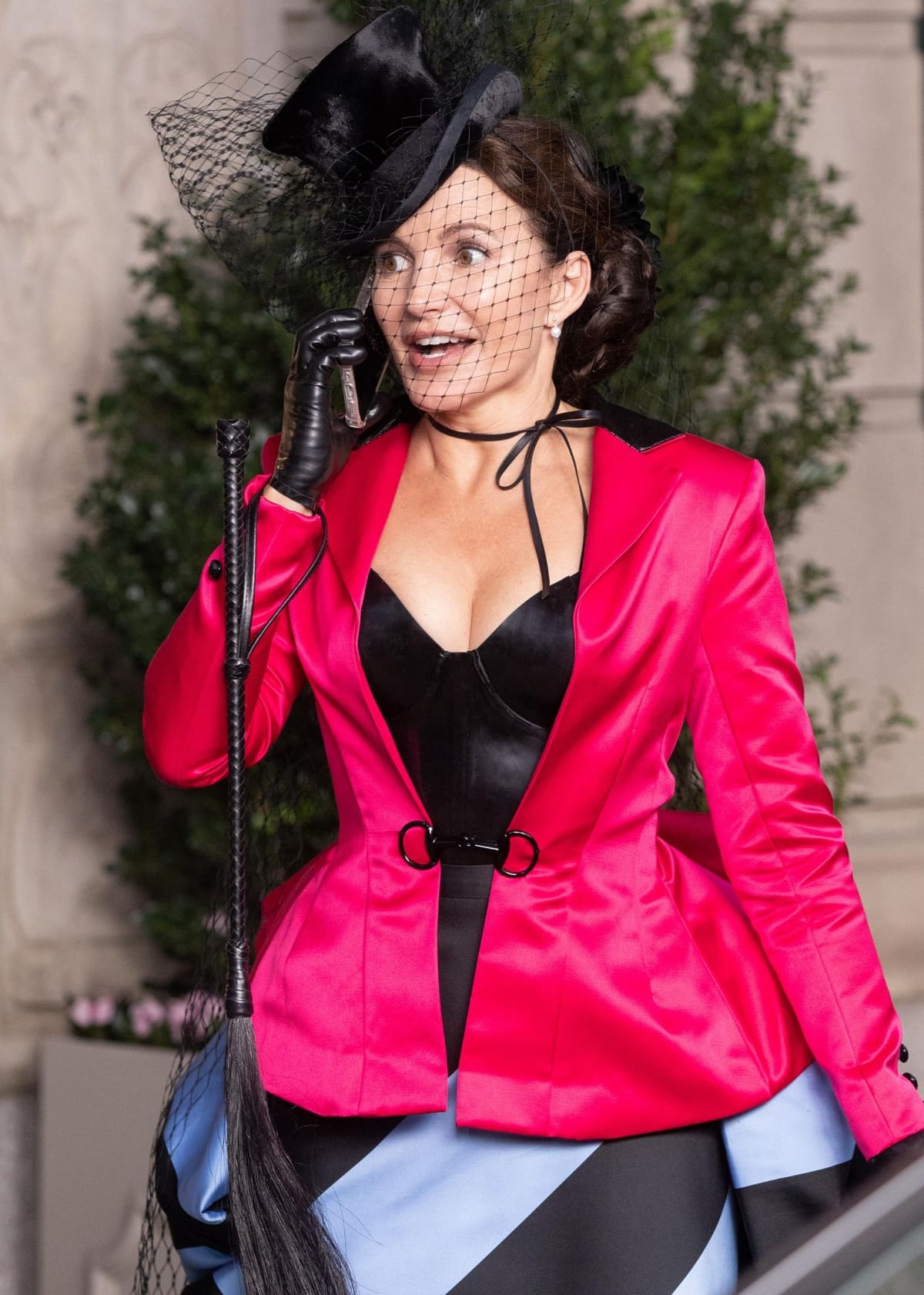 Kristin Davis filming on the set of And Just Like That in New York City on October 10, 2022 (Credit: Janet Mayer / Startraksphoto / Cover Images)
The Holiday in the Wild star reflected on criticisms of her body while filming Sex and the City. Every week, she claimed, "they would publish pieces about how I was pear-shaped," which she didn't take as praise. Because she couldn't prevent it, it would cause her great anxiety.
She said, "I kind of feel like that's how it is now too, but I also feel—I'm going to be blunt—I feel like, 'F*ck you. F*ck you people, like, come over here and do it better. You know what I mean? Like, what are you doing?"
Kristin cited the proliferation of social media as another significant change since she appeared on Sex and the City. "That's the problem with social media, right, is that you don't know what those people are doing. You don't know anything about them. They're just hurling bombs at you. It makes me angry," she confessed.
She has not spoken openly about plastic surgery, but in a 2018 interview with New Beauty, Kristin hinted that she was apprehensive about injectables like Botox and other procedures.
"I'm scared of needles, scared of complications, and scared of doing something that looks bad and not being able to go back and fix it," she said at that time. The celebrity also talked about how much she appreciates the fat-freezing CoolSculpting surgery.
However, Kristin has stated she has struggled with negative body image and the pressure to meet the industry's unrealistic beauty standards for women.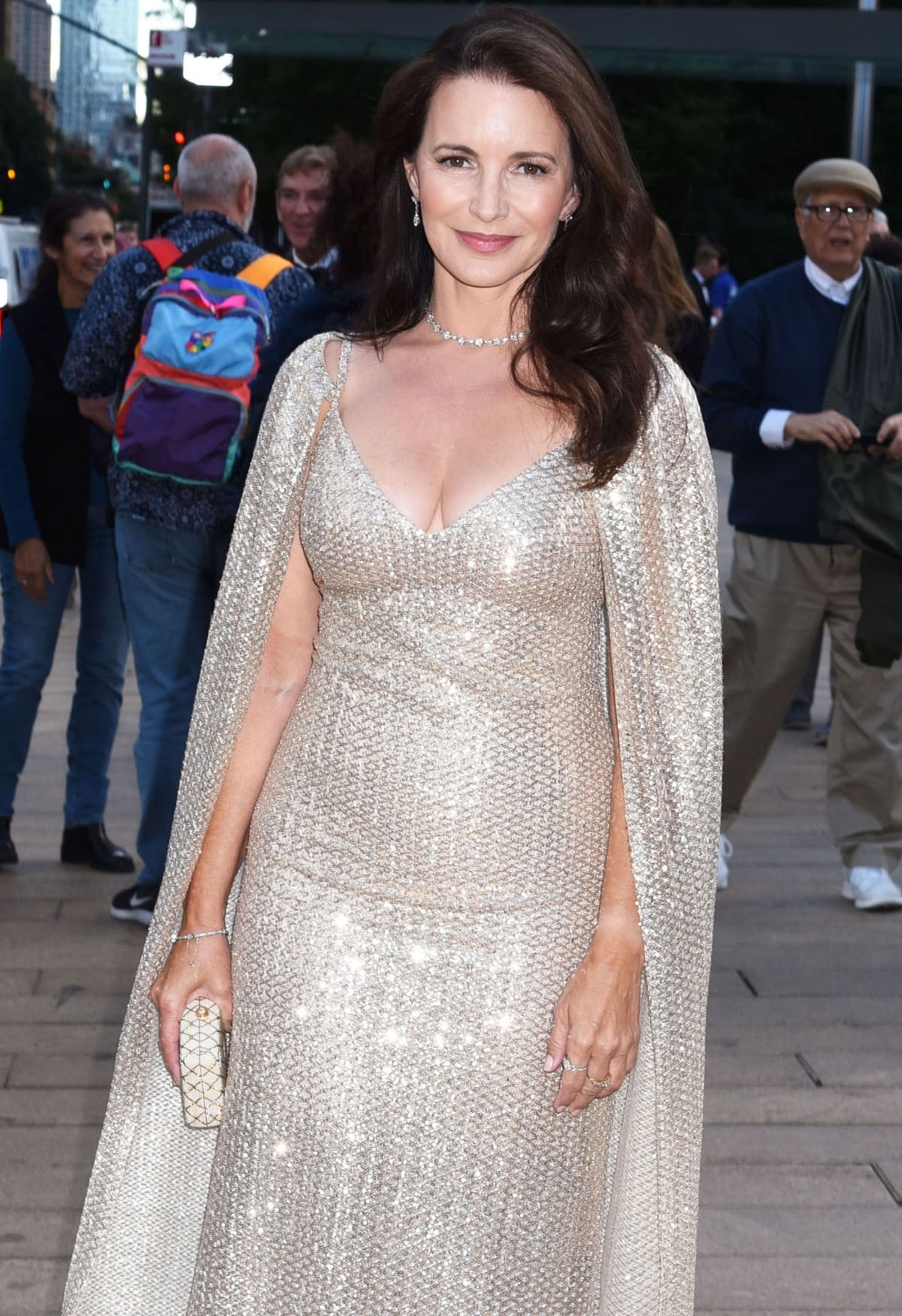 Kristin Davis at the NYC Ballet Fashion Fall Gala at David H Koch Theater in Lincoln Center in New York City on September 28, 2022 (Credit: JOHN EDDY/INSTARimages/Cover Images)
"I used to go to the gym six days a week, two hours a day. I worked hard to try to fit into the Hollywood standard or what I perceived that to be," she told AOL in a 2018 interview. "It was a struggle because that was not really my body, and I was killing myself trying to change it."
The Couples Retreat actress has said that she is "more sure and confident" than she was in the past, but that doesn't mean she has stopped caring about how she looks.
"I don't know if I'll ever be able to say that that doesn't concern me or that I don't think about [beauty standards], but on the other hand, I feel stronger in who I am and that my body is my body and a lot of people love my body," Kristin said. "Maybe there are people who don't, but that's always going to be the case. Don't even give it weight. It is what it is, and you're never going to please everyone."
A Bigger Cultural Conversation
Speaking to New Beauty in January 2022, Kristin admitted that she finds it "challenging" to compare how she looked on Sex and the City over two decades ago to how she looks in And Just Like That.
Reprising her iconic role as Charlotte from "Sex and the City," Davis continues to captivate audiences as Charlotte York Goldenblatt in the American comedy-drama television series And Just Like That… (Credit: HBO Max)
"It can also be extremely stressful to be aging and to be compared to your much, much, much younger self. If I was from a regular life, I would feel fine; I would feel great! But, no, I'm on television, where every bit of my physical being is analyzed. That part was always very stressful and difficult for me, because, as much as I can look back on my life and think, 'Oh, I looked great then,' you never think that at the time."
She elaborated, "I like to think there's more to life than how we look, but it's unavoidable in our culture that, as you age — especially as a woman — that how you look is a lot. It's a whole, bigger cultural conversation we need to have, but, right now, it's hard."
Kristin Davis Addresses Skepticism Surrounding Fillers
In a candid interview with The Daily Telegraph in a recent profile ahead of the highly anticipated Season 2 of And Just Like That, Kristin Davis opened up about the skepticism she has faced regarding her choice to undergo cosmetic procedures, mainly fillers.
With honesty and vulnerability, she revealed that her experience with cosmetic work had been a mix of successes and disappointments.
Expressing her initial excitement, Kristin disclosed, "I was super excited I didn't have to have my lateral lines," and reflected on her journey starting with Botox on her forehead, adding, "But I didn't do anything else for a long time."
Kristin Davis made a stylish appearance in New York on June 20, 2023, showcasing a fresh and vibrant look as she prepared for the premiere of season 2 of "And Just Like That" (Credit: Roger Wong / INSTARimages)
However, she encountered complications regarding lip fillers, saying, "No one told me it didn't look good for the longest time. But luckily I do have good friends who did say eventually. The thing is you don't smile at yourself in the mirror. Who smiles at themselves in the mirror? Crazy people."
Unfortunately, the repercussions of her lip filler experience left Kristin with the need to dissolve them, adding, "I've had to get them dissolved and I've been ridiculed relentlessly. And I have shed tears about it. It's very stressful."
Cynthia Nixon, Kristin Davis, and Sarah Jessica Parker are seen attending a private celebration for the 'Sex and The City 25th Anniversary' Party in Downtown Manhattan on June 8, 2023, in New York City (Credit: Jose Perez / INSTARimages)
As a result of these challenging experiences, she has decided to forgo fillers altogether, stating, "It's whatever. I can't keep it up. I don't have time. You're trusting doctors (but) people personally blame us when it goes wrong – (as if) I jabbed a needle in my face."
Kristin also discussed the pressure she faces due to the constant comparisons to her younger self.
She remarked, "It's hard to be confronted with your younger self at all times. And it's a challenge to remember that you don't have to look like that."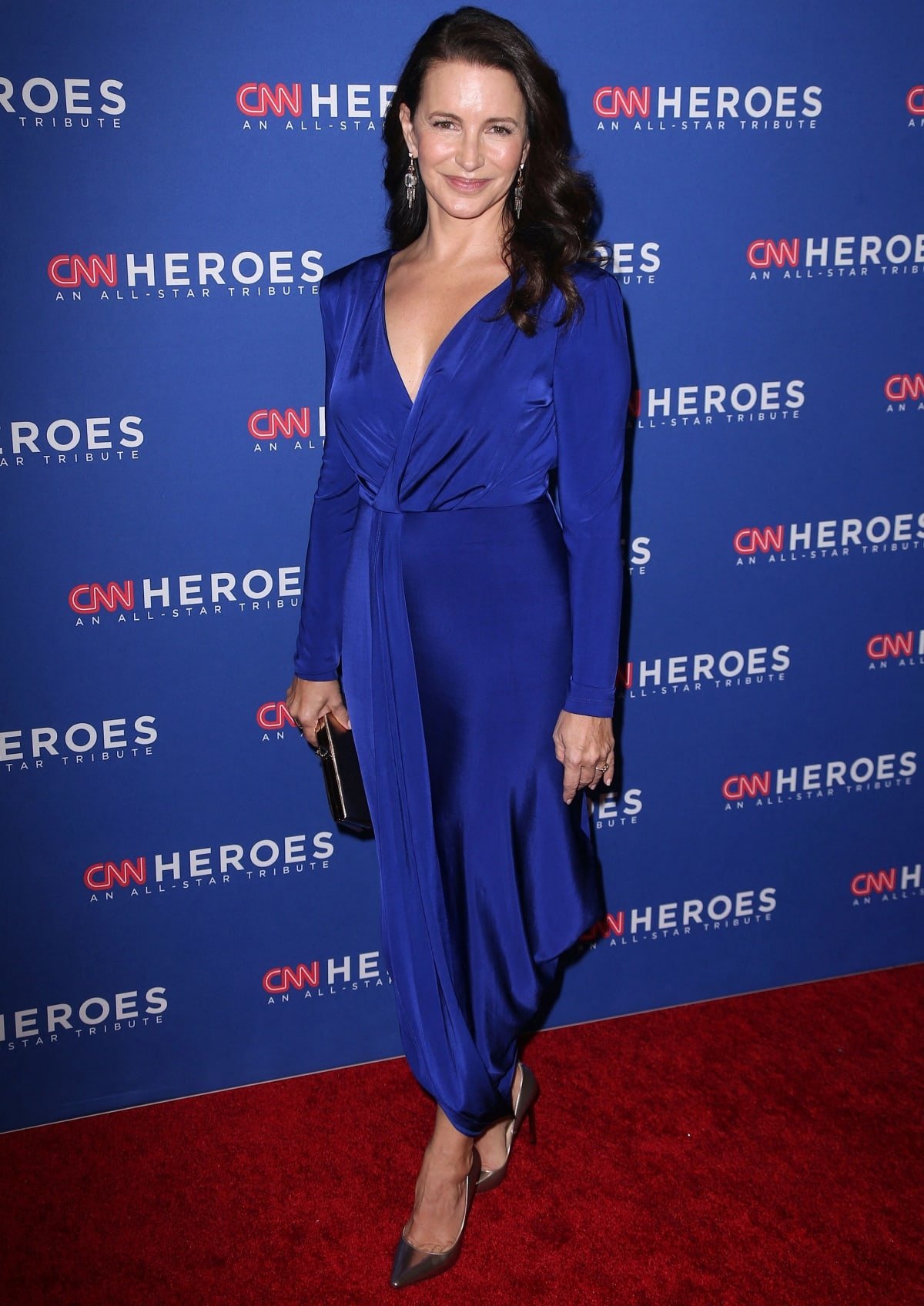 Kristin Davis at the 16th Annual CNN Heroes: An All-Star Tribute held at the American Museum of Natural History in New York City on December 11, 2022 (Credit: Charles Guerin/ABACA/INSTARimages/Cover Images)
If you've been wondering how she currently looks, the 58-year-old actress was seen in New York City during the 16th annual CNN Heroes: An All-Star Tribute, looking lovely in a silky cobalt blue dress with long sleeves and a draped design.
Her outfit was finished with glistening accessories, including a pair of crystal stone earrings and a gold bar clutch.
The And Just Like That actress and producer wore minimal makeup to highlight her flawless skin and swept her long, wavy hair to the side, letting it cascade over her shoulder.
She slid into a pair of sleek, pointed-toe pumps as a finishing touch. Metallic leather uppers in a bright golden color were a signature of her style, as were the high, closed counters.
The combination was polished off by thin stiletto heels measuring at least 4 inches in height.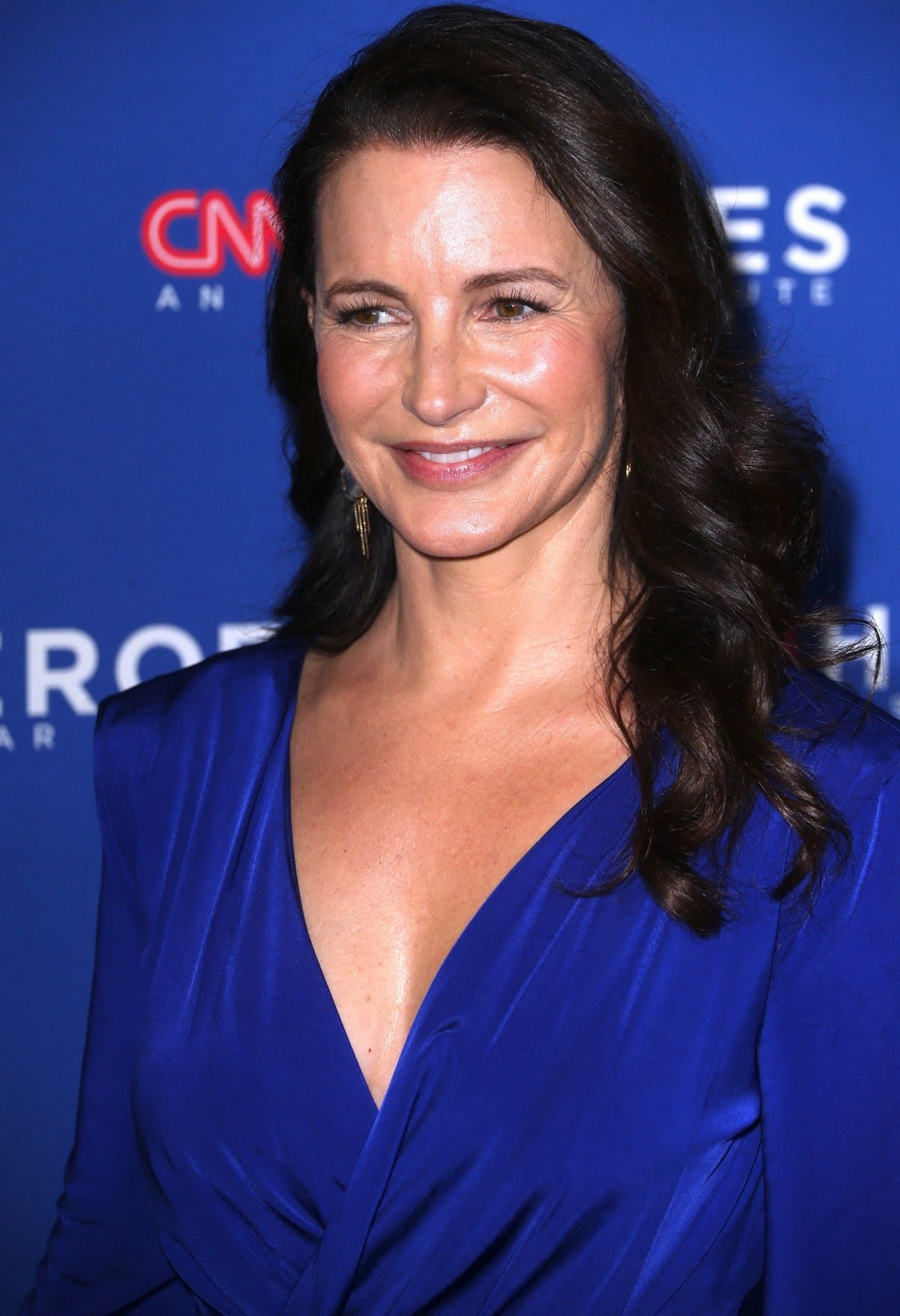 A beautiful and accomplished woman, Kristin Davis is not immune to the pressures of society and Hollywood (Credit: Charles Guerin/ABACA/INSTARimages/Cover Images)
Kristin Davis is a beautiful woman, but she's not immune to the pressures of Hollywood. She's been in the spotlight for decades and has dealt with harsh criticism over her looks as her star has risen— and fallen— throughout her career.
But she's got a lot of fans who love her for exactly who she is and what she stands for—and we think that makes her even more beautiful than ever!