Finally, Kylie Jenner was spotted in the Christian Louboutin "Pumpstagram" pumps. Because if anyone should wear the Louboutin shoes bearing a name inspired by the trendy social media app, it should one of Instagram's most popular users, right? And, with more than 51 million followers contributing to the million-plus likes she receives per post, Kylie is easily among the top 10 Insta-stars.
The 18-year-old social media phenomenon paired her gold-toed Louboutins with a Cristiano Burani red leather trench coat and a sexy Herve Leger "Bailee" bandage jumpsuit, which she wore on a night out with her friends and boyfriend Tyga in New York City.
Kylie Jenner's Instagram picture with BFF Jordyn Woods in a New York building lobby — posted on February 12, 2016
Kylie Jenner's Instagram post of the outfit she wore to a night out with friends in New York City — posted on February 12, 2016
Kylie was also spotted wearing the shoes a couple days earlier at the VFILES fashion show at New York Fashion Week. Opting for another jumpsuit, but ditching the overcoat, the youngest of the Kardashian-Jenner sisters gave a teasing display of flesh and skin-toned thong underwear through her ensemble's sheer blue lace fabric.
Kylie Jenner's Instagram posts of the VFILES blue lace jumpsuit and Christian Louboutin "Pumpstagram" pumps she wore to the VFILES fashion show held during 2016 New York Fashion Week at Spring Studios in New York City on February 10, 2016
Naturally, first to ever wear the Pumpstagrams was Taylor Swift, who is Instagram's reigning queen with 66 million followers.
Check out the similar Christian Louboutin "Sharpstagram" pumps below that Cate Blanchett wore to a movie premiere last year. They may not be as flashy as the Pumpstagram, but are definitely easier to mix-and-match with given their versatile black and nude colors. Best of all, they're on sale!
Christian Louboutin 'Sharpstagram' Cross-Strap Patent Red Sole Pump, $655 to $725 at Bluefly and Neiman Marcus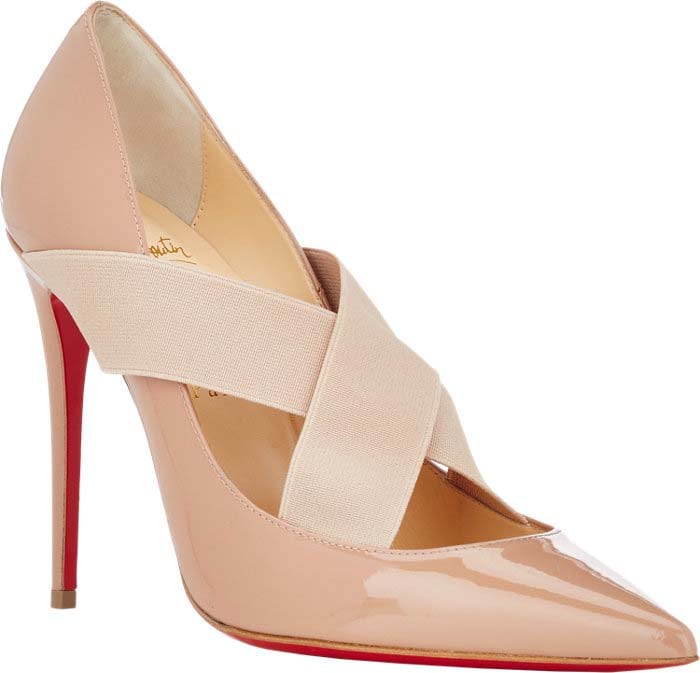 Christian Louboutin "Sharpstagram" Elastic-Cross-Strap Pumps in Nude Patent, $655 to $725 at Bluefly
Credit: Kylie Jenner's Instagram