If there's one celebrity who can handle the fierceness of a leopard print day in and day out, it would be Khloe Kardashian.
Khloe Kardashian and Kourtney Kardashian sign copies of their new book Dollhouse at Barnes & Noble The Grove in Los Angeles on November 18, 2011
I don't know why but every time I look at her, I see someone who is simply bold and willful. She has that aura, that persona, that vibe, that look; and she can work the leopard-like she owns it.
Khloe Kardashian and Kourtney Kardashian promoting Dollhouse, a first fiction collaboration by the fabulous Kardashian sisters— Kourtney, Kim, and Khloé
Of late, the taller Kardashian has been spotted toting a leopard printed satchel several times during the past couple of months. Not exactly a surprise, if you ask me. After all, she is the type who would go for such a piece.
The Kardashians really love leopard print
Now I know some of you may probably be fed up with this print but I just couldn't help featuring it again. Why not when Khloe is rocking it oh-so fabulously?
Anyway, I did my research and found out that the bag is from Givenchy's Spring 2011 Collection, called the Antigona leopard print duffle bag. Oh, and yeah, being an authentic Givenchy bag, it retails at a really pricey $1,780 at Nordstrom, Farfetch, and Saks Fifth Avenue.
Givenchy Antigona Leopard Print Bag, $1,780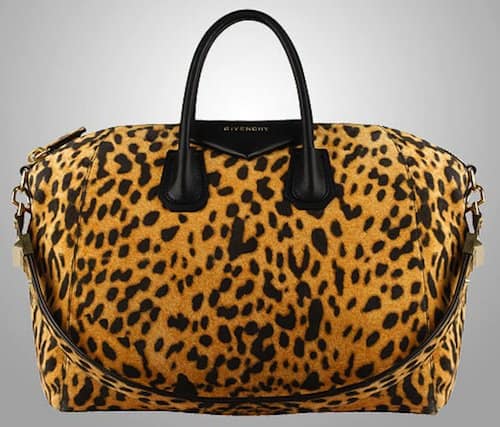 So what do you think? Now where to find this particular print in a regular store is a totally different matter. Usually, the Antigona is only available in classic solid colors.
Givenchy Antigona Duffle in large to medium sizes, $1,895 to $2,330
That said, seeing the print cross over to spring and summer is actually quite interesting. I mean, it was quite overexposed last fall so I didn't think an extension was going to happen.
I guess I was dead wrong. Now if you like the Antigona but you don't like its designer price tag, here's a very qualified substitute, the Cole Haan Tantivy haircalf jade bag at Zappos:
Cole Haan Tantivy Haircalf Jade Bag, $448.50 from $598
Not exactly the same style but at least it will give you a similar look. And yes, I agree, it isn't exactly cheap, however, it definitely beats spending almost $2,000.
Besides, Cole Haan bags are well made so you can be sure the quality is at par with that of the Givenchy.
Credit: FayesVision / WENN