The Duke and Duchess of Sussex revealed their daughter in a photograph celebrating her first birthday, on June 4th.
The photograph was taken by their close friend and photographer Missan Harriman while the family was in England celebrating the Queen's platinum jubilee.
Reportedly, the picture was not planned but instead, it was a "candid spontaneous photographs at the Duke and Duchess are pleased to share today."
View this post on Instagram
A spokesperson for the couple told People that the family celebrated their daughter's first birthday with a "casual, intimate backyard picnic" at their Windsor home, Frogmore Cottage.
While Harry and Meghan were visiting, they set up a meeting with the Queen, so that she could meet her granddaughter.
The couple asked if their photographer would be able to take a snap of the Queen and Lilibet meeting for the first time, but the Queen's representatives told them "no chance".
A source told The Sun that the royals didn't want a photograph of the meeting making its way to U.S. broadcast television networks.
After Harry and Meghan's scandalous 2021 interview with Oprah, the royal family seems to be anxious about American involvement with private family matters.
Meghan, Duchess of Sussex, in a belted Dior coat styled with a Stephen Jones hat, and Prince Harry, Duke of Sussex attend the National Service of Thanksgiving at St Paul's Cathedral on June 3, 2022, in London, England (Credit: Dutch Press Photo / Cover Images / INSTARimages)
It has also been speculated that the couple's relationship with her majesty has been negatively affected. Aside from their departure from the family, the couple named their daughter Lilibet, the Queen's childhood nickname, without consulting her beforehand.
Other royals joined in to celebrate Lili's birthday, including Prince William and Kate Middleton, who wished their niece a happy birthday via social media.
This trip to celebrate the Jubilee is Meghan's first visit back to London in two years since she and Harry moved to California and gave up their working royal duties.
Meghan Markle shows off her white gold Birks Snowflake Snowstorm earrings (Credit: Dutch Press Photo / Cover Images / INSTARimages)
The couple's stay in England wasn't long, and they left on a private jet before the main jubilee celebrations of the day. They did however attend a Thanksgiving service for the reign of the Queen.
Boos were heard as the couple were seen walking into St Paul's Cathedral and the couple were seated far away from the rest of the royal family.
A video has also circulated showing Meghan quickly turning her head away from Kate, as she walks past her.
Meghan Markle shows off her earrings from Dannijo at ELLE's Women In Television Celebration presented by Hearts on Fire Diamonds and Olay held at the Sunset Tower Hotel in Los Angeles on January 20, 2016 (Credit: Adriana M. Barraza / WENN)
If you're a fan of the highly-popular television series "Suits," you will know that — apart from the mind-boggling storyline — the show's level of power dressing was second to none.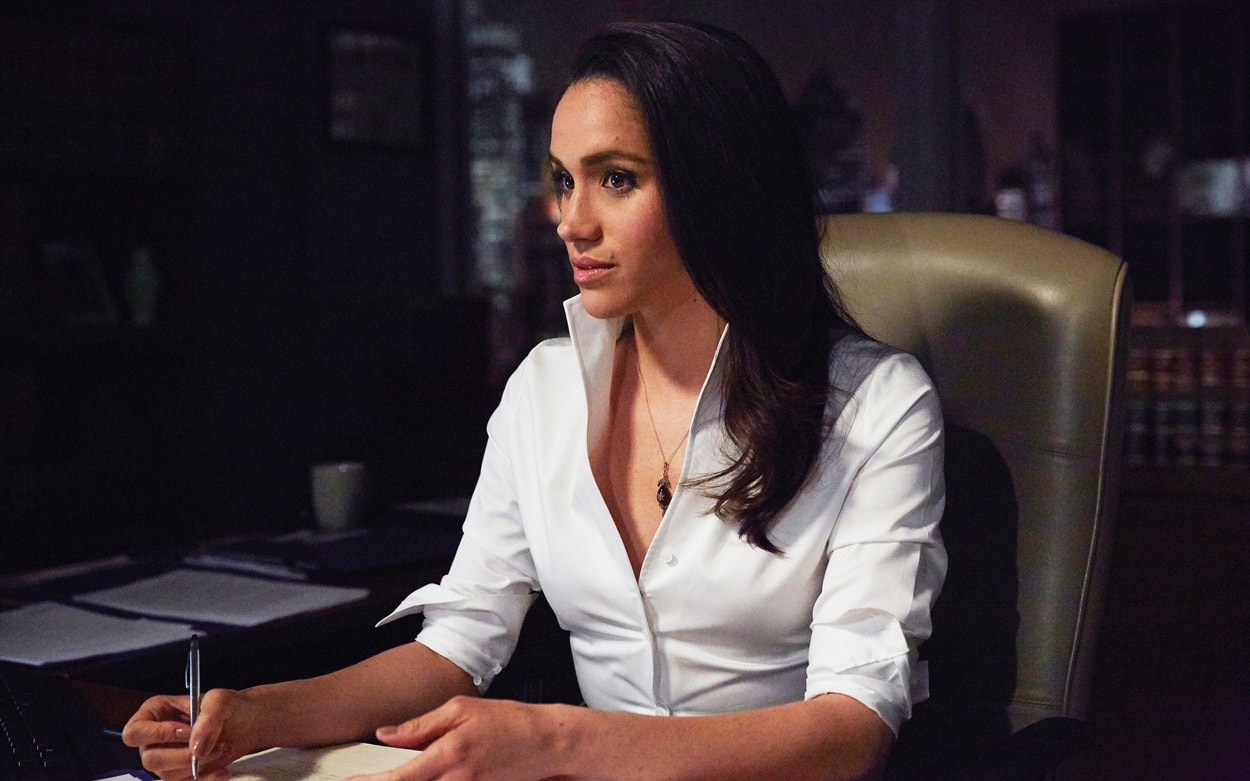 Meghan Markle as Rachel Elizabeth Zane in the American legal drama television series Suits (Credit: USA Network)
Even a paralegal like Rachel Zane, who was played by the beautiful Meghan Markle, was usually wrapped in brands such as Zac Posen, Saint Laurent, Roland Mouret, and Burberry, among others. So, what does a casually dressed day mean for Meghan?
In January 2016, Meghan revealed what casual Wednesday means for her at ELLE's Women in Television celebration dinner.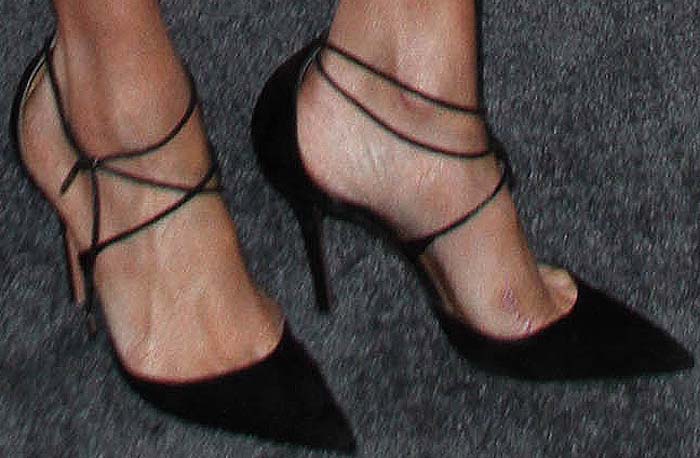 Meghan Markle shows off her feet in Aquazzura "Matilde" heels (Credit: Adriana M. Barraza / WENN)
While casual Wednesday might mean "t-shirt and jeans" to us normal humans, Meghan's casual was a red embroidered dress by Dolce & Gabbana, paired with earrings from Dannijo and Aquazzura's "Matilde" heels.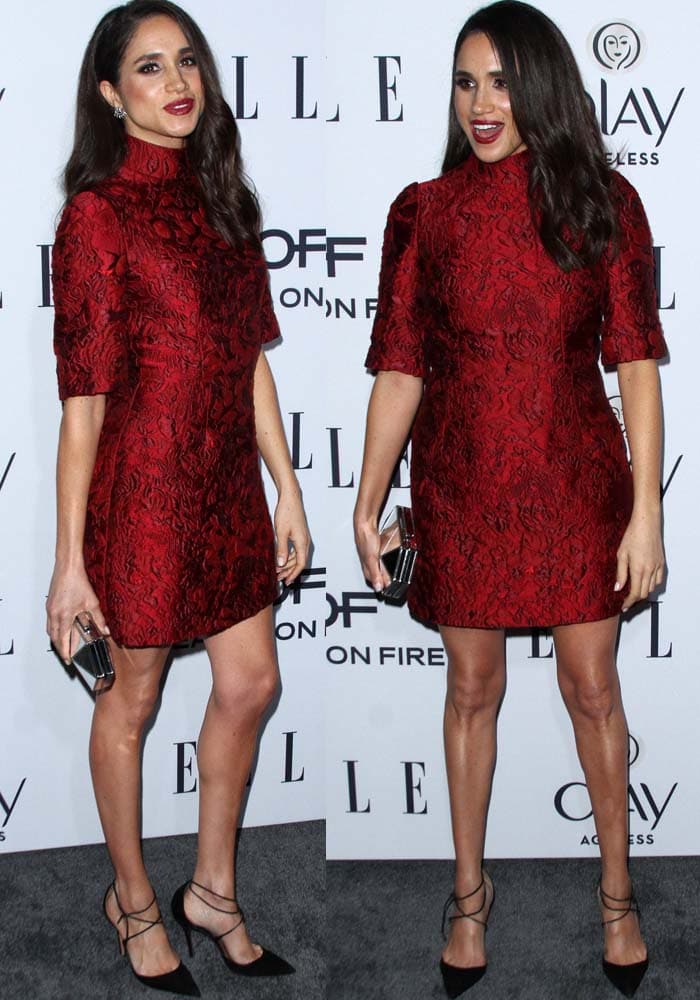 Meghan Markle flaunts her legs in a red embroidered dress by Dolce & Gabbana and black pumps (Credit: Adriana M. Barraza / WENN)
Meghan tied her heels a bit differently, which created an interesting design —albeit a bit sloppy but overall OK.
Play around with the straps of the Aquazzura "Matilde" heels after grabbing a pair at Farfetch and Shopbop.
Aquazzura 'Matilde' Black Pointed Suede Pumps, $651.04 – $695
Aquazzura 'Matilde' Blue Pointed Suede Pumps, $695
Aquazzura 'Matilde' Gold Pointed Patent Pumps, $605