We haven't been seeing a lot of Lindsay Lohan these past months, but the queen of tabloids resurfaced on Friday to attend Z100's Jingle Ball 2013 show at Madison Square Garden.
La Lohan made quite a buzz when she stepped on the red carpet, thanks to her attention-grabbing ensemble. She was wearing a statement tee with the print "SAME OLD CHIC," which was paired with Saint Laurent "Janis" harness boots.
Lindsay Lohan at the Z100 Jingle Ball held at the Madison Square Garden in New York on December 14, 2013
Now, it may seem like Lindsay forgot her pants at home, but she was actually wearing black hot pants underneath the shirt. The teeny tiny shorts were just not visible because of the oversized tee.
Upping the ante of her already risque look, Lindsay wore her leather boots with matching thigh-high leather stockings by Samantha Myer.
Lindsay Lohan's statement tee with the print SAME OLD CHIC
Yep. Those aren't thigh-high boots, ladies! And we were almost fooled, too! But after closer inspection and a little bit of research, we realized it was just an illusion — a tricky one, don't you think?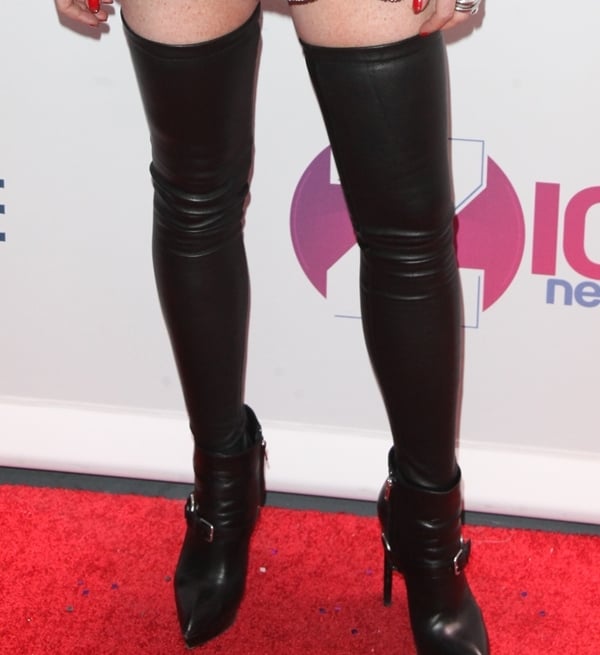 Lindsay Lohan rocks thigh-high leather stockings by Samantha Myer
Unfortunately, Lohan's Saint Laurent boots are already sold out in most stores. But we did find you a nice alternative with a similar style:
Saint Laurent "Janis" Harness Boots, $1,024.30 at Farfetch
Lindsay's slogan shirt is from ASHISH:
ASHISH Slogan Sequined Silk Top (out of stock)
It's no longer up for purchase but slogan tees are everywhere. Here are other alternatives:
1. Happiness Love is Totally Possible Tee, $33.00 at Shopbop
2. Cecile Shake Some Action T-shirt, $120.00 at Shopbop
3. SUNDRY Work Like A Captain, Play Like A Pirate Tee, $65.00 at Shopbop
4. Markus Lupfer Beat It Sequin Alex Tee, $288.00 at Shopbop
We love a good slogan tee but make sure you steer far away from the path Lindsay has taken and heed our fashion advice.
Wear them with a good pair of pants and a long trench coat over your shoulders. You can also go the girly route and tuck these shirts under a pleated midi skirt.
Credit: PNP / WENN