Lindsay Lohan has graced the big screen many times, taking on iconic roles including Lola Johnson in A Prairie Home Companion, Anna Coleman in Disney's Freaky Friday, and my personal favorite, Cady Heron in the 2004 hit Mean Girls.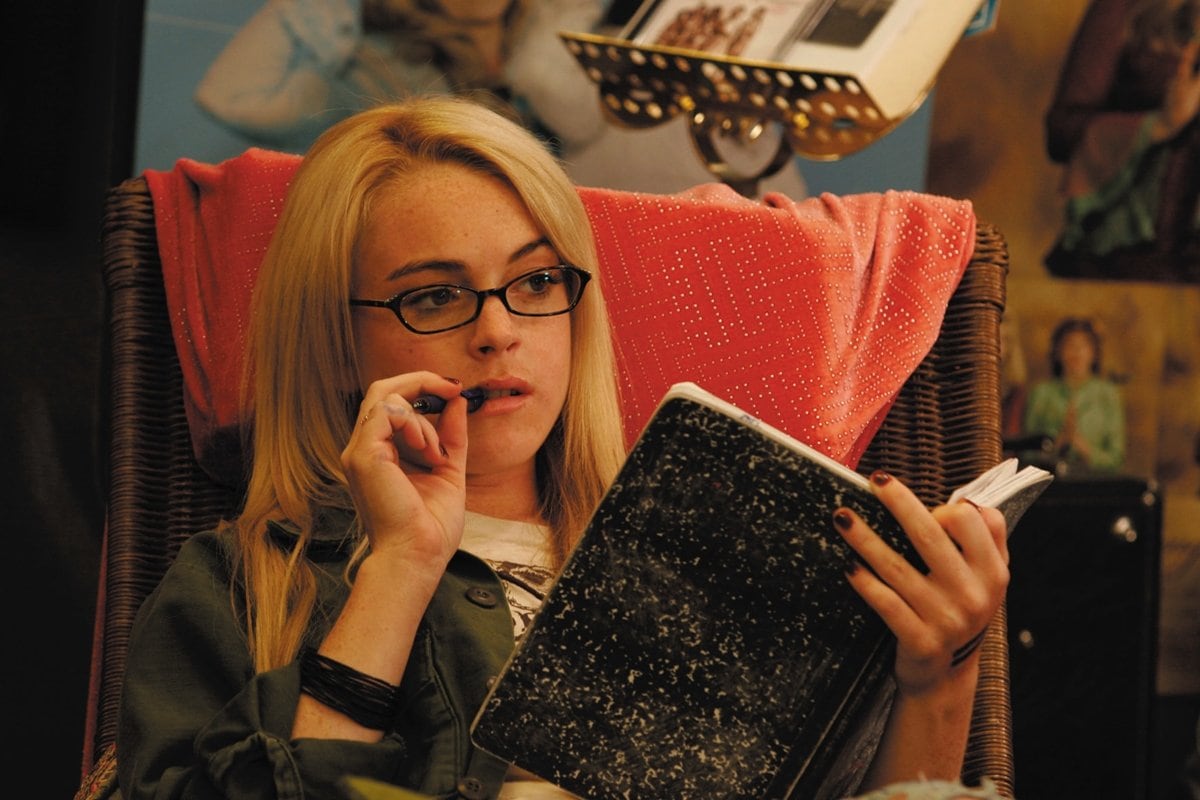 Lindsay Lohan as Lola Johnson in a 2006 American musical comedy film A Prairie Home Companion (Credit: New Line Cinema)
Whilst she's certainly adopted a number of on-screen personalities that have cemented her space in the spotlight, which of these personalities she'd get to portray hadn't always been set in stone.
Lindsay Lohan's Mean Girls Wish
Lohan gave us a slight behind-the-scenes look, sharing some of that North Shore High School gossip with us, as she revealed in Vogue's Life in Looks feature that her initial casting aspiration for the film turned out a little differently than she'd first hoped.
She commented, "The story behind me playing Cady in Mean Girls is actually really unknown by a lot of people".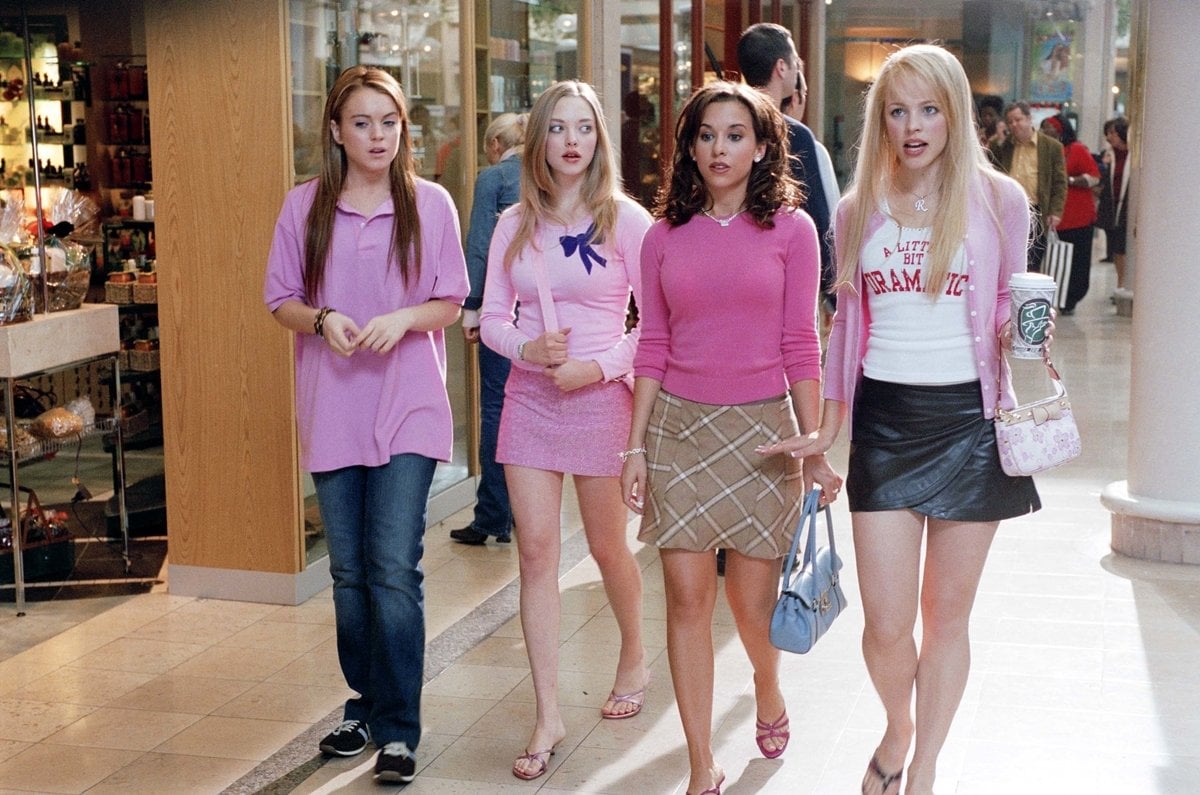 Lindsay Lohan as 16-year-old girl Cady Heron, Rachel McAdams as popular mean girl Regina George, Lacey Chabert as insecure rich girl Gretchen Wieners, and Amanda Seyfried as blonde airhead Karen Smith in the 2004 American teen comedy film Mean Girls (Credit: Paramount Pictures)
The 35-year-old actress said, "I wanted to play Regina", and continued, explaining that after her role in Freaky Friday, as the typical angry punk-rock teen Anna Coleman, she was ready to play a "pretty normal girl now", and steer away from what Lohan described as the "damaged teenager" character.
A Quick Plot Reminder
For those of you who haven't been watching Mean Girls at least twice a year since 2004, the film follows the new girl in school Cady Heron, played by Lindsay Lohan, as she navigates public school for the first time.
Lindsay Lohan was 17 years old when her cult movie Mean Girls was released on April 30, 2004 (Credit: Albert Ferreira / Startraksphoto)
As any teen could tell you, high school is full of cliques and Cady finds herself covertly becoming a member of The Plastics, the school's resident mean girls, made up of Regina George, played by Rachel McAdams, Gretchen Wieners, brought to life by Lacey Chabert, and Karen Smith, played by Amanda Seyfried, after having initially befriended the school outsiders, Janis Ian and Damian, played by Lizzy Caplan and Daniel Franzese respectively.
How Lindsay Became Cady
Despite Lohan's best efforts to snag the role of lead Plastic, Regina George, Mark Waters, the director of Mean Girls, and Tina Fey, the film's writer and school calculus teacher Ms. Norbury in the movie, insisted that the lovable, protagonist role of Cady was so much more suited for Lindsay.
"And Mark Waters, the director, was insistent that I play Cady, and so was Tina [Fey]. They're like 'no, no, no, you're the lovable one, you have to play Cady.' I was so eager to get into the transitional part of 'okay, let's get to the pretty part of Cady.' It's just such a lovable movie," Lohan told Vogue.
The film was mostly shot in Toronto, Ontario, during the autumn of 2003. Lindsay Lohan was 17 years old when she played 16-year-old high school girl Cady Heron.
Filming concluded on November 25, 2003, just days after Rachel McAdams turned 25. She celebrated her 25th birthday on November 17, 2003.
Amanda Seyfried turned 18 on December 3, 2003, meaning she was 17 when filming Mean Girls. Lacey Chabert celebrated her 21st birthday while shooting.
What About the Rest of the Plastics?
It goes without saying that one change has a bit of a ripple effect when it comes to casting, so with Lohan ruled out as Regina George, how were The Plastics introduced to the set?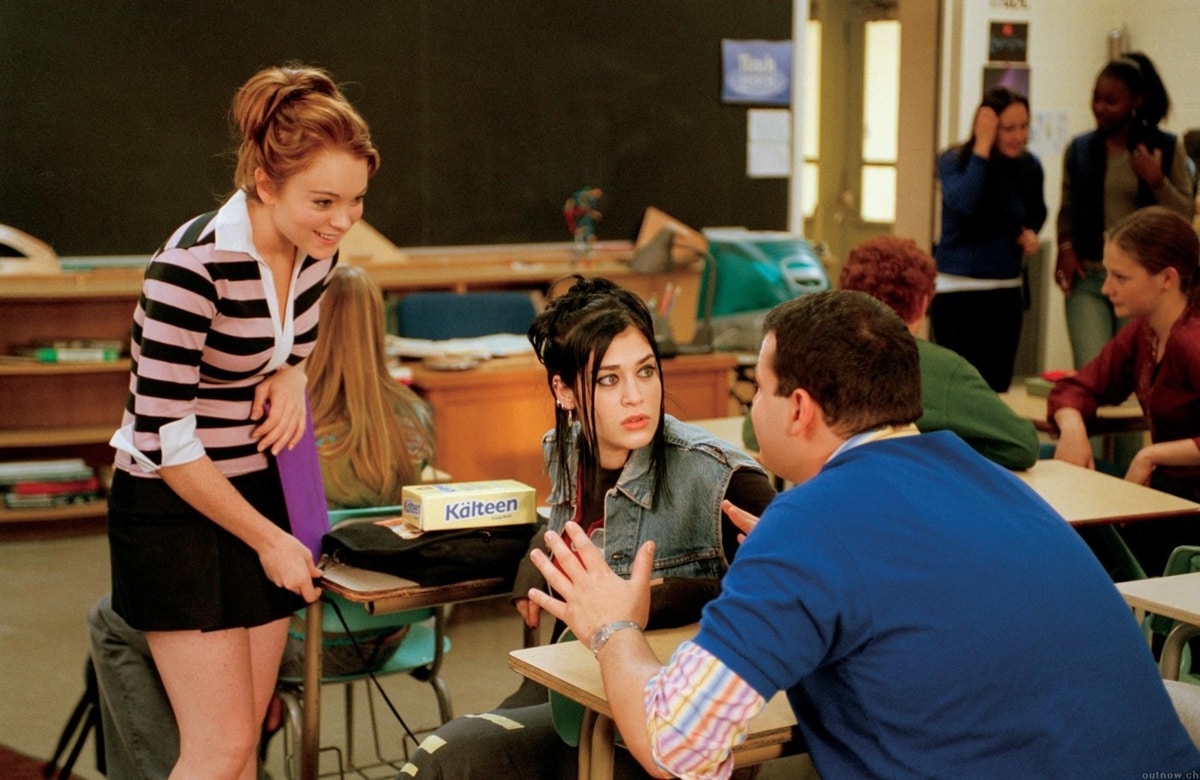 Lizzy Caplan as goth artistic girl Janis Ian and Lindsay Lohan as Cady Heron in Mean Girls (Credit: Paramount Pictures)
Whilst Lohan was branded as "lovable" when she gained the Cady role, that doesn't mean that McAdams' real personality mimics that of her on-screen persona Regina George.
Instead, it's quite the opposite, with the production crew saying "only nice girls can play mean girls", and so the iconic casting choice was made.
Rachel McAdams rose to fame as the leader of The Plastics in Mean Girls, a role that Lindsay Lohan also wanted to play (Credit: Albert Ferreira / Startraksphoto)
As for the rest of The Plastics, Karen Smith was the very first role in a film that Amanda Seyfried secured, and her career has really taken off from there.
Originally, Seyfried was supposed to play Cady, but Lorne Michaels suggested the switch. Whilst we would have loved Amanda Seyfried as our protagonist, she did do a wonderful job of bringing everyone's favorite dumb blonde to life.
Now, that leaves Gretchen Wieners, played by Lacey Chabert. Whilst thorough auditions and reworking went into some of the other casting choices, there was only one woman for Gretchen from the get-go.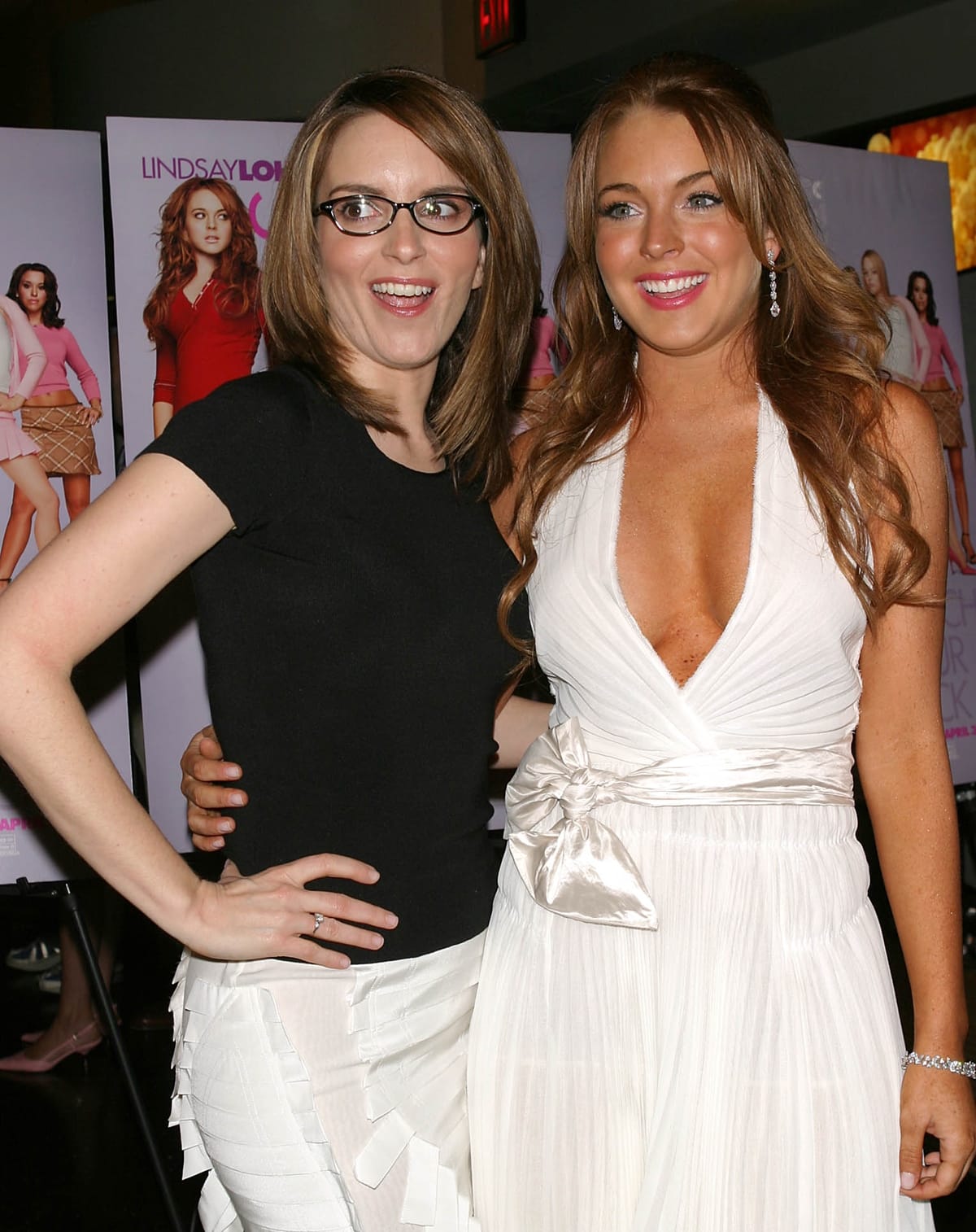 Mean Girls writer Tina Fey wanted Lindsay Lohan to portray sixteen-year-old homeschooled Cady Heron (Credit: Albert Ferreira / startraksphoto)
Lacy Chabert was the only person considered for this role. As Gretchen would say, "that's so fetch!"
Another fun Mean Girls titbit is that Tina Fey coined the phrase "fetch," as she was careful to avoid using genuine slang so that the film wouldn't seem dated, helping create the timeless classic Mean Girls is today.
And of course, now we couldn't imagine the film as being any other way, with perfect casting from our leading lady Lohan to the fun, dumb blonde played by Seyfried. Mean Girls is, and always will be, a household favorite.
Lindsay Lohan wears her red hair down at Chakana in London on January 9, 2014 (Credit: WENN)
In January 2014, it looked like Lindsay Lohan was making a comeback. The actress was spotted out and about with friends in London, and we have to admit, she looked healthy and sober.
In fact, she looked a lot like the "Mean Girls" Lindsay we used to idolize.
Lindsay wore a black-patterned fur-trimmed coat that she unexpectedly finished with a pair of bulky thigh-high platform boots.
Lindsay Lohan dresses in all-black while out in London (Credit: WENN)
To be honest, a pair of skinny jeans or pants would have been more appropriate given the London weather, but the boots weren't that bad.
Lindsay Lohan wears thick black thigh-high boots while out in London (Credit: WENN)
We have yet to ID Lindsay's over-the-knee boots, but we did find some similar boots for you to check out in the meantime.
These "Miista Emi" boots at Nasty Gal feature similar chunky heels and tall shafts, but they're made of suede-like material and genuine leather.
They feature inch-thick platforms and 4.25-inch-tall block heels, and retail for $228 a pair.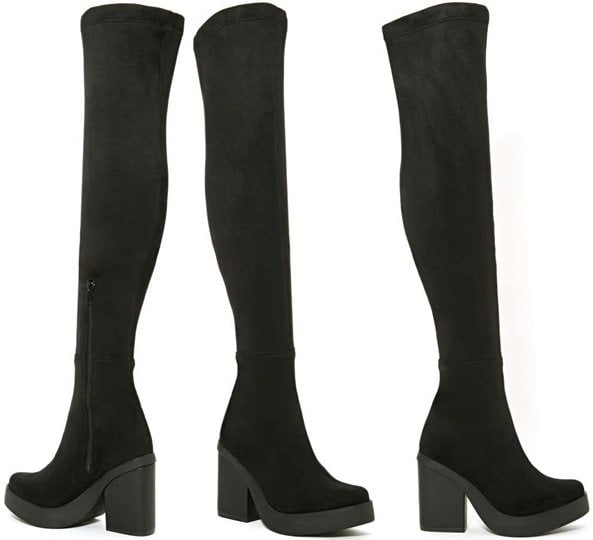 Black Miista Emi Thigh-High Boots, $228