There are few actresses in the world—much less Hollywood—that have left such a lasting impression on both stage and screen like Liza Minnelli.
The daughter of another legendary actress, Judy Garland, Liza Minnelli began her career at a very young age.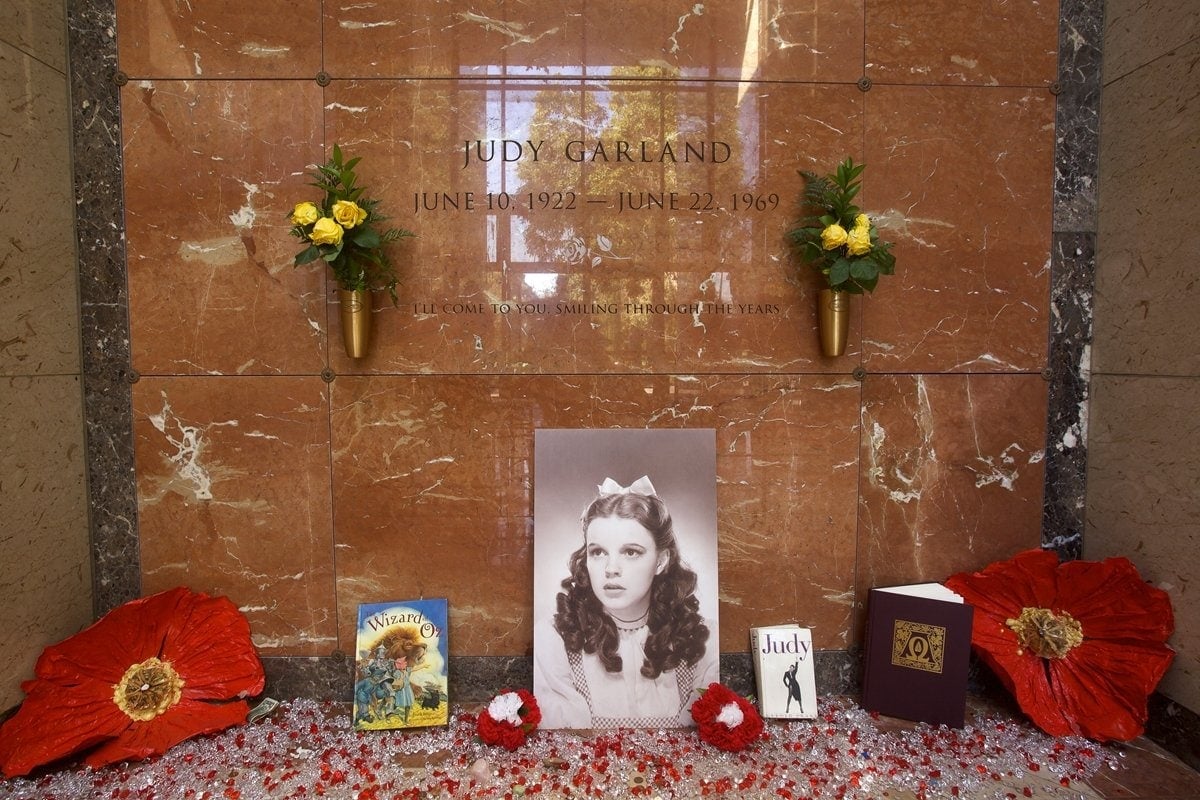 Liza Minnelli was born on March 12, 1946, to legendary actress and singer Judy Garland (Credit: Elliott Cowand Jr / Shutterstock)
Now, the 76-year-old actress is one of the most celebrated performers of the 20th century and one of the only celebrities to earn the quadruple crown of awards—an Emmy, a Grammy, an Oscar, and a Tony—also known as an EGOT.
Instantly recognizable for her roles in Cabaret, The Sterile Cuckoo, and even as Lucille Two in Arrested Development, it's no wonder that Liza Minnelli is so well-loved.
She was even bestowed the distinction of being a Knight of the French Legion of Honour!
Liza Minnelli and her mom Judy Garland (born Frances Ethel Gumm) on The Judy Garland Show in Los Angeles on July 16, 1963 (Credit: CBS)
In addition to her storied career, Liza Minnelli has always been an outspoken supporter of LGBTQ rights (she even penned her own "love letter" to the gay community for Billboard) and has dedicated a lot of her time to amfAR, the Foundation for AIDS Research, and is credited with inspiring Elizabeth Taylor to co-found the organization.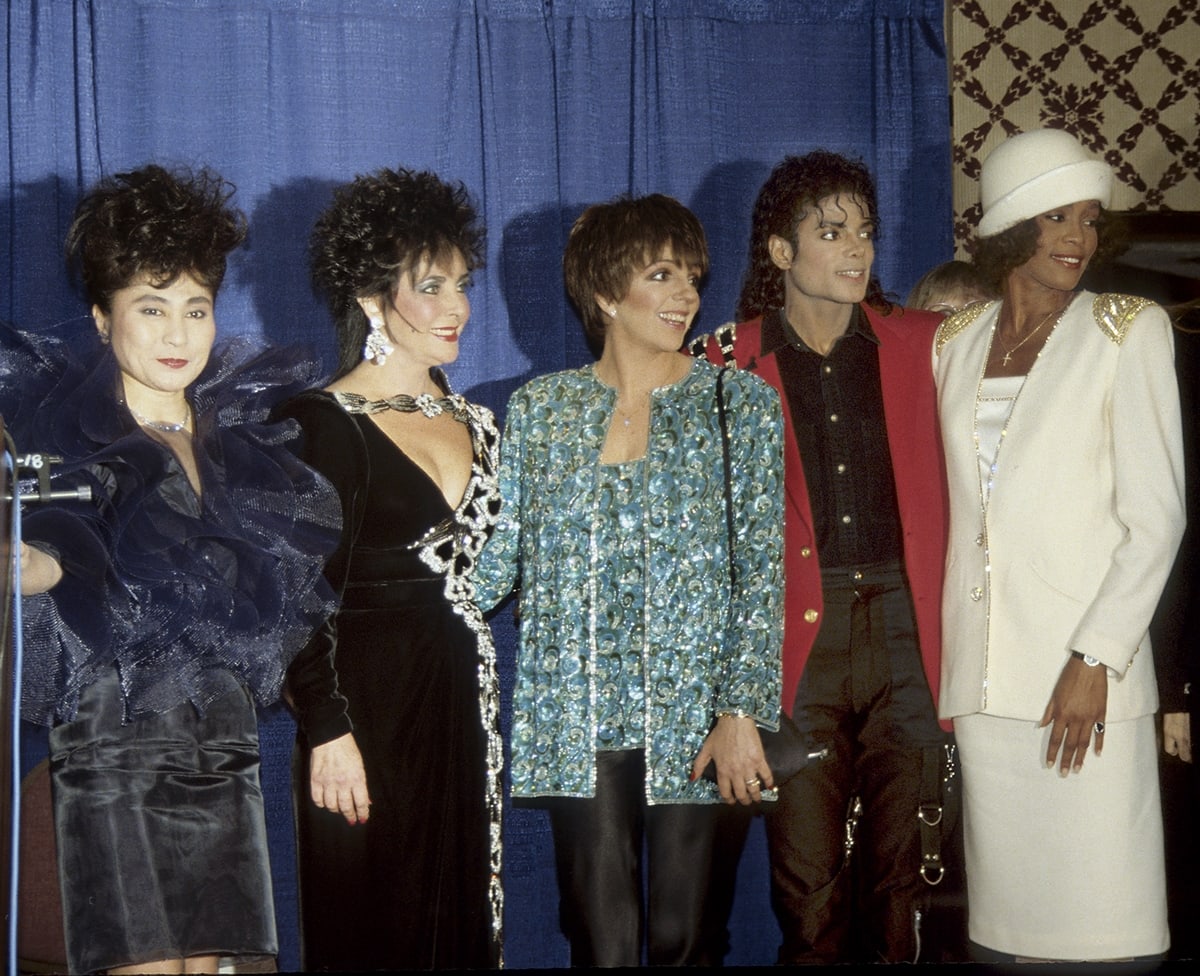 Yoko Ono, Elizabeth Taylor, Liza Minnelli, Michael Jackson, and Whitney Houston celebrate Michael Jackson's honorary doctorate degree in humane letters by Fisk University in New York City on March 10, 1988 (Credit: Ernie Paniccioli / Startraksphoto)
As a result, Minnelli is often celebrated as a "gay icon" for her illuminating work on Broadway and her continued fight against discrimination.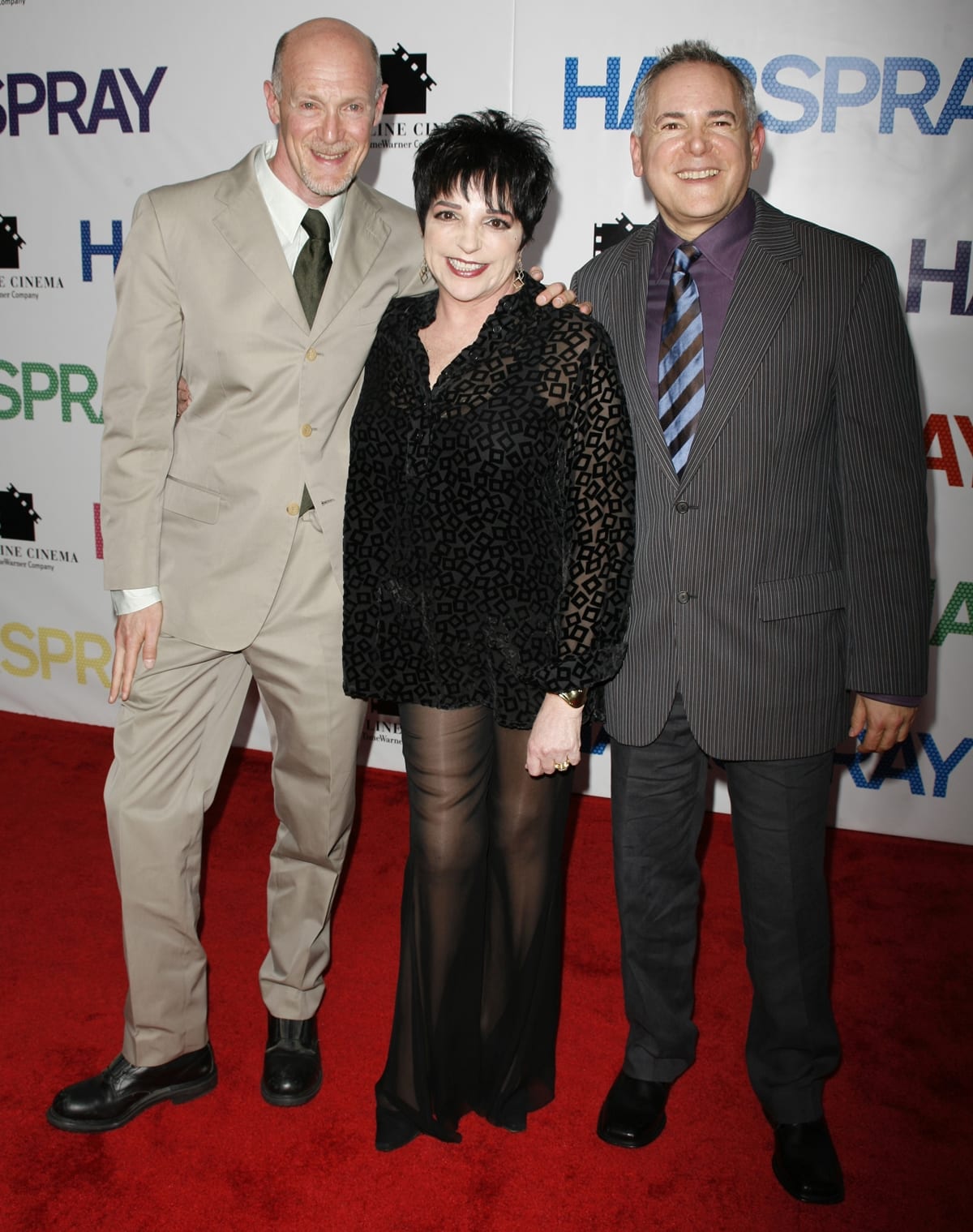 Producer Craig Zadan, Liza Minnelli, and producer Neil Meron arrive at the New York premiere of "Hairspray" at The Ziegfeld on July 16, 2007, in New York (Credit: Walter McBride / INSTARimages)
Unfortunately, things haven't been smooth sailing for the legendary Liza Minnelli for the last few decades, as she has been gripped with debilitating health problems that have prevented the actress from doing what she loves: performing.
Liza Minnelli's health issues are not caused by drugs
When the public began to realize that Minnelli was not entirely okay, many tabloids rushed to report that it was due to drugs, but this is not the case.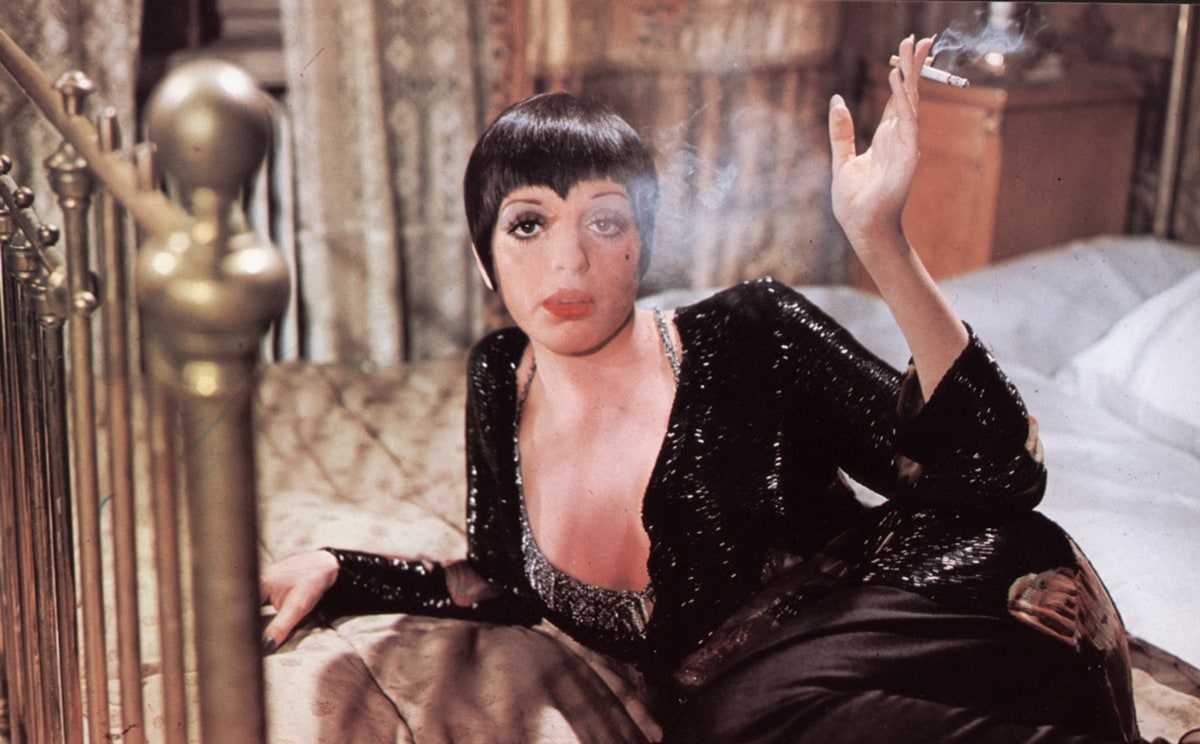 Liza Minnelli as Sally Bowles in the 1972 American musical drama film Cabaret (Credit: Allied Artists / 20th Century Fox)
Minnelli has struggled with addiction for decades. In fact, her own mother, Judy Garland, eventually died of a barbiturate overdose, and Minnelli believes she inherited her mother's addictive personality.
It didn't help that she was prescribed Valium and other extremely addictive, mind-altering drugs after her mother's death in a misguided attempt from her psychiatrists to help Minnelli ease her pain. After becoming addicted to abusing these drugs, the actress checked herself into rehab.
Unfortunately, Minnelli relapsed in 2005, and after going back to rehab, she was determined to make a change, telling Today at the time, "You get up and you go on, and you try not to do it again."
Liza Minnelli has long suffered from alcoholism and has been addicted to prescription drugs (Credit: Roger Wong / INFphoto)
In a heartbreaking admission to The Guardian in 2008, she said, "My whole life, this disease [addiction] has been rampant. I inherited it, and it's been horrendous, but I have always asked for help."
Liza Minnelli's health issues may have been worsened by her addiction, but the true underlying causes are even more shocking.
Liza Minnelli developed a hiatal hernia during a pregnancy
Though she has not performed much for the last few decades, the actress revealed to The Guardian that her health issues began long ago.
Though Liza Minnelli has no children of her own, she suffered a number of miscarriages while trying to expand her family over the course of her four marriages.
One of these pregnancies resulted in the actress developing a hiatal hernia, a painful condition where the stomach swells and protrudes, pressing into the diaphragm—an important muscle for singers.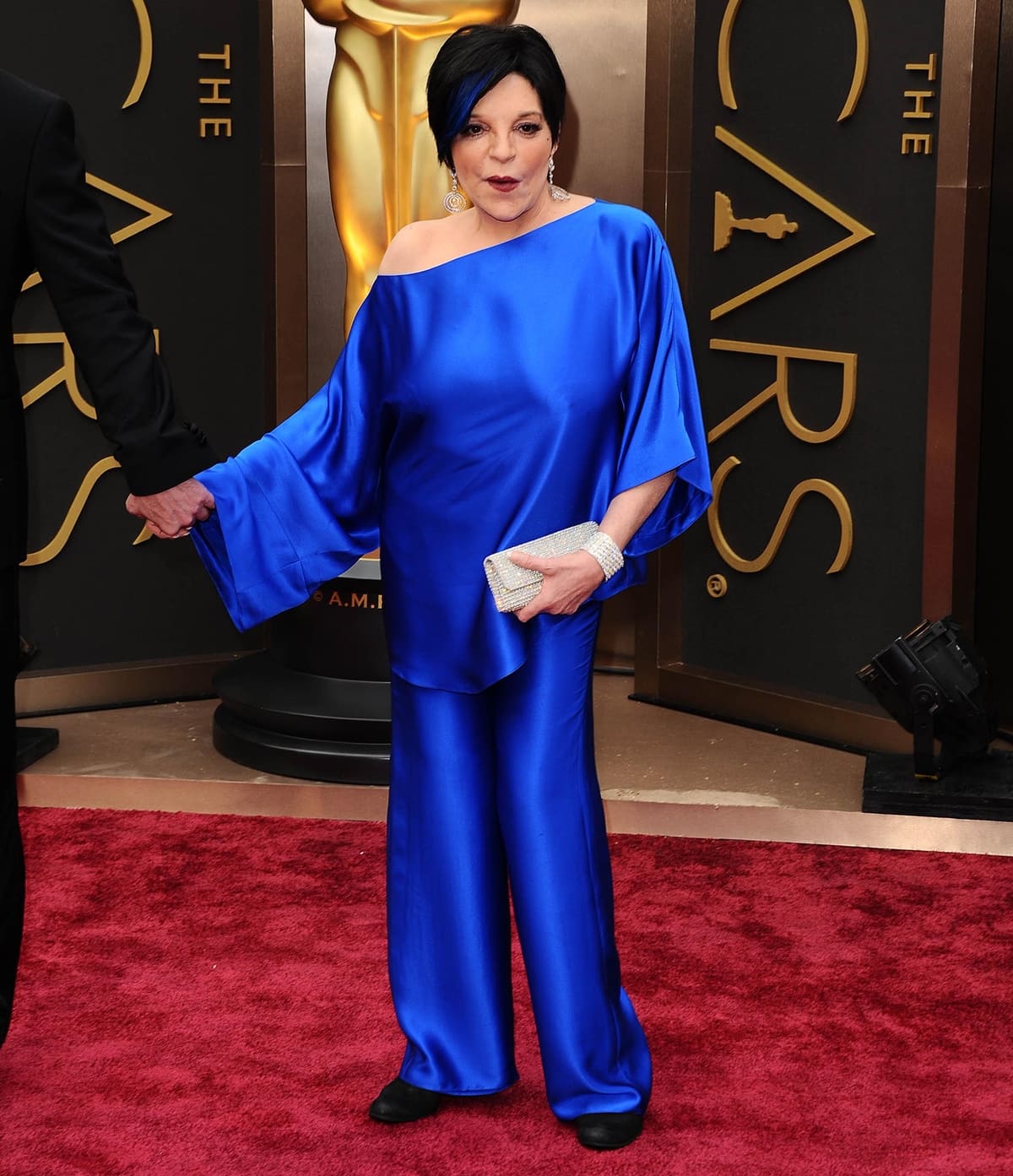 Actress Liza Minnelli in an electric blue pantsuit at the Oscars held at Hollywood & Highland Center on March 2, 2014, in Hollywood, California (Credit: Kyle Rover / Startraksphoto)
During the 2008 interview, the actress said that she can't eat on the days she performs, but it wasn't due to nerves.
"I have a hiatal hernia, which I got when I was pregnant," Minnelli told the outlet in 2008. "They put me upside down trying to hold the baby—and the baby passed away anyway—but I got a hernia, so if I eat and sing like that, and all that muscle, it hurts!"
Heartbreakingly, Minnelli not only lost her child, but was left with a lifelong disability.
Liza Minnelli was diagnosed with viral encephalitis in 2000
Down to the largest reason that Liza Minnelli has seen such a decline in her health is a small, yet extremely dangerous source: a mosquito bite.
Though she had a bevy of hip and back issues, things took a turn for the worse.
In 2000, Minnelli was hospitalized in Florida for what was thought to be a stroke, but when doctors did more tests, it was revealed that the actress had contracted viral encephalitis, a disorder that causes swelling, fluid, and inflammation in the brain, likely from a diseased mosquito that had bitten her while in Florida.
Liza Minnelli was diagnosed with viral encephalitis, which causes brain inflammation, in October 2020 (Credit: Kathy Hutchins / Shutterstock / T VECTOR ICONS)
Because encephalitis affects the brain, it can cause seizures, aphasia, perception issues, and more, and doctors advised Minnelli to use a wheelchair, possibly for the rest of her life.
Since then, she has had multiple surgeries due to falls, including two broken wrists and two crushed vertebral discs.
So what happened at Liza Minnelli's controversial Oscars appearance?
After the 2022 Oscars, plenty of fans were quick to share what they deemed was an "aww-worthy" video of Lady Gaga and Liza Minnelli (both Oscar winners) presenting the award for Best Picture, which you can watch here.
The internet lauded Lady Gaga for her "grace" and "poise" when working with a seemingly-confused Minnelli—despite the fact that treating others with kindness and courteousness is the literal bare minimum—but what fans didn't know is that Liza Minnelli was allegedly extremely unhappy with the segment. Not upset with Lady Gaga, but upset with the producers.
According to Minnelli's longtime collaborator, Michael Feinstein, the actress felt like she had been "sabotaged" by producers in order to gain more views. She had requested to sit in a director's chair during the segment, which producers agreed to, but at the last minute, they had told her she would be using a wheelchair.
"She was sabotaged," Feinstein said on an episode of the SiriusXM program, The Jess Cagle Show. "That's a terrible word to use, but she only agreed to appear on the Oscars if she would be in the director's chair, because she's been having back trouble. She said, 'I don't want people to see me limping out there.' She said, 'You know, I want to look good. I don't want people to worry about me.'"
We don't blame her for being upset.