Lourdes, 25, is a model in demand and her latest venture is an underwear campaign for "America's Best Designer" Calvin Klein. Also in the campaign are celebrities such as The Pet Shop Boys, Willem Dafoe, and Dame Joan Collins.
In the pictures, Lourdes, nicknamed Lola, can be seen showing off her toned, curvy figure in the timeless Calvin Klein underwear.
She makes a point to raise her arms, revealing her natural body hair. The model does this to challenge society's beauty standards that are forced onto women.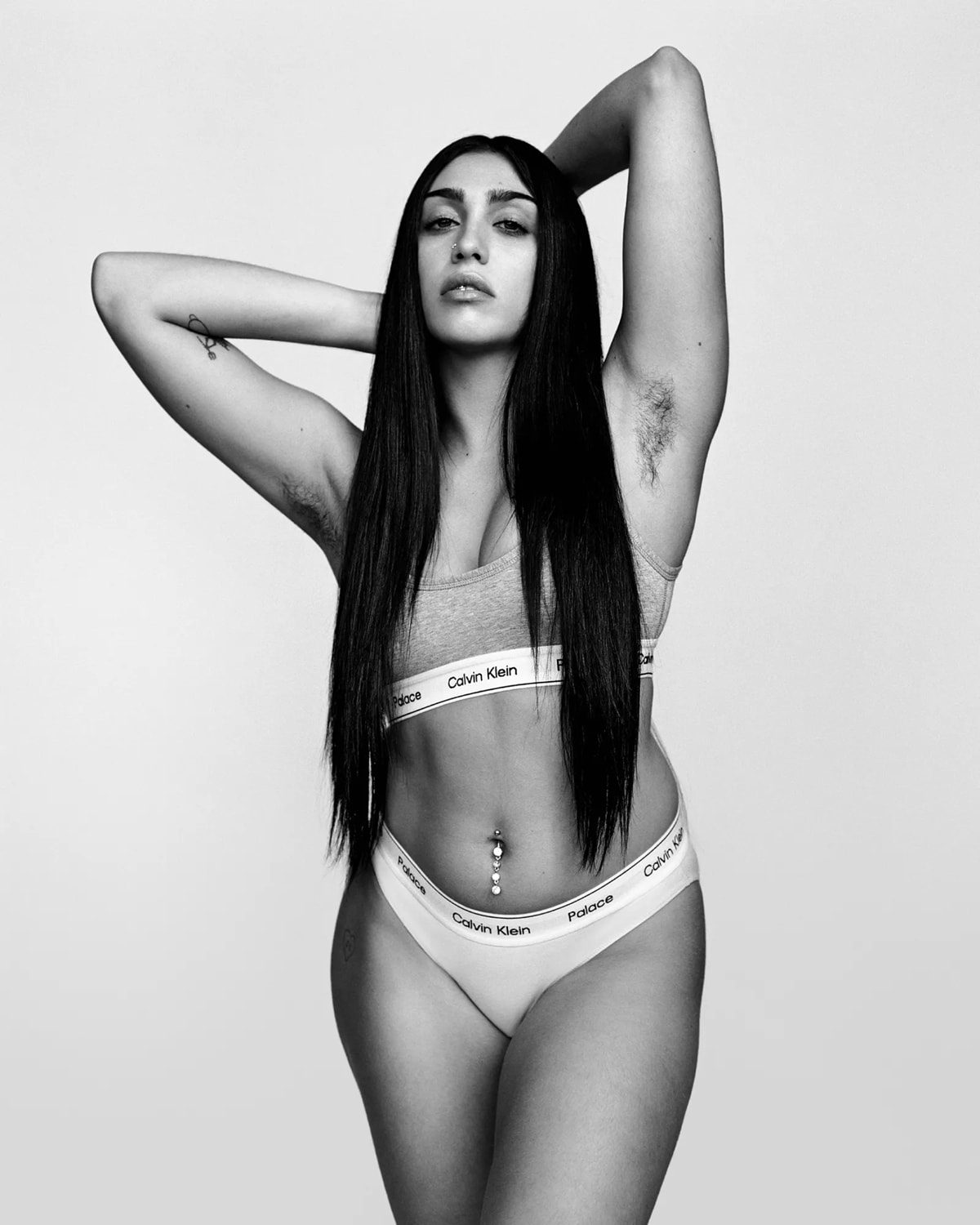 Lourdes Leon models in Calvin Klein's CK1 Palace campaign celebrating self-expression, inclusivity, and body hair (Credit: Calvin Klein / Palace)
Her unshaven underarms made headlines last year at the Met Gala, where she fearlessly lifted her arms for the photographers, and indeed the world, to see.
"Did I have fun at the Met Gala? I'm really grateful to have been able to go. Maybe because it was my first time, but it felt crazy," she told actress Debi Mazar in an interview with Interview Magazine.
Lourdes Leon in a silver beaded Versace gown at the 2022 Vanity Fair Oscar Party Hosted By Radhika Jones at Wallis Annenberg Center for the Performing Arts on March 27, 2022, in Beverly Hills, California (Credit: InstarImages)
"You're just shoved into a room with all these famous people and you're supposed to talk to them and be their friend, even though you don't f—king know them. That's not my vibe."
"I'm sure it's fun if you're someone who is friends with a lot of famous people, but I'm not," she added about calling her boyfriend Jonathan Puglia during the event. "I didn't know who the f—k to talk to. I felt so awkward that I literally called my boyfriend in the middle of it."
Lourdes Leon showed off her armpit hair in a glittering pink bra top and skirt by Moschino's Jeremy Scott at the 2021 Met Gala on September 13, 2021, at the Metropolitan Museum of Art in New York City (Credit: ABACA USA / INSTARimages)
On the topic of featuring Lourdes, Calvin Klein said: "Marc has a long storied history with Madonna and so it only made sense for us to tap Lola to be the face of the campaign as she perfectly encapsulates the youthful spirit and uncompromising sense of individuality central to this younger expression of the brand."
Lourdes Leon tries to normalize visible body hair while flexing her muscles in jeans and Calvin Klein underwear (Credit: Calvin Klein / Palace)
When asked about her nickname, Lourdes said: "The Lola attitude to me is provocative."
Lourdes Leon decided not to shave her armpits when attending the 2021 Met Gala with a belly button piercing and long hair extensions (Credit: ABACA USA / INSTARimages)
Lourdes also recently modeled for British luxury brand Burberry, as well as Savage x Fenty, the hugely successful underwear brand owned by Rihanna.
Madonna and her daughter, Lourdes Leon, arrive in style at the Vanity Fair Oscars Party held at the Sunset Tower Hotel in West Hollywood on February 27, 2011 (Credit: WENN)
At first glance, the shoes worn by Madonna's daughter, Lourdes Leon, at the Vanity Fair Oscar party at Sunset Tower in West Hollywood in February 2011 may seem like just the usual black platforms.
The eldest child of the Queen of Pop, Lourdes Maria Ciccone Leon's father is Madonna's ex Carlos Leon.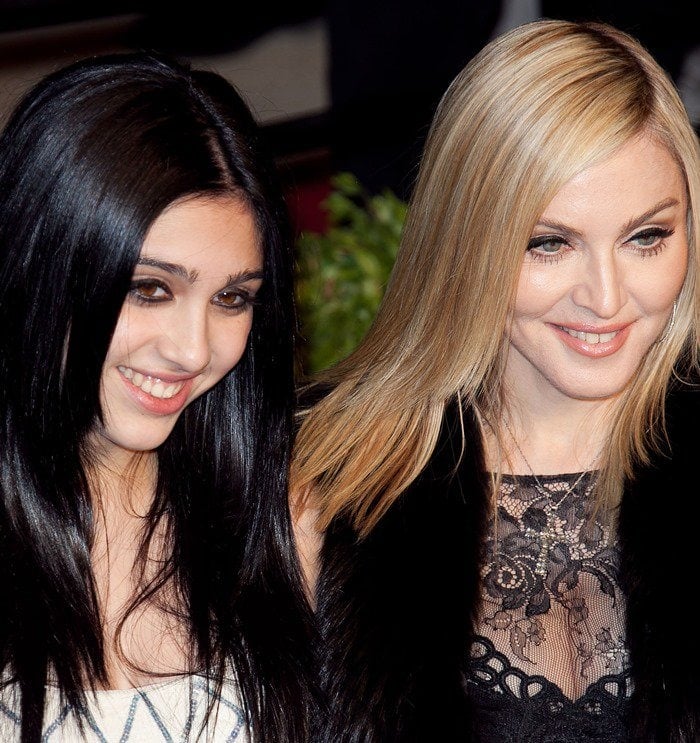 Lourdes Maria Ciccone Leon, Madonna's first child, was born on October 14, 1996 (Credit: WENN)
Her shoes look like your ordinary noir pair of leather platforms upfront. However, they were actually rather unique.
Lourdes Leon flaunted her long legs in a tiny Aztec-inspired AllSaints mini dress (Credit: WENN)

Lourdes styled a tiny Aztec-inspired AllSaints mini dress with a pair of unique perspex heels from the same British fashion boutique.
All Saints Ovid Perspex Heels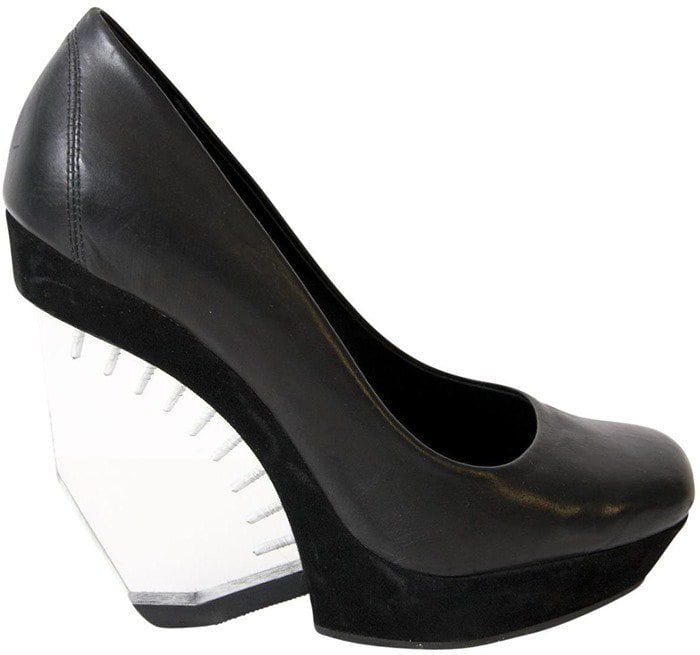 How do you like Lourde's avant-garde wedges? They feature screw detailing that's been embedded inside, leather upper, rubber soles, a square toe, and heel tips.
This "Ovid" wedge has an industrial feel that's quite unique and refreshing. I could see this pair styled with dresses, skirts, and skinny jeans.