Ted Lasso has captured viewers' hearts again, delivering another triumphant season filled with laughter, inspiration, and remarkable characters.
Among the new additions to the beloved AFC Richmond team was Zava, an electrifying soccer prodigy determined to prove himself on the world's biggest stage.
Portrayed by Maximilian Osinski, Zava's larger-than-life personality shined through, captivating audiences and leaving them eager to know more about the actor behind this enigmatic character.
As the best football player on the planet, Zava's arrival at AFC Richmond was met with anticipation and curiosity. His unmatched skills on the field and unwavering self-confidence piqued fans' interest worldwide.
Maximilian Osinski as Zava in the sports comedy-drama Ted Lasso (Credit: Apple TV+)
Yet, what set Zava apart was that Osinski, the actor who brought him to life, is not a professional soccer player. Although Osinski may not have a soccer background, his portrayal of Zava was extraordinary.
But who is Maximilian Osinski, the talented actor behind this breakout role? And who is Zava, the character that had fans buzzing with excitement?
Let's delve into the fascinating world of Ted Lasso Season 3 and uncover the truth behind this captivating newcomer.
Meet Maximilian Osinski: The Actor Behind Zava
Maximilian Osinski, born on April 1, 1984, is an Austrian-born American actor known for his impressive height of 6 feet and 4 inches (193 cm).
The 39-year-old actor is happily married to Dichen Lachman, known for her roles in Severance and Altered Carbon.
Dichen Lachman and Maximilian Osinski married in 2015, and their daughter, Mathilda Osinski, was born the same year.
Dichen Lachman is married to Maximilian Osinski, and she is currently starring in the hit Apple TV+ series "Severance" as Ms. Casey (Credit: DFree / Shutterstock)
"It's pretty crazy," he told Vanity Fair about both finding success in major TV shows on Apple TV+. "When I got 'Ted Lasso,' we knew what it was. When she got 'Severance,' we knew that the pedigree of people involved was amazing, but you never know what'll hit."
According to Osinski, when he received the news that he had been cast as Zava, he was having dinner with Lachman, their daughter, and his in-laws, and he excused himself from the table to take the call.
Upon returning, he shared the exciting news with everyone but was surprised when Lachman started crying, wondering if his reaction had been that bad or if she was overly relieved that he had secured the role.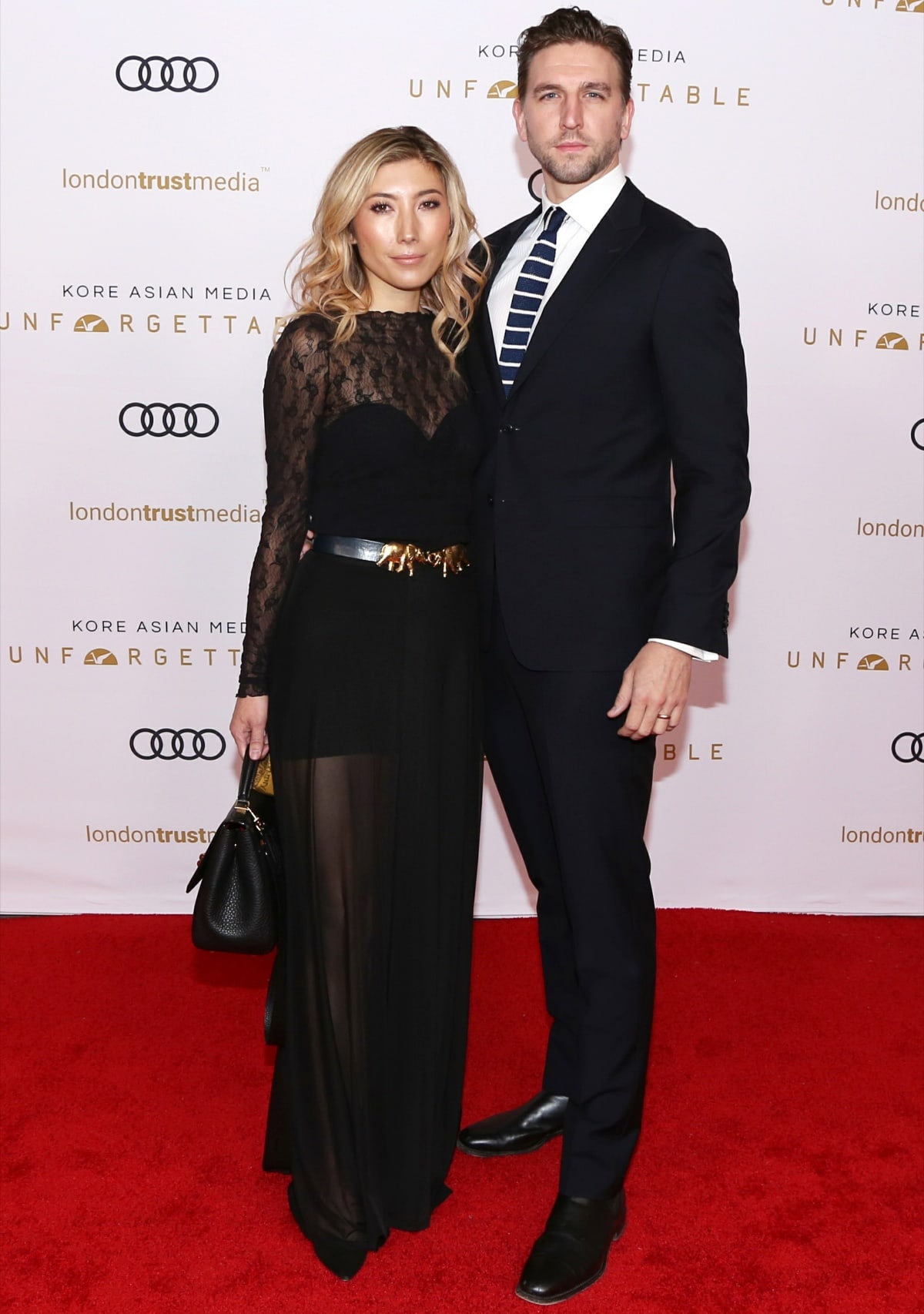 Dichen Lachman, who has a height of 5ft 6 (167.6 cm), joined her much taller husband, Maximilian Osinski, who stands at 6ft 2 ¾ (189.9 cm), at the Kore 17th Annual Unforgettable Gala in Los Angeles, California, on December 8, 2018 (Credit: Mila Cochran / Startraksphoto)
His roots trace back to Austria, where he was born in a refugee camp to Polish parents who sought refuge in the United States. His upbringing occurred in Chicago, where he discovered his passion for acting during high school.
Supported by a dedicated drama teacher, Osinski pursued his dream and gained admission to the acting program at Syracuse University, where he earned his BFA in 2006.
At Syracuse, he studied at the prestigious Shakespeare Globe Theatre in London. He participated in the esteemed "Sorkin Week" program in Los Angeles, mentored by the renowned Oscar-winning screenwriter Aaron Sorkin.
Maximilian Osinski in a cream-colored suit at the season 3 premiere of Ted Lasso in Los Angeles, California on March 8, 2023 (Credit: Ryan Hartford / Startraksphoto / Cover Images)
In an interview with Pop Culturalist, Osinski reflected on his craft, "I remember that in high school and college, I didn't love the whole idea of being on stage and being like, 'Look at me.' What I enjoyed more was working on a character and the craft behind it. For me, it was more about digging into what makes that character tick, why they behave a certain way, and what makes them think the way they do."
After graduating from Syracuse University, Maximilian Osinski embarked on an impressive acting career making his mark in television and film.
With a diverse portfolio of roles, he made notable appearances, including popular shows such as in hit series The Walking Dead: World Beyond, ABC's Agents of S.H.I.E.L.D., MacGyver, and Shameless. He also showcased his talent in acclaimed films like In Time, Love & Other Drugs, and The Express.
Who Is Ted Lasso Season 3's Zava Based On?
Zava, the intriguing character from Season 3 of Ted Lasso, has left fans speculating about his real-life inspiration. While many believed the soccer legend Zlatan Ibrahimović to be the obvious choice, Maximilian Osinski shed light on the inspiration behind the role in a March 2023 interview with GQ.
He revealed that Zava is based on a combination of iconic figures like Eric Cantona and Zlatan Ibrahimović, embodying a captivating blend of enigma, ego, and charm.
Osinski shared, "When I got the breakdown for the role, they described him as a mix between Zlatan Ibrahimović and Eric Cantona, and not an antagonist but an agitator."
Hannah Waddingham as Rebecca Welton, Maximilian Osinski as Zava, and Anthony Stewart Head as Rupert Mannion in the sports comedy-drama Ted Lasso (Credit: Apple TV+)
In an interview with Vulture in April, Osinski said of his character, "Jason Sudeikis and the writers immediately knew this isn't going to be an asshole who walks onto the team and is the bad villain. While the dialogue evolved in the show, that big idea of making him mercurial and an agitator was always in the back of everyone's mind. They did a good job of keeping that idea throughout the episodes, no matter what Zava did and didn't do with the team."
When asked if Zlatan Ibrahimović and Eric Cantona have reached out, he answered, "I would love to reach out to Zlatan because I admire him now that I've read and learned so much about him. He's an amazing footballer and such a fascinating guy. I haven't heard from them personally, but I know hashtags on Twitter have been created, like #Zlava. Zava is getting compared to a couple other players, like Aaron Rodgers, which is a little surprising. I'm sure the internet is dying for him to say or do something, but I haven't reached out personally to say, "Hey, let's grab a cup of coffee."
How Maximilian Osinski Prepared for His Role
Maximilian Osinski defied expectations by taking on the role of Zava. Despite having no experience playing soccer, his commitment and passion for the show led him to embrace the challenge.
A devoted fan of Ted Lasso since its debut, he was thrilled and overwhelmed to land the role. The news of his casting was so moving that "I remember my wife started crying a little bit too when I found out I got it."
In an interview with The Hollywood Reporter, Osinski shared, "I couldn't believe it at first. You watch a show for two years as a fan and never imagine that one day you'll be in a scene standing opposite Jason Sudeikis."
Maximilian Osinski as Zava in the sports comedy-drama Ted Lasso (Credit: Apple TV+)
While Osinski's towering 6 feet and 4 inches frame and on-screen presence made him appear like a natural soccer player, his personal history revealed a different story.
Having grown up overweight in a family with no inclination towards sports or nutrition, soccer had never been part of his life. However, that didn't deter him from seizing this opportunity.
In the same GQ interview, Osinski revealed, "Right after I got the role, I hired a soccer coach, one-on-one and I was training soccer for six weeks to eight weeks. And then I had a Zoom call with the football director Pedro [Romhanyi] and our football assistant director Dan [Parslow]. They said, 'Listen, man, you take care of the swagger, we'll take care of the ball.' Which made me feel a little bit better. And then when I came to set, we rehearsed all those stunt kicks. And I'm actually I'm pretty proud I was able to pull those off."
Recognizing that embodying the physique of a football player was crucial, he shared, "I basically trained like an athlete. Yeah. I worked out four days a week on top of the soccer training and just tried just embody the physique of someone like that. You can't get too bulky and too top-heavy. So we focus the training and the diet to lean in toward a look of a football player who plays 90 minutes a week. I worked with him on that all the time. And along with the nutrition so as far as the physical look. He's meant to be the best of the best, you have to look like the best of the best."
Maximilian Osinski as Zava in the sports comedy-drama Ted Lasso (Credit: Apple TV+)
To fully understand the mindset and characteristics of elite soccer players, Osinski immersed himself in research, disclosing, "I also read tons of books to help me understand what these players are like at all times, from the field to the locker room. Why are they that way? How are they perceived, and how do they let the press perceive them?"
Determined to bring authenticity to the character, he "just dove into interviews, and I read Ibrahimovic's book 'I Am Football,' which was fantastic. Robert Lewandowski was another guy who I kind of pulled from. I quickly learned that how they present themselves to the press is not who they are in the locker room with their teammates or in their personal lives."
Osinski intended to capture the essence of these footballing greats beyond what the global sports superstars presented to the press.
He recognized that these individuals were adept at understanding what the media desired from them, adding, "You get a sense that these guys know what the press wants, and the press uses them as much as they use the press. I never viewed them as bad guys or villains. One thing I noticed with these big personalities, especially with Zlatan, is they'll say something really cocky but then give a wink or a smile. You get a sense that they mean what they say in the moment, but they do have charm, too."
What Osinski Says About the Future of Ted Lasso
The cast and crew of Ted Lasso fostered an environment of support and growth. Maximilian Osinski spoke highly of Jason Sudeikis and his co-stars, emphasizing their dedication to their craft and commitment to making every scene shine with comedy or drama.
Jason Sudeikis as Ted Lasso and Maximilian Osinski as Zava in the sports comedy-drama Ted Lasso (Credit: Apple TV+)
Speaking of Sudeikis, he said, "He's incredible. He is like everyone else on the show in that they are all exactly what the show preaches – kind, welcoming, positive. They all want to make you better, and they won't let you fail. He's fantastic. I've never worked with anyone like that who is just really interested in the work. No one is resting on their laurels, and they work hard to find the comedy or the drama in every scene. I did a big trust fall with them and the character [of Zava]."
As speculation circulates about the show's future, with rumors suggesting that the third season might be the last, Osinski leaves the decision-making process in the hands of Jason Sudeikis.
Maximilian Osinski as Zava in the sports comedy-drama Ted Lasso (Credit: Apple TV+)
He said, "I hope that whatever is best for the show will happen. I think Jason knows in his heart the story he wants to tell, and so I leave that up to him."