Earlier this week, Chrissy Teigen shared a photo of herself with her eyes closed after getting her makeup done.
"I really think you guys are too conditioned to seeing perfect photos all day because so many of my comments on any given photo are 'why would she post this' or 'i love you girl but this is not flattering', to which I say, who cares??" the cookbook author wrote on Instagram.
Heather McDonald called Chrissy Teigen a hypocrite on Instagram (Credit: Avalon / WENN / MEGA)
She added, "A lot of the time, makeup artists and hairstylists will ask if photos are good enough to post and my reply is always the same: I honestly don't care. post whatever. I dunno. I just don't care about curating my Instagram to be perfection. I'm a mess, I'm chaotic and this shall always reflect that, thank u!! Love, a Sagittarius"
One day later, comedian Heather McDonald called Chrissy a "hypocrite" for her "humble brag" post.
"These humble brags of 'this is an unfiltered picture so say whatever mean thing you want so people will actually write me nice things since I still actually look great' is so 3 years ago, Chrissy," the 51-year-old comedian wrote in the comments.
View this post on Instagram
"I'm just having one of those days where I had to point out the #hypocrite on IG. I can't be the only one that can see through this BS. Prayers for Chrissy that she comes up with some new ideas. 🙏"
Heather's comments were written on the one-year anniversary that Chrissy suffered a pregnancy loss.
"I didn't sleep at all last night, as John can attest. I was up sick, sobbing, as my phone popped up the memory of being in the hospital exactly one year ago, losing our baby," Chrissy responded on her Instagram Stories.
"So maybe I'm a little sensitive today but f–k off. Why people follow people they hate us (is) [sic] beyond me."
"When Chrissy posted the flattering photo of herself in glam and a nipped-in waist, claiming it was in fact unflattering, I merely was pointing it out that many of us now see the humble brag attempt and call BS," Heather followed up on Instagram.
View this post on Instagram
"Now since she considers herself a comedian, and was literally a judge on TV of comedy, I was praying that she come up with some new material for her social media," the Chelsea Lately comedian continued.
"I do not hate anyone. Maybe today Chrissy can squeeze the outside of her thigh and highlight a cellulite dimple so the world can again remember how real she is. Chrissy is just a mom/supermodel who actually eats and is super authentic."
Chrissy Teigen braids her hair for the Los Angeles Lakers game against the Cleveland Cavaliers held March 10, 2016, at Staples Center in Los Angeles (Credit: WENN)
In March 2016, Chrissy Teigen and her husband John Legend were back at it again with their #relationshipgoals antics.
Chrissy was seated with John at the courtside of the Los Angeles Lakers vs. Cleveland Cavaliers game in Los Angeles, which easily made the two the target of the infamous kiss cam. The tradition originated in California in the early 1980s.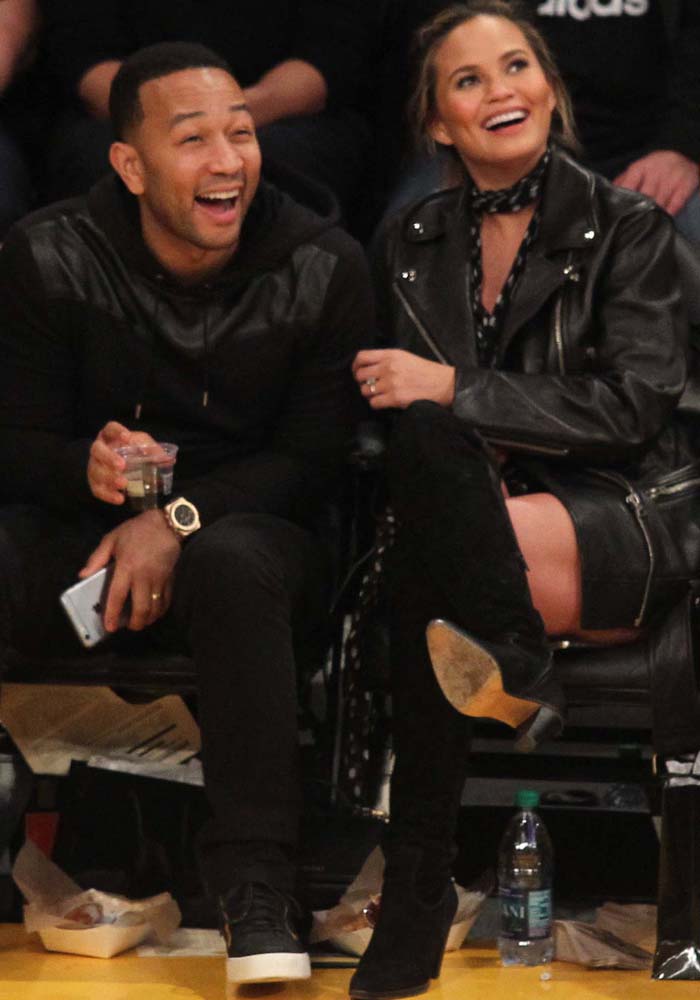 John Legend and Chrissy Teigen wear matching black outfits to a Lakers game (Credit: WENN)
We've never seen anyone rock maternity wear as Chrissy Teigen does.
Chrissy wore a black dress beneath her favorite Acne leather jacket. The model paired her court-side look with a scarf and her old Chloé suede and textured leather over-the-knee boots.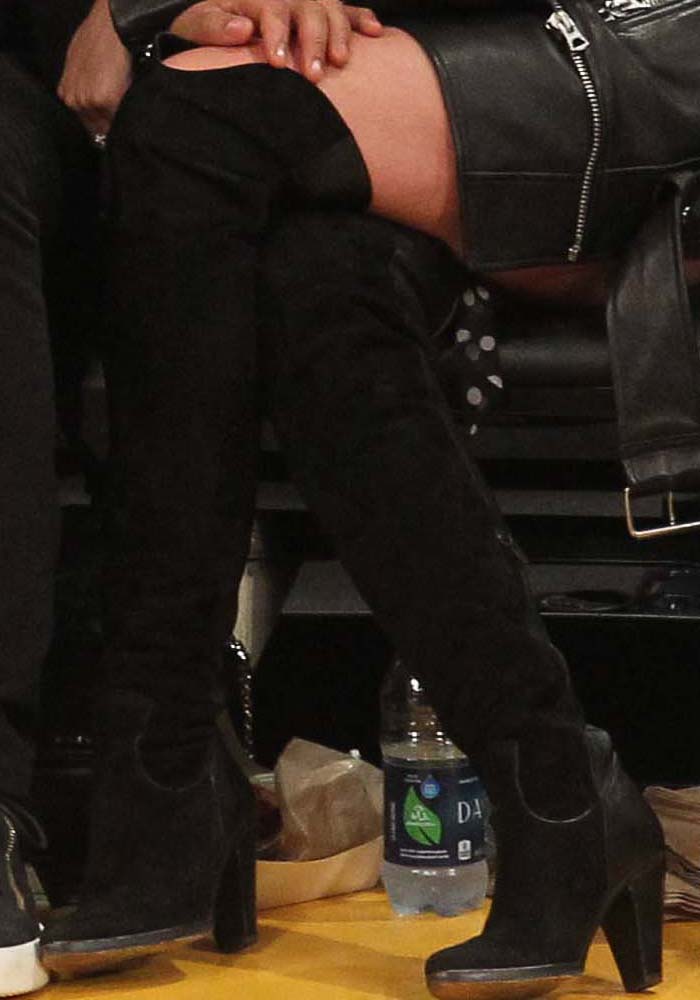 Chrissy Teigen wears a pair of black suede Chloé boots (Credit: WENN)
The adorable couple gamely smooched for the kiss cam once it panned to them. Serious #relationshipgoals right there, folks.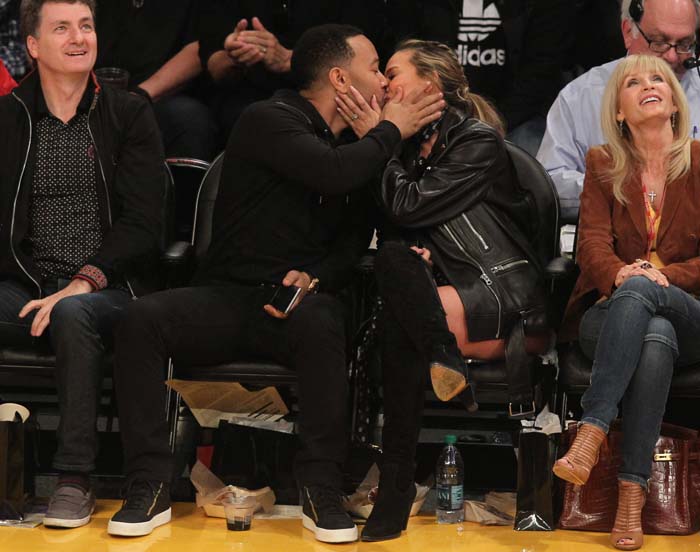 John Legend and Chrissy Teigen kiss for the kiss cam at a Los Angeles Lakers game (Credit: WENN)
Chrissy also took a courtside snap of her husband beside the Los Angeles Lakers team, captioning it with "Coach Legend." Let's just say we'd rather see John crooning away behind a piano.
John Legend attends a Los Angeles Lakers game (Credit: Chrissy Teigen's Twitter)
Chrissy's Chloé two-toned over-the-knee boots made waves back in 2014 and are unfortunately no longer available online.
Chloé Suede and Textured-Leather Over-the-Knee Boots, $1,370