In February 2020, Meghan Trainor's dad Gary Trainor was struck by a car while crossing a busy street on foot. It was not the first time for him to be involved in a scary traffic accident.
"On 21 Feb, at 8.15 pm North Hollywood officers responded to a radio call of a vehicle v pedestrian at Moorpark street in Kraft," a spokeswoman for the Los Angeles Police Department told CNN.
"The pedestrian was transported to a local hospital with non-life-threatening injuries. The driver remained at the scene," she added about speculation that the accident was a hit and run.
Meghan Trainor's father, retired jeweler Gary Trainor, was hospitalized after being struck by a car in February 2020 (Credit: Adriana M. Barraza / WENN)
"I'm with my dad now. Thank you for all your sweet messages. It was all very scary but he is the strongest man I know 💖🙏🏻," she wrote on her Instagram on February 24, 2020.
"Anytime I complain about anything, he's like, 'Life will get better if you let it,'" the singer told Today host Hoda Kotb during a 2018 interview about her all-time favorite quote, which is a saying of her father's.
"Sometimes in life you can't control what happens—most of the time you can't control what happens, but you can control how you look at it and how you can stay positive about it or find the good in it."
Meghan Trainor wears her hair in curls at Nickelodeon's 2016 Kids' Choice Awards at The Forum on March 12, 2016, in Inglewood, California (Credit: Brian To / WENN)
Who said parents only go to Nickelodeon's Kids' Choice Awards to accompany their children?
In March 2016, Meghan Trainor brought her dad along. Not because she was a minor — she was 22 years old at the time — but because her dad actually enjoys going to her events.
The "All About That Bass" artist was spotted with her dad on the red carpet of Nickelodeon's 2016 Kids' Choice Awards in Los Angeles.
Meghan Trainor wears a multi-colored bandage skirt from A Piece Apart on the orange carpet (Credit: FayesVision / WENN)
Meghan wore a black long-sleeved top by L'Agence which she paired with a multi-colored bandage skirt from A Piece Apart.
The singer finished her look with jewelry from Barbela Designs (which included a necklace with the word "MTRAIN" on it) and a pair of Stella McCartney "Elyse"' platform sneakers.
Meghan Trainor wears a pair of Stella McCartney platform sneakers on the orange carpet (Credit: Apega / WENN)
Her father, who founded the Nantucket jewelry store Jewel of the Isle in 1985, didn't leave his daughter's side throughout all the photoshoots and orange carpet interviews.
Retiring from the jewelry business in 2016, he moved with his wife to Los Angeles in order to support their daughter. Until their retirement, his wife, Kelly Anne "Kelli" Jekanowski, designed and made all of the store's sterling silver, 14-karat yellow and white gold, and platinum jewelry.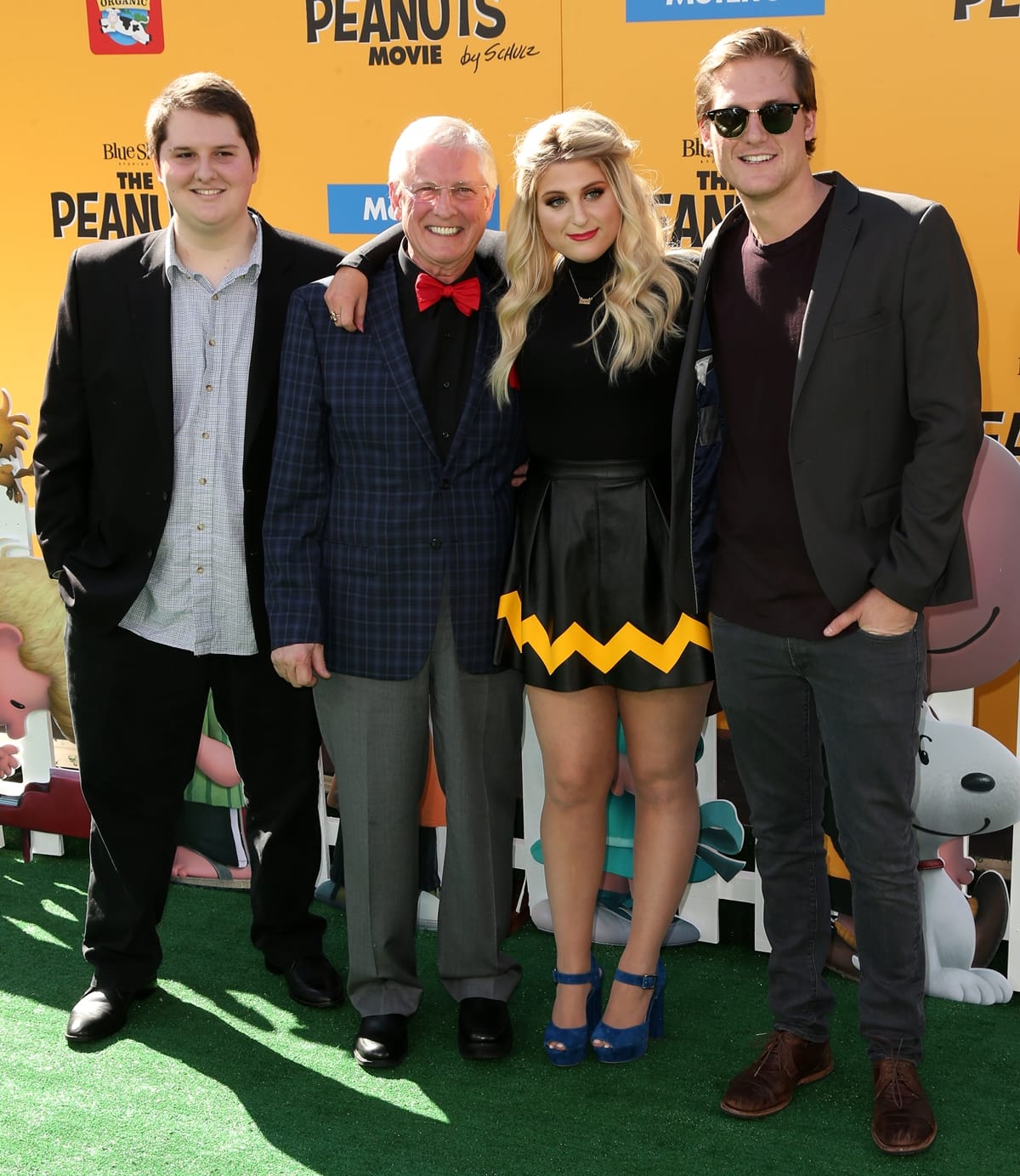 Meghan Trainor with her father Gary Trainor, her older brother Ryan Trainor, and her younger brother Justin Trainor (Credit: FayesVision / WENN)
According to National Jeweler, Gary focused on stone setting, diamond work, and jewelry and watch repair. Originally a music teacher in the Nantucket school system, he started the jewelry store after a near-fatal motorcycle accident ended his teaching career.
Meghan even (jokingly?) said she wanted her dad to get slimed that night. Her dad's response? He was ready for it.
Meghan Trainor and her dad Gary flash peace signs from the orange carpet of the Nickelodeon Kids' Choice Awards (Credit: Brian To / WENN)
You can order Meghan's fun platform shoes from British designer Stella McCartney at Farfetch and Nordstrom.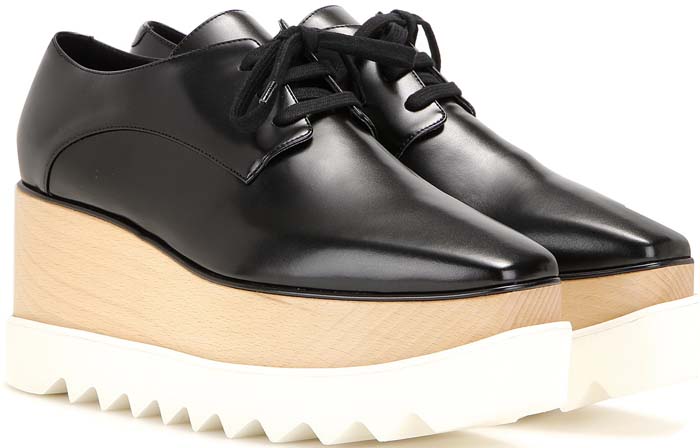 Stella McCartney "Elyse" Platform Derby Shoes, $995