In our minds, Mena Suvari will always and forever be "Angela" from 'American Beauty' — the naked girl lying on a bed of rose petals in Lester Burnham's fantasies (Kevin Spacey's character). Sure, her breakout role might have been as "Heather" in 'American Pie', but seriously, the former is a picture one can hardly forget.
We honestly lost track of Mena after those two films (both came out in 1999), but it seems the pretty actress has done well for herself. She has also matured quite gracefully. She is now 34, although you can hardly tell from these pictures taken during the opening night of the 5th Annual Hollywood Brazilian Film Festival held last Wednesday.
Mena Suvari in a Versace Collection dress at the 5th Annual Hollywood Brazilian Film Festival in Los Angeles on July 31, 2013
The Versace Collection dress fit Mena so perfectly that it could bring tears of oil from the gods of gear prints (okay, we'll stop). The beautiful cutout hit the small of her back perfectly, accentuating her toned physique. We love how the keyhole echoed the cutout without being over-the-top, creating that girl-in-an-art-gallery look in the front that contrasts with a sly vixen look at the back. The gold clutch, metallic sandal heels, and pin-straight blond hair only secured her spot as a golden girl.
It also appears that aside from looking forever young, Mena has a nice set of toes. Her feet are not perfect, but her toes are smooth; they actually look baby soft! No, seriously, we're not kidding. We're even willing to overlook the bunion and the minor swelling on certain areas because for someone who is 34, her feet certainly don't look the part.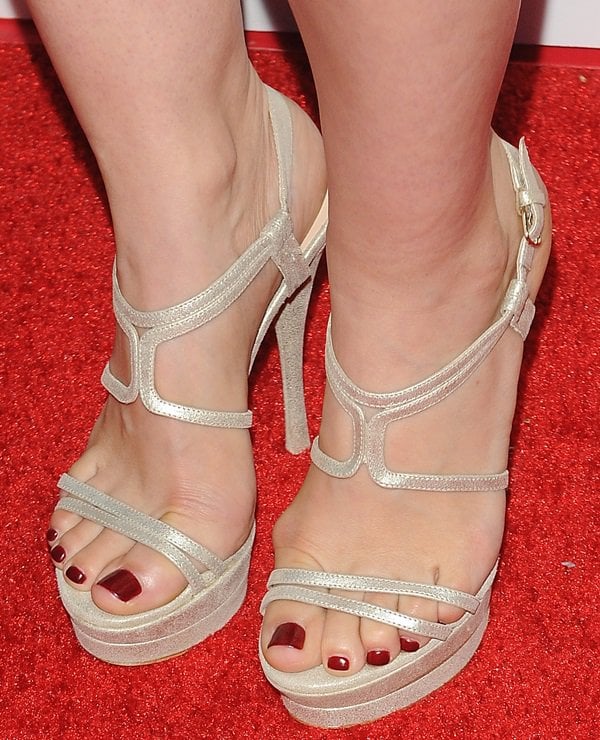 A closer look at Mena Suvari's metallic strappy sandals and toes
Now, speaking of Mena's feet, check out those gold strappy sandals. What do you think of the pair? Can you ID her shoes?
We don't have the official details at the moment, but just in case you're in the mood for some sexy gold strappies like Mena's, here are three options that will give you the fix at prices that are not too crazy out of reach:
Adrianna Papell 'Emilia' Sandals, $149
Steve Madden 'Stella' Sandals, $100
BCBGMAXAZRIA 'Primp' Sandals, $250
Credit: Daniel Tanner/WENN