Kate Winslet is opinionated and brutally honest, so you know that when she praises the work ethic of a co-star like Irish-German actor Michael Fassbender, she's not just doing it for show.
Kate Winslet attends the BFI London Film Festival premiere of "Steve Jobs" in London on October 18, 2015
Luckily for Michael Fassbender, Kate's co-star in the Danny Boyle-directed biopic Steve Jobs, the actress has nothing but love for him.
Kate Winslet wears a navy Alexander McQueen dress on the red carpet of the "Steve Jobs" premiere
In October 2015, the Fabletics founder was interviewed about Michael on the red carpet at the "Steve Jobs" premiere in London.
Kate Winslet wears a pair of plain black suede pumps on her feet
Kate dazzled on the red carpet in a muted navy blue dress by Alexander McQueen, which she paired with a clutch from the same designer. The actress wore plain black suede pumps with her ensemble, which were a little bit of a letdown.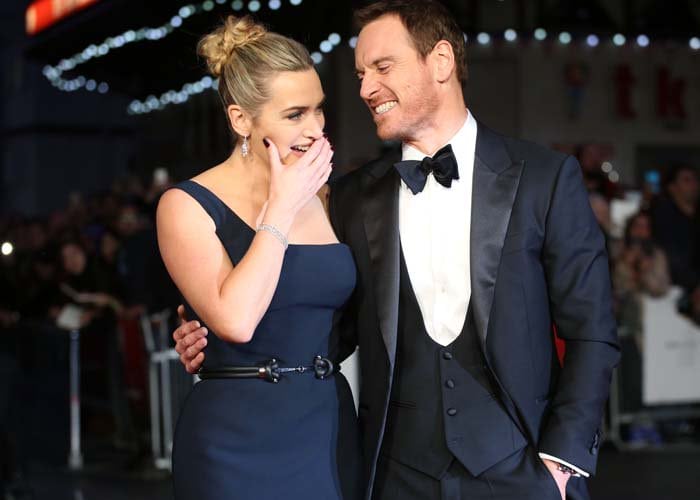 Kate Winslet touches her face and laughs with co-star Michael Fassbender at the premiere of "Steve Jobs"
The then 40-year-old hilariously conducted her interview in a whisper, joking that she didn't want her co-star to hear since he was involved in a separate interview right beside her.
Kate said Michael was a pro, and that she was absolutely glad to have worked with him.
"I want to make sure you hear me loud and clear: I have never, ever seen an actor work so hard," Kate said in another interview about Alicia Vikander's husband.
"His work ethic is un-f**king believable, to the point where I would worry about him. He had 182 pages of dialogue. He was on every single page. "It was like learning Hamlet times two," she added.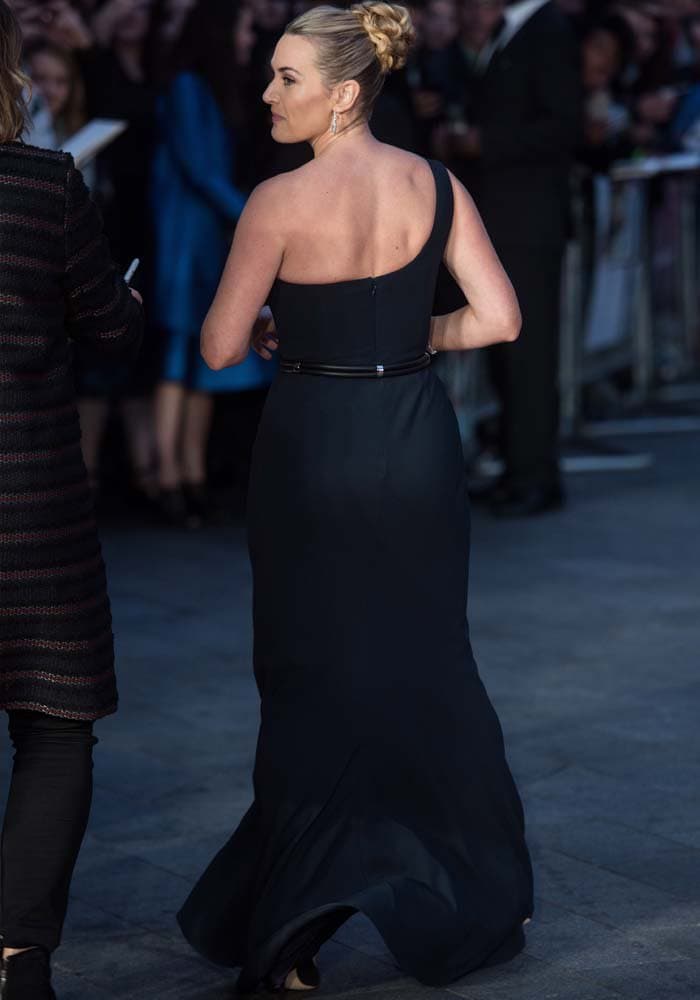 Kate Winslet shows off her blonde hair and her back in a navy Alexander McQueen gown
"I'm half-Irish, half-German. I apply my disciplined German side to my work and my Irish side is what draws me towards the more crazier and riskier side of life," Michael Fassbender said about his work ethic in an interview.
While he grew up in Ireland, he spent his summer holidays in Germany and speaks German fluently. Also known from the HBO miniseries Band of Brothers and the Sky One fantasy drama Hex, he has a net worth of $30 million and met his wife at the Toronto Film Festival in 2014.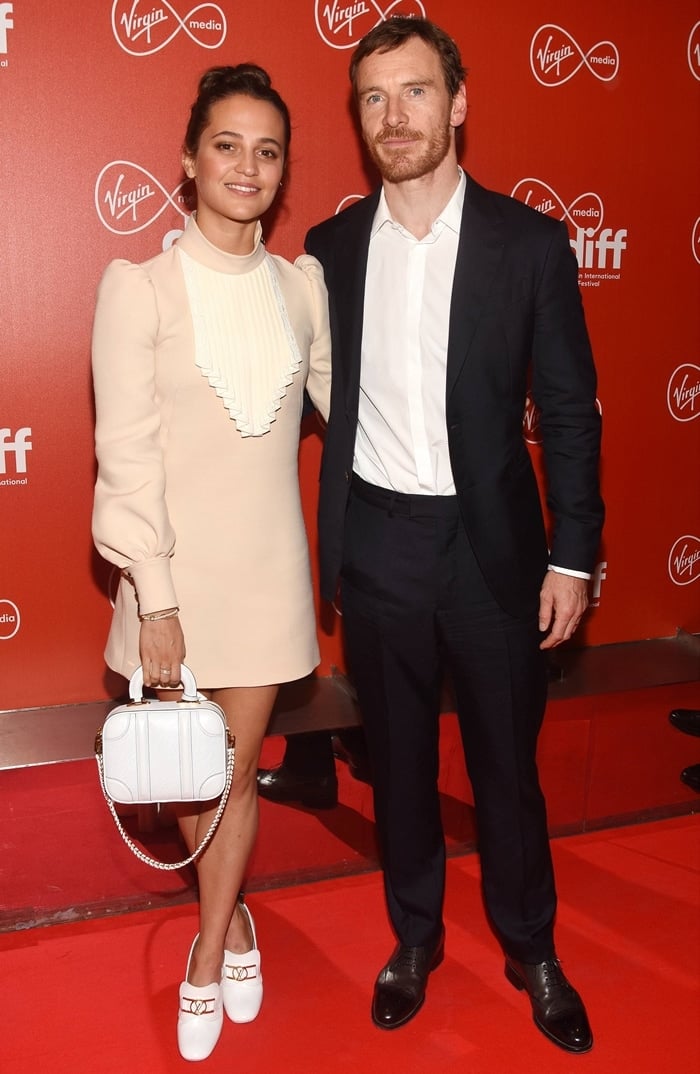 Michael Fassbender, who has a net worth of $30 million, with his wife Alicia Vikander at the 2020 Dublin International Film Festival at the Lighthouse Cinema in Dublin, Ireland, on March 5, 2020
We were left wanting more with Kate's choice of footwear, but we do still appreciate a great pair of black suede pumps. Check out our favorites over at Nordstrom and Farfetch.
Christian Louboutin So Kate in Black Suede, $675
Gianvito Rossi "Ellipsis" Pumps in Black Suede, $$603.96 – $765
Jimmy Choo "Abel" Pumps in Black Suede, $516.21 – $595
Credit: Mario Mitsis / Daniel Deme / Lia Toby / WENN