Can't believe I almost missed it. IT being the shoes Mila Kunis wore to the New York premiere of her movie with Natalie Portman, 'Black Swan'. I was actually too focused on Natalie Portman's book clutch last year that I simply overlooked checking out Mila's shoes.
Sure, she looked fabulous in a fluid Grecian gown from the Elie Saab Spring 2011 Collection. However, it was the pair on her feet that was begging for attention.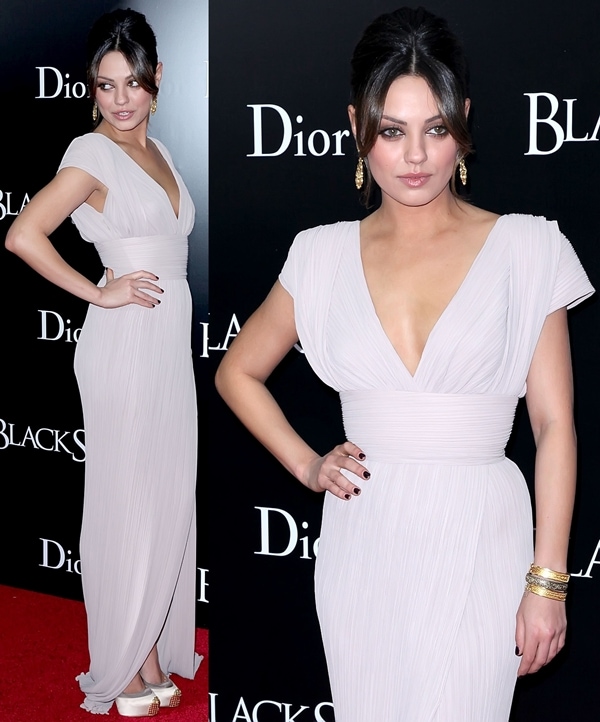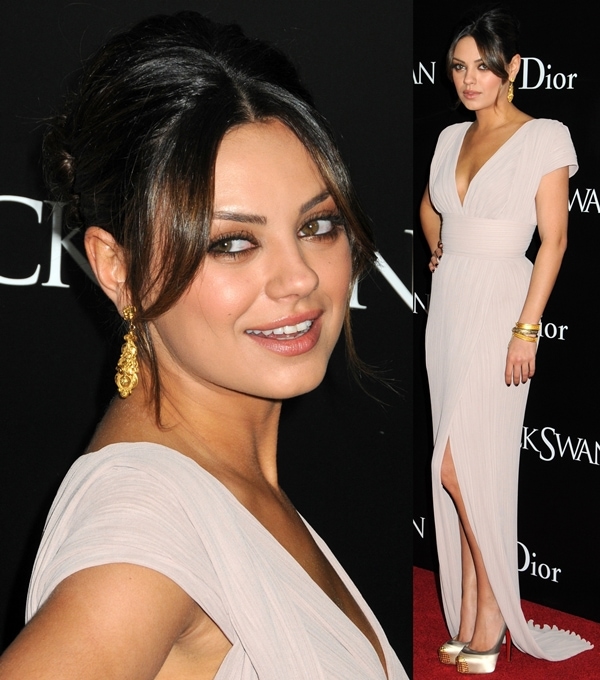 Producer Scott Franklin, Natalie Portman, Mila Kunis and Vincent Cassell, director Darren Aronofsky and Winona Ryder attend the New York premiere of "Black Swan" on November 30, 2010
Do you like her Christian Louboutin 'Maggie' heels. The toe cap is actually covered with a metal grid (talk about some killer steel-toe shoes!). It's interesting because from afar, it actually looks like the tip is covered in studs or crystals instead of some hardware.
If you want it, bad news for you, it's no longer in stock. Well, not online at least. Looks like this pair sold out quick and fast. However, if you're a size 11.5 and you don't mind getting it in black, then it's your lucky day! That's exactly the last pair available at Net-A-Porter: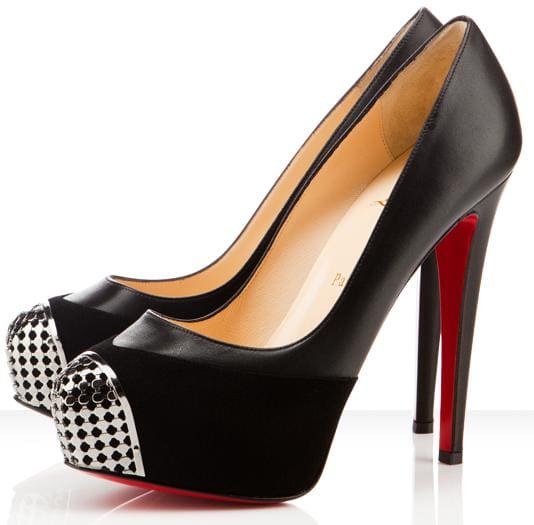 Christian Louboutin 'Maggie' 140 Leather-Trimmed Calf Hair Pumps, $895
There is also a Mary Jane version available for those who don't mind  having it a little different – the Christian Louboutin 'Boulima' d'Orsay. It comes in black and tan and the only (virtual) place where you can find it is Bergdorf Goodman.
Christian Louboutin 'Boulima' d'Orsay in Black and Tan Suede, $995
If you love the shoes, but not the price, then maybe I can interest you in these Penny Loves Kenny 'Tetra' pumps that we found at Amazon:
Penny Loves Kenny 'Tetra' Pump in Brown/Black, $90
Penny Loves Kenny 'Tetra' in Blue/Grey, $90
Obviously, the 'Tetra' is a knock-off version of the 'Maggie'. If you're on a budget, I would say this is your best option. It looks just as yummy as the 'red bottoms' and will cost you only a fraction of the real deal. Besides, I'm sure once you put it on, you'll feel just as fabulous as Mila 🙂
Credit: Andres Otero/WENN