Besides Angelina Jolie, another strikingly beautiful face in Hollywood you likely won't forget is Mila Kunis. She's got those large dark eyes and pouty lips that guys just can't help but fall over.
Speaking of the actress, she was recently spotted attending the premiere of her latest move, Oz: The Great and Powerful, at the El Capitan Theatre in LA the other day. For the yellow brick carpet (yep, that's precisely how the carpet looked like at the premiere), Mila wore a beautiful tea-length Dolce & Gabbana frock and accessorized it with exquisite drop earrings by Sutra, a clutch by Bottega Veneta, and a pair of bow-detailed heels by Christian Louboutin.
Mila Kunis on the yellow brick carpet at the Oz: The Great and Powerful premiere, February 13, 2013
A closer look at Mila's Christian Louboutin pumps
How do you like Mila's yellow carpet style? Does she look pretty or a little too old-fashioned? And what do you think of her chiffon-trimmed red bottoms? Are those delightfully dainty or simply not your type?
On Mila are the Christian Louboutin "Angelique" pumps. Below is the black version for you to check out. The "Angelique" is a classic peep toe in mixed media. Mila's shoes are in satin and shirred chiffon, while the black pair below is in leather and chiffon. Delicate bows punctuate these pumps for that feminine touch.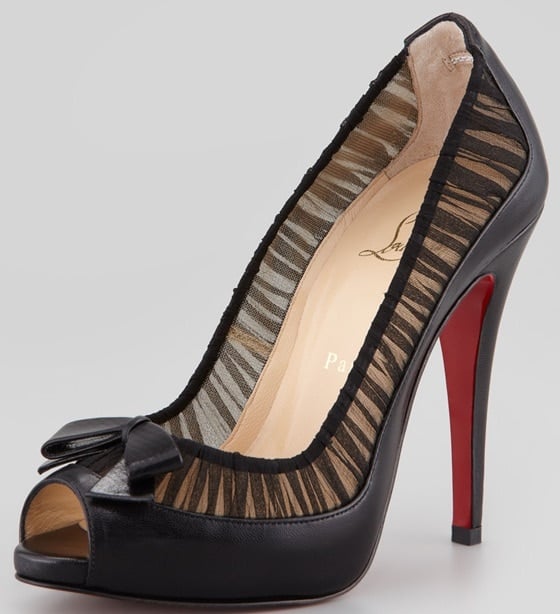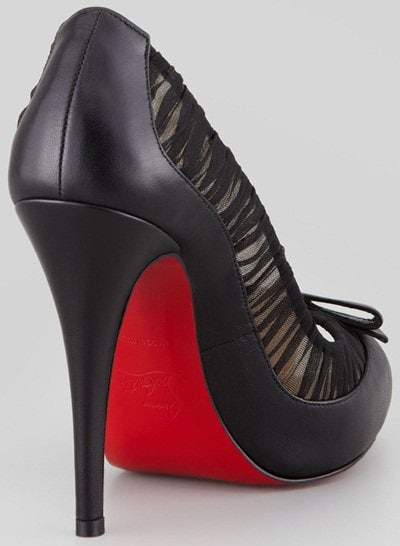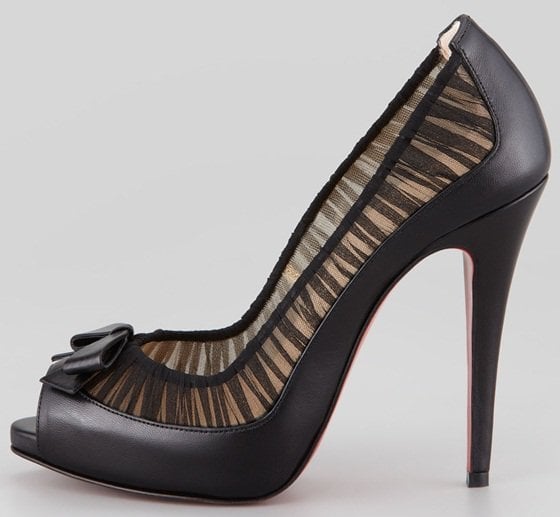 Christian Louboutin Angelique Leather and Chiffon Peep-Toe Pumps, $895
You like?
If you're a Louboutin collector, then by all means, feel free to pre-order the black in your size at Neiman Marcus. You'll need to wait a while before you can get your hands on it though; shipping won't start until early May. But then again, perhaps the wait will make wearing the pair feel even more exciting. Enjoy!
Credit: Ai-Wire/Nikki Nelson/FayesVision/WENN