Mindy Kaling and B.J. Novak have a long history together, having been friends since meeting on the set of the 2005 NBC sitcom, The Office.
The two wrote and executive-produced several episodes of the show, in which they played on-and-off couple Kelly Kapoor and Ryan Howard.
Given Novak and Kaling's close relationship, fans have speculated that Novak is the father of Kaling's two children.
"It doesn't bother me," the 43-year-old actress recently told Marie Claire of the Novak paternity rumors.
"He's the godparent to both my kids—and they have such a great relationship—and so far [the rumors haven't] affected my happiness at all, it hasn't affected by kids or BJ… If that's what is going to be titillating to people, I'll take it."
View this post on Instagram
Looking unbothered, Mindy Kaling dropped by The Late Show with Stephen Colbert, where she promoted the third season of her coming-of-age drama Never Have I Ever.
She serves as the creator and executive producer for the show, which is based on Kaling's experiences as an Indian-American teen navigating high school life.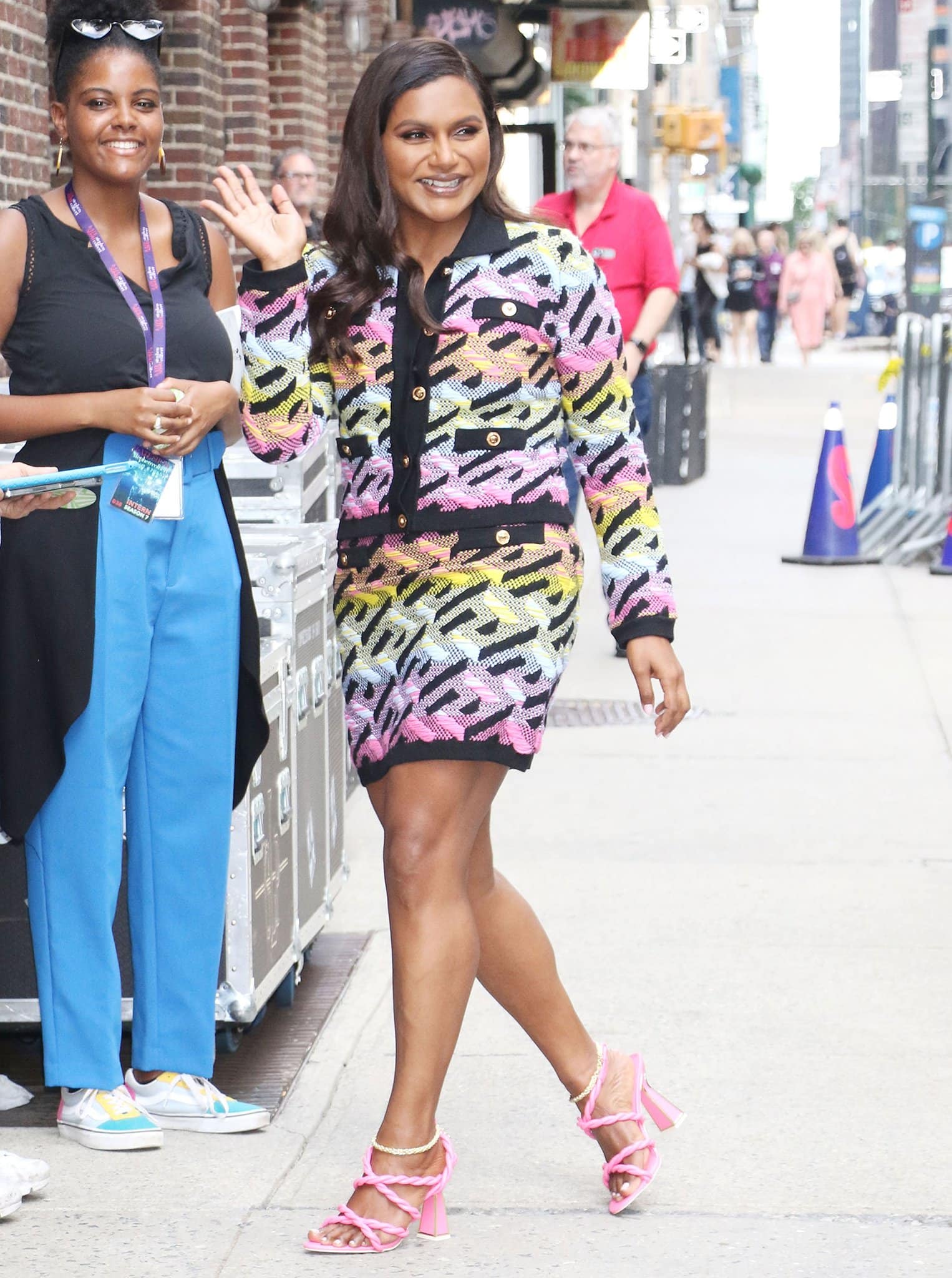 Mindy Kaling heading to The Late Show with Stephen Colbert to promote Never Have I Ever Season 3 on August 8, 2022 (Credit: ROGER WONG / INSTARimages / Cover Images)
The rich comedian opted for a vibrant two-piece ensemble from Versace for her appearance on the talk show.
Her outfit included a chunky wool-knit cropped cardigan, which you can get for $1,595 on Farfetch.
It's done in the house's iconic La Greca pattern in pastel rainbow colors and comes with signature Medusa Head buttons, a classic collar, contrasting black trims, and two front patch pockets.
She paired it with the matching Greca-knit mini skirt, designed with an elasticated waistband and a thigh-grazing hem, which you can buy for $875 on Farfetch.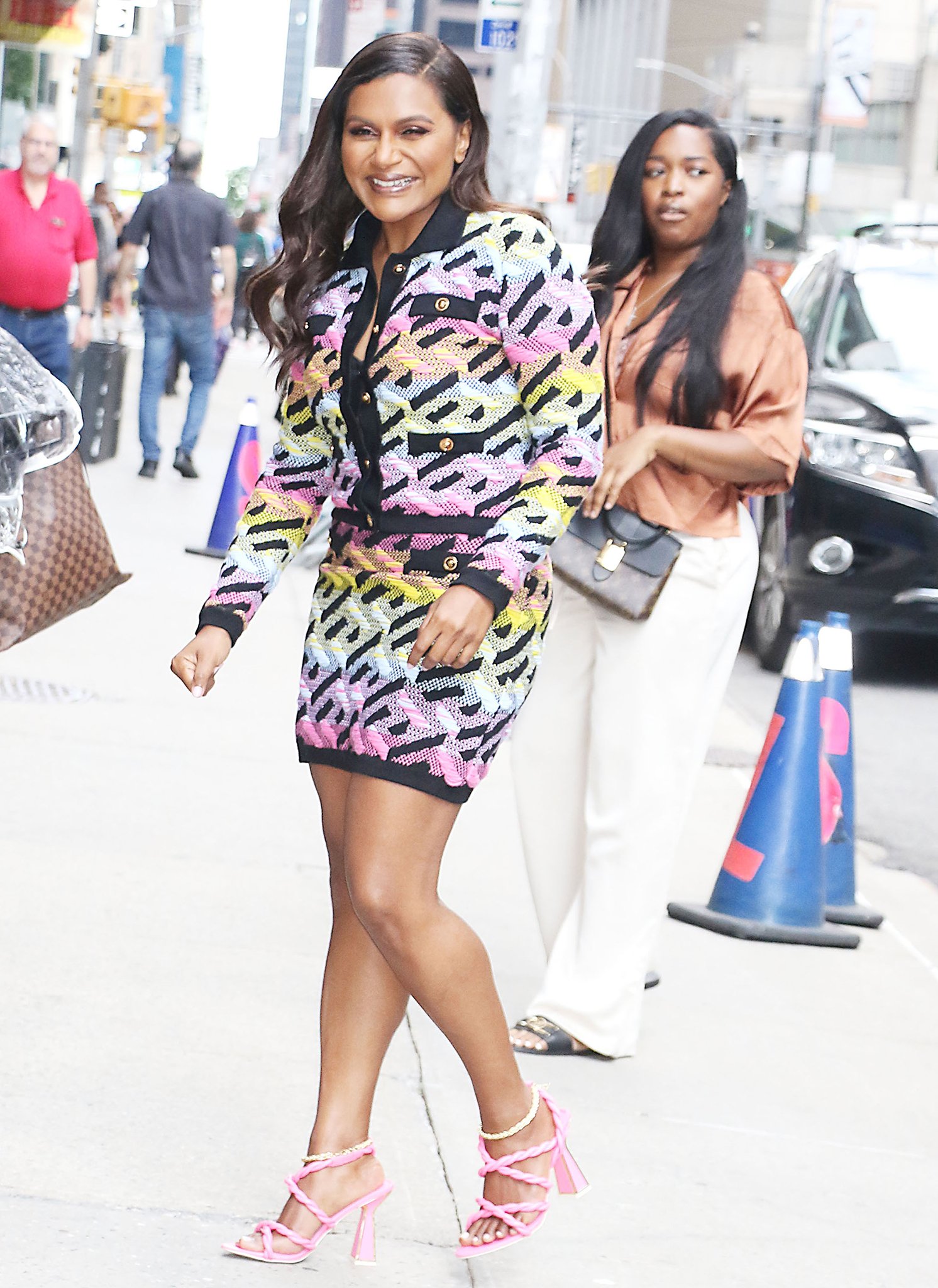 Mindy Kaling showcases her legs in a multicolored Versace La Greca wool-knit cardigan and mini skirt (Credit: ROGER WONG / INSTARimages / Cover Images)
Allowing her colorful outfit to stand out, Mindy decided to forgo the jewelry.
She parted her glossy hair to the side, cascading over her shoulder in loose waves, and highlighted her natural beauty with subtle smokey bronze eyeshadow and matching lip color.
Mindy Kaling leaving the studio with a top knot and brick red lip color (Credit: ROGER WONG / INSTARimages / Cover Images)
To finish off her striking ensemble, Mindy slipped her feet into a pair of Kat Maconie "Brigitte" sandals in a pink dragonfruit colorway.
Mindy Kaling adds more color to her ensemble with Kat Maconie Brigitte pink sandals (Credit: ROGER WONG / INSTARimages / Cover Images)
These sandals are made of cow leather with goat leather insole and lining. They feature padded twisted straps contrasted with a chunky gold-tone chain strap around the ankle. A 4-inch hourglass-shaped heel completes these eye-catching sandals.
Kat Maconie 'Brigitte' Sandals, $357
The Brigitte by Kat Maconie features hourglass heels and twisted straps with a chunky chain strap around the ankle
On Tuesday, Mindy Kaling was pictured heading back to her hotel after making rounds on the talk show circuit in NYC.
She couldn't be missed in an amethyst-colored sleeveless dress that displayed her shapely arms and legs. Her $3,290 Oscar de la Renta shift dress is made from virgin wool and features crystal embroidery along the neckline.
Mindy Kaling heading back to her NYC hotel in an amethyst Oscar de la Renta crystal-embroidered shift dress on August 9, 2022 (Credit: Roger Wong / INSTARimages / Cover Images)
Beauty-wise, The Mindy Project star wore her shiny tresses down her back and highlighted her eyes with glittery eyeshadow, heavy mascara, and eyeliner.
She added sparkles to the look by teaming it with amethyst drop earrings and clear PVC pumps with crystal-embellished toe caps.
Mindy Kaling slips her feet into a pair of clear PVC pumps with crystal toe caps (Credit: ROGER WONG / INSTARimages / Cover Images)
Mindy Kaling and B.J. Novak's Relationship
From reel to real, Mindy Kaling and B.J. Novak reportedly dated in 2005 before calling it quits in 2007.
Neither has confirmed nor denied the news, and even Novak was unsure if they actually dated or not.
"No one, including us, ever really knew, 'Is this dating? Is this not dating?' We were never really dating, we were never really not dating," Novak told Vulture in 2012. "We didn't know. No one knew. All you'd know for sure was that you'd always find one of us next to the other, even if we weren't getting along."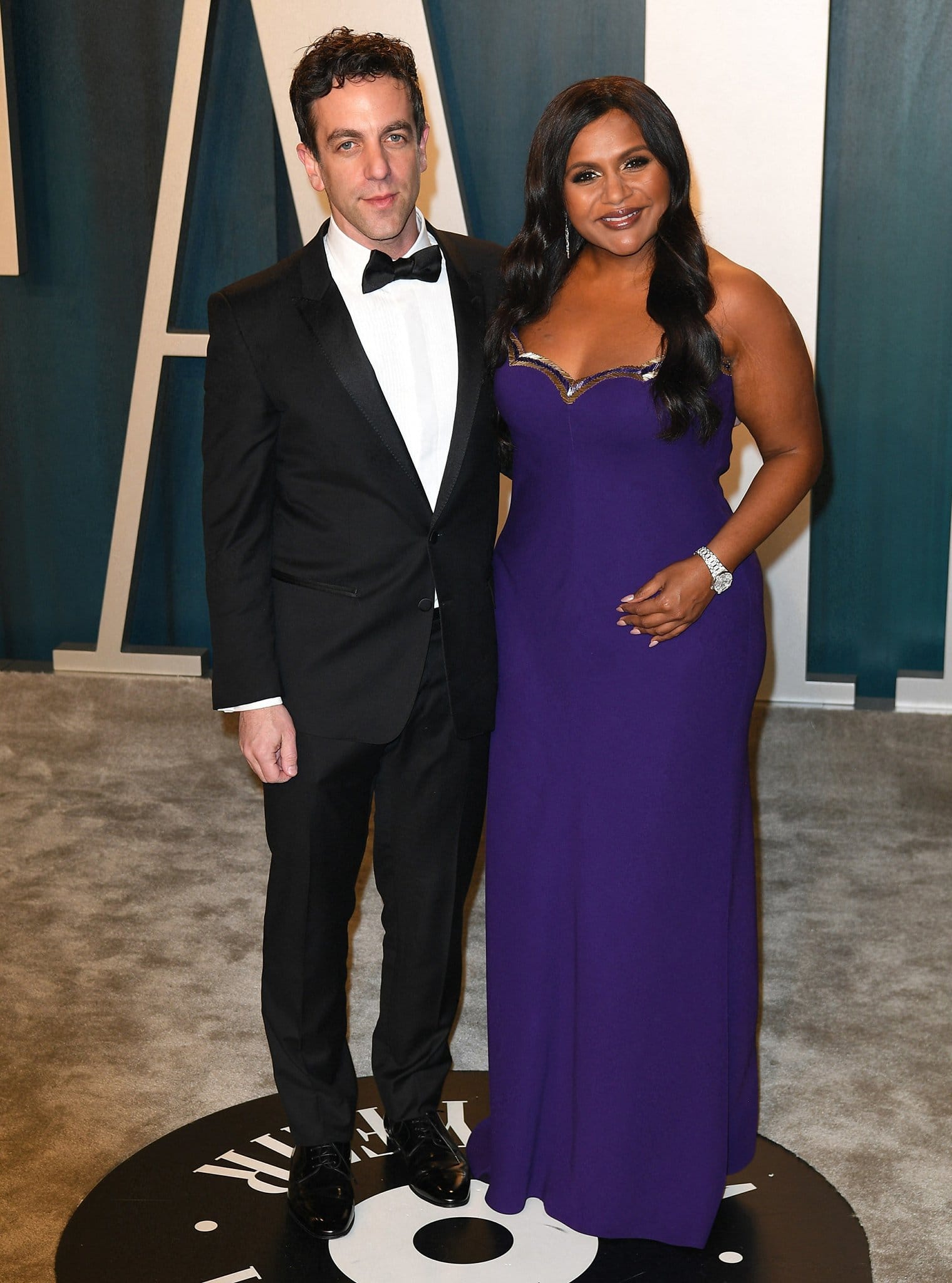 B.J. Novak and Mindy Kaling at the 2020 Vanity Fair Oscar Party (Credit: Niviere David / ABACA USA / INSTARimages)
When Howard Stern asked Kaling in 2014 if she ever had a "great love" that got away, Kaling said, "He's a good friend of mine, yeah. He's my best friend. He broke up with me. It was years and years ago that that breakup happened. I was so sad, not angry sad."
Stern assumed that she was pertaining to Novak, to which Kaling responded, "Yes, you're correct. Not that you're Sherlock Holmes, Howard. He's legitimately one of my best friends. I love him, and I think he's a great person, but I'm not holding a candle for B.J."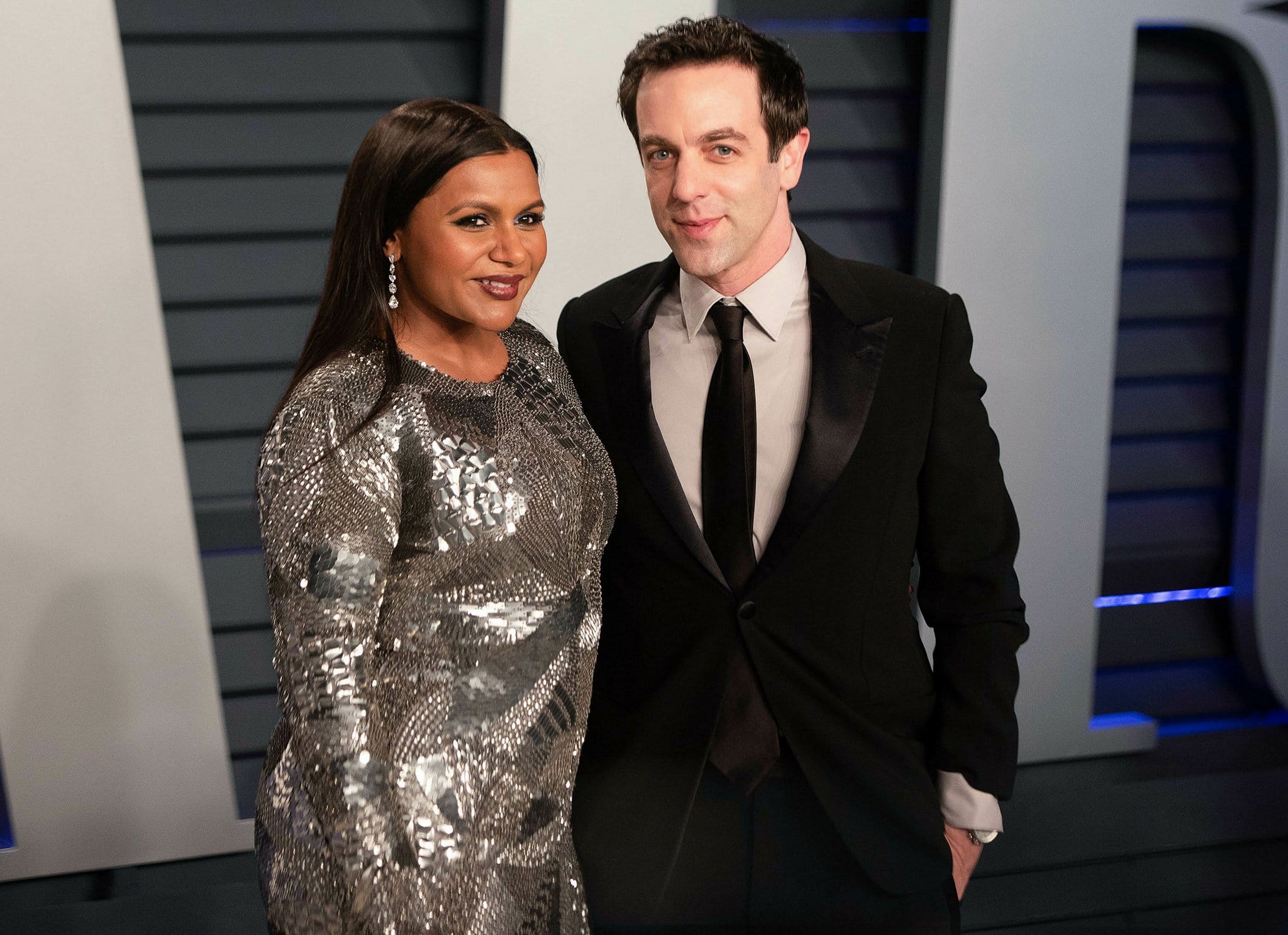 Mindy Kaling and B.J. Novak pictured together at the 2019 Vanity Fair Oscar party (Credit: Media Punch / INSTARimages)
In a 2015 profile for InStyle, Kaling explained, "He is not my boyfriend, but he is not my best friend. I guess you could describe our relationship as a 'romantically charged camaraderie with loud arguments,' but I don't think Facebook would accept this as a new status."
Mindy Kaling on Finding Love After 40
Contrary to what Kaling told Good Housekeeping in 2015—that she doesn't "need marriage" or "anyone to take care of all her needs and desires"—the Emmy-nominated actress recently revealed to Marie Claire that she hasn't "ruled out romance" yet.
"If you're a 42-year-old [single] woman with kids, it makes people sad… I'm like, 'There is hope for us. There could be great stories about women, like me, finding love, finding happiness…' I can't imagine anyone besides me would write it, so I have to find the time to do that."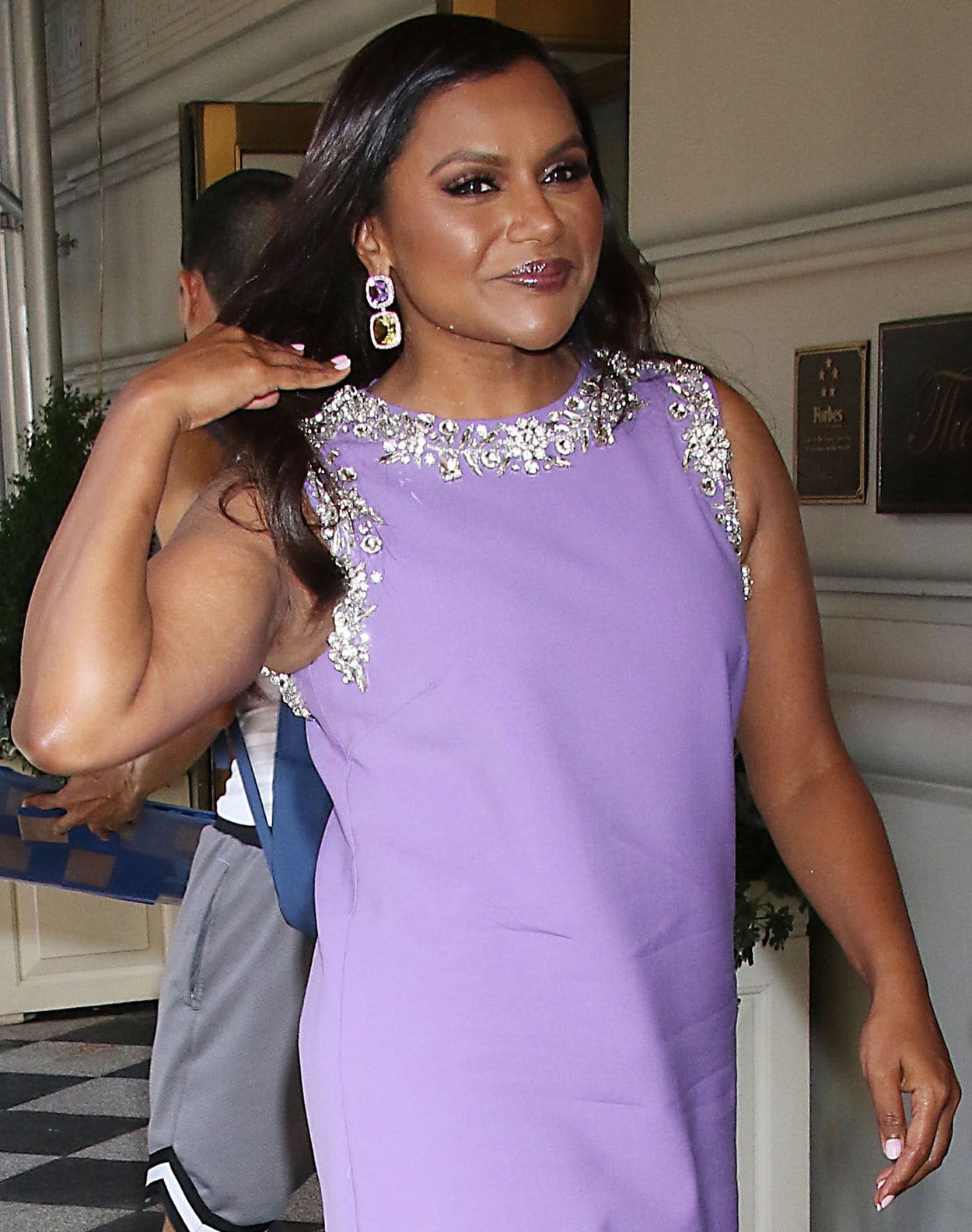 Mindy Kaling says she has not ruled out romance yet (Credit: Roger Wong / INSTARimages / Cover Images)