In 2010, Rachel McAdams starred alongside Diane Keaton and Harrison Ford in the comedy Morning Glory. She played a television producer trying to boost the ratings of DayBreak, a struggling national morning show.
Despite her initial hesitation due to feeling she wasn't funny enough for the role, McAdams ultimately agreed to take on the part after being persuaded by the film's director, Roger Michell, who had several dinners with her.
At a press conference in New York, Rachel McAdams admitted that she tried to talk director Roger Michell out of casting her in the lead role of Morning Glory.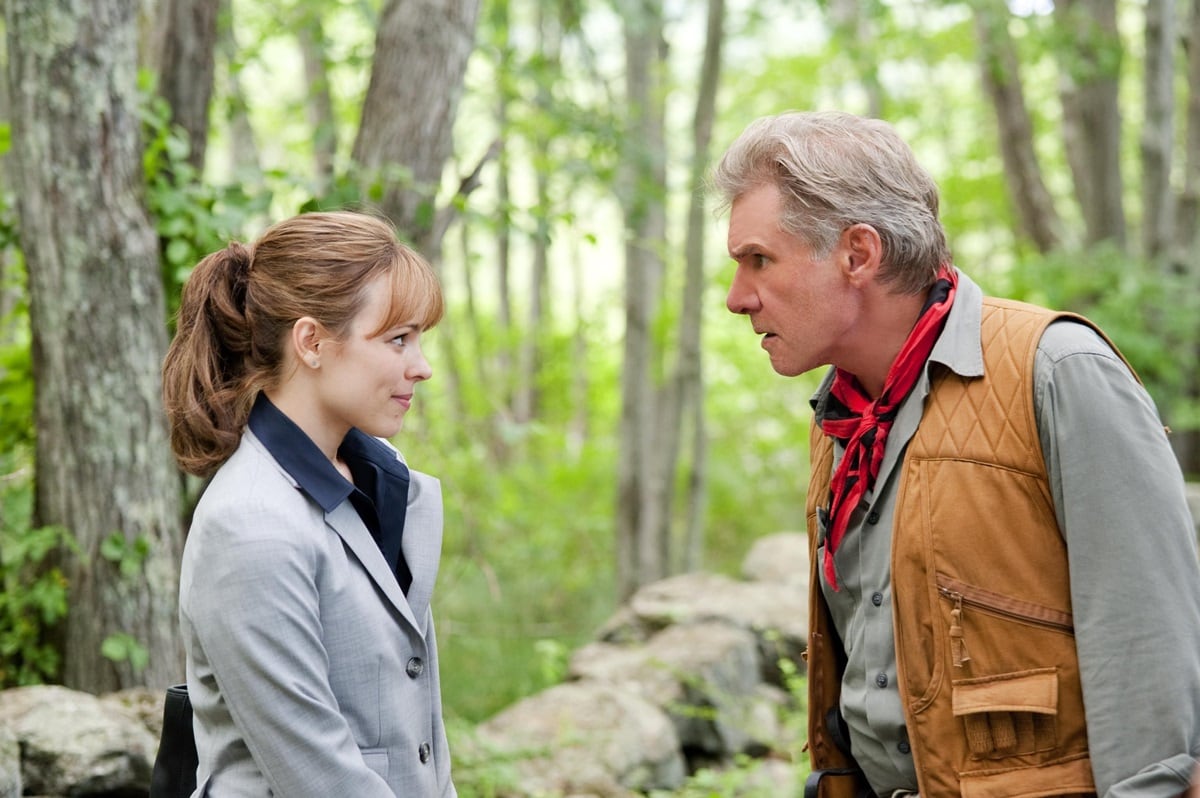 In Morning Glory, Rachel McAdams plays a young and determined television producer who clashes with Harrison Ford's veteran news anchor character, leading to a dynamic and engaging on-screen conflict as they work together to improve a struggling morning show (Credit: Paramount Pictures)
She said, "I tried to talk him out of it a few times and, thankfully, he didn't listen to me. I was very nervous about playing this character and taking on this part and I didn't want to let him down." Despite her reservations, Michell convinced McAdams to take on the role and helped her overcome her hesitation.
McAdams said, "What Roger did for me was get me out of my head and into my body. He just said, 'Run around and wave your arms a lot and something will happen.' So, that's how I got through this movie."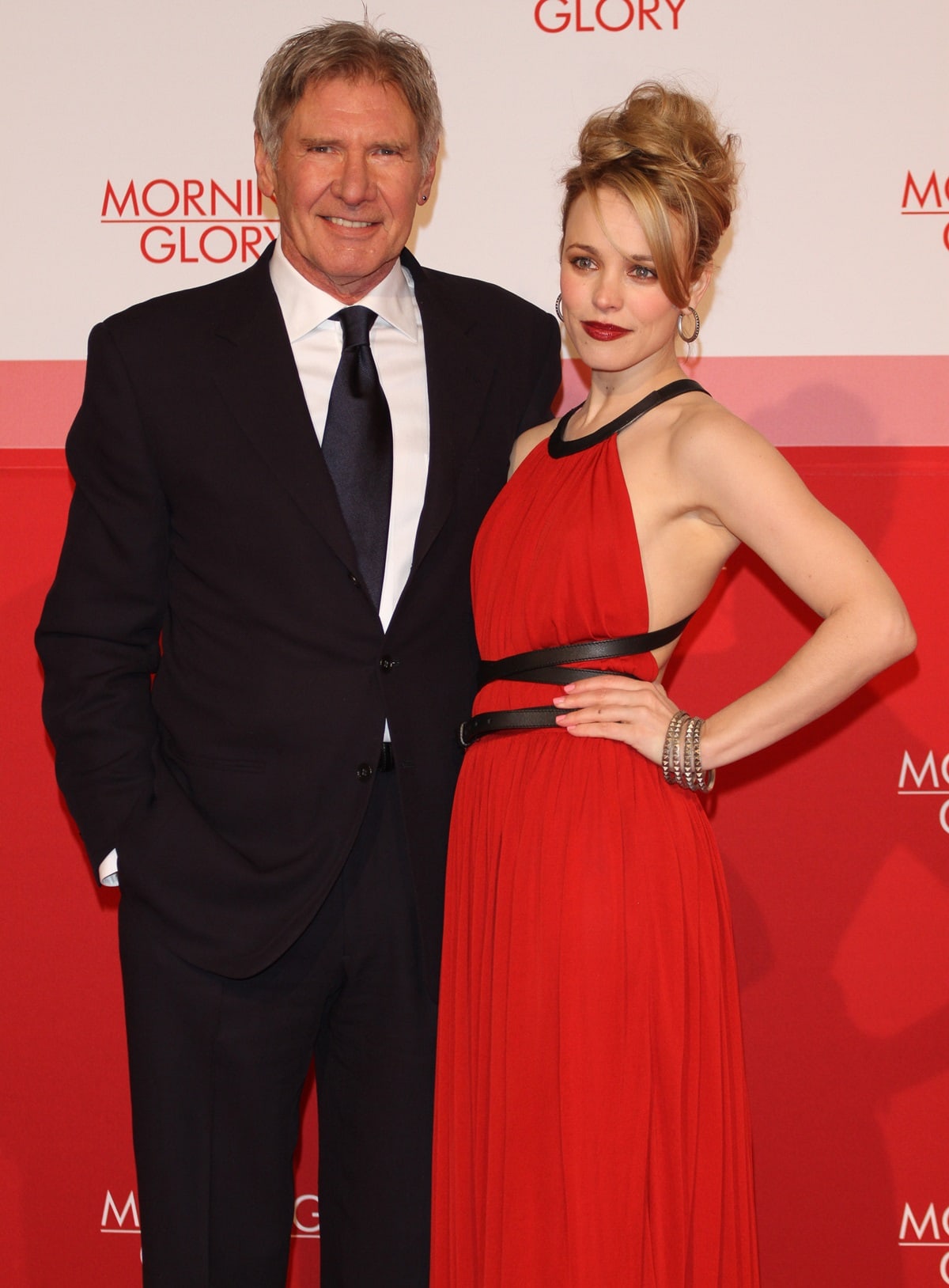 Harrison Ford and actress Rachel McAdams, in a stunning scarlet Michael Kors dress, attend the Premiere of 'Morning Glory' at CineStar on January 9, 2011, in Berlin, Germany (Credit: Vipflash / Shutterstock)
Michell, who had previously tried to woo McAdams for another project, was impressed with her performance in Morning Glory. He said, "She's incandescent in the film and I really think this is her film and, hopefully, this will be her breakout film; whatever that expression means."
Michell also praised McAdams' comedic skills, saying, "I knew the first day of rehearsal she is immensely physically funny. She's a gifted physical comedienne. Being funny comes from something about you, something truthful in you that you push with a certain emphasis."
Originally, Reese Witherspoon was cast as Becky Fuller, but Rachel McAdams got the role after Reese had to pull out due to other commitments.
McAdams received positive reviews for her performance, with critics noting her gift for physical comedy and effortless likability.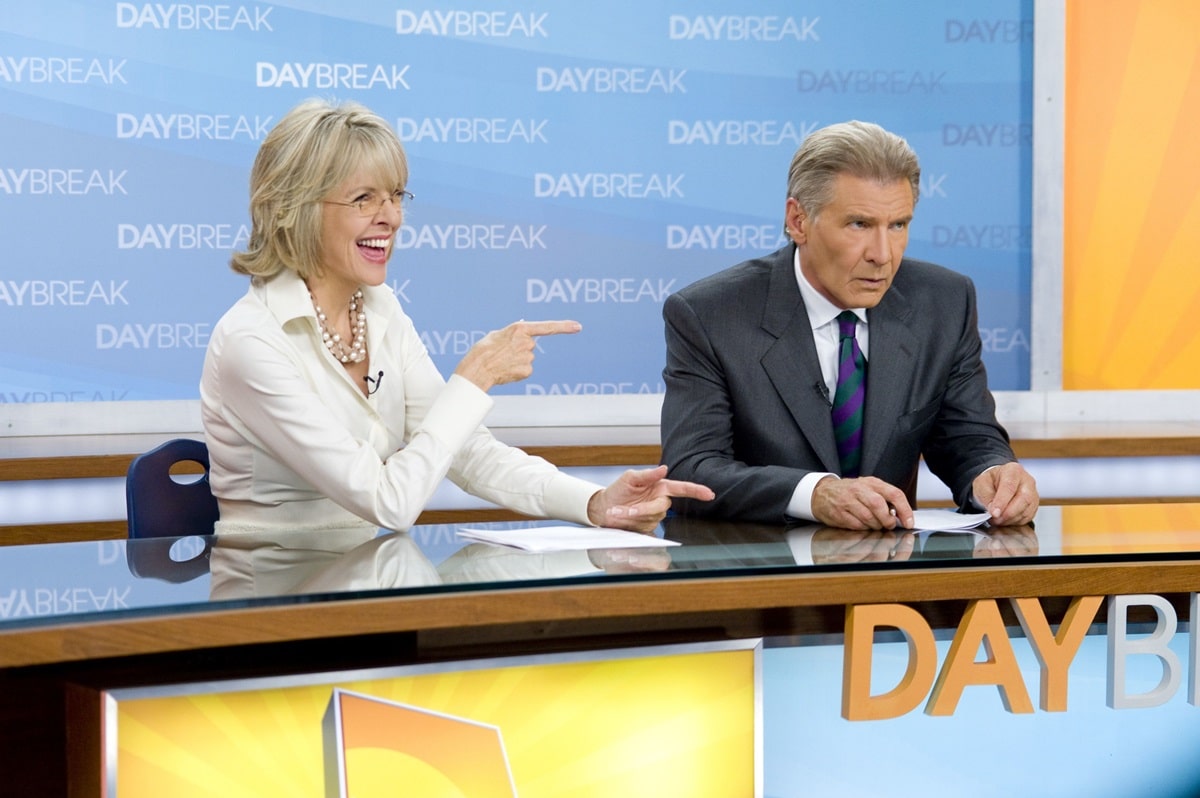 Morning Glory features Hollywood veterans Diane Keaton and Harrison Ford, who had not met before starring in the film (Credit: Paramount Pictures)
Kenneth Turan of the Los Angeles Times praised her performance, stating that it was the kind of performance for which people go to the movies. Roger Ebert of the Chicago Sun-Times also commended McAdams, describing her as "as lovable a lead as anyone since Amy Adams in Junebug."
However, some critics felt that McAdams deserved better roles and material that would fully showcase her talent. Manohla Dargis of The New York Times, for instance, believed that McAdams had to rely on her dimples to get by and called on Hollywood to give her more worthy parts.
Despite the positive reviews, the film was only a modest commercial success, grossing $58 million worldwide from a production budget of $40 million. McAdams later expressed disappointment that the film did not find a larger audience.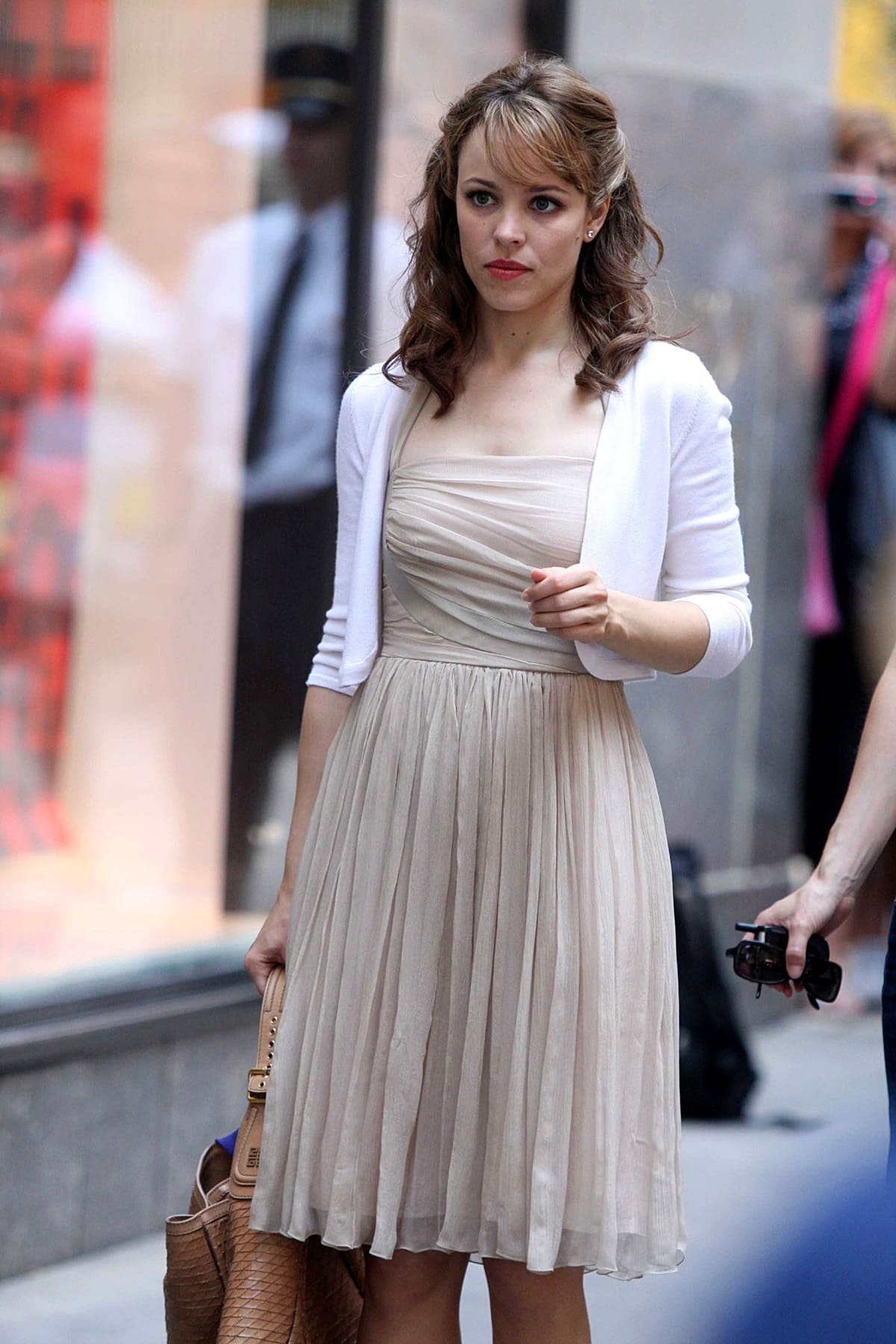 Rachel McAdams as Becky Fuller, the new executive producer of DayBreak, filming Morning Glory on the streets of Manhattan on July 12, 2009, in New York City (Credit: Everett Collection / Shutterstock)
Morning Glory premiered on November 10, 2010, with Rachel McAdams, Harrison Ford, Diane Keaton, Patrick Wilson, and Jeff Goldblum among its cast. At the time of the premiere, McAdams was 31 years old, Ford was 68, Keaton was 64, Wilson was 37, and Goldblum was 58.
Despite being Hollywood veterans, Diane Keaton and Harrison Ford had never met before working together on the film Morning Glory.
Diane Keaton and Rachel McAdams had previously worked together in the 2005 American comedy-drama film The Family Stone.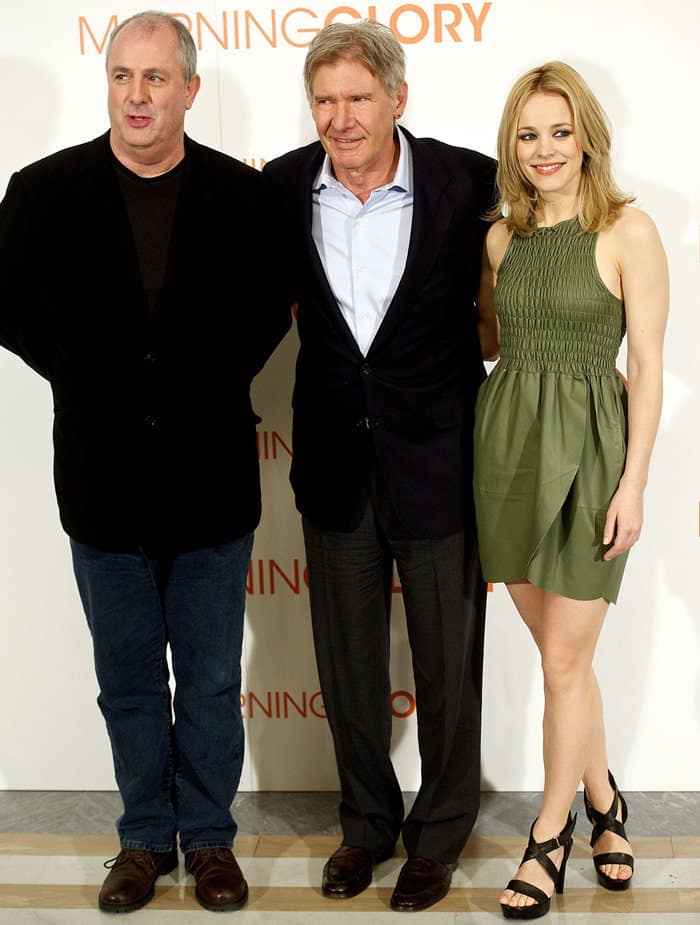 Rachel McAdams (R) and Harrison Ford (C) co-star in Morning Glory, a 2010 American comedy film directed by Roger Michell (L) (Credit: Sean Thorton / WENN)
The Wedding Crashers actress donned an olive Geren Ford Resort 2011 dress and black strappy Michael Kors platforms to a photocall for Morning Glory at the Villa Magna Hotel in Madrid.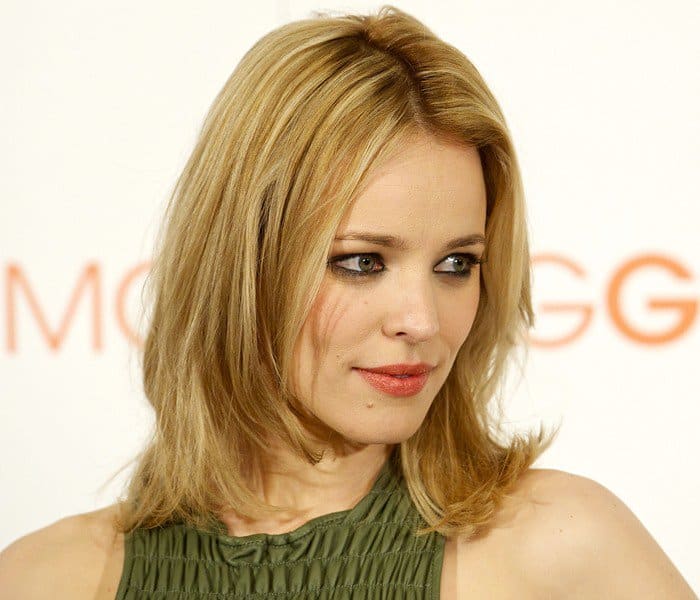 Rachel McAdams wore an olive Geren Ford Resort 2011 dress (Credit: Sean Thorton / WENN)
Do you think the heels are too chunky for the dress? The look was completed with Giles & Brother jewels: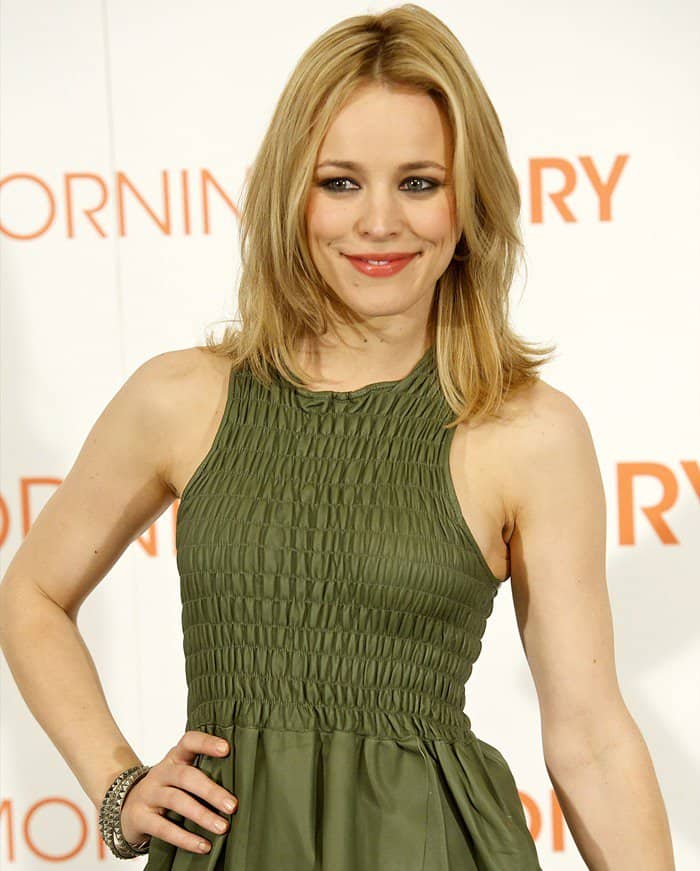 Rachel McAdams accessorized with Giles & Brother bracelets (Credit: Sean Thorton / WENN)
Her gorgeous cocktail dress from the contemporary women's label Geren Ford features a ruched bodice.
Rachel McAdams flaunts her legs at the 'Morning Glory' photocall held at the Villamagna Hotel in Madrid on January 13, 2011 (Credit: Sean Thorton / WENN)
Rachel McAdams shows off her feet in black Michael Kors strappy platforms (Credit: Sean Thorton / WENN)