Is there anything Priyanka Chopra can't do?
The Bollywood star is an actress, a producer, a former beauty queen, and a UNICEF Goodwill Ambassador.
The 40-year-old is also the wife of 29-year-old Nick Jonas and a new mom to daughter Malti Marie.
Lady-in-red Priyanka Chopra exudes confidence during a guest stint for "The View" (Credit: Roger Wong / INSTARimages / Cover Images)
She recently added "author" to her resume, with a New York Times bestseller under her belt.
Priyanka's book "Unfinished: A Memoir," is available on Amazon, and tells the story of her incredible life and remarkable journey from a young girl in India to a successful Bollywood-turned-Hollywood star.
Priyanka wrote about her childhood, nomadic life, transition from Indian to Western film, and the pressures of being a woman.
View this post on Instagram
Priyanka also wrote about her failed nose surgery, which made her feel "devastated and hopeless."
How polyp surgery caused nose damage
Priyanka opted for nasal surgery at the turn of the decade.
In the summer of 2001, she experienced a lingering head cold that she believed was only a "very bad sinus infection." A family friend recommended her to a doctor, who then advised her to opt for a nasal polypectomy.
It should have been a standard procedure to remove her nasal polyps in under half an hour. However, something went wrong. When removing the polyp, the medical practitioner accidentally shaved the bridge of Priyanka's nose, causing it to collapse.
Priyanka Chopra says she was left "devastated and hopeless" after botched nose surgery (Credit: PA Images / INSTARimages / Cover Images)
Priyanka didn't see the extent of the damage untilshe took off her bandages at home. Seeing that her original nose had vanished, she described her face as entirely different.
Understandably, the actress was devastated to see a mere stranger looking back at herself in the mirror, doubtful that her self-esteem would ever recover.
View this post on Instagram
Becoming "Plastic Chopra"
Not only did Priyanka have to deal with her new face, but she also had to come to terms with the public gossiping about her appearance.
With the public eye drawn to her nose, Priyanka was brutally laid off from two films for which she'd already been hired.
In a third movie, she was given extensively less screen time than she would have had otherwise.
Priyanka was plagued by the media's nickname, "Plastic Chopra" – a name that still follows her around to this day.
After years of struggling to find work, Priyanka Chopra finally landed leading roles for commercially successful films like the 2004 Indian Hindi-language romantic comedy film "Mujhse Shaadi Karogi" (Credit: Cover Images)
"I was dared to give an explanation for the obviously different nose, but I chose a course then that I've followed in all the years since," Priyanka wrote in her memoir.
The multi-hyphenate star decided to draw a line in her life and refused to succumb to the pressures of being a public figure.
"I am an entertainer. That's what I've signed on to do, and that's what I love doing. I will say my lines, dance my dance, hit my mark," she wrote.
Priyanka Chopra Chopra needed to have a polyp surgically removed from her nasal cavity (Credit: Tony DiMaio / Startraksphoto)
"Just because I'm a public person doesn't mean everything about my life has to be public knowledge," she added. "I get to choose what I share and when I share it."
Acceptance and Corrective Surgeries
It took years for Priyanka to truly get accustomed to her new face. She had to undergo multiple "corrective surgeries" to fix the damage.
Priyanka wrote in her memoir that a filmmaker and her then-manager advised her to get extensive plastic surgery. They wanted her to "fix" everything that was wrong with her physical appearance to guarantee her success in the entertainment industry.
In true Priyanka Chopra fashion, she left her former manager and chose herself.
"My difference is my strength," the former Miss World wrote. "If I looked like other 'classically beautiful' girls, then I wouldn't stand out, and more important, I wouldn't be me."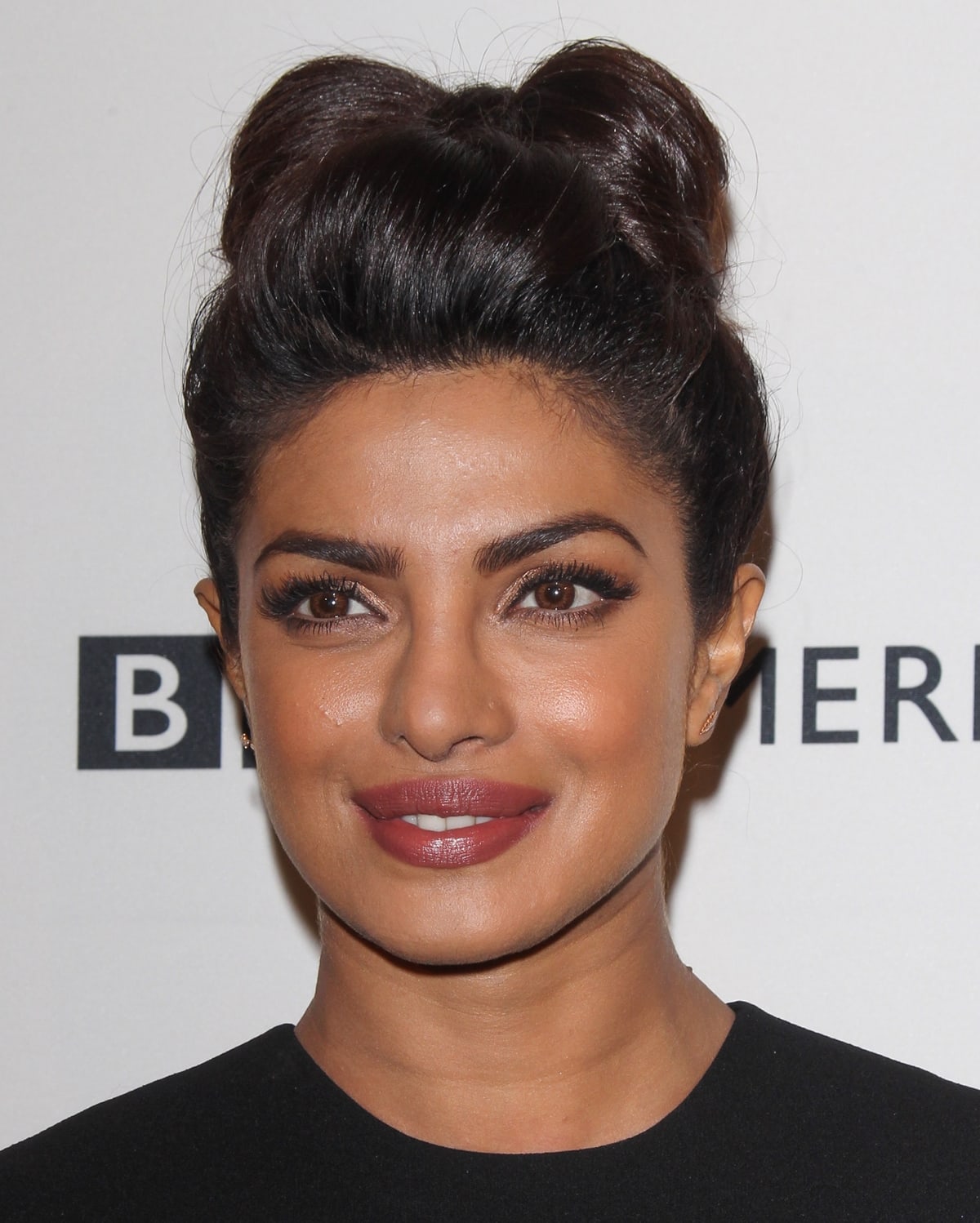 Priyanka Chopra has opened up about botched plastic surgery, saying her doctor shaved the bridge of her nose (Credit: INFphoto)

The "Quantico" star carved her own path while remaining true to herself.
Of course, that doesn't mean that the blatant racism and sexism have stopped. In fact, she was mistaken for Padma Lakshmi by The New Yorker and became the recent subject of racist remarks by Rosie O'Donnell.
After making peace with her slightly altered version, the actress has been able to accept herself and everything that comes with being who she truly is.
"This is my face. This is my body," Priyanka Chopra proudly declared. "I might be flawed, but I am me."