Olivia Palermo sat front row at the Christian Dior Spring/Summer 2012 fashion show held during Paris Fashion Week in Paris, France on Friday. This was just the day after the 10th episode of Project Runway Season 9 aired in which Olivia Palermo guested as one of the judges.
I haven't seen that episode yet but so far, the reviews I've read on Olivia's judging style weren't particularly nice. Okay, so she may not have the judging skills yet but it's undeniable that what she does have is a well-mastered sense of style.
Like at the Dior fashion show last Friday, Olivia Palermo was the epitome of chic in her head-to-toe Christian Dior ensemble. She wore a Christian Dior see-through embroidered lace dress, shielded her peepers with Christian Dior cat eye sunglasses, and carried a Christian Dior Promenade purse: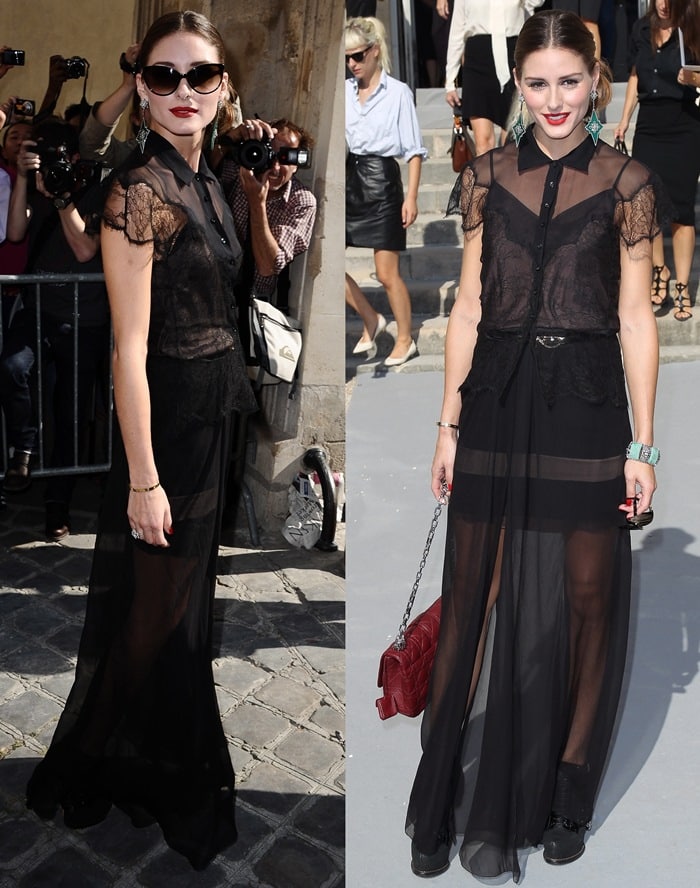 Olivia Palermo attends the Christian Dior Ready-to-Wear Spring/Summer 2012 fashion show during Paris Fashion Week  held at Musee Rodin in Paris on September 30, 2011
Now if only would could get a confirmed identification on those gorgeous green earrings and bracelet Olivia is wearing!
Olivia Palermo's booties are these ones from the Christian Dior Fall 2011 collection:
Dior Guetre platform booties
These feature crocodile print straps going across the ankle and the vamp and covering the entire 5 1/4″ stiletto heel. This is a great restyling of the Dior Cavaliere platform bootie from last year which we spotted on Charlize Theron.
The Dior Guetre platform booties also come in a dune color and are $1,400.00. You can shop for them at Saks Fifth Avenue and at Nordstrom.
Credit: WENN