While arriving for an appearance on Today this morning, Olivia Wilde almost suffered what would have been a painful fall after stepping onto a patch of ice in a pair of Casadei "Blade" pumps. Thankfully, a couple of bystanders were able to help the actress make her way to safety.
Olivia Wilde steps onto a dangerous patch of ice while wearing heels 
Once Olivia gained sure footing, she looked lovely as ever and ready to talk up her latest film, The Lazarus Effect. Despite the cold, the 30-year-old was chic in a checker-print dress with a layered lace skirt. Her jade-colored pumps survived the ice without a scratch.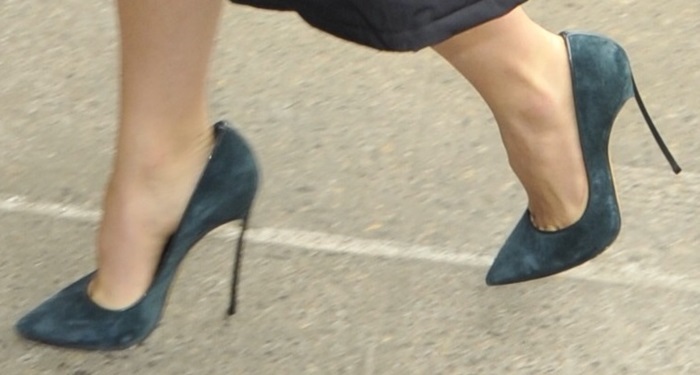 Olivia Wilde arriving for an appearance on Today in New York City on February 26, 2015
Stiletto heels and ice surely don't mix, but we don't blame Olivia for sticking with her Casadei "Blade" pumps this morning. The notoriously thin heels have been celebrity favorites for quite some time now. You can find multiple variations of the popular style at the Casadei and Farfetch.
Would you risk wearing your favorite heels on ice?
Credit: TNYF/WENN