Jenna Ortega confessed that she's "insecure" about a specific scene from Wednesday, which is actually a fan favorite.
Everyone can't stop talking about the newest Netflix series, which showcases the latest iteration of The Addams Family. But the standout is definitely Jenna Ortega, whose brilliant portrayal of Wednesday Addams propels the show to great heights.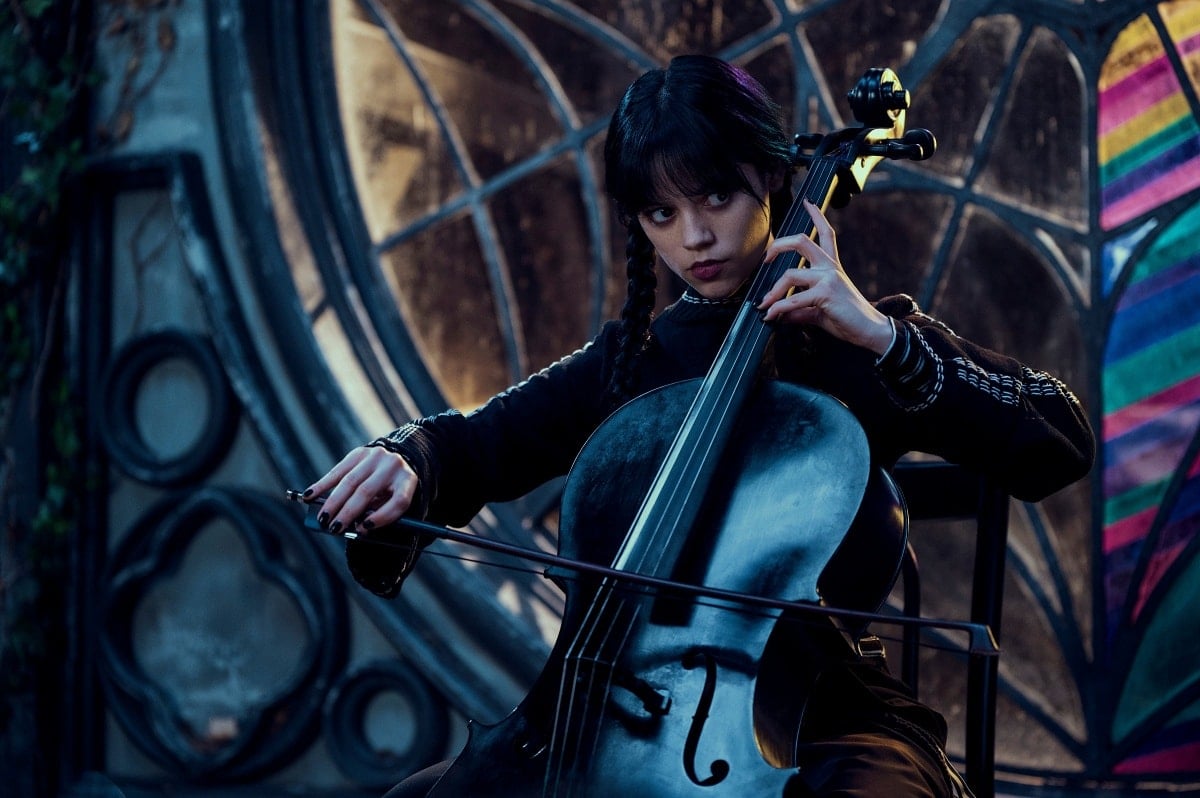 Jenna Ortega as Wednesday Addams in the supernatural horror comedy televisions series Wednesday (Credit: Netflix)
Wednesday gained astronomical numbers and has remained as one of the most-watched television shows on Netflix since its premiere.
Helmed by Tim Burton and a brilliant team that includes Alfred Gough and Miles Millar, the source material was definitely in good hands, ensuring an iteration that is just as "mysterious and spooky" and "all together ooky."
Backed by a stellar ensemble cast that includes Gwendoline Christie of Game of Thrones fame; former Wednesday Addams herself, Christina Ricci; and Catherina Zeta-Jones as Jenna Ortega's onscreen mother Morticia Addams, the show promises phenomenal performances from some of the best veteran and rookie actors working today.
The cast of Wednesday at the world premiere of the Netflix series held at the Hollywood Legion Theater in Los Angeles, California on November 16, 2022 (Credit: Xavier Collin / Image Press Agency / ABACA / INSTARimages / Cover Images)
Shot in Romania to capture the beautifully gothic vibe of the place and translate it onto the show that falls under the dark academia genre, Wednesday is part Veronica Mars and part Harry Potter. Maybe throw in some small-town drama from Gilmore Girls.
Jenna Ortega Was "Insecure" About the Dance Scene
In an interview with Good Morning America, Jenna Ortega talked about the grueling preparation for her role as Wednesday Addams. She had to learn the cello, fencing, and even German, which went on for the entirety of the eight-month shoot.
But what fans may not know is that she also acted as a choreographer for one of the fan-favorite scenes on Wednesday.
Yes, it's that famous dance scene from the fourth episode, entitled Woe What a Night.
Jenna Ortega as Wednesday Addams showing off her quirky dance moves during Nevermore Academy's Rave'N Dance in episode four of Wednesday, entitled Woe What a Night (Credit: YouTube)
In the episode, the students of Nevermore Academy attend the Rave'N Dance. Wednesday Addams reluctantly makes an appearance and eventually takes to the dance floor, surprising her date for the evening, Tyler Galpin (Hunter Doohan), with her quirky dance moves.
"I actually felt really insecure about this," Jenna Ortega admitted in a reaction video released by Netflix. "I choreographed that myself, and I think it's very obvious that I'm not a dancer or choreographer."
Her co-stars were quick to contradict her claim, with Emma Myers, who plays her roommate Enid, saying that it's her "favorite scene" and Hunter Doohan stating it was "all we've been talking about," adding that the scene was "amazing!"
Joy Sunday, who plays Wednesday's school rival Bianca, also chimed in: "It's hypnotizing, really."
How Jenna Ortega Put Together the Choreography for the Dance Scene
In an interview with Vulture, Jenna Ortega revealed that it was her first time to choreograph a dance and that she actually put together the moves a few days before she had to shoot the scene!
There were a lot of references that went into the choreography from gothic dance club moves to the original Wednesday Addams played by Lisa Loring in the 1960s.
Jenna Ortega shared her influences and thanked them on Twitter, mentioning Siouxsie Sioux, Bob Fosse, and Lene Lovich, to name a few.
In the scene, Jenna Ortega dances to "Goo Goo Muck" by The Cramps, a song from 1981 that could meet the same fate as Kate Bush's "Running Up That Hill," which blew up on the charts when used on the latest season of Stranger Things.
If you haven't seen the show, the eight-episode series is now streaming on Netflix. In the meantime, check out the fan-favorite dance scene that's been brilliantly choreographed and performed by Jenna Ortega in the video below: