Oscar De La Hoya ruled the boxing world throughout his illustrious career between 1992 and 2009. After hanging up his gloves in 2009, The Golden Boy became a boxing promoter.
After 13 years in retirement, De La Hoya announced that he would be making a return to the sport in 2021. However, due to a bout with COVID, his return to the ring didn't happen.
Boxer Oscar De La Hoya speaks at The ONE press conference at L.A. Live on July 2, 2013, in Los Angeles, California (Credit: The Photo Access / Cover Images)
But 2021 wasn't a total loss for the boxing legend, as he met his now girlfriend, Holly Sonders.
Who is Oscar De La Hoya's Girlfriend?
15 years younger than Oscar De La Hoya, Holly Sonders is a 34-year-old sports reporter. She also has an online following of over 600,000 on Instagram. Before dating De La Hoya, Sonders was engaged to Dave Oancea, also known as "Vegas Dave."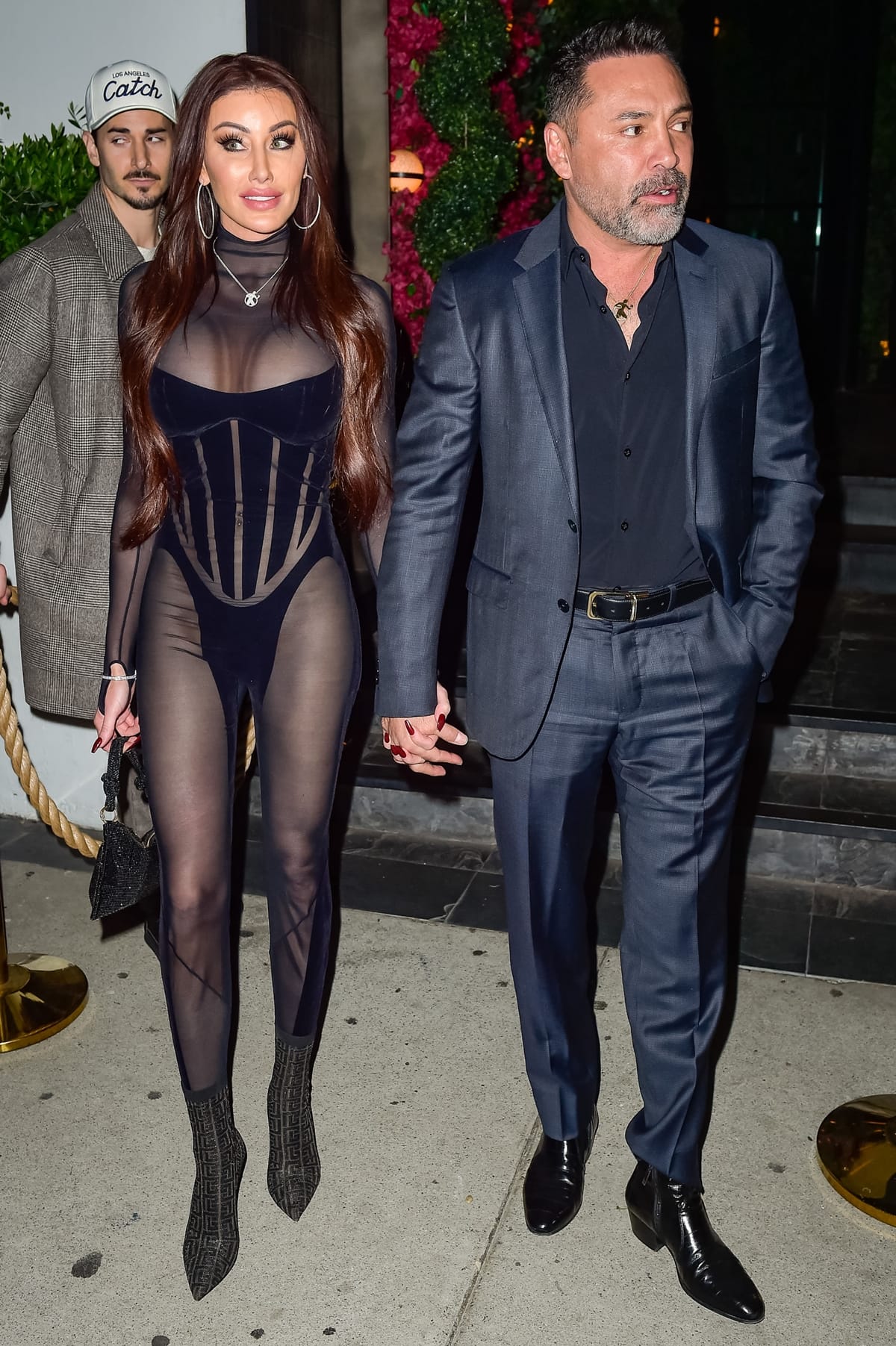 Oscar De La Hoya and his girlfriend Holly Sonders on a date on November 18, 2022, in Los Angeles, California
The sports reporter announced her engagement to the professional gambler in December 2019 in a since-deleted Instagram Post. "Once things kind of ended with Dave," she was inspired to rebrand her image, Sonders told The Post in February 2021.
She has also been linked to Arizona Cardinals coach Cliff Kingsbury after her 2016 divorce from Erik Kuselias, a former Golf Channel co-host.
When Did The Boxing Champ and Sports Reporter Begin Dating?
De La Hoya reportedly met Sonders while she worked a boxing event in June 2021. The sports reporter interviewed the former champion, and sparks flew.
De La Hoya, 48, and Sonders were first romantically linked in August 2021 after TMZ published photos of the newly linked pair leaving a dinner date at Nobu, a paparazzi hotbed in Malibu. The pair share a 14-year age gap.
Television personality Holly Sonders wore a see-through outfit and showed off her panties in Los Angeles (Credit: BauerGriffin / INSTARimages / Cover Images)
They made it official when they were seen posing together at the George Lopez Foundation's 14th Celebrity Golf Classic in Southern California.
Sonders is 5 feet 8 inches (173 cm), while De La Hoya measures 5ft 9 (175.3 cm), making him just a little taller than his girlfriend.
Sonders Makes De La Hoya Feel Like King Kong
At the time of their meeting, De La Hoya was coming out of retirement for the first time since 2008 to take on one of the greatest MMA fighters in the world, the 44-year-old Vitor Belfort. The fight was scheduled for September 11, 2021, but the Hall of Fame alum contracted COVID before the fight could take place.
The boxer was hospitalized for three days. Although he planned to return to training in January 2022, De La Hoya decided to hang up his gloves for good. He explained that he was having breathing problems while running following his bout with Covid.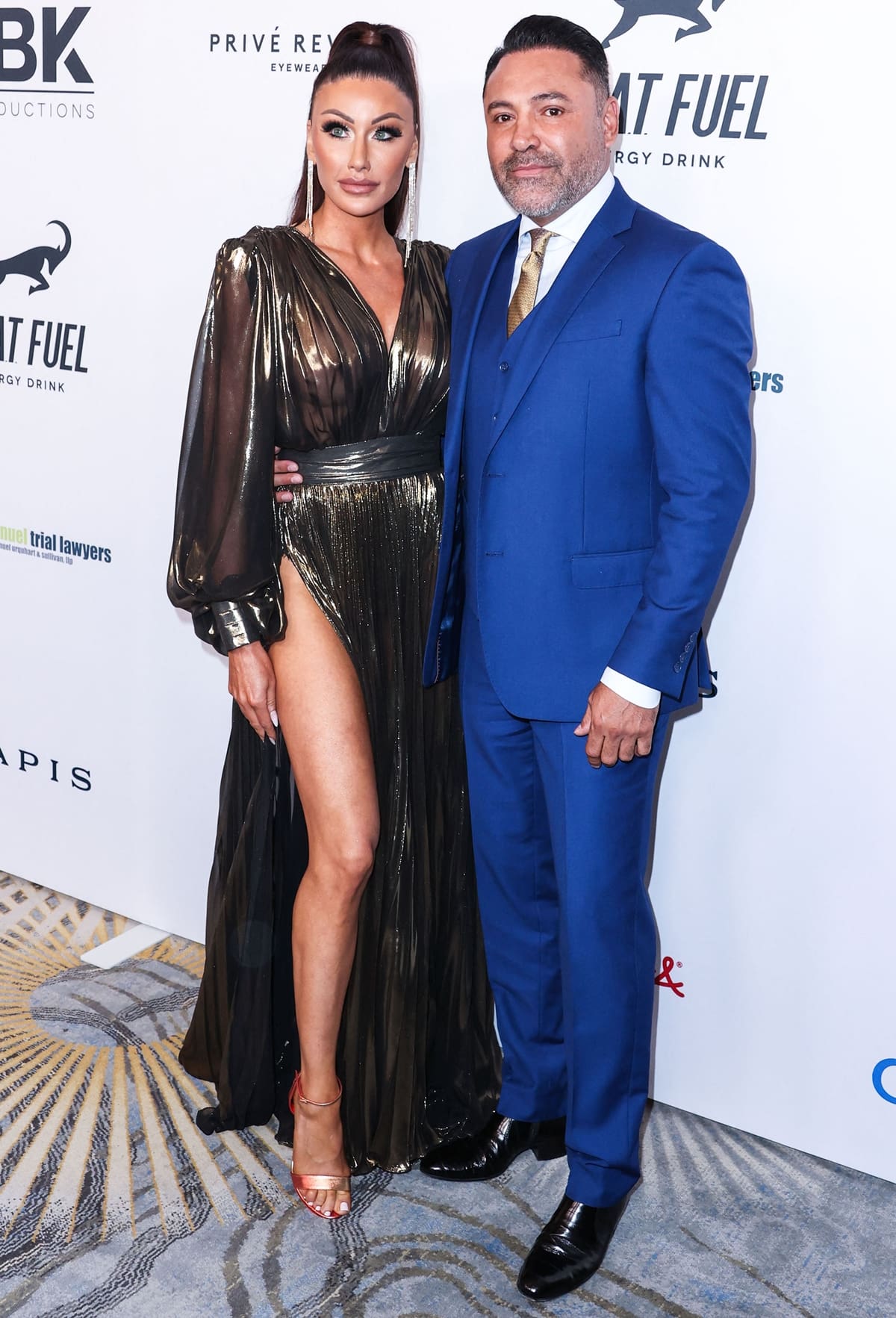 Holly Sonders and Honoree Oscar De La Hoya arrive at the 22nd Annual Harold and Carole Pump Foundation Gala at The Beverly Hilton on August 19, 2022, in Beverly Hills, California (Credit: Xavier Collin / ABACA / INSTARimages / Cover Images)
Although he has put boxing behind him, De La Hoya says he is content with his work and his relationship with Sonders.
During an interview with Boxing Scene, he said, "I feel complete now. I have six projects aside from boxing that I'm working on right now that are huge – mega. I've refocused. I have the energy. I have a woman by my side who makes me feel like King Kong."
Oscar De La Hoya's First High-Profile Relationship
De La Hoya's relationship with Sonders isn't his first high-profile relationship. His first high-profile romance was with former Miss USA Shanna Moakler, who was married to Travis Barker from 2004 to 2008 and shares two children with the Blink-182 drummer.
Oscar De La Hoya and Shanna Moakler announced their engagement in 1998 after a year of dating and welcomed their daughter, Atiana De La Hoya, six months later.
The couple didn't make it down the aisle. They split in a messy breakup when Moakler witnessed her fiancé escorting another woman as his date to a Latin Grammys show while they were still together.
Former professional boxer Oscar De La Hoya and daughter TV personality Atiana de la Hoya attend the 8th Annual "Big Fighters, Big Cause" Charity Boxing Night at the Loews Santa Monica Beach Hotel on May 24, 2017, in Santa Monica, California (Credit: Milla Cochran / Startraksphoto)
"I'm sitting in bed, watching the Latin Grammy awards, feeling hurt that he went without me. Then, I see him there with another woman. I was devastated. I had no idea there were any real problems in the relationship until that point," Moakler told ESPN.
She added, "The way he handled the situation with me and our kid was in poor taste and really kind of mean."
Who Was The "Other" Woman?
The "other" woman was Puerto Rican singer and actress Millie Corretjer. De La Hoya and Corretjer met in 2000 when the boxer was trying to break into the music scene. He had asked Corretjer to appear in a music video.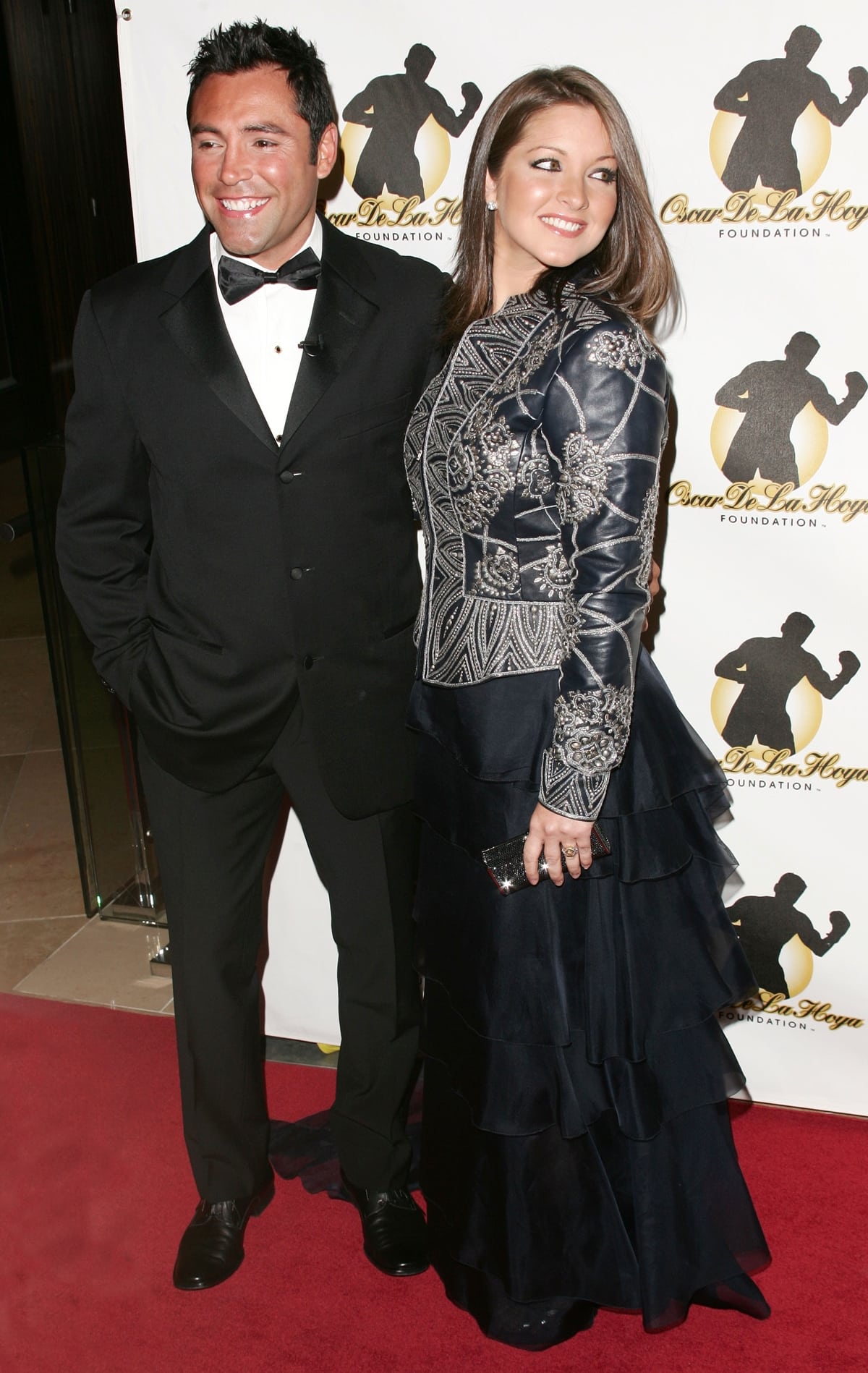 Oscar De La Hoya and Millie Corretjer married in San Juan, Puerto Rico, on October 5, 2001, and split in 2016 after 15 years of marriage (Credit: Andy Fossum / Startraksphoto)
They secretly wed on October 5, 2001, in San Juan, Puerto Rico. The couple had three children together: son Oscar Gabriel De La Hoya, born in December 2005, and two daughters, Nina Lauren Nenitte De La Hoya, who was born in December 2007, and Victoria Lauren Rose De La Hoya, who was born in January 2014.
The couple split in 2016 after 15 years of marriage but continued to make public appearances together until 2020.
De La Hoya also has two sons from his previous, lesser-known relationships: Jacob De La Hoya and Devon De La Hoya. Both were born in 1998.
Sonders Commemorates De La Hoya's Greatest Win On Her Body
After dating for over a year, Sonders commemorated her love for the boxing champ when she unveiled a large tattoo of De La Hoya's crowning moment in boxing on her back. The image shows the moment De La Hoya became The Golden Boy in boxing.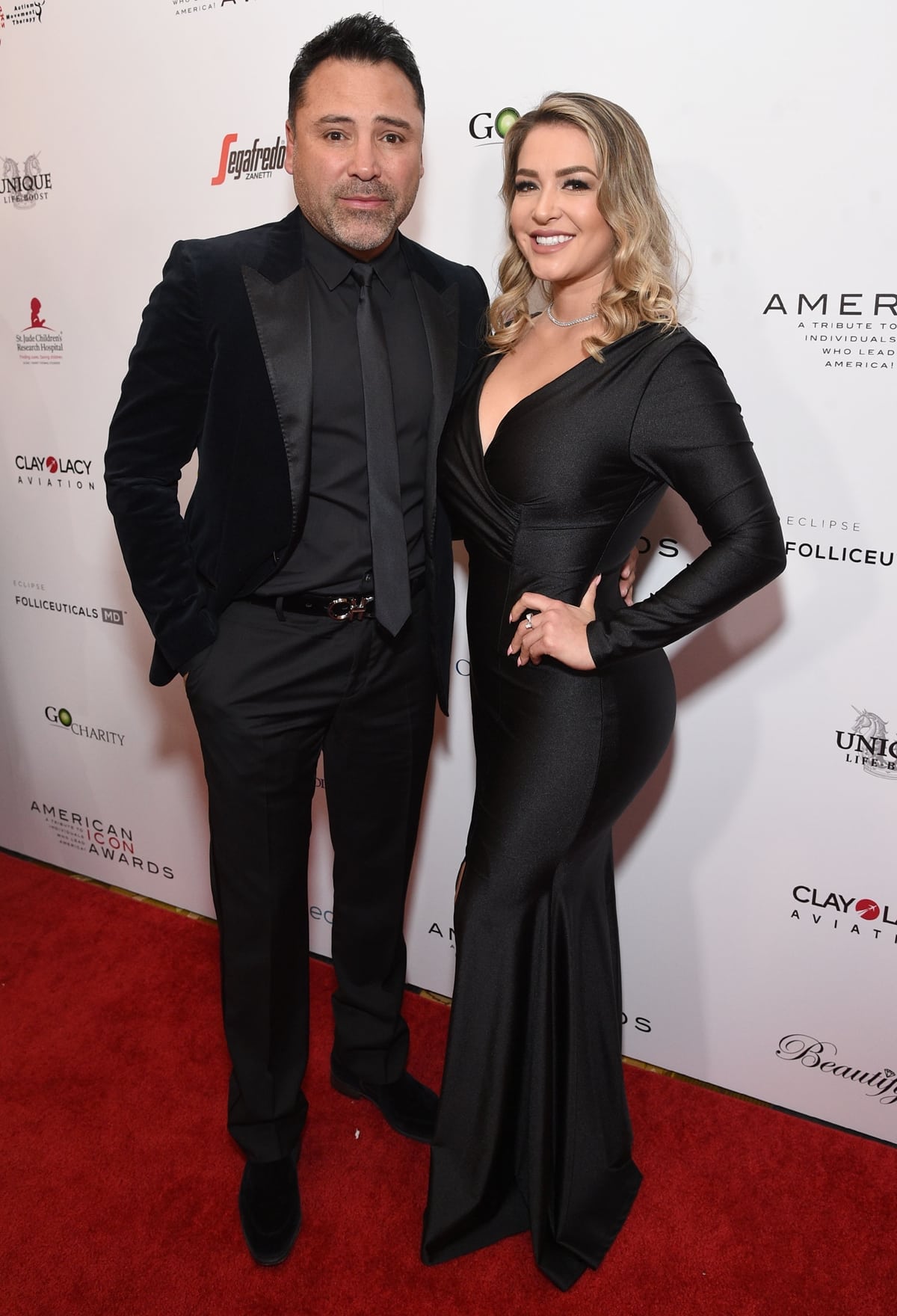 Oscar De La Hoya and his girlfriend, Anna Valencia, at the American Icon Awards at the Beverly Wilshire Four Seasons Hotel on May 19, 2019, in Beverly Hills, California (Credit: Michael Simon / Startraksphoto)
"Dear Oscar, You have everything in life," Sonders wrote on Instagram. "There is nothing I can give you that you haven't received already…except for this. This tattoo signifies the day you became The Golden Boy. The moment you won the gold medal at the 1992 Olympics and looked up at your mother who had passed a few months prior."
De La Hoya always said his Olympic Gold Medal was for his mom, and the titles were for him.