Pedro Pascal and Sarah Paulson are both talented actors with impressive careers in Hollywood.
The 47-year-old actor has appeared in some of the most remarkable series worldwide, including Star Wars, Game of Thrones, and The Last Of Us.
Meanwhile, the 48-year-old actress has forged a career in television and cinema, appearing in shows like American Horror Story and movies like Ocean's 8 and Carol.
Sarah Paulson and Pedro Pascal looked stunning together at the 22nd Annual Screen Actors Guild Awards at The Shrine Auditorium in Los Angeles, California, on January 30, 2016 (Credit: ACE / INFphoto)
While the two have never publicly acknowledged any romantic relationship, fans on social media have been speculating for a while now that the two might be more than just friends.
This theory has gained traction in recent months, fueled by clues and interactions between the two actors that fans have interpreted as evidence of a romantic connection.
Let's delve deeper into the reasons behind this speculation and explore what we know (and don't know) about Pedro Pascal and Sarah Paulson's relationship.
Pascal and Paulson's Cute Appearance at Saturday Night Live
Pedro Pascal, a Chilean-born artist best known for his outstanding performance in the television series Narcos and The Mandalorian, presented Saturday Night Live for the first time on February 4, 2023.
View this post on Instagram
His old friend Sarah Paulson accompanied him in the amusing Gen Z-inspired skit "Fancam Assembly," in which the two artists portrayed out-of-touch high school instructors who were secretly in love.
The kids revealed that COVID caused them to stop developing after Mr. Ben, played by Pascal, formally banned fancams at the school.
A student said, "Mommy works remote all day and doesn't have time to eat it up no crumbs left, so we made you Daddy and Ms. Jenny Mommy."
Then Ms. Jenny, Paulson's character, entered the scene, and the high school teachers eventually acknowledged their love for one another after the kids displayed a fancam of them together.
Sarah Paulson just joined Pedro Pascal on SNL to say that they accept their rightful titles as the internet's mommy and daddy pic.twitter.com/Fqu7JbseTP

— Spencer Althouse (@SpencerAlthouse) February 5, 2023
Mr. Ben, Pascal's character, told Paulson, "Let's just tell them the truth. Ms. Jenny and I, we're in love."
Paulson's character conceded, "Fine, it's true. He's Daddy, I'm Mommy, and we're a happy family. No crumbs left."
Their brief on-screen interaction was one of the episode's most memorable moments, although it only lasted a few minutes.
And even if Pascal and Paulson aren't romantically linked in real life, they are still very close. The two celebrities have been best friends for many decades.
How Their Friendship Started in September 1993
In a 2014 interview with Interview Magazine, Pascal and Paulson disclosed that they met in September 1993, when the actor had just relocated to New York City.
As Paulson conducted the interview and wrote the article, Pascal joked with her, "Do you have at least two questions? Have you done your research?"
The actress answered, saying, "I've known you since I was 18. Is that enough research? I think that's enough research."
Reflecting on their first encounter, Pascal said that in the 1990s, Paulson and her established circle of friends took him under their care.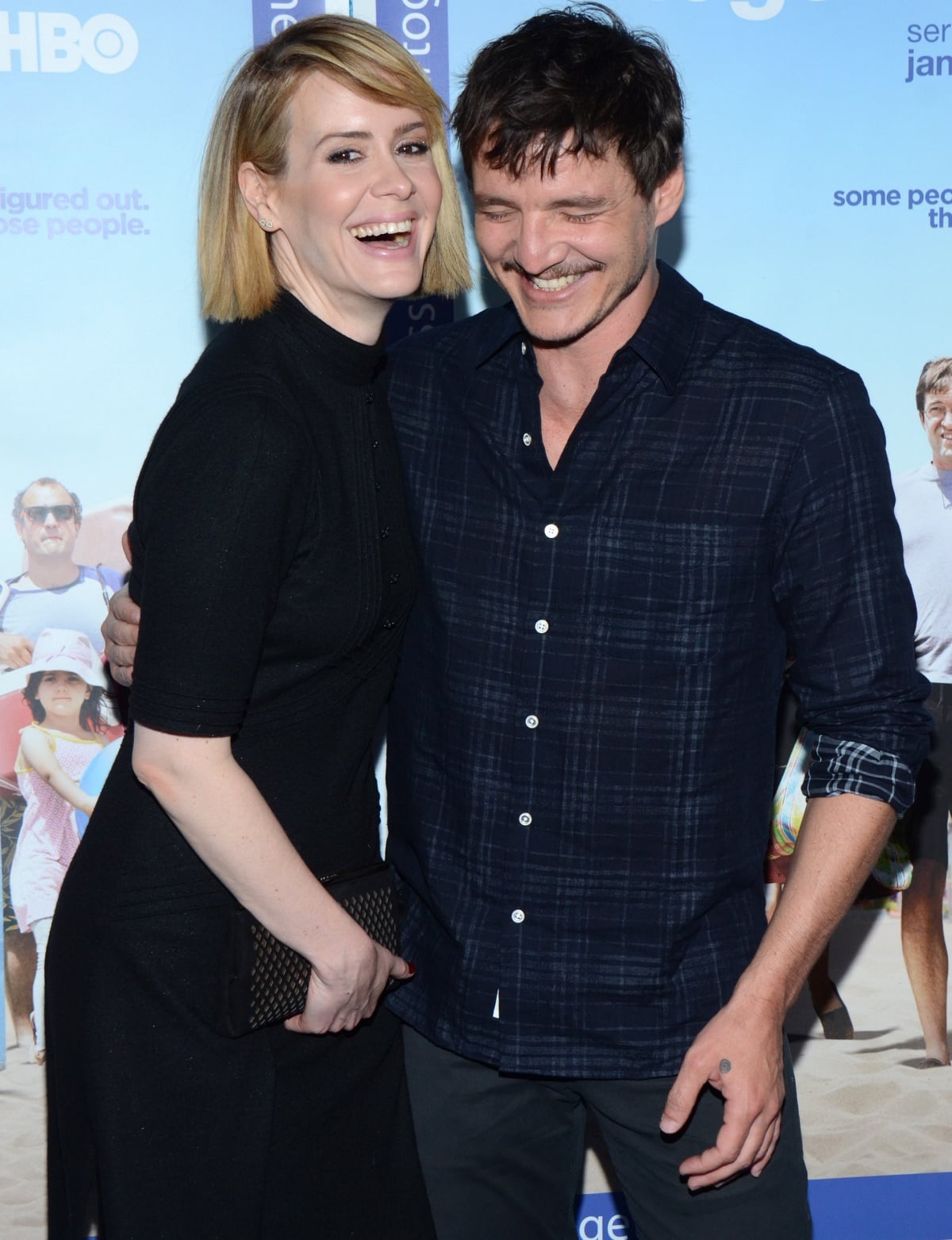 Sarah Paulson and Pedro Pascal having a good time at the premiere of HBO's Togetherness at Avalon Hollywood in Los Angeles, California on January 6, 2015 (Credit: INFphoto)
The actor revealed, "I was really lucky because my first friend at NYU lived in Brooklyn, Kristen, and went to high school with you, so your guys' posse kind of adopted me."
When Paulson asked Pascal about the other posse members, the actor recalled their time spent in New York City, saying, "I remember everybody! There are a couple of things that I probably shouldn't say about all of us – we were 18-year-olds in New York City in 1993. [But] I remember all of us going to the Upper East Side. I insisted that we all go see that movie Fearless."
They all headed to the park after the movie ended, and there they just so happened to bump into Woody Harrelson.
Pascal remarked, "We were the two people who knew exactly who he was and fanned out a little bit. Nobody else cared. We had our little celebrity sighting moment, and that, in retrospect, was our first step towards bonding."
When They Briefly Lost Touch but Reconnected
In that same interview in 2014, the two said that "a period of estrangement" occurred between them due to their careers changing.
Paulson said, "I think we went through a period where we didn't talk as much, but it was never because we were fighting."
Pascal clarified that it was because Paulson relocated to Los Angeles to advance her acting career. He said, "You were the first of all of us that started working and never stopped."
View this post on Instagram
However, it wasn't for long, as they reunited when Pascal traveled to Los Angeles several years later.
The actor remarked, "I came to LA for a bit and then went back to New York. Even after going back to New York, we somehow went into chapter two of our friendship that — we attached to each other and haven't been able to let go."
It was that wild night out in New York City, according to Paulson, that helped them become friends.
She said, "I think when you get knocked off by a cabbie, and you see Woody Harrelson, and you see Fearless all in one day, you're either bonded for life, or you'll never see each other again."
Pascal and Paulson's Public Appearances
The two actors kept running into one another after Paulson joined American Horror Story as a regular cast member and Pascal rose to stardom as a Law & Order star.
For instance, they both attended the 2014 SAG Awards ceremony in Los Angeles, where they posed for a few photos together.
Following that, they started going out on dates regularly on red-carpet occasions like the 2014 Producers Guild Awards and Directors Guild of America Awards in Beverly Hills.
Sarah Paulson and Pedro Pascal were all smiles as they posed for photographs together on the red carpet at the 2016 Screen Actors Guild Awards (Credit: INFphoto)
They also reconnected in New York City in 2014 for the premiere of The Normal Heart.
In 2015, Paulson and Pascal appeared in public together on multiple occasions to start the year off. They were spotted hanging together at the Golden Globes afterparty, just days after attending the Togetherness Los Angeles premiere.
At the SAG Awards that year, they also took pictures with Amanda Peet. Then, the two attended the 2016 SAG Awards together after bumping into one another at the event the two previous years.
What Paulson Says About Pascal's Career
Paulson raved to Pascal and Access Hollywood in 2016 about how, at age 40, the actor had "become this enormous thing" in the industry.
In an interview with Hayley Campbell, the actress shared his thoughts about Pascal.
She said, "I have a very good friend named Pedro Pascal, and he had a similar thing with Game of Thrones."
After years of knocking on doors and failing to land the roles he needed, Pascal's career took off after making an appearance in that series.
Paulson continued, "He and I talk about how grateful we are that [the success] happened when it did. We are so aware of how rare these kinds of things are, how hard-fought they were for both of us, that we don't take any of it for granted."
Paulson's Heartwarming Instagram Posts With Pascal
Sarah Paulson made sure to get a seat for the performance to witness her best friend Pedro Pascal, who was making his Broadway debut as Edmund in King Lear in 2019.
The actress posted on Instagram a couple of snapshots of the duo sharing a heartwarming moment, with a caption, "I love you @pascalispunk what an extraordinarily moving thing to witness your Broadway debut. I am in awe of you. ❤️ @kinglearbway."
View this post on Instagram
Additionally, the actress posted pictures of Pascal on Instagram in honor of his 45th birthday in 2020.
She began her message with "Happy Birthday @pascalispunk," then referred to their night out in New York City all those years ago.
Paulson continued, "Long-standing, always enduring, ever-evolving friendships feel particularly poignant these days- Woody Harrelson, Central Park, and Fearless forever. I love you now and always. Here's to more of all of it."
View this post on Instagram
Pascal's Sweet Dedication to Paulson
In response to Paulson's heartfelt birthday Instagram post for Pascal, the actor gave her some birthday love by making a post, especially for the actress's 46th birthday.
Pascal wrote, "Dancing to Prince with this woman for more than half my life. Happy birthday you f*cking goddess. #PostedWithoutPermission #NeverTooBold @mssarahcatharinepaulson."
View this post on Instagram
It's not uncommon for fans to speculate about the personal lives of their favorite celebrities.
In the case of Pedro Pascal and Sarah Paulson, their close friendship and frequent public appearances together have led some fans to believe that they are married.
However, it's important to note that Paulson is currently in a relationship with Legally Blonde star Holland Taylor since 2015.