Pixie Geldof was out partying to celebrate her 23rd birthday party. The birthday girl was looking her usual put-together self in a cropped tank top, leather flare skirt, coat, bejeweled sandals and leopard-printed crossbody bag.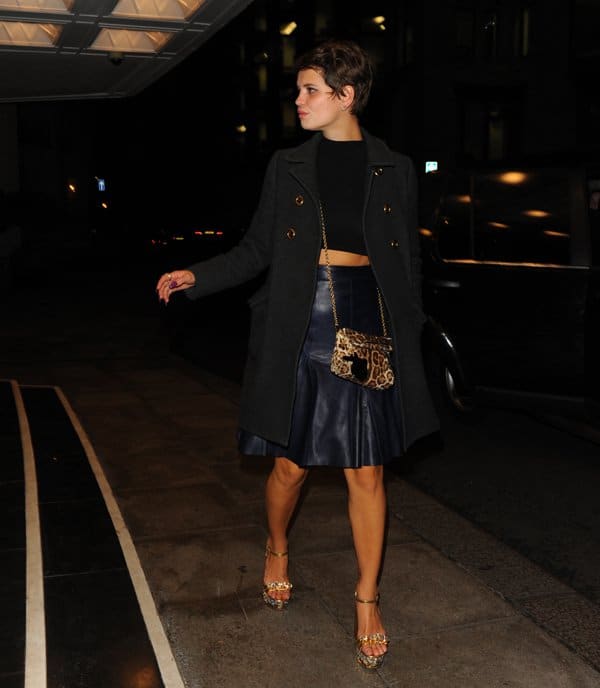 Pixie Geldolf celebrated her 23rd birthday with a party at China Tang within The Dorchester Hotel. She was seen with a male companion and Harry Styles in London on September 18, 2013

Pixie shows a lot of maturity in her clothing choices despite the young age of 23. Her timeless style sets her apart from her equally stylish peers like Cara Delevingne.
This is, in fact, one of our favorite outfits of hers just because it has the right pieces that created a balanced look – just enough bling, print and modern touch. You'd definitely do well to copy this not only for a night time look but also for day time.
Pixie's skirt is from Erdem so if you want to get the exact piece, check it out: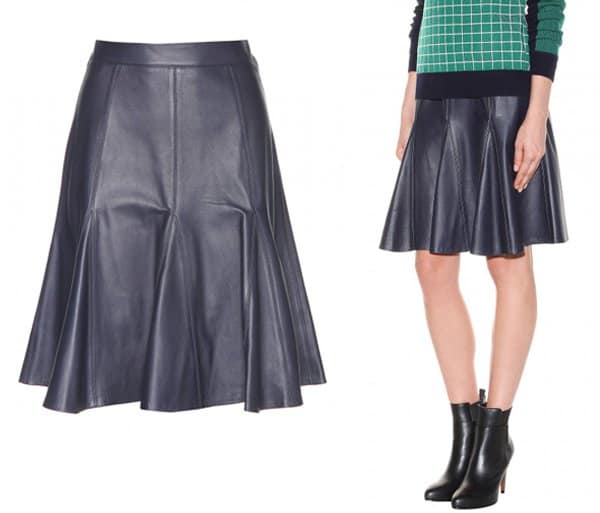 Erdem Michaela Leather Skirt, £1090.00
The skirt alone will empty many people's shopping savings, so if you want to covet her style sans robbing the bank, get these pieces:
Halogen Varsity Pleat A-Line Skirt, $79.00
Riot Crop Top, $28.00
London Fog Quilted Flap Double Breasted Trench Coat, $168.00
Dezario Vibe Wedge Sandal, $129.95
Natasha Couture Leopard Print Shoulder Bag, $42.00
The skirt has a similar structure to Pixie's so this will still work if you are aiming for the same silhouette.
Credit: WENN