Following a whirlwind trip to Paris for the fashion week, Alessandra Ambrosio jumped right back into her workout routine as soon as she landed back in LA.
On Tuesday, the 40-year-old supermodel showcased her toned body in a gray cropped tank top that put her enviably taut abs on full display.
29 years earlier, she had had plastic surgery at age 11 to improve the appearance of her ears.
Alessandra Ambrosio flashes her abs in a gray cropped tank top and Alo joggers after a workout in Los Angeles on October 12, 2o21 (Credit: Mega / WENN)
The brunette model told Net-A-Porter's The Edit in 2013 that she went under the knife because she dreamed of being a model. Ear pinning is a type of otoplasty that draws protruding ears closer to the sides of the face. It's commonly performed on young children.
Unfortunately, the doctor her parents found in her hometown of Erechim, Brazil, was inexperienced and had only carried out the surgery once before.
Alessandra Corine Ambrosio was born in Erechim, Brazil, and had her first plastic surgery when she was 11 years old (Credit: YoutTube)
"I always knew I wanted to be a model so I decided to have my ears pinned back because they stuck out a bit. I found this doctor in my hometown in Brazil who had only done it once before, so I was a guinea pig," the Brazilian beauty said.
"The first few nights, it felt like someone had cut off my ears. For a year, I had to go back for mini-surgeries."
"Doctors say they can fix them, but cosmetic surgery freaks me out now," she added.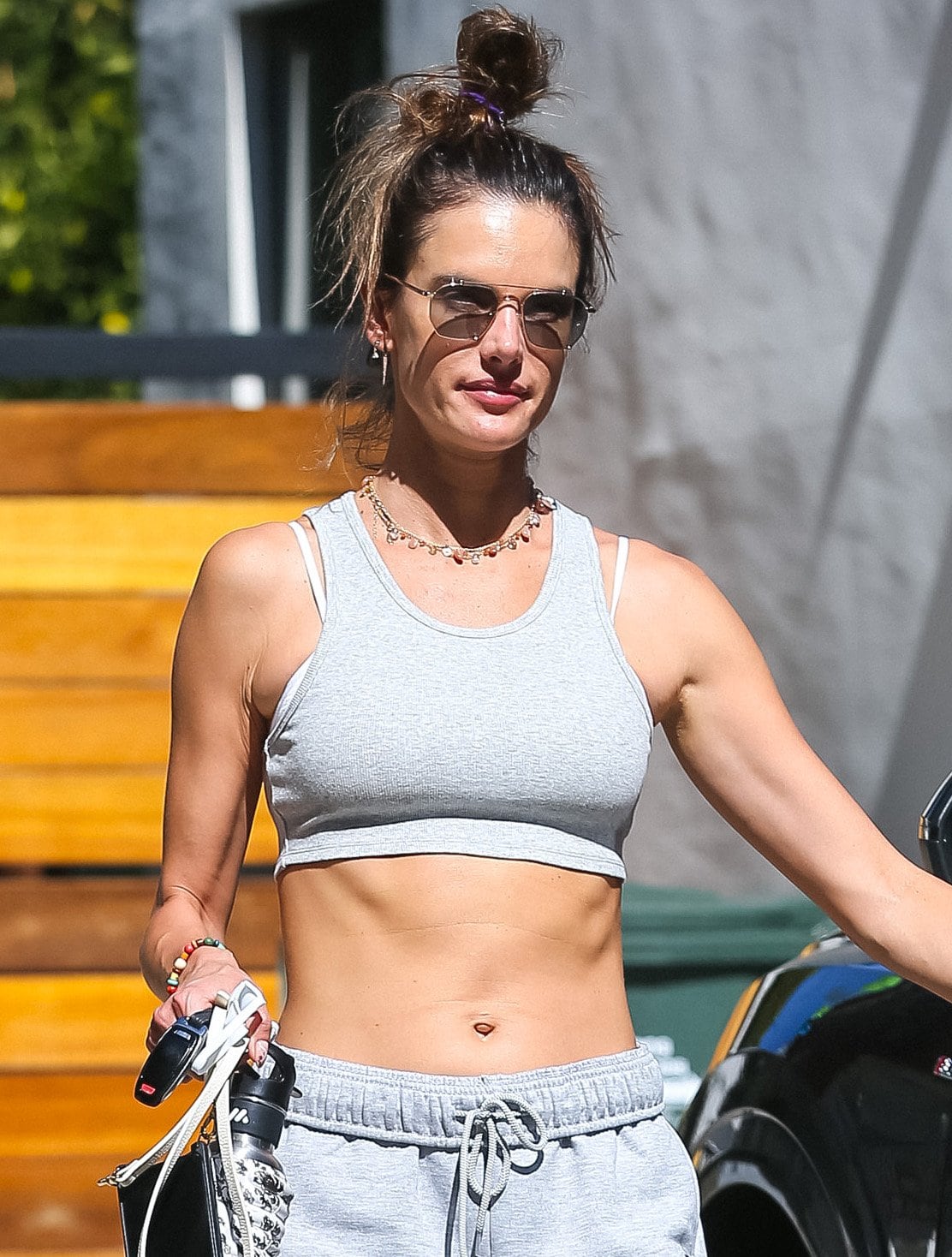 Alessandra Ambrosio ties her tresses into a messy top knot and wears minimal makeup (Credit: Mega / WENN)
Alé paired the sexy bra top with a pair of $108 matching gray Alo Accolade joggers, which she rolled up to her mid-calf.
The Brazilian beauty then pulled her long brunette tresses up into a messy top knot and wore minimal makeup with a pair of Vehla sunglasses covering her eyes.
Adding some style to her athleisure, she accessorized with a beaded necklace, a bracelet, and a silver watch.
Alessandra Ambrosio completes her gray workout outfit with New Balance 990v5 sneakers (Credit: Mega / WENN)
A comfy pair of New Balance 990v5 sneakers rounded out her low-key workout look.
An iconic shoe from the brand, these shoes feature a gray mesh upper with pigskin suede trims, a padded collar, and a rubber sole.
New Balance 990v5 Sneakers, $175 at Shopbop
These New Balance sneakers update the signature 990 silhouette made popular in the '70s
On the first day of this month, Richard Lee's girlfriend joined her fellow supermodels Karlie Kloss and Irina Shayk at the 100th Anniversary Exhibition of Vogue Paris in the French capital.
Alessandra Ambrosio arrives at Vogue Paris 100th Anniversary Exhibition on October 1, 2021 (Credit: Mega / WENN)
Never one to shy away from flaunting her fit model figure, the mom-of-two wore a daring two-piece ensemble from Monot's Spring/Summer 2021 collection.
She displayed her abs and ample cleavage in a tiny black bralette teamed with a contrasting white floor-length skirt that features a daring hip-high slit.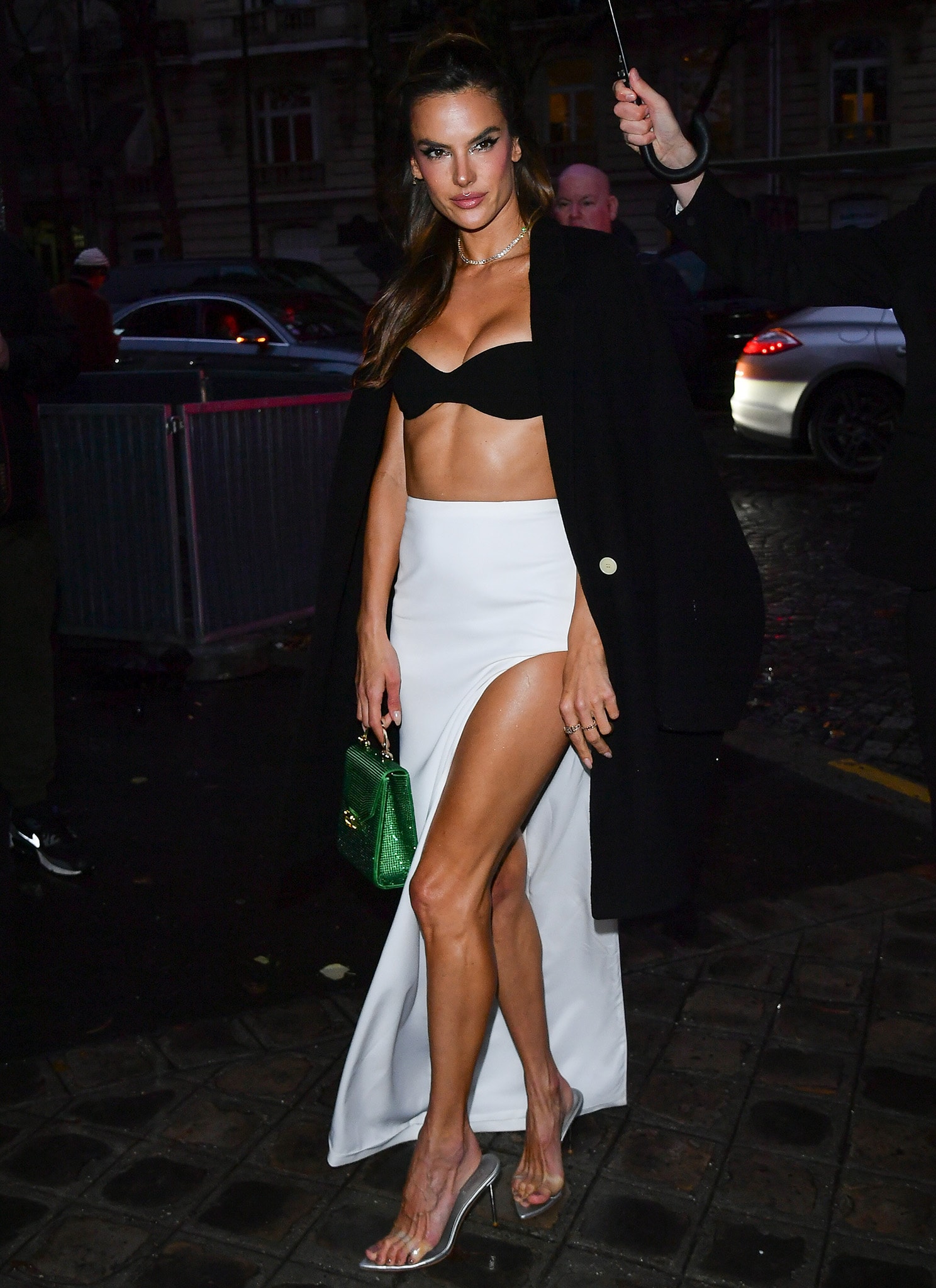 Alessandra Ambrosio flashes her assets in Monot tiny bralette and white maxi skirt with a thigh-high slit (Credit: Mega / WENN)
Styled by Heather Smith, Alessandra accessorized her outfit with a necklace and a couple of rings and added a pop of color to her outfit with a sparkling green handbag.
Continuing with the sultry theme of her look, makeup artist Carolina Gonzalez applied bold winged eyeliner, shimmery eyeshadow, and nude lipstick to Ale's gorgeous face.
Hairstylist Laura Polko then styled her brunette locks in a chic half-up 'do with soft waves cascading over her shoulders.
Alessandra Ambrosio flaunts her boobs with winged eyeliner, shimmering eyeshadow, and a half-up wavy hairstyle (Credit: Mega / WENN)
A pair of Femme LA Azúcar slide stiletto sandals completed Alessandra's evening look. These minimalist heels have a clear strap along with the toes, pointed open toes, and 4.5-inch slim heels.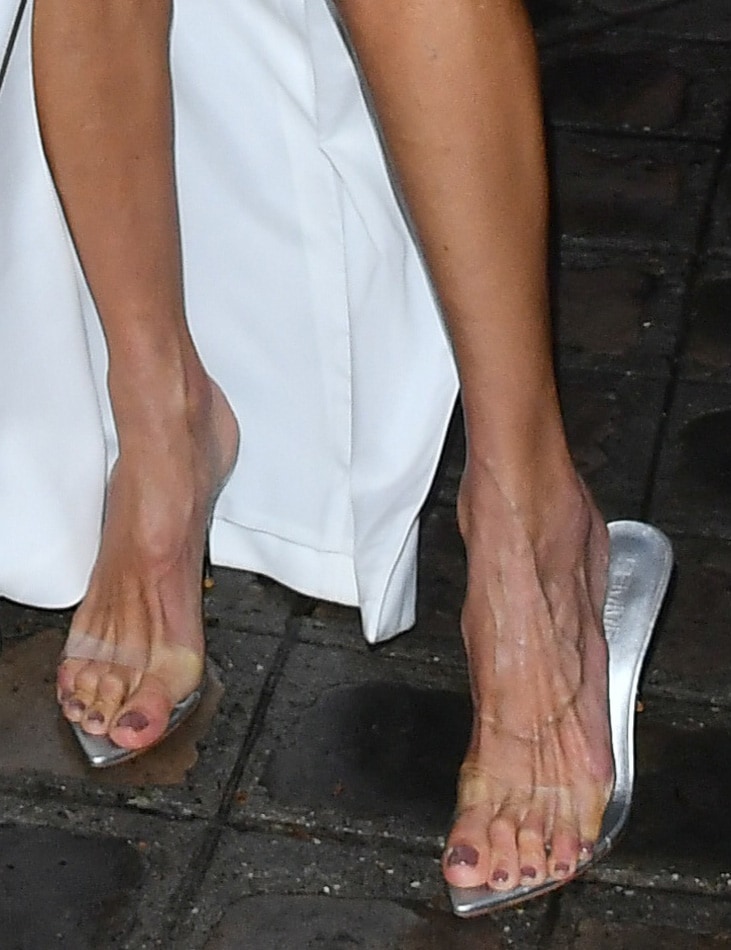 Alessandra Ambrosio slips her pedicured feet into a pair of clear slide heels from Femme LA (Credit: Mega / WENN)
Femme LA Azúcar Slipper, $189
The Azucar slide heels from Femme LA feature clear front straps and metal stiletto heels
During Paris Fashion Week, Alessandra graced Isabel Marant's Spring/Summer 2022 runway presentation, wearing, of course, an ensemble from the French fashion designer.
The runway maven wore a black semi-sheer embellished mini dress with puff sleeves and an asymmetrical hem. Giving the look a touch of her signature bohemian style, Alessandra added a boho-inspired belt that helped highlight her trimmed waist.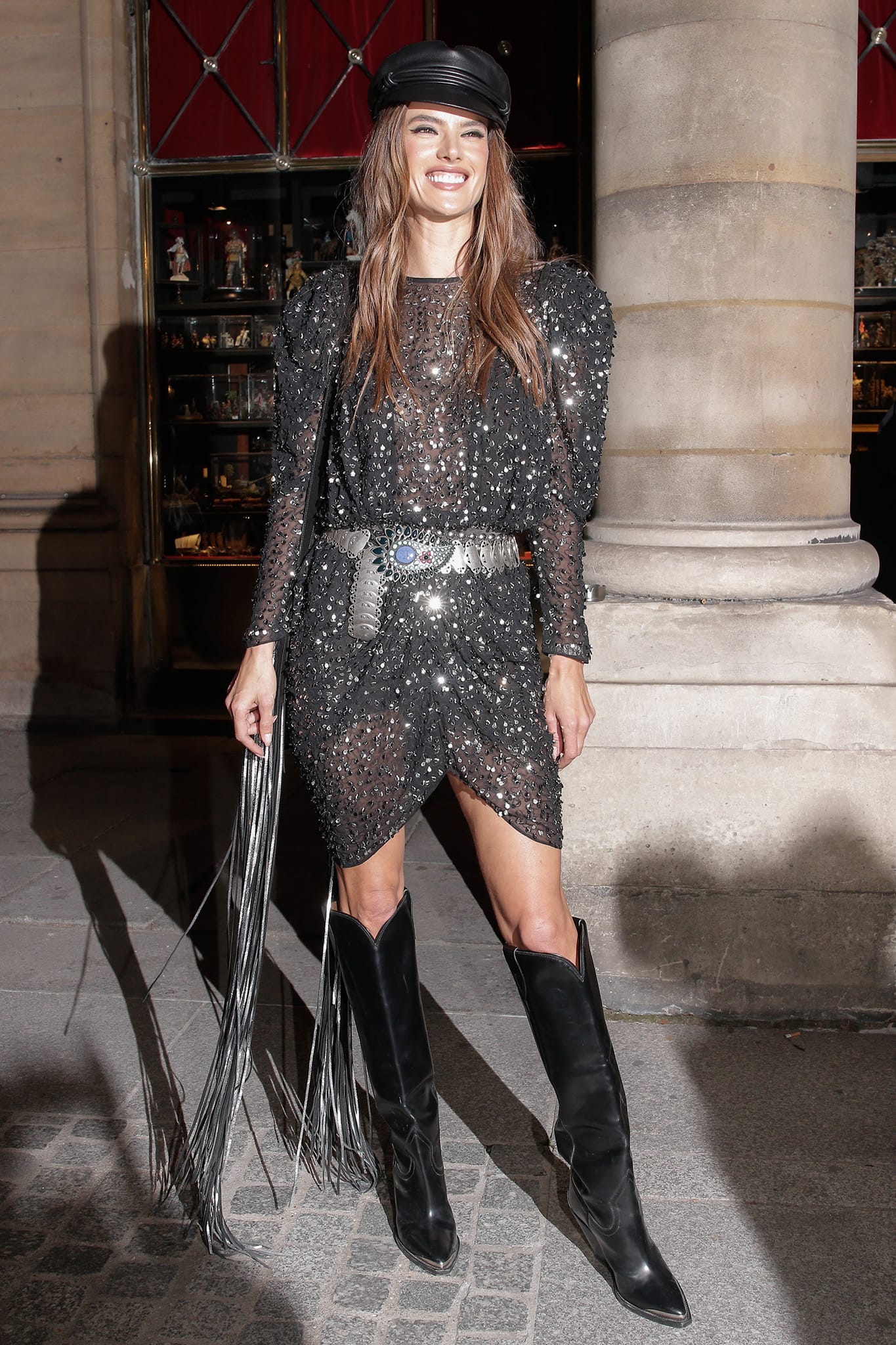 Alessandra Ambrosio dazzles in an embellished semi-sheer mini dress at Isabel Marant's show during Paris Fashion Week on September 30, 2021 (Credit: Mega / WENN)
She then wore her tresses down in soft waves, styled with a black leather baker boy cap, and glammed up with heavy smokey eyeshadow with winged eyeliner and nude lipstick.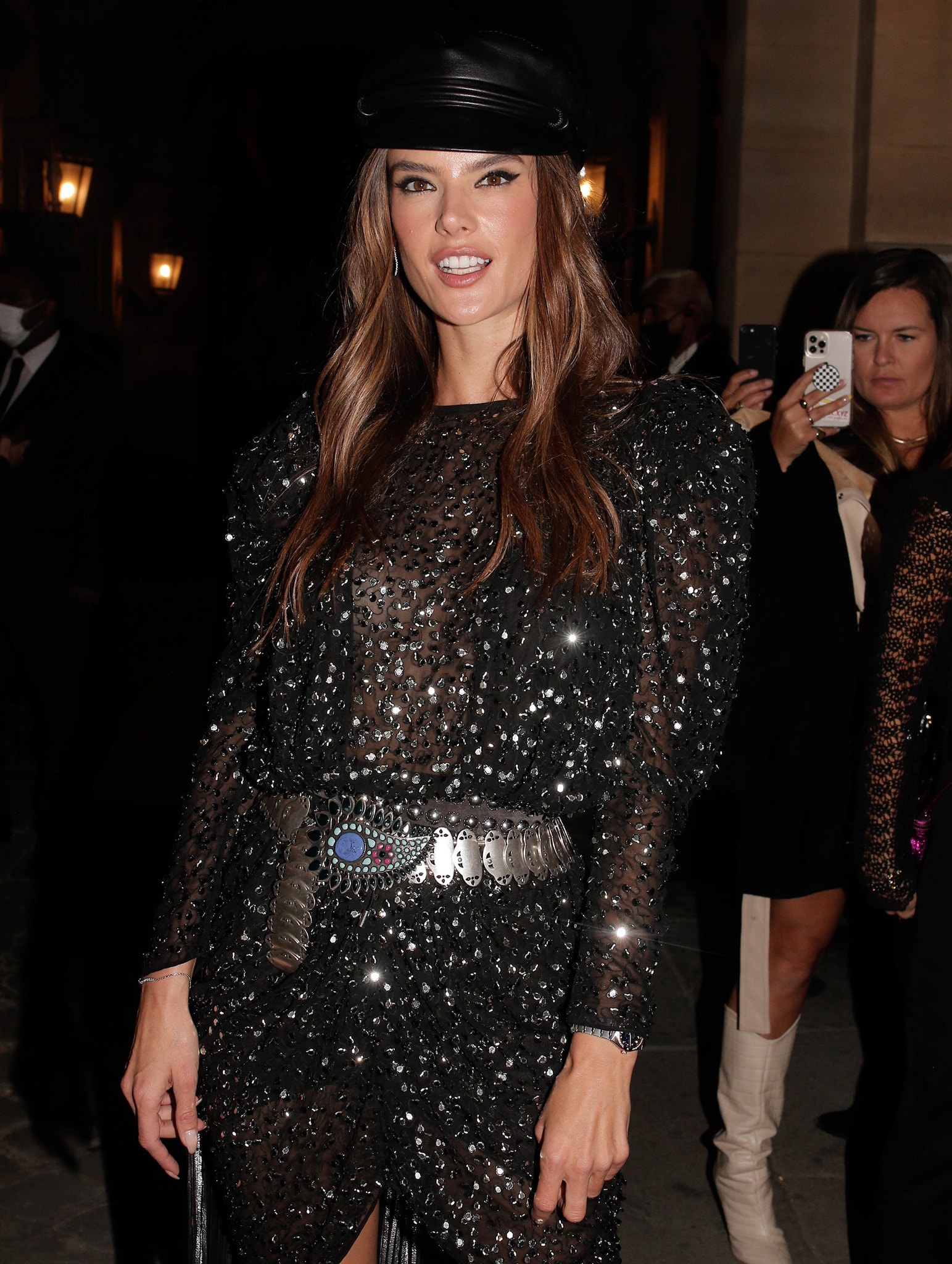 Alessandra Ambrosio styles her brunette hair in soft waves with a baker's boy cap and wears winged eyeliner with nude lipstick (Credit: Mega / WENN)
Completing her boho-chic red-carpet look, Alessandra carried a black bag with floor-length tassels and slipped her feet into a pair of black knee-high boots.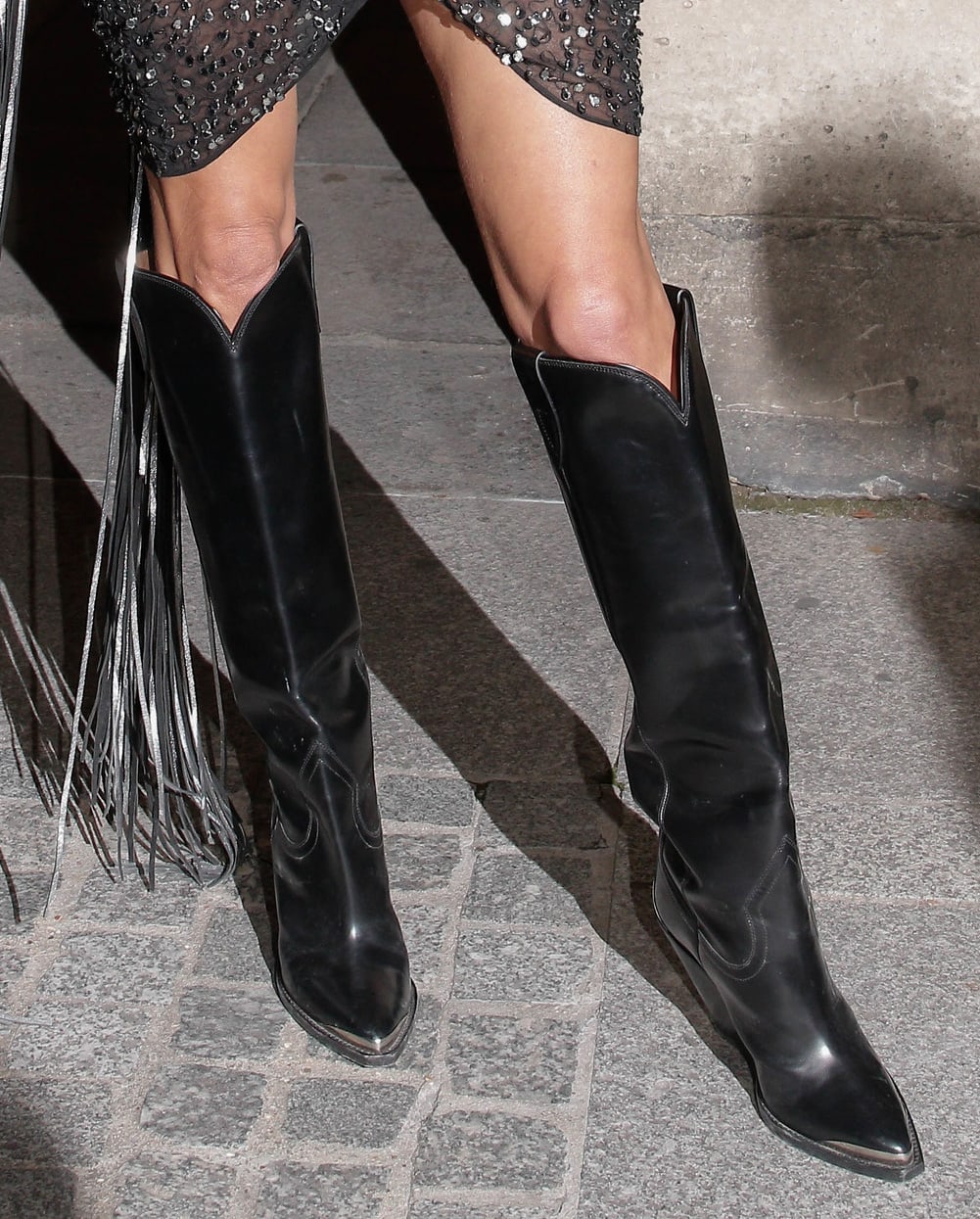 Alessandra Ambrosio completes her boho-chic red carpet look with black leather knee-high boots (Credit: Mega / WENN)
Making the most of her time in Paris, Alessandra also attended Thierry Mugler's Couturissime exhibition.
Working her angles, the former Victoria's Secret Angel posed up a storm on the black carpet and showcased her boobs in a semi-sheer purple mini dress that put her cleavage and slim curves on full display.
Alé paired the sexy lingerie-style frock with matching sheer tights and added a chic blue coat thrown over her shoulders.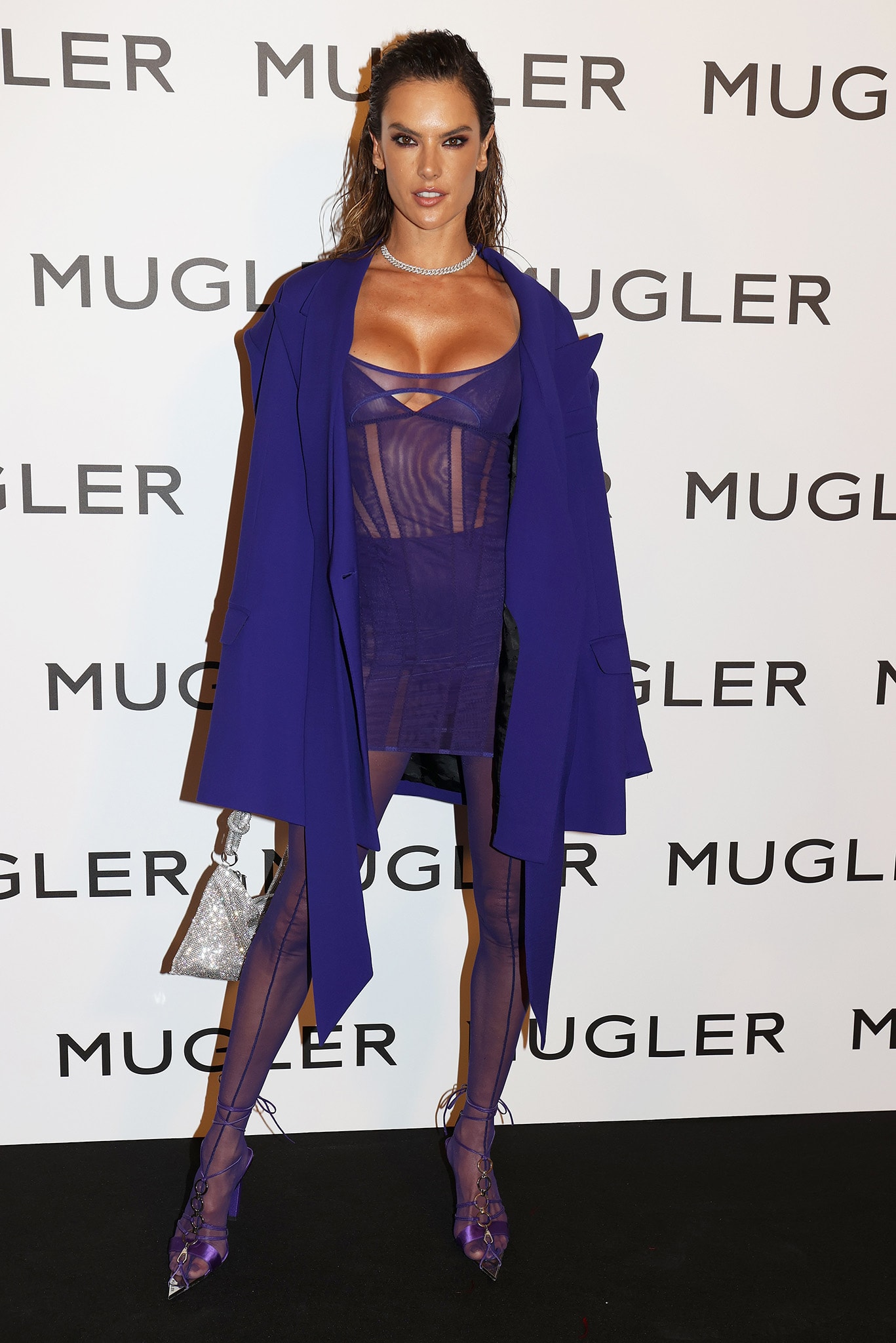 Alessandra Ambrosio showcases her cleavage and boobs in a purple sheer mini dress at the Thierry Mugler: Couturissime exhibition on September 28, 2021 (Credit: Mega / WENN)
Keeping the sultry vibe going, Alessandra wore a slicked-back wet hair look with smokey eye-makeup and nude lipstick.
She then added sparkles to her outfit with a diamond choker necklace, a bracelet, a ring, and a crystal-embellished silver handbag.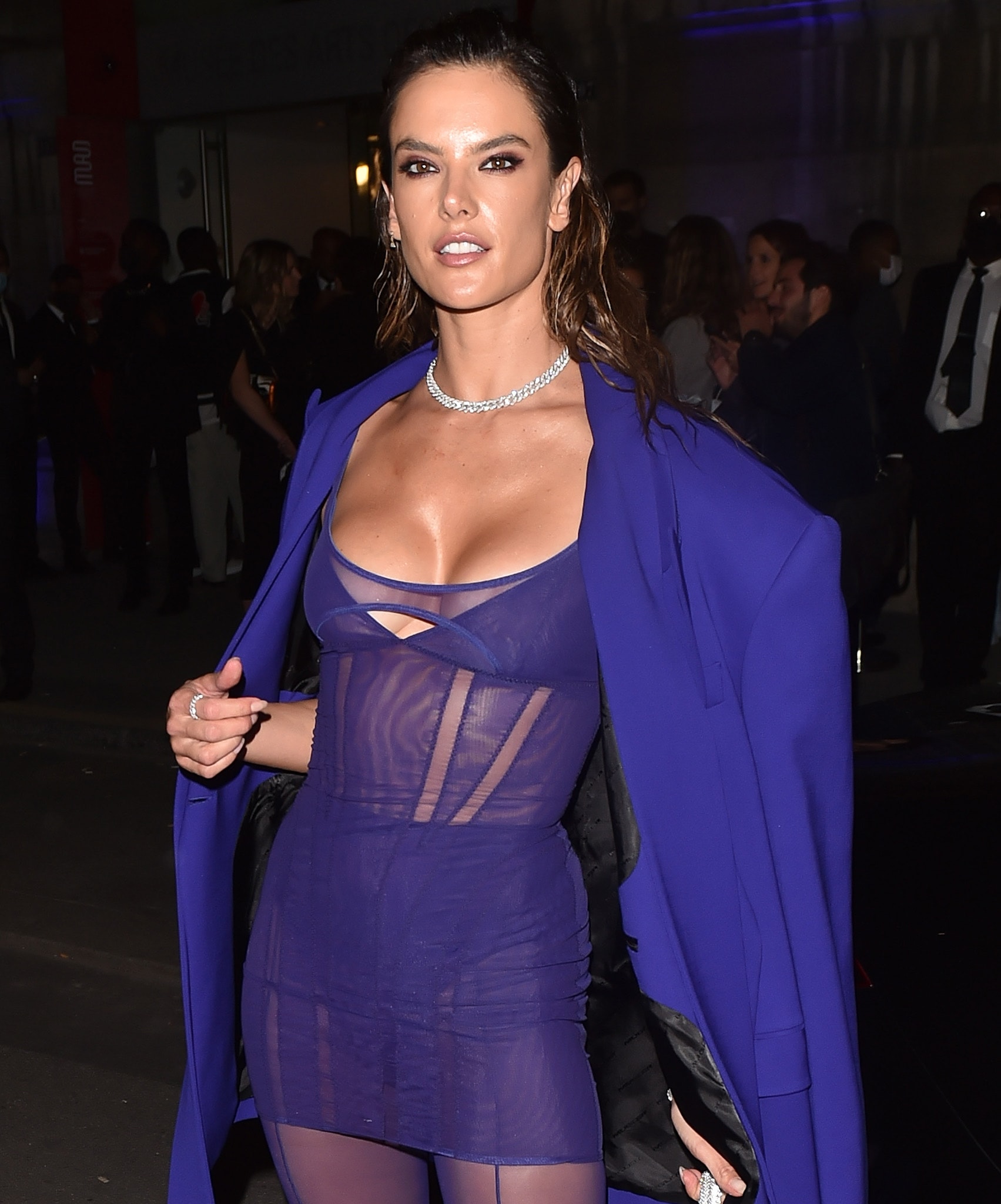 Alessandra Ambrosio continues the sultry look with slicked-back wet hair and smokey eye-makeup (Credit: Mega / WENN)
To complete her head-to-toe purple look, Alessandra slipped into a pair of purple satin lace-up heels with open pointed toes and gold rings along the front.
Alessandra Ambrosio completes her head-to-toe purple ensemble with purple satin lace-up sandals (Credit: Mega / WENN)