Suns out, thighs out! Summer is the perfect tie to update your closet. If there's anything you should be splurging on, it's new shorts. These closet essentials will keep you feeling cool and looking chic all summer long.
If you're plus size, it's easy to find shorts intimidating. Whether you're a fan of denim or leather, the idea of the shorts can feel daunting at first. Most plus-size women struggle with the idea of wearing shorts – especially during summer.
In reality, there's nothing to worry about. We believe that every body type is a summer body. There are shorts out there for everyone – including plus-size women. You just need to know where to shop.
Plus-size women embracing their curves in flattering shorts (Credit: staras / Bangkok Click Studio / Shutterstock)
That's where our guide for the best plus-size shorts for summer 2022 comes in. We're deep-diving into the world of plus-size shorts to help you find the perfect style for you. Our list contains tried and tested favorites like Good America and iconic brands like Levi's.
Get ready for summer 2022 with our list of the best shorts for plus-size women.
Can plus-size women wear shorts?
Plus-size women and curvy girls can wear shorts in summer. This year, embrace body confidence and show your legs some love by stepping out in a pair of shorts. Trust us. There's a flattering style of shorts out there for every body type, including plus-size women.
Finding the perfect shorts for you can take a little trial and error. Finding the right size can be the biggest challenge of them all.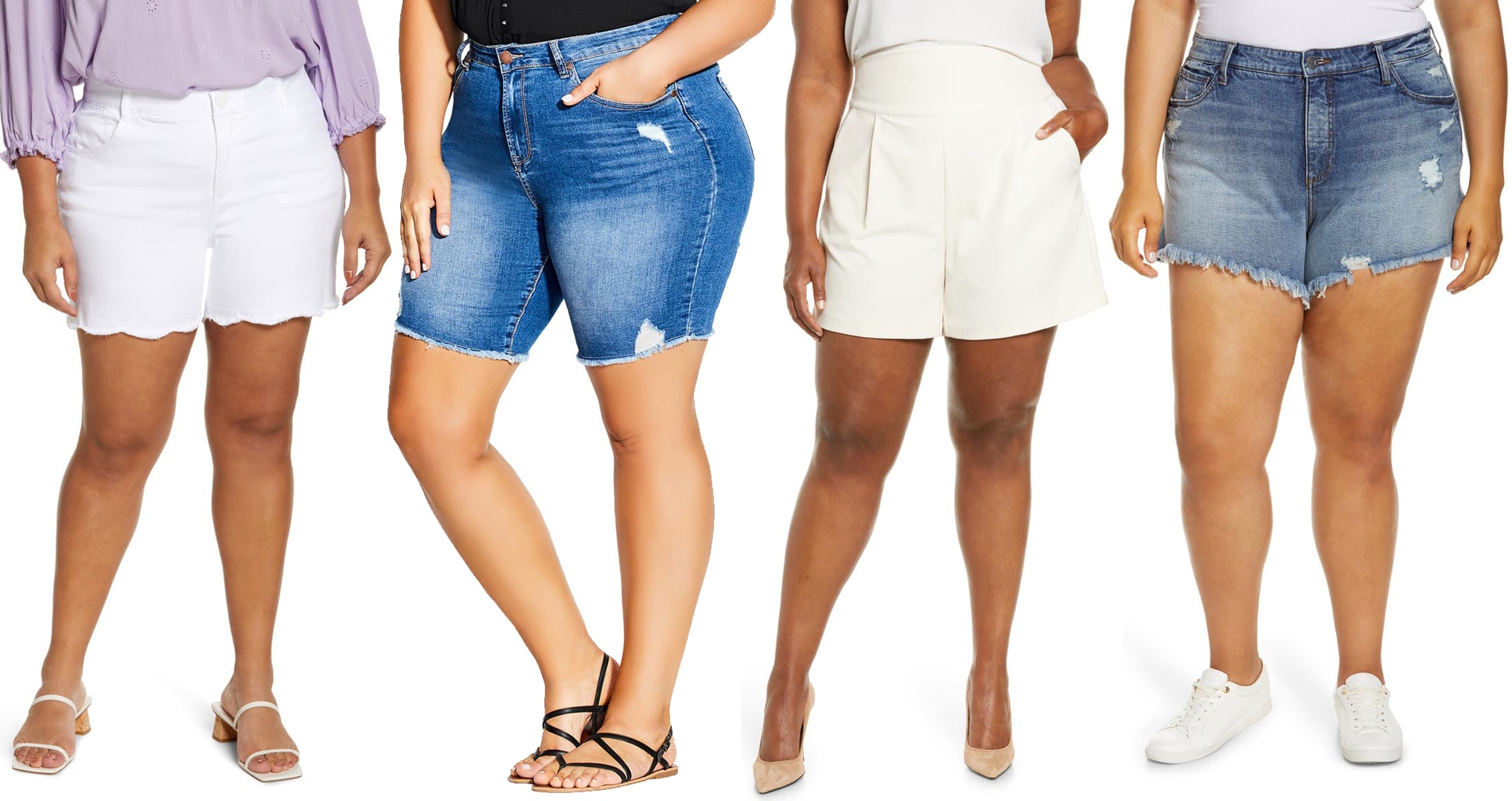 High-rise shorts are plus-size women's best friend
Every body type is different—from your height to the size of your thighs. The good news is that there are dozens of styles that you can choose from as a plus-size woman.
There are some key characteristics that you want to shop for when buying shorts as a curvy woman. A high-rise silhouette is your best friend. It helps to accentuate your curves and is often more comfortable and flattering.
Fabric and sizing can be just as important. You may get a more flattering look by sizing up your shorts for extra comfort.
The 8 best plus-size shorts for summer 2022
Are you not sure where to start when shopping for plus-size shorts? Don't worry, we've got your back!
This list covers the best plus-sized shorts for summer 2022. We've included some of our go-to brands, such as Good American, Everlane, and Levi's – with a few new favorites.
1. Better than Leather Shorts, $119 at Good American
Khloe Kardashian's Good American brand has grown a cult following for its plus-size fashion. This size-inclusive brand is one of the most popular plus-size shorts for summer 2022.
A bestseller, Good American's Better than Leather shorts are the perfect shorts to level up your lounging
One of the best-selling styles from Good American is its "Better than Leather" shorts. These shorts include a leather-like material and have a loose fit with side pockets and a drawstring waistband.
The high-quality faux leather fabric is lightweight and buttery soft, designed with all-day wearability in mind.
2. Retro Jersey Shorts, $45 at Everlane
Nothing beats a pair of casual shorts. The "Retro Jersey Short" by Everlane is one of our go-to for summer 2022.
These shorts are the casual athleisure go-to style that you can wear while working from home or relaxing during the weekend. This style is one of Everlane's best-sellers and is available in six color and print options.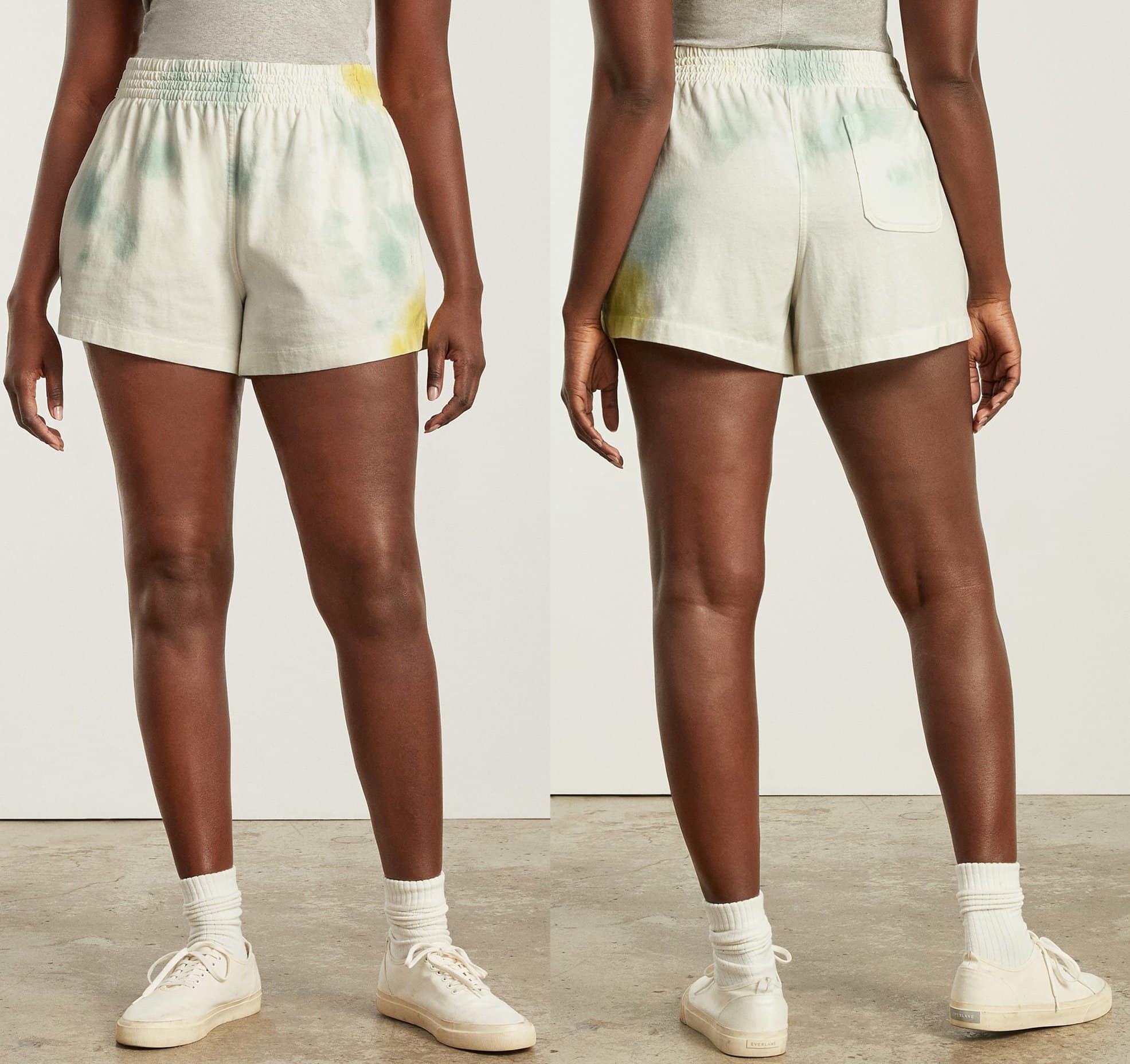 Everlane's Retro Jersey shorts are reminiscent of the '70s summer camp threads, with a relaxed fit, an elastic waist, and side and back pockets
The "Blue Slate Tie Dye" print is our top recommendation for summer 2022. This classic silhouette is easy to style with a t-shirt and sneakers for a relaxed look. If you like a laidback aesthetic, these are your new signature shorts for summer 2022.
3. Spanx Sunshine 6-Inch Shorts, $68 – $72 at Nordstrom
You want shorts in your closet that you can wear for any occasion. Enter the Spanx "Sunshine" shorts.
These 6-inch shorts are universally flattering with a lightweight and quick-drying fabric that is ideal for summer 2022.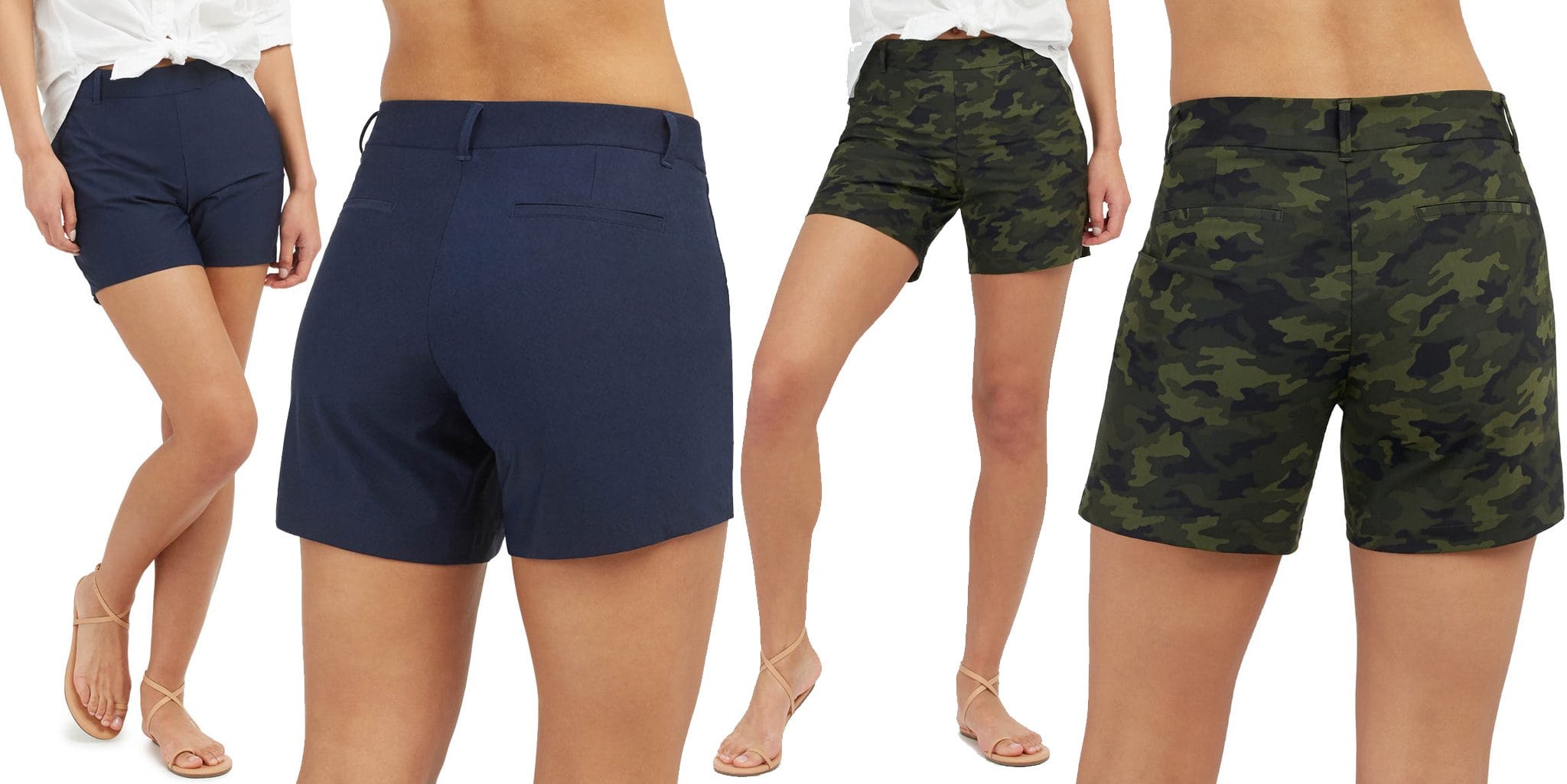 Available in plain and camo print, the Sunshine shorts by Spanx are made of lightweight, stretchy, and quick-drying nylon and elastane materials
The Sunshine shorts are available in up to a size extra-large with a pull-on silhouette and four-way stretch for added support. The 50+ UPF sun protection makes these shorts the ultimate plus-size purchase for summer 2022.
4. Open Edit Soft Pleated Shorts, $45 at Nordstrom
Do you want to incorporate shorts into your workwear closet? Look no further than this classic style from Open Edit.
These budget-friendly shorts have a pleated silhouette and are available in up to a size extra-large.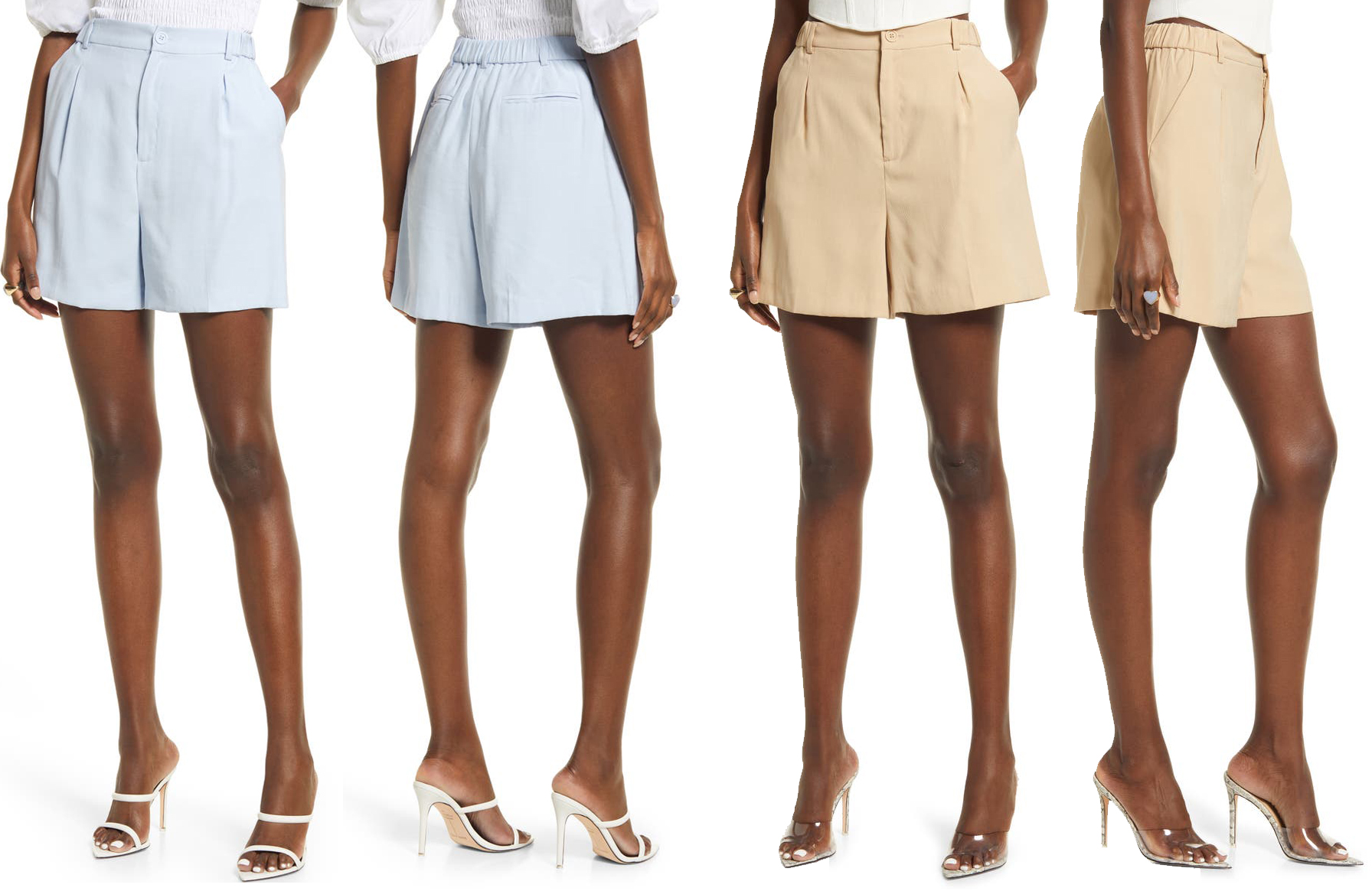 Open Edit's Soft Pleated shorts come in a minimalistic tailored pleats design and in up to a size extra-large
We love these plus-size shorts for their minimalistic look. You can choose from three color options, including "Blue Kentucky" in a soft baby blue.
5. Bombshell Short Split Pockets, $115 at Good American
Another option from Good American is the "Bombshell Short" with split pockets. These distressed denim jeans hug your waist and feature frayed hems for a laidback look.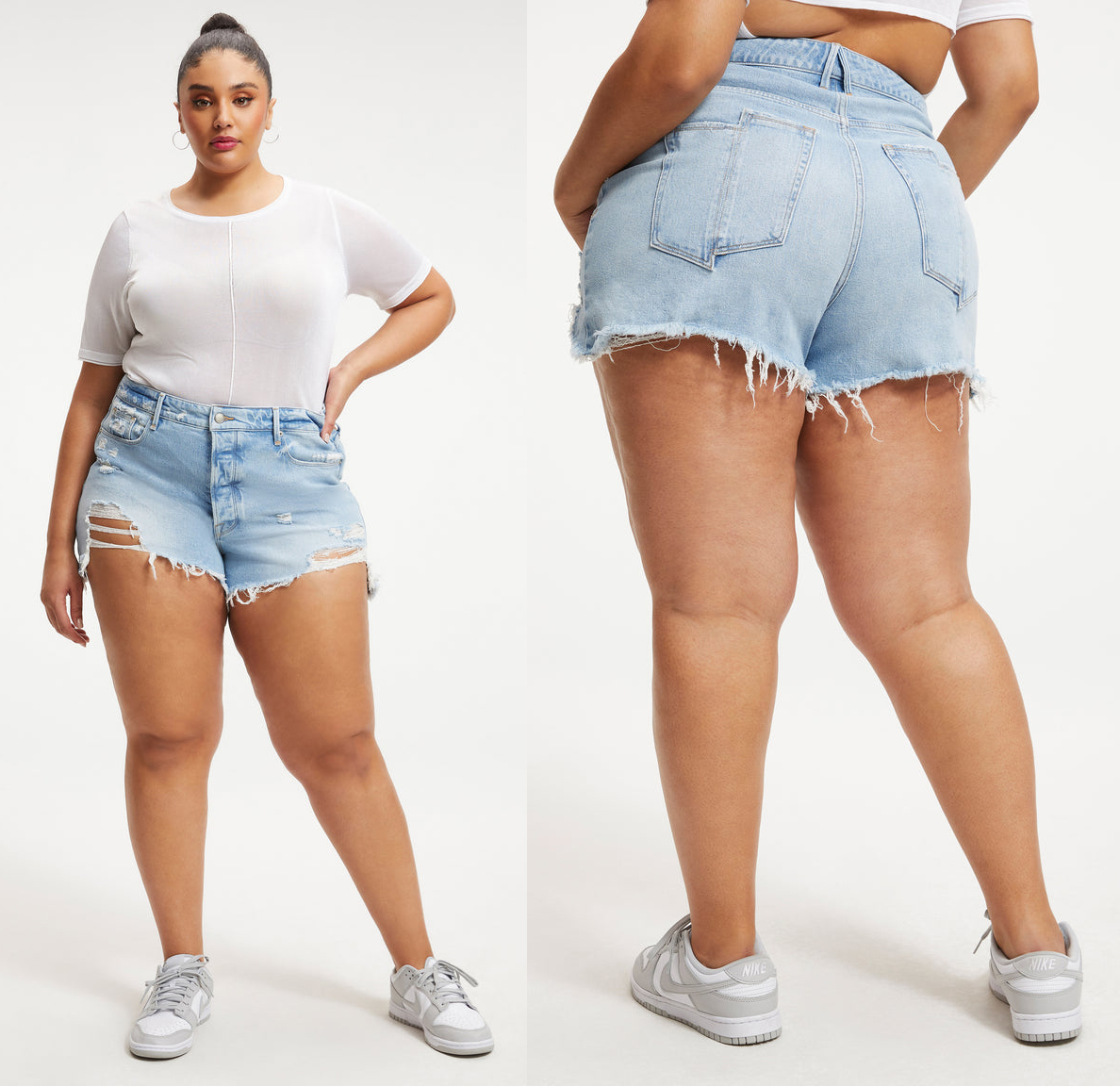 A flattering pair of shorts, the Good American Bombshell hugs the waist but is roomier at the hem
What makes these denim shorts unique is that they're made of 97% cotton for a comfortable feel. You can take your regular size in these plus-size shorts as the fabric offers a comfortable stretch.
6. Levi's High Waisted Mom Short, $49.99 (from $59.50) at Zappos
When you're searching for plus-size denim jeans, Levi's is one brand that should be top of your list. This classic denim brand has a dedicated plus-size range that includes several shorts.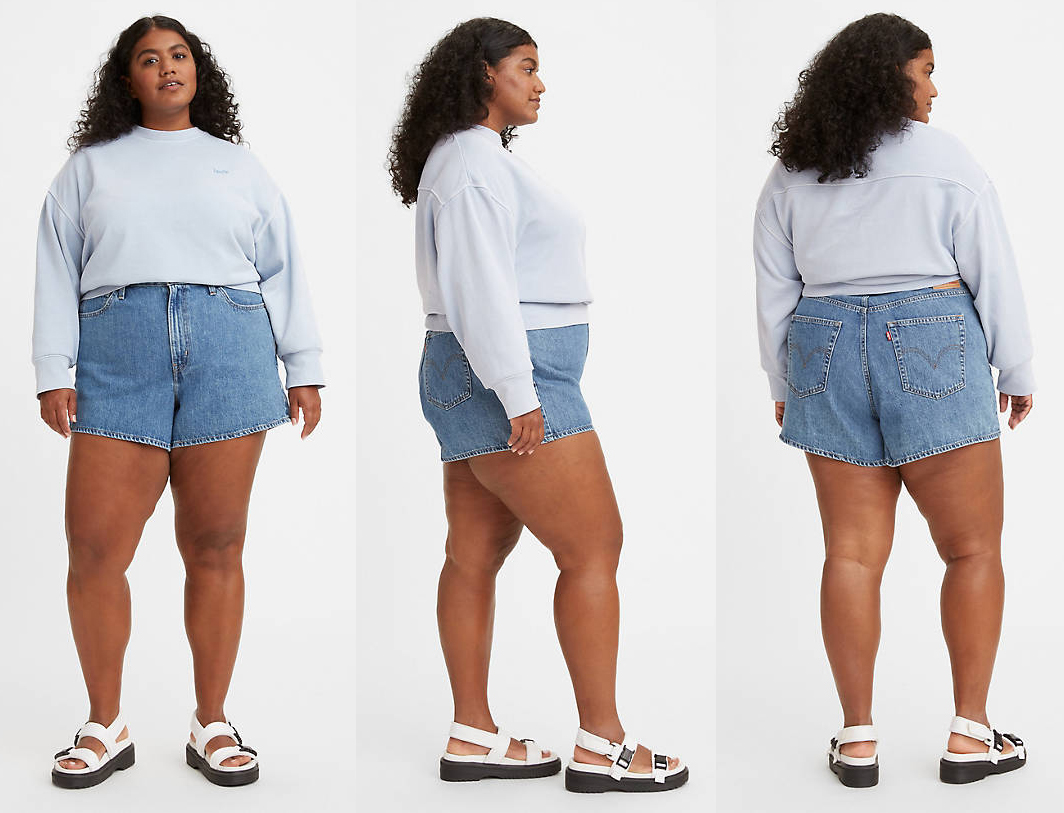 These Levi's high-waisted mom shorts are a summer staple, with a vintage-inspired high rise and an easy, relaxed fit
The high-waisted mom shorts are amongst the best-sellers for Levi and are available in black and indigo blue shades. This summer staple is vintage-inspired with its relaxed fit and high-rise silhouette.
7. The Way-High Canvas Short, $60 at Everlane
No closet is complete without high-waisted canvas shorts. This style by Everlane is available in four neutral shades and up to a size 16.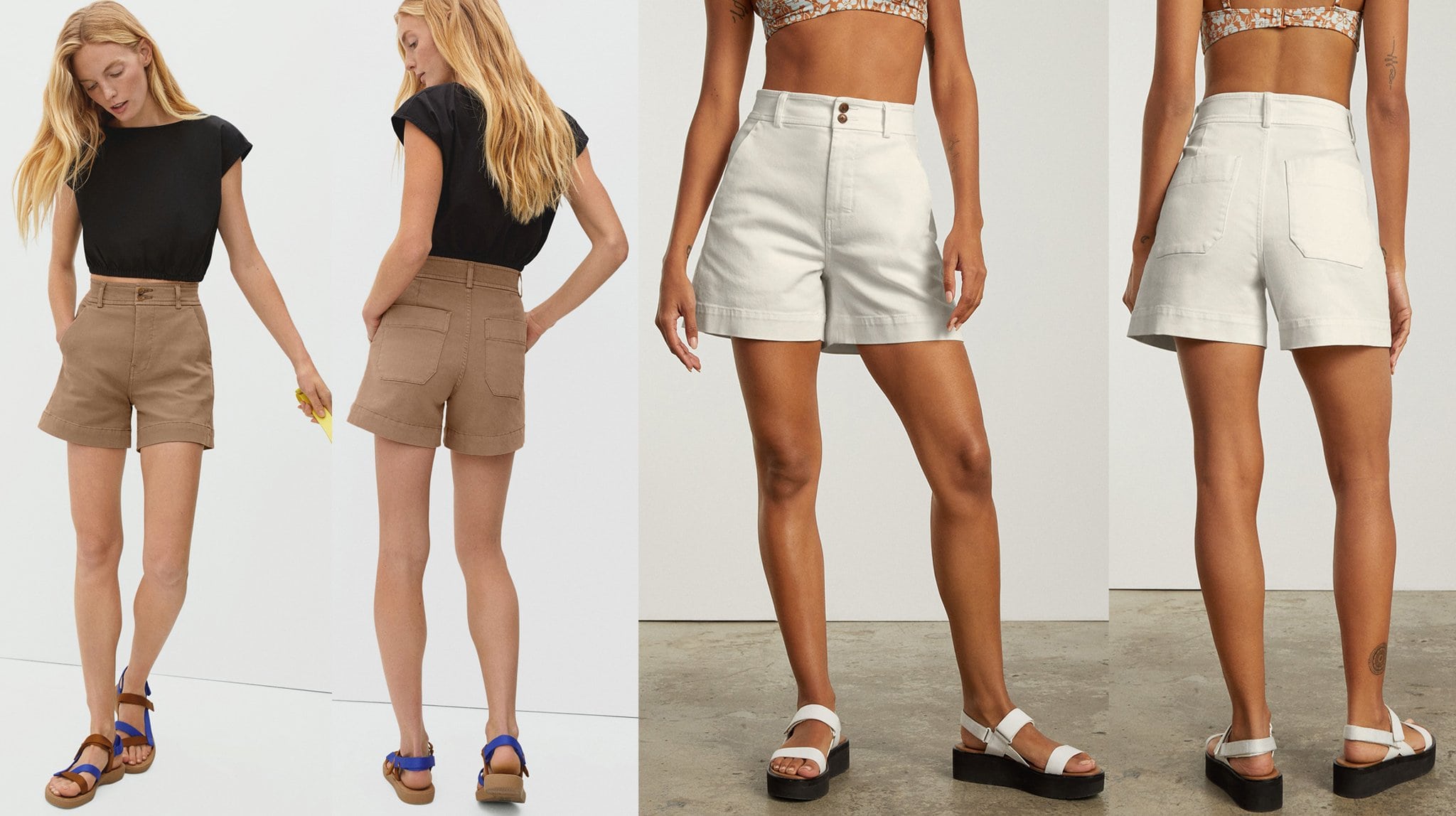 Everlane's signature waist-defining shorts, the Way-High Canvas is the brand's highest rise yet with a modern double-button closure and side and back pockets
Everlane's "Way-High" canvas shorts have a modern silhouette with a double-button closure and breathable cotton canvas with a little extra stretch. These plus-size shorts will make the perfect addition to your capsule closet or for your next summer vacation.
8. Free People The Way Home Shorts, $50 at Nordstrom
Do you want to add a quirky print to your closet? Look no further than Free People. This bohemian-inspired brand incorporates floral and feminine prints into its plus-size shorts.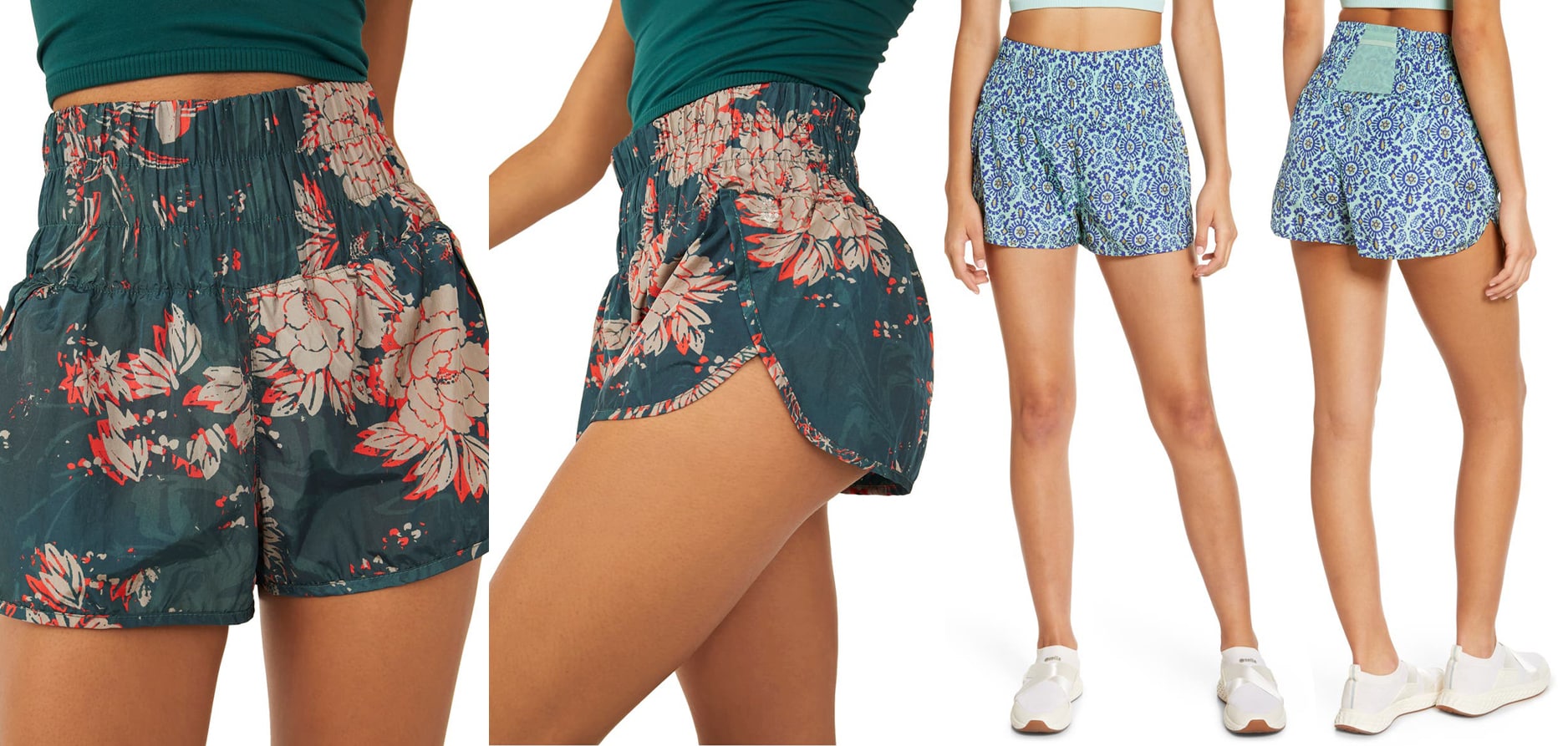 Free People's The Way Home features a flattering dolphin hem and an elastic waist for comfort
The "Way Home" shorts will take you from a morning workout to grabbing your afternoon coffee. These plus-sized shorts feature a breathable fabric, dolphin hem, and elastic waist for extra comfort.
Which of these shorts will you be adding to your closet for summer 2022?