Do you know how they say it's hard to look away from a trainwreck? Well, these days, it's hard not to pay attention to all of the drama surrounding Don't Worry Darling, the latest feature film directed by actress-turned-director Olivia Wilde.
From the get-go, this film has been marred in numerous different controversies; rumors of tension between Wilde and fired Transformers actor Shia LeBeouf, a scandalous cheating affair involving Wilde and leading-man Harry Styles, and the disgruntlement of Florence Pugh throughout the entire production of the film, causing her to refuse to promote the film in any way, shape, or form.
According to critics, Florence Pugh as Alice Chambers almost manages to make the 2022 American psychological thriller film Don't Worry Darling worth watching (Credit: Warner Bros. Pictures)
Don't Worry Darling is set to finally premiere to general audiences in the United States on September 23, 2022, but the buzz surrounding the film hasn't ceased since the film premiered on the festival circuit at 79th Venice International Film Festival on September 5.
Did the film manage to dazzle audiences despite its rocky production and torrid drama? Read on to find out.
What Occurred During the Production of Don't Worry Darling?
To say this film had a troublesome production would be the understatement of the year.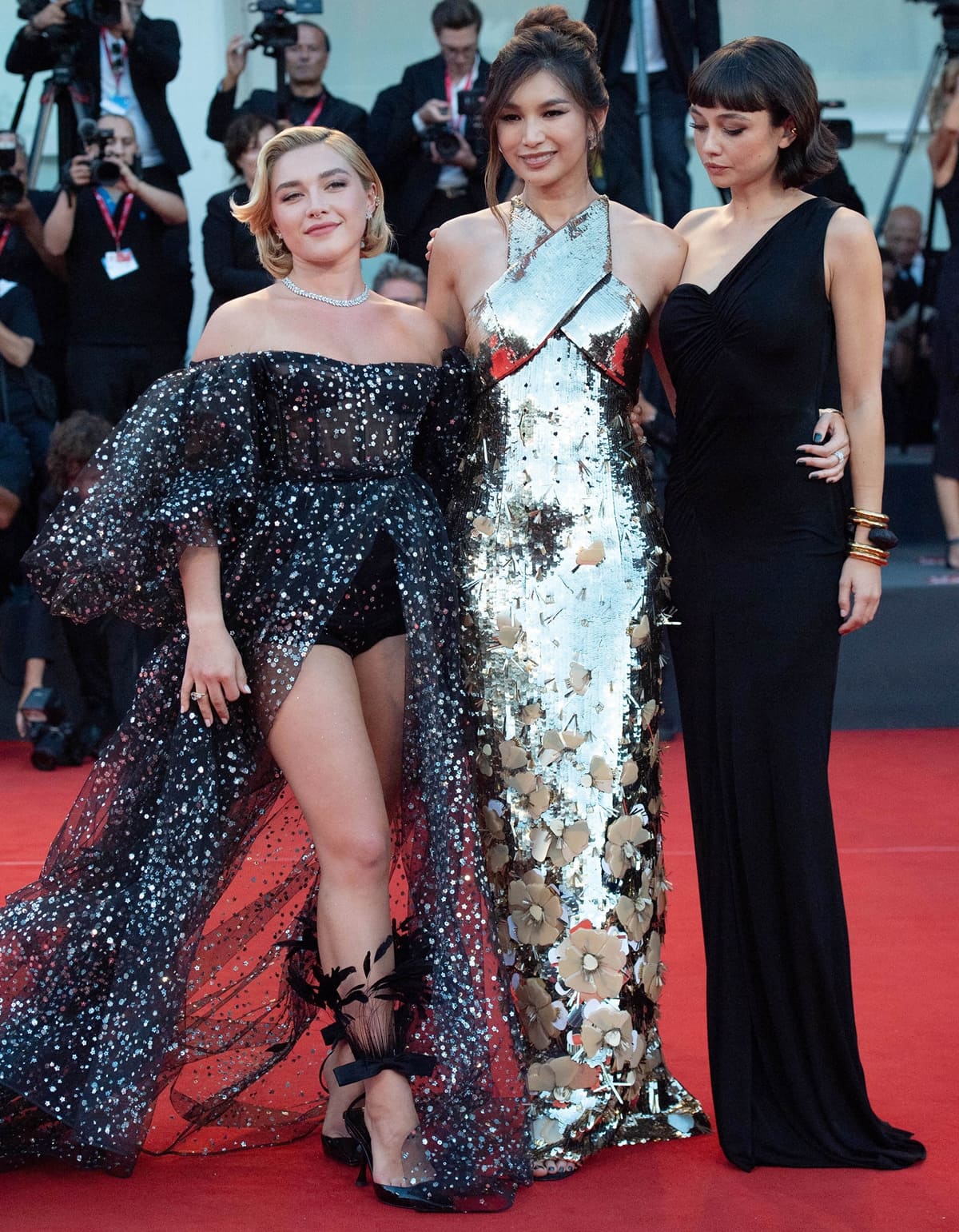 Sydney Chandler in an asymmetrical Saint Laurent dress, Gemma Chan in a metallic Louis Vuitton dress, and Florence Pugh in a Valentino off-the-shoulder gown at the "Don't Worry Darling" red carpet at the 79th Venice International Film Festival on September 5, 2022, in Venice, Italy (Credit: Aurore Marechal / ABACA / INSTARimages / Cover Images)
While the production of most films is sure to feature some sort of challenge or roadblock, the production of Don't Worry Darling was marred by onset drama from the very beginning – even before the cameras started to roll.
Was Shia LeBeouf Fired From Don't Worry Darling?
Shia LeBeouf was originally cast in the role of Jack Chambers (the character whom Harry Styles eventually portrayed in the film), before leaving the film early in its production.
The reasons for this departure are still murky, but Olivia Wilde initially claimed that LeBeouf was fired due to his "combative energy" during rehearsals.
Shia LeBeouf claims he quit "Don't Worry Darling," and Olivia Wilde claims he was replaced (Credit: AdMedia / Media Punch / INSTARimages)
LeBeouf was quick to retort against these claims, claiming that he quit the production and was not fired by Wilde at all, stating in an email sent to Wilde, "I quit your film because your actors and I couldn't find time to rehearse."
"Firing me never took place, Olivia. And while I fully understand the attractiveness of pushing that story because of the current social landscape, the social currency that brings, it is not the truth. So I am humbly asking, as a person with an eye toward making things right, that you correct the narrative as best as you can."
In this game of 'he said, she said,' we may never know the true reasons for the departure of LeBeouf from the production of Don't Worry Darling, but whatever the case may be, this film experienced friction between the performers from the very start.
Was Florence Pugh Upset With Olivia Wilde During the Production of Don't Worry Darling?
Florence Pugh was attached to portray the protagonist of Alice Chambers from the very start of the film's production cycle in April 2020, and it's easy to see why.
Pugh has been on fire as an actress in recent years, with critically lauded performances in films like Midsommar, Little Women, and Black Widow.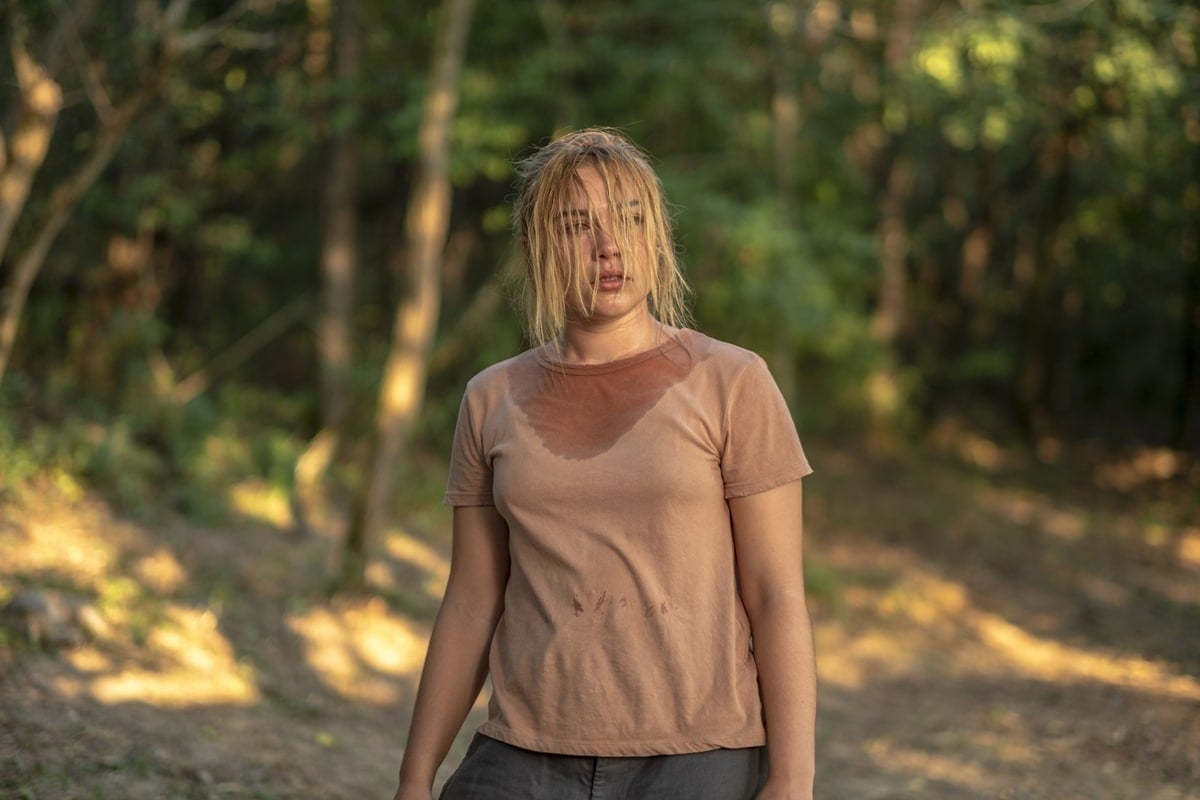 Florence Pugh as American psychology student Dani Ardor in the 2019 folk horror film Midsommar (Credit: A24)
While Pugh was seemingly excited to join the production of Don't Worry Darling and to work with Olivia Wilde, reportedly, the relationship between Pugh and Wilde was strained when Olivia Wilde began her extramarital affair with Harry Styles, who stars alongside Pugh in the film.
Don't Worry Darling cast members Nick Kroll, Florence Pugh, Chris Pine, Olivia Wilde, Sydney Chandler, Harry Styles, and Gemma Chan (Credit: Aurore Marechal / ABACA / INSTARimages / Cover Images)
Wilde was married to Jason Sudeikis before the production of the film began, and the couple has two children, aged 9 and 6.
After the extramarital relationship between Wilde and Styles began, Sudeikis served Wilde divorce papers in a much-publicized manner, as she was served with the papers while delivering a talk at the CinemaCon film convention in April of 2022.
"The complete horses**t idea that I left Jason for Harry is completely inaccurate," Wilde told Vanity Fair. "Our relationship was long over before I met Harry. Like any relationship that ends, it doesn't end overnight."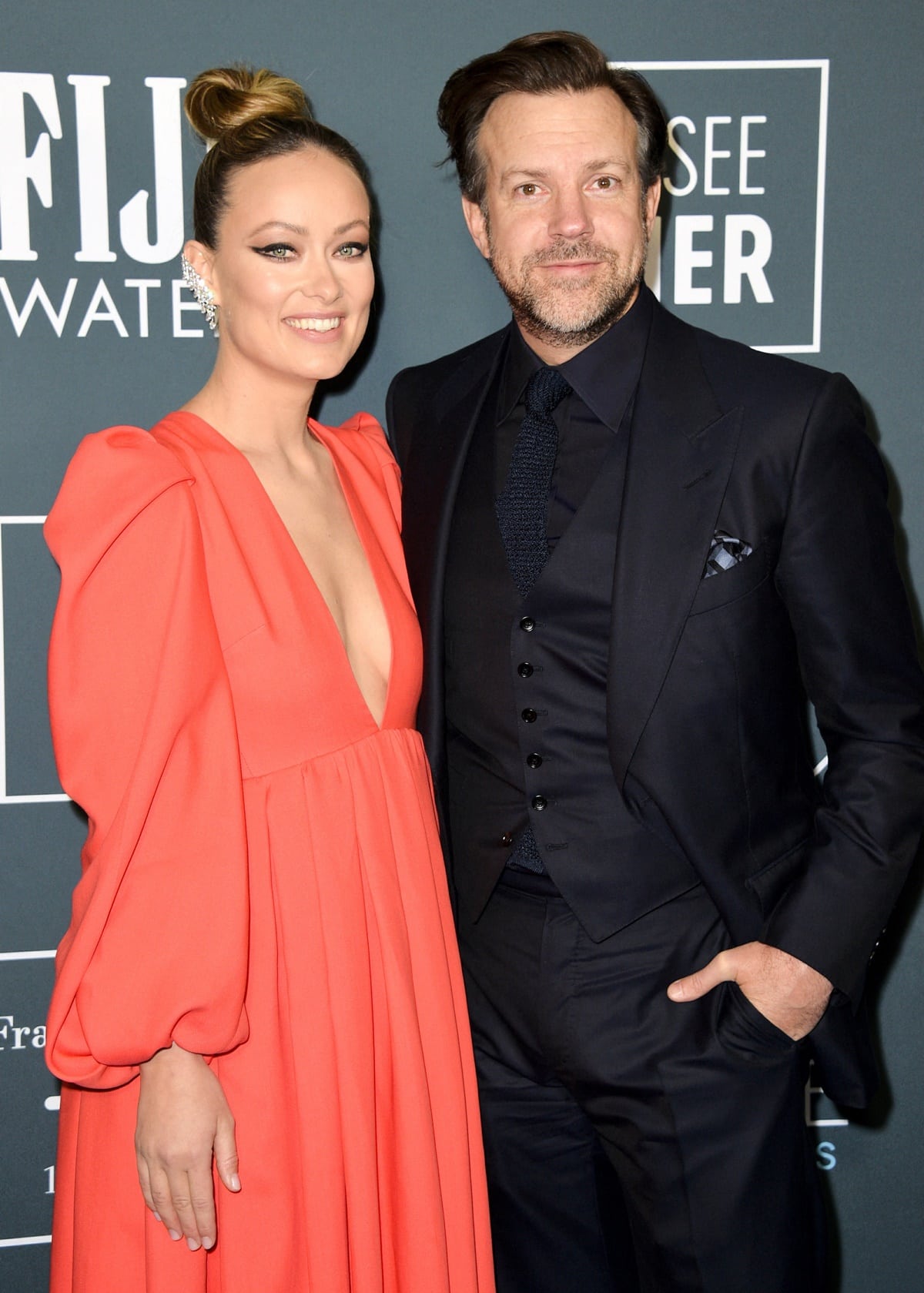 Jason Sudeikis says he split from Olivia Wilde in November 2020, which is around the time she started filming Don't Worry Darling with Harry Styles (Credit: Hahn Lionel / ABACA / INSTARimages)
"Unfortunately, Jason and I had a very bumpy road, and we officially dissolved the relationship towards the beginning of the pandemic. We were raising two kids during lockdown, so we co-parented through that time," she added.
"Once it became clear that cohabitating was no longer beneficial for the children, it became the responsible thing to not, because we could be better parents as friends who live in different houses."
Pugh seemingly was not a fan of the blossoming romance between Styles and Wilde on set, as the drama engulfed all of the buzz surrounding the film leading up to its premiere.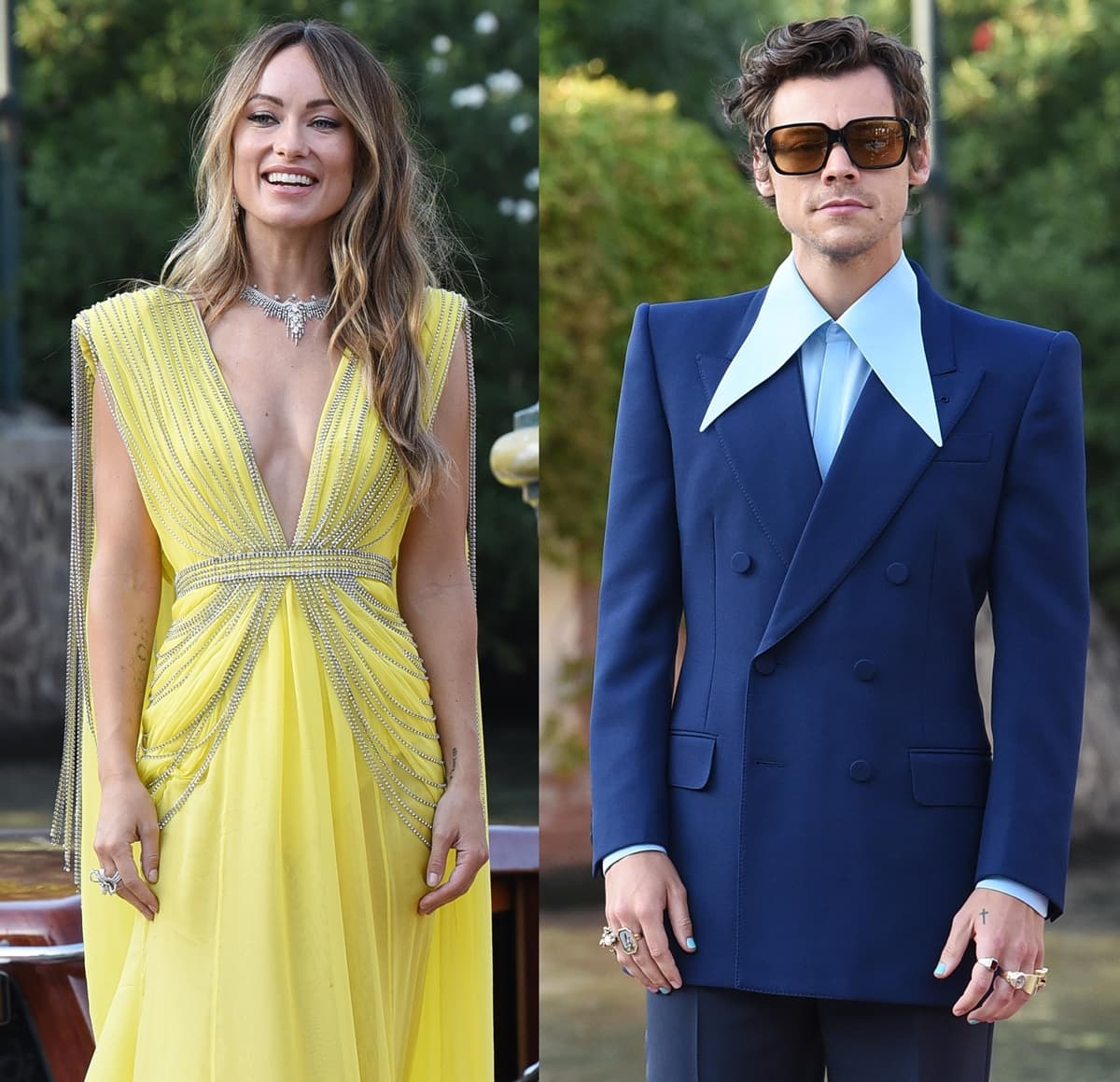 Olivia Wilde denies she had affair with Harry Styles during her relationship with Jason Sudeikis (Credit: KIKA Press / Cover Images)
While initially very excited to star in Don't Worry Darling, Pugh mysteriously refused to mention the film at all on her social media channels, which is very out of character for the burgeoning actress, who often makes multiple posts on her social media when starring in films.
Then, in a Valentine's Day post, Pugh thanked all of the behind-the-camera crew but explicitly left out Olivia Wilde from the thankful message.
She seemingly also took issue with the increased attention on the sex scenes that she features in within the film, stating that "When it's reduced to your sex scenes, or to watch the most famous man in the world go down on someone, it's not why we do it. It's not why I'm in this industry."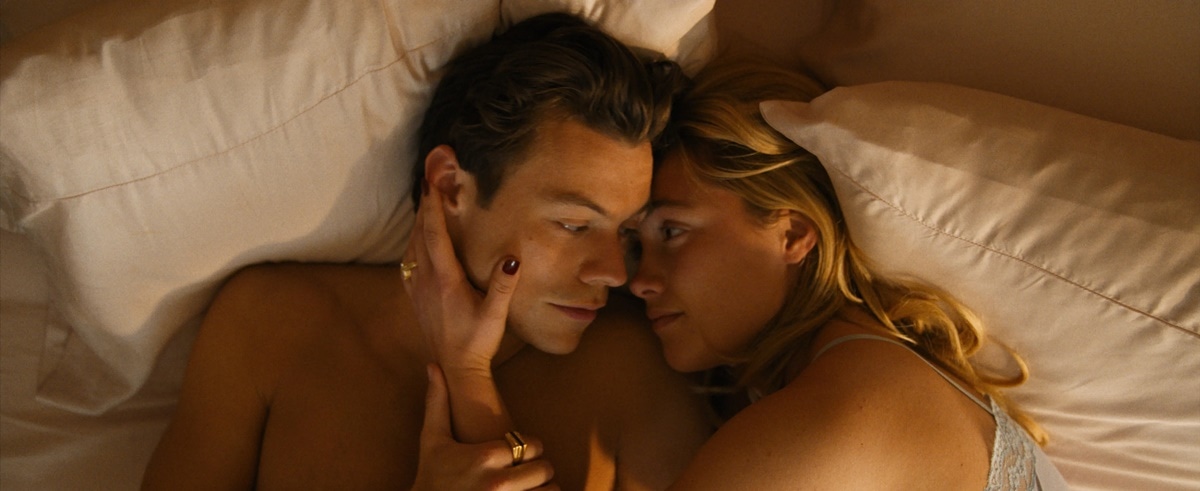 Florence Pugh as Alice Chambers and Harry Styles as Jack Chambers in Don't Worry Darling (Credit: Warner Bros. Pictures)
With all this tension during the production of the film, it would be a miracle if the film actually turned out to be something worth watching.
The film premiered at the Venice Film Festival to critics and the press on September 5th, 2022, and the reception has been somewhat mixed.
Does Florence Pugh Manage to Save "Don't Worry Darling"?
Since the premiere of the film, early reviews of the film seem to be somewhat mixed on how effective the film is at providing an intriguing story.
From the 49 reviews we've seen so far, the film is currently sitting at a 43% score on the aggregate film review website Rotten Tomatoes, indicating its divisive (and somewhat tepid) response.
Throughout most of the reviews, however, most of them praise Florence Pugh, despite the torrid production and lackluster final product of the film.
Florence Pugh was joined by her legendary grandmother, Pat, at the Don't Worry Darling film premiere (Credit: KIKA Press / Cover Images)
In a review for Time Out, film critic Philip De Semlyen states, "Olivia Wilde's stylishly rendered but muddled domestic horror is saved by another showstopping performance from Florence Pugh."
While most critics can agree that the film doesn't manage to provide much of an impact despite its interesting premise and star-studded cast, critics are divisive on the reception of Florence Pugh's performance as a whole.
In a 2/5 star review for The Guardian, film critic Peter Bradshaw opines, "…he normally excellent Pugh has not been interestingly directed, certainly not compared with her work in broadly comparable movies such as Midsommar or The Falling."
Critics say Florence Pugh saves Don't Worry Darling from being an absolutely disastrous movie (Credit: KIKA Press / Cover Images)
So it seems that the jury is still out on whether the immensely talented Pugh was able to save this doomed film from the ashes of the on-set drama throughout the production.
We'll reserve our own opinions until we're able to watch the film ourselves, which premieres to general audiences on September 23, 2022, in the United States and Canada. We're hoping that Pugh still manages to deliver an incredible performance, despite the lukewarm response to Wilde's direction or Style's performance.