Randy Jackson is a musician, record producer, and an original fan-favorite judge from the hit TV show American Idol that first aired in 2002 alongside co-stars Paula Abdul and Simon Cowell.
Born and raised in Baton Rouge, Louisiana, Randall Darius Jackson is not related to anyone in Michael Jackson's family.
Randy Jackson and two of his children attend the Elizabeth Glaser Pediatric Aids Foundation's 30th Anniversary, A Time For Heroes Family Festival at Smashbox Studios on October 28, 2018, in Culver City, California (Credit: FayesVision / WENN)
He stayed on for 12 seasons and gave a fair share of "It's a no from me dawg" and other catchphrases. Not more than a year after the show aired, Randy was diagnosed with type 2 diabetes, which is normally caused by obesity and an inactive lifestyle.
He reached his highest weight at 358 pounds before he decided to make some drastic health changes for his body and wellbeing.
How Randy Jackson Was Diagnosed with Type 2 Diabetes
Jackson states that he went to the dentist and the dentist told him his gums looked "abnormal" and that he could potentially have elevated blood sugar. His dentist encouraged him to get it checked out by a doctor.
Not more than a month later, then 45-year-old Jackson had to go to the Emergency Room due to "flu-like symptoms" of feeling thirsty, sweaty, and fatigued. He was notified that his blood sugar was above 500! For reference, normal blood sugar ranges from 70-99mg/dL.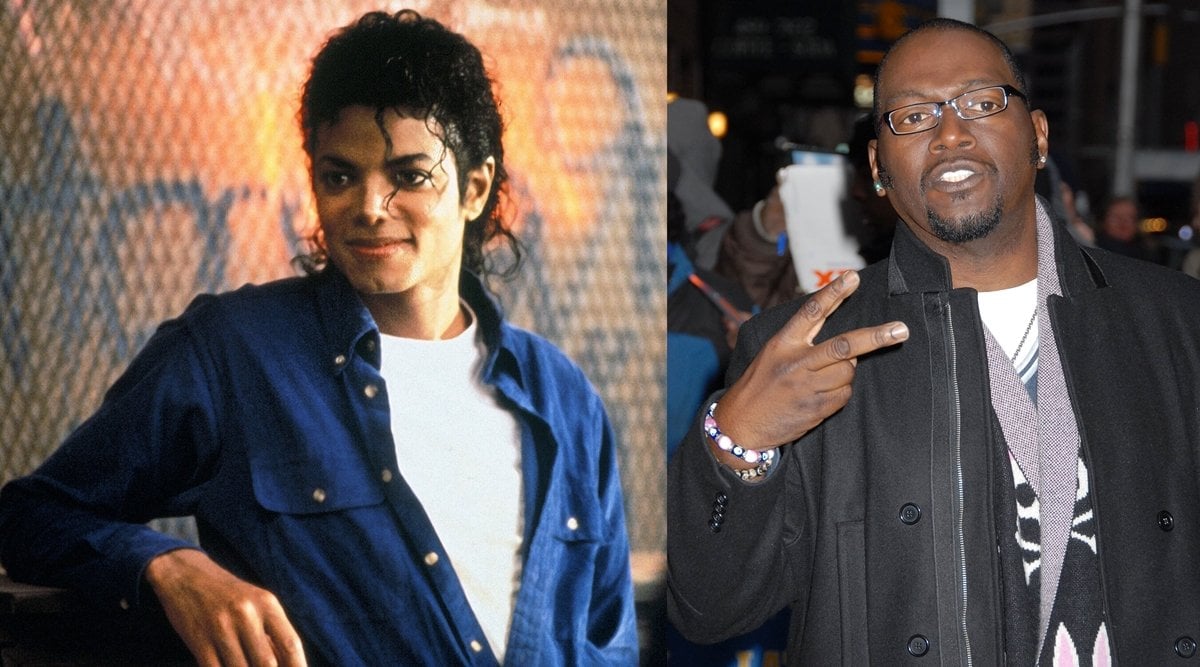 Randy Jackson is not related to anyone in Michael Jackson's family (Credit: Patricia Schlein / WENN)
He admits that diabetes runs in his family (it is an inheritable disease) and also says that his Southern diet mostly consisted of fried foods, grits, bread pudding, and more, so he wasn't that surprised to hear about his new diagnosis.
He opens up more about it in his book titled, Body With Soul: Slash Sugar, Cut Cholesterol, and Get a Jump on Your Best Health Ever, which you can buy on Amazon.
Randy Jackson Facts
| How much is Randall Jacksons net worth? | He is an American musician and reality television judge with a net worth of $50 million |
| --- | --- |
| Full Name: | Randall Darius Jackson |
| Born: | June 23, 1956, in Baton Rouge, Louisiana |
| Wives: | Erika Riker (m. 1995–2019), Elizabeth Jackson (m. ?–1990) |
| Kids: | Zoe Jackson, Jordan Jackson, and Taylor Jackson |
| Why did Randy Jackson lose weight? | He lost more than 100 pounds after being diagnosed with type 2 diabetes. |
| Is Randy Jackson related to Michael Jackson? | No, he is not related to anyone in Michael Jackson's family. |
| Height: | 5'8″ (173 cm) |
| Nationality: | American |
| Source of Wealth: | Television and music |
| Ethnicity/Race: | African-American |
| What disease does Randy Jackson have? | He was diagnosed with type 2 diabetes in 2003. |
| How much does Randy Jackson weight now? | He weighed 358 pounds but has manage to lose over 100 pounds. |
Researching His Diagnosis
One of the first things he did was read up about type 2 diabetes and the potential risk factors. He learned what most people with this disease find out which is that it can possibly lead to some of the following:
– Heart disease
– Blindness
– Nerve and organ damage
He also learned that weight and diet play crucial roles in maintaining your health with diabetes.
Emotional Eating
Jackson describes his relationship with food as "emotional eating." He says it was hard to eat healthy in the industry he worked in because everyone congregated around unhealthy foods after the show or to celebrate.
Randy Jackson learned that he had type 2 diabetes had a blood sugar level of over 500 (Credit: WENN)
On The Ellen Degeneres Show, Jackson stated, "I had a food divorce is what I usually say. I had to let it all go and start over."
Unfortunately, Jackson admits that contestants from American Idol made comments about his body, calling him fat after Jackson would give them feedback about their singing.
He says this contributed to his desire to get healthy, but we know it must have hurt to hear those things being said.
Additionally, in an episode of Bulletproof Radio, Jackson stated, "I went through every diet known to man. I was diagnosed, unfortunately, with type 2 diabetes because I was living a very horrible, sedentary lifestyle. I just wasn't motivated to work out. I just buried myself into my work. As we know, it's a bit behavioral, isn't it? Psychologically, because it's what you think and maybe I was depressed and eating comes from an emotional standpoint. Eat because I'm sad. Eat because I'm happy. Eat because I'm depressed. Eat because I have no time. Every emotion you can imagine, you reach for something."
Weight Loss Journey
Jackson got gastric bypass surgery in 2003 and lost over 100 pounds. However, he ended up gaining it all back and decided to work hard to get his weight back down.
Randy Jackson had gastric bypass surgery in 2003 and his total weight loss is about 120 pounds (Credit: Jody Cortes / WENN)
Type 2 diabetes is closely tied to obesity and it's a lot harder for individuals with this diagnosis to lose weight.
According to Obesity Action, "the prevalence of type 2 diabetes is three to seven times higher in those who are affected by obesity than in normal-weight adults, and is 20 times more likely in those with a body mass index (BMI) greater than 35kg/m."
In an interview with TODAY, Jackson says, "I started on this health regimen many years ago while I was on '(American) Idol; I think (it was the) second season. Lost a ton of weight, started gaining it back, then went on my own journey to try and discover 'How do I keep it off? What do I do?'"
View this post on Instagram
With the weight creeping back after surgery, he decided to change his eating and exercise habits for good.
His New Approach to Food and Exercise
After experimenting with different diets and weight loss techniques, Jackson's new and improved approach to food has been very level-headed and balanced. Plus, he lost over 100 pounds!
One thing he discovered that works for him is an airplane meal. He says that the portion sizes they give you on airplanes are perfect for someone watching their weight.
"American Idol" judges musician Keith Urban, actress/singer Jennifer Lopez, musician Harry Connick Jr., host Ryan Seacrest, and musician Randy Jackson arrive at Fox's "American Idol Xlll" Finalists Party at Fig and Olive on February 20, 2014, in West Hollywood, California (Credit: Nikki Nelson / WENN)
It's really nothing new in the world of dieting since most people use pre-portioned containers in meal prepping and planning, but Jackson did coin the catchy term "airplane meal" as a diet fad.
As far as exercise goes, Jackson has a treadmill next to his bed so that he starts out every day with 30-45 minutes of cardio and he also incorporates yoga into his routine.
Where Is Randy Jackson Now?
It's been about 20 years, and Randy has managed to keep the weight off as he still works to maintain his overall health. In 2020, he rejoined the rock group Journey. He is co-host and bandleader for another TV show called "Name That Tune."
He also founded the wellness brand Unify Health Labs that creates supplements to aid in weight loss and digestion. Additionally, he founded Randy Jackson Childhood Obesity Foundation.
Randy Jackson has always been open about his diet and weight loss journey (Credit: WENN / Sheri Determan)
He is very open about his journey with weight loss, diabetes, and exercise as well as the comments he's received on his body, good and bad.
Men often get overlooked when it comes to fashion, but in January 2013 there was no ignoring the effervescent Randy Jackson!
Randy Jackson attends the Fox All-Star Party held during the 2013 TCA Winter Press Tour at The Langham Huntington Hotel and Spa on January 8, 2013, in Pasadena, California (Credit: Nikki Nelson / WENN)
He may have been clad in all-black, but the lone original "American Idol" judge still managed to stand out at the 2013 TCA Winter Press Tour, thanks to his unmissable flower-embellished oxfords!
We can only wish our men had this much swagger.
Check out Randy Jackson's flower-detailed oxfords up close, which drew our eyes straight to his feet: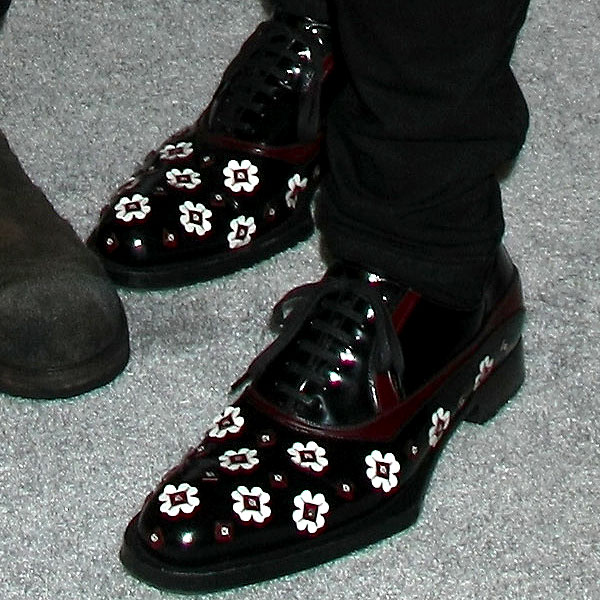 Randy Jackson wears leather Prada oxfords covered in flower appliqués (Credit: Nikki Nelson / WENN)
Randy Jackson was wearing the following Prada flower appliqué Spazzolato leather oxfords.
Prada Flower-Applique Spazzolato Oxfords, $1,350
By the way, these oxfords are men's version of the Prada flower-detailed Mary Janes we spotted on Jessica Chastain. So, if you have a man who loves shoes as much as you, this is a hot his-and-hers look you can rock!