Fat Amy, no more! While the rest of us were too busy playing Animal Crossing in our pajamas during the lockdown, Pitch Perfect actress Rebel Wilson managed to lose a remarkable amount of weight.
Fans had previously been under the impression that the actress had lost 60 pounds, but Wilson revealed in July 2021 that she had lost more than that, saying during an Instagram Live that her total weight loss was now around "like 70 pounds, 75 pounds, maybe a bit more."
Rebel Wilson, who lost almost 80 pounds to reach her goal weight, attends the Kate Spade Presentation during September 2022 New York Fashion Week at 3 World Trade Center on September 9, 2022, in New York City (Credit: John Nacion / Startraksphoto / Cover Images)
Her weight loss journey is certainly nothing to sneeze at, considering Wilson's new slim figure is almost unrecognizable compared to her former silhouette.
How Rebel Wilson tweaked her lifestyle to lose weight
She says that her first inkling that she needed to make a lifestyle change came when a doctor told her that she may not have children at her current weight.
"It first started when I was going through, looking into fertility stuff and the doctor was like, 'Well, you'd have a much better chance if you were healthier,'" Wilson said.
"I was actually a bit offended because I thought — even though I was bigger — I thought I was pretty healthy. That's kind of what started it, that if I lost some excess weight, that it would give me a better chance for freezing eggs and having the eggs be better quality."
The actress had tried to lose weight before, but she says that her previous attempts were never successful.
This time, though, Wilson took a different, more mindful approach to losing the pounds, citing that "slow and steady" is her mantra throughout, assuring fans that "it's not about a weight number, it's about being healthy."
Rebel Wilson at the premiere of Bridesmaids in 2011 (L) and in a pink Badgley Mischka off-the-shoulder dress at the 2020 Vanity Fair Oscar Party (Credit: Nikki Nelson/ WENN / Sheri Determan)
In January of 2020, Wilson told her Instagram followers that she started simple — walking. She says that she "went out for a walk, deliberately hydrating on the couch right now and trying to avoid the sugar and junk food which is going to be hard after the holidays I've just had, but I'm going to do it!"
The actress said that there are four basic tenets that she follows in order to stick to her weight loss regimen. The best part? They are simple enough for anyone to try!
"Adequate sleep, walking, hydrating, [and] drinking water," Wilson said, admitting that her weight loss did not have any magic secrets or tricks. "You'll always see me with a FIJI [water] in my hand, and balance it with the nutrition."
"What I learned is — it's really the little things that I do every day that make a difference," Wilson said. "Anyone can go on walks and drink more water and do little, consistent things that'll improve their lives. It's not too late to start, no matter what age you are."
Is Rebel Wilson on the Mayr Method diet?
No, she has denied following the Mayr Method, which prefers foods that are alkaline in nature, meaning they generate a higher pH. Foods like fruit, nuts, seeds, and vegetables are all "safe" foods for those who subscribe to the Mayr Method.
This diet can be restrictive, as it advises against dairy, gluten, caffeine, sugar, and natural sweeteners such as maple syrup and honey.
"This was NEVER my diet, please stop writing this stuff," the actress wrote on Instagram in a response to a story claiming she had turned to the plan to lose weight. Rebel said she has "NEVER endorsed any diet pills or magic weight loss pills."
"If you see stuff like this online, please report it as a scam – do not send it to me as a DM – report it on the social media site you see it on when you see it," she added. "If I'm endorsing something, you'll see it only as official posts on my official and verified social media."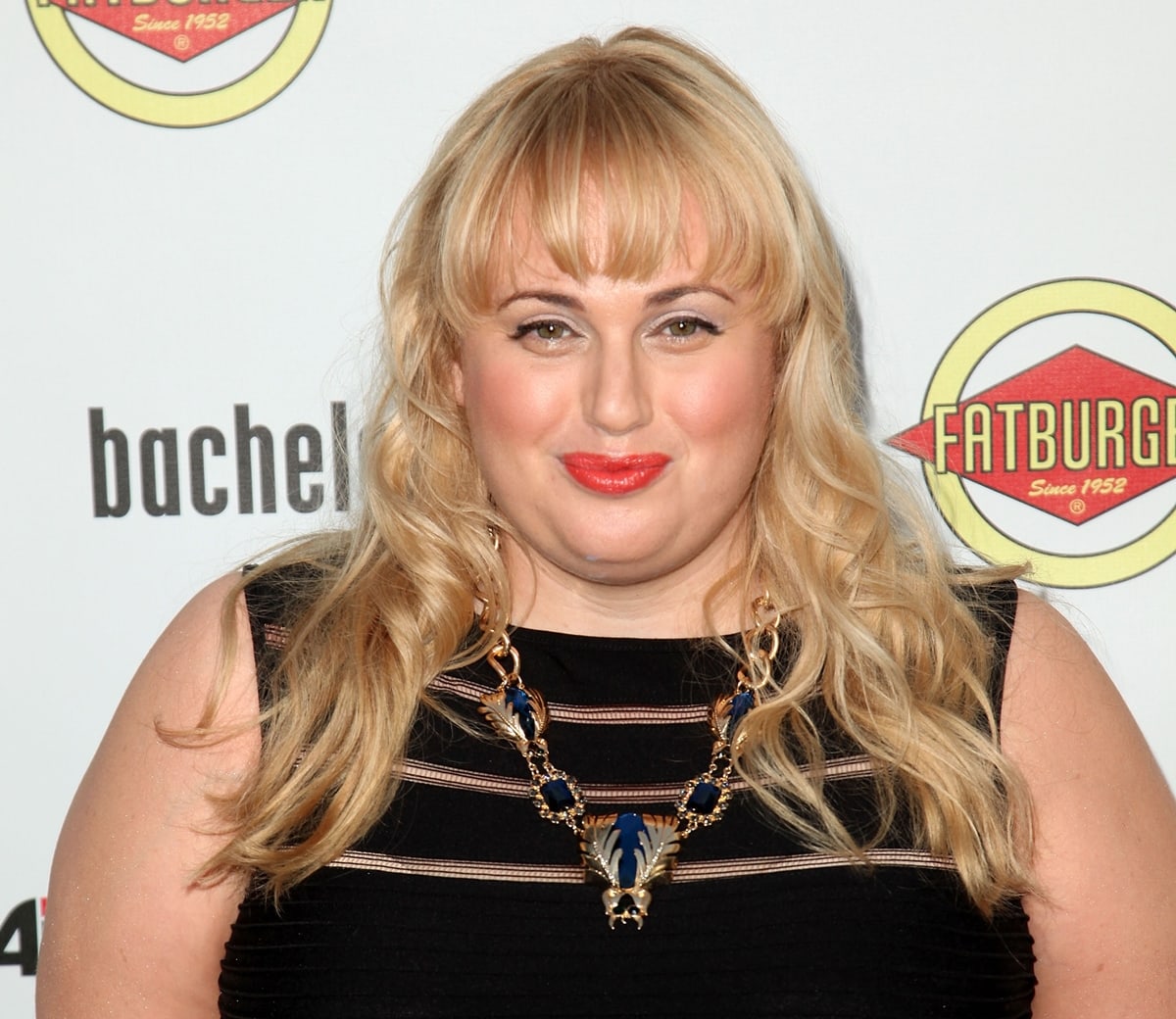 Rebel Wilson claims she has lost 75 pounds thanks to "adequate sleep, walking, hydrating, [and] drinking water" (Credit: WENN)
The Pitch Perfect actress' workout routine is even more intense than her diet. Wilson has been training with celebrity personal trainer, Jono Castano, and working out every day of the week, proving her dedication to her weight loss journey.
These workouts include high-intensity interval training, or HIIT, with exercises such as stair sprints, mountain climbers, and squat jumps.
In addition to working out and eating right, Wilson says that she has found a creative way to swap out her unhealthy habits, such as binge eating, for more unorthodox ways to reward herself.
"I just bought a Yves Saint Laurent handbag after finishing The Almond and the Seahorse because I'm trying to be healthier and treat myself with things that are not food anymore," the actress revealed in an interview with InStyle.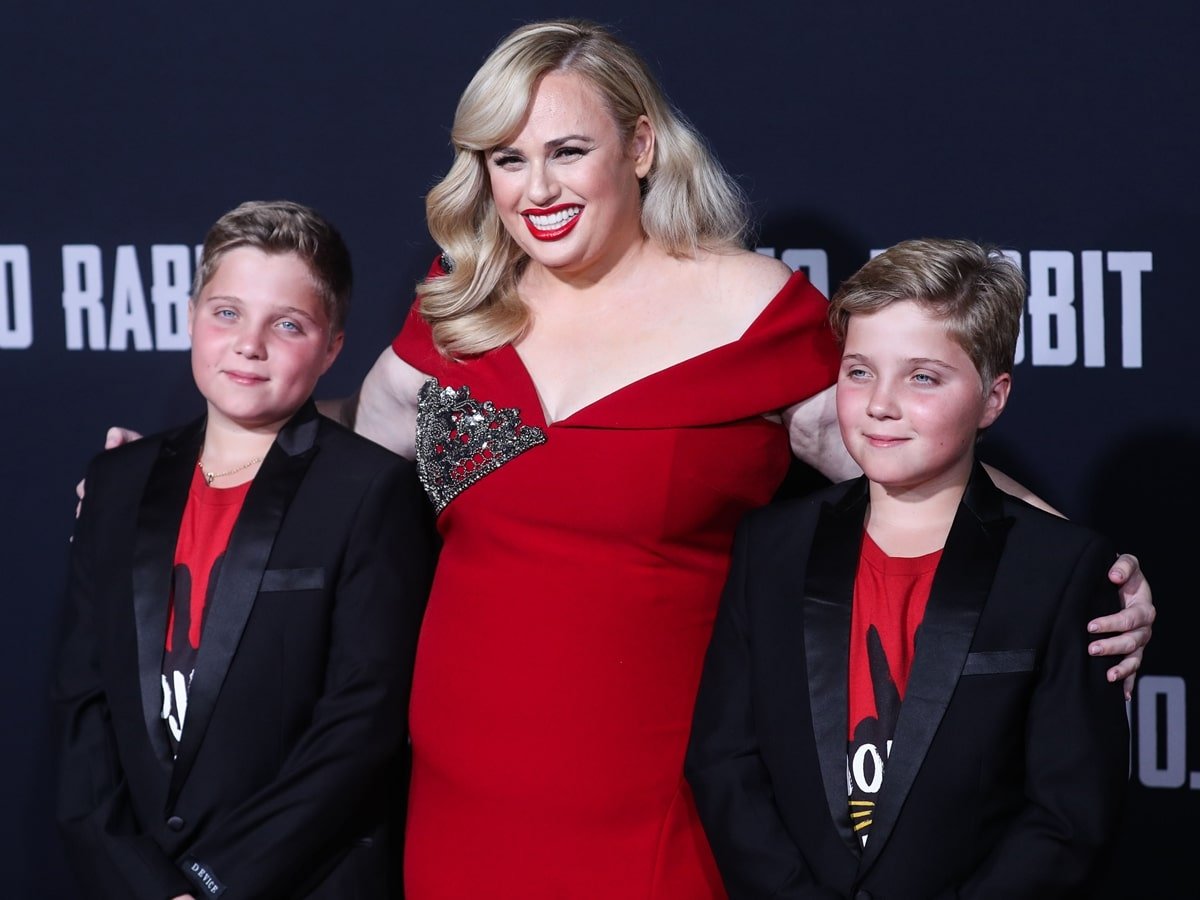 Posing with Gilby Griffin Davis and Hardy Griffin Davis, Rebel Wilson decided to lose weight because she wants to have children (Credit: Avalon / WENN)
Wilson's hard work has not been in vain, which is evident when seeing her new, slimmed-down physique. "So far, [I] have not gained any of it back, which is pretty cool, because never in my life have I been able to do that," the actress said.
However, her progress is not entirely without regret. "Now that I know I can do it, sometimes I feel sad that I didn't do it earlier. Maybe I should have tried [to lose weight] when I was 30, not 40."
Though Rebel Wilson got serious about her weight loss journey once she realized she wanted to have children, the actress has not yet been able to conceive.
In a heartfelt Instagram post, Wilson shared her fertility struggles and commiserated with those experiencing similar hardships, saying, "I got some bad news and didn't have anyone to share it with. . . but I guess I gotta tell someone. To all the women out there struggling with fertility, I feel ya. The universe works in mysterious ways and sometimes it doesn't make sense. . . but I hope there's light about to shine through the dark clouds."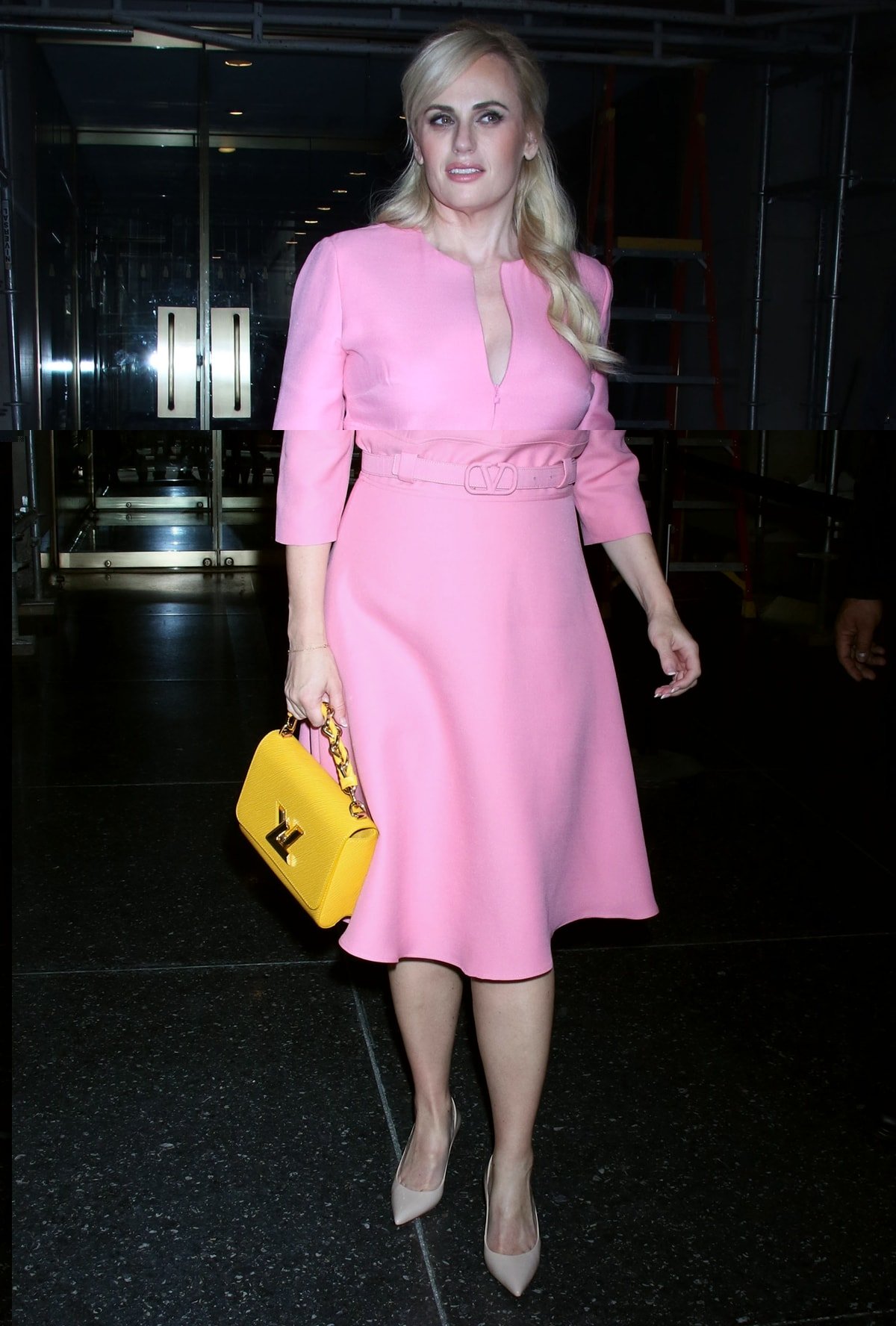 Rebel Wilson flaunts her body in a pink belted Valentino dress in Midtown on May 5, 2022, in New York City (Credit: Roger Wong / INSTARimages)
Rebel Wilson has made serious lifestyle changes in the hope that she would be able to conceive a child. Though she looks amazing, we hope that all her dreams one day come true!
Rebel Wilson's high-protein diet
In November 2020, she shared details about her high-protein diet in an interview with People.
"Before I was probably eating 3,000 calories most days, and because they were normally carbs, I would still be hungry," she said.
Rebel Wilson used to eat 3,000 calories every day but now follows a high-protein diet (Credit: BauerGriffin / INSTARimages)
"So, I've really changed to eating a high-protein diet, which is challenging because I didn't used to eat a lot of meat. I eat fish, salmon, and chicken breast."
"I definitely think with the slow down, it did help," she said about losing weight during the pandemic. "I think I was emotional eating, and overeating at times, because I wasn't loving myself enough either. And it does come down to that self-worth and self-love."
Rebel Wilson wears a black leather dress with mesh cutout details (Credit: Cousart / JFXimages / WENN)
If you follow Rebel Wilson's off-duty fashion, you've probably already noticed that the funny gal has a penchant for pointed-toe flats. But, there's one specific style of flat that she hoards in an abundance of colors.
In March 2016, Rebel was spotted on two consecutive lunch meeting days in the same pair of shoes (but different colors) in Los Angeles.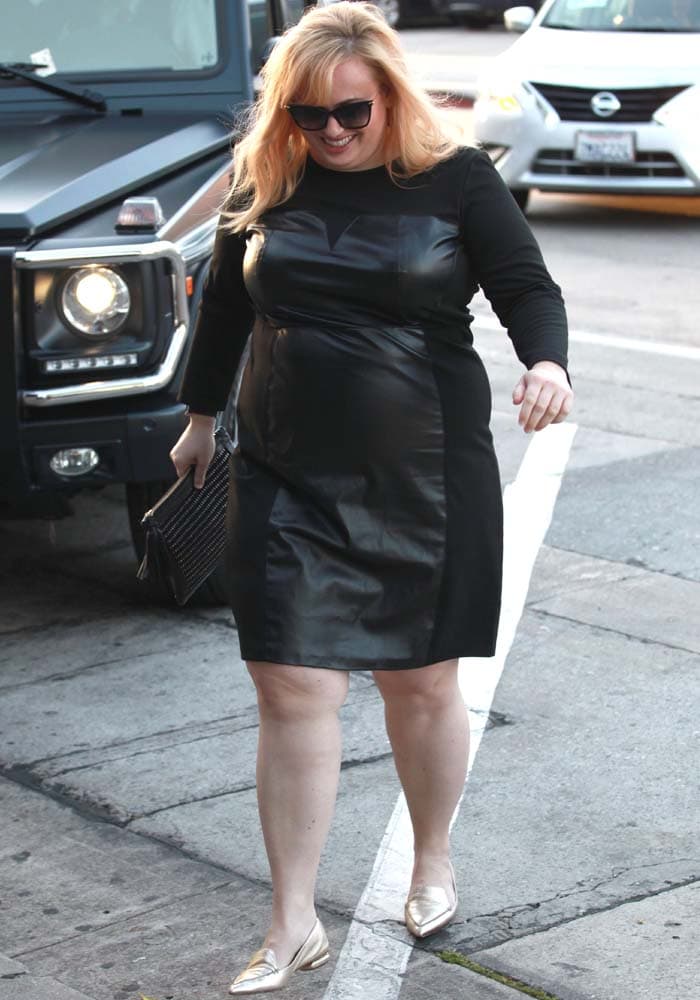 Rebel Wilson arriving at Craig's Restaurant in West Hollywood, Los Angeles on March 24, 2016 (Credit: Cousart / JFXimages / WENN)
Rebel was first spotted in a black leather dress with mesh cutout details at the back, which she wore with Nicholas Kirkwood's 'Beya' loafers in a light gold metallic tone.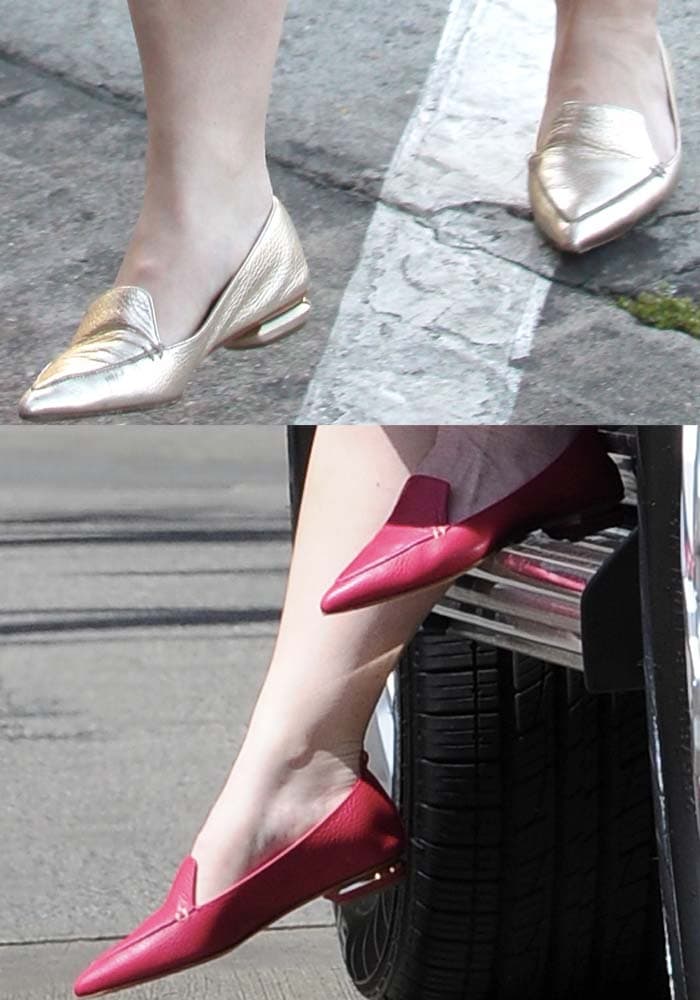 Nicholas Kirkwood fetish: Rebel Wilson slips into the 'Beya' in two different colors for two consecutive lunches (Credit: Cousart / JFXimages / WENN)
The actress polished her look with a tasseled black clutch and sunglasses.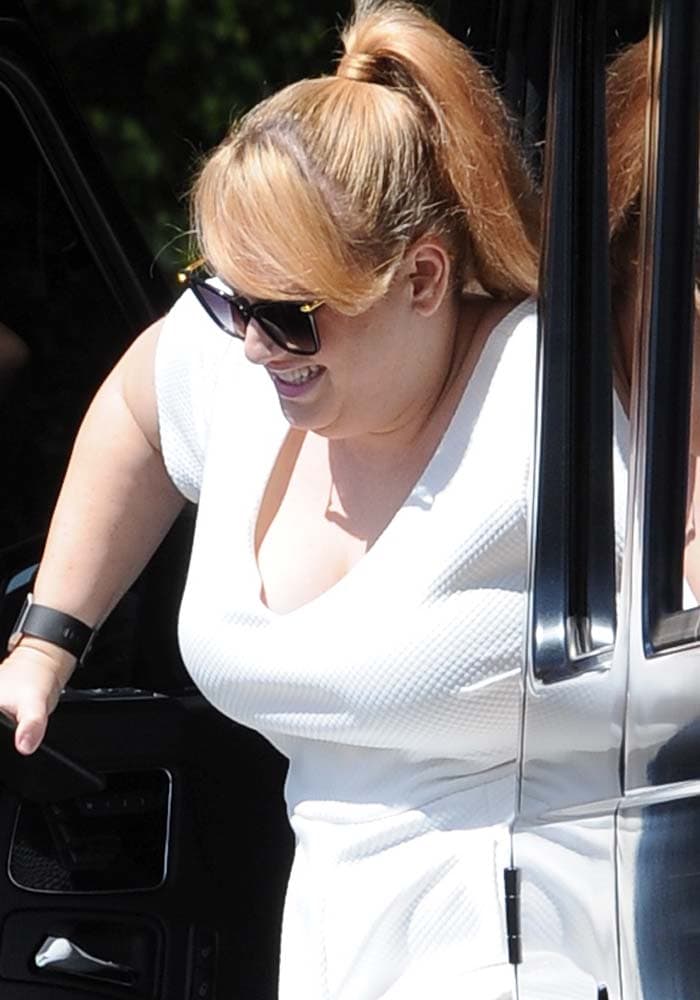 Rebel Wilson in a white fit-and-flare dress arrives for a lunch meeting at Chateau Marmont in Los Angeles on March 25, 2016 (Credit: Cousart / JFXimages / WENN)
The next day, Rebel opted to go for a bright look. She slipped into a white fit-and-flare dress (our personal preference between the two looks), and paired the frock with the previous day's sunglasses, an orange-and-pink top handle bag, and the Nicholas Kirkwood 'Beya' loafers in red.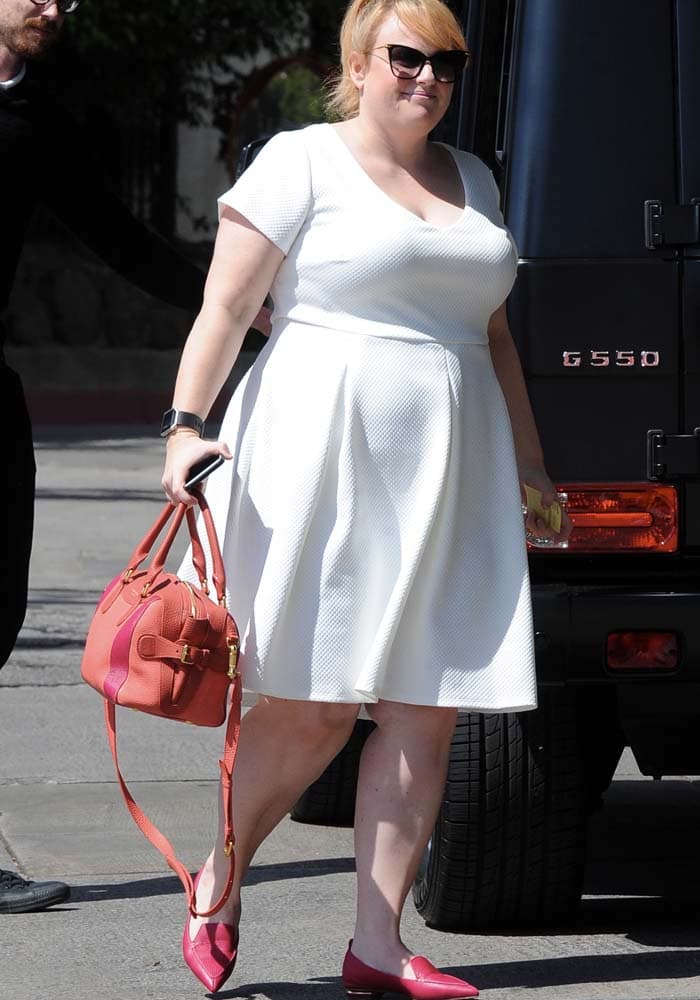 Rebel Wilson styled her white dress with red Nicholas Kirkwood 'Beya' loafers and a chic handbag (Credit: Cousart / JFXimages / WENN)
Personally, we love the little metallic detail at the heel of the Nicholas Kirkwood 'Beya' loafers. We also love that it comes in different colors, including metallics, which can easily take an outfit from day to night.
You can order Rebel's color picks at Farfetch and Saks Fifth Avenue.
Nicholas Kirkwood 'Beya' Pebble Leather Loafers in Gold, $299 – $425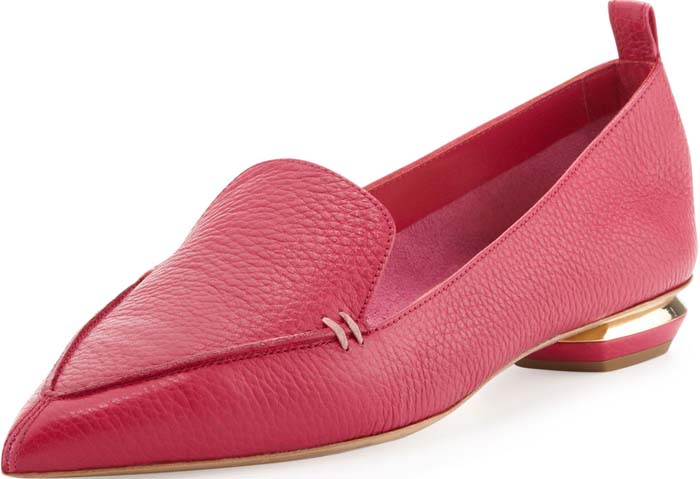 Nicholas Kirkwood 'Beya' Pebble Leather Loafers in Red, £295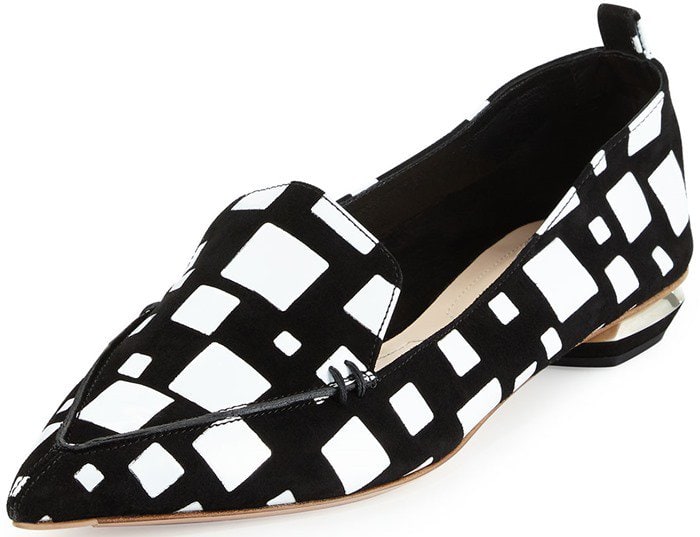 Nicholas Kirkwood 'Beya' Cubism Leather Loafer, $495