In June 2016, Bring It On: All or Nothing actress Rihanna was spotted partying it up with Drake while on tour in London, and the rumors are flying.
The two reportedly dated back in 2009 when Drake was a relatively unknown rapper, which even sparked an altercation with Rihanna's ex Chris Brown at one point. Drake had recently shared that he and RiRi were "kind of" dating.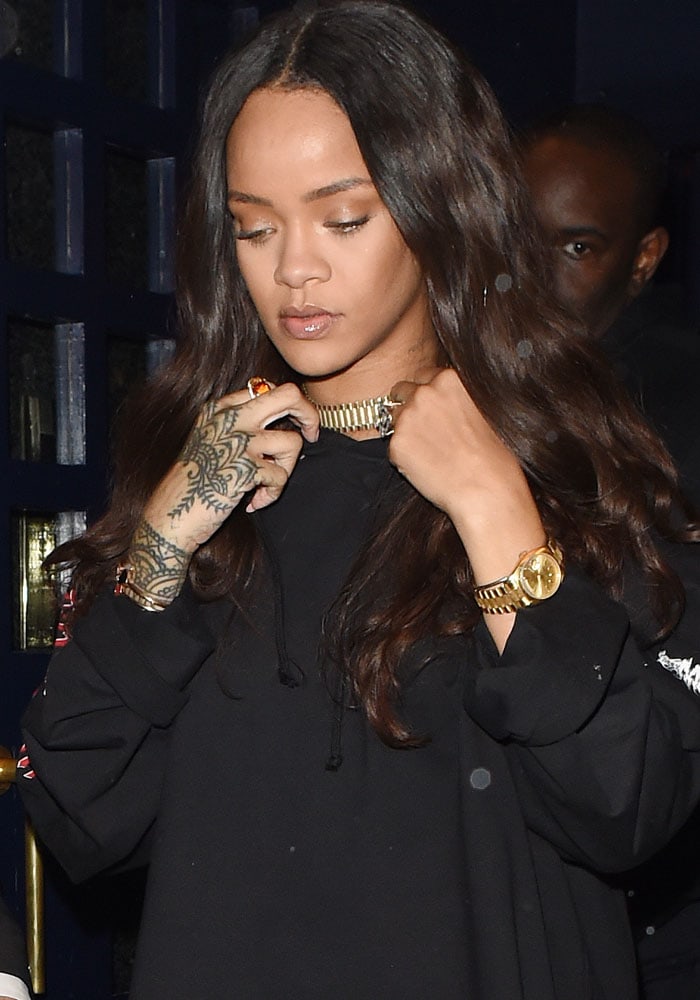 Rihanna keeps her hair down as she leaves Tramps nightclub on June 30, 2016, in London (Credit: WENN)
10 years earlier, Rihanna made her first foray into acting with a cameo appearance in the successful direct-to-video movie "Bring It On: All or Nothing."
When Bring It On: All or Nothing was released direct-to-DVD on August 8, 2006, Rihanna was 18 years old. Born on February 20, 1988, in Saint Michael, Barbados, she celebrated her 18th birthday on February 20, 2006.
At the competition in Bring It On: All or Nothing, Hayden Panettiere, Rihanna, and Emme Rylan are wearing mid-riff tops; however, The National Federation of High School Associations (NFHS) states that high school cheer squad uniform tops must cover the midriff while arms are at the sides (Credit: Universal Studios Home Entertainment)
Rihanna's "Pon de Replay" is the song featured in the music video that the team earns the opportunity to perform, with her track "SOS" also making an appearance.
In the film, as Rihanna dismisses the judges and announces the two finalists, she briefly takes the microphone away from her mouth to clap, but her voice can still be heard as if she is speaking directly into the mic.
While Rihanna was no stranger to being in front of the camera, "Bring It On: All or Nothing" marked her debut in a feature film.
However, it wasn't until six years later that she surprised audiences with her almost unrecognizable appearance as a by-the-books sailor in the 2012 American military science fiction action film Battleship.
Rihanna wears a black hoodie dress from Vetements as she leaves a London club (Credit: WENN)
While in the British capital, Rihanna gave new meaning to laid-back chic as she slipped into a black hoodie dress by Vetements and adorned it with a gold choker, watch, and a few stone rings.
The pop artist showed off her feet in a pair of Christian Louboutin "Devibroda" sandals.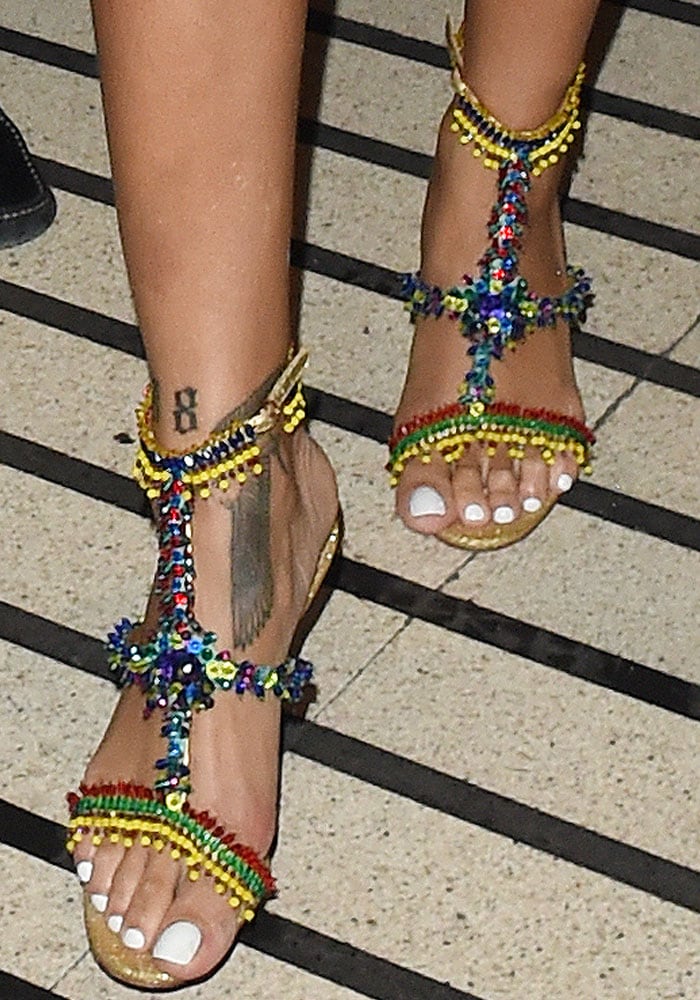 Rihanna's feet in multi-colored Christian Louboutin sandals (Credit: WENN)
The two weren't photographed together, but it was noted that they left just a few minutes apart. Drake was also photographed leaving Rihanna's hotel and vice versa.
Drake leaves a London nightclub a few minutes after Rihanna (Credit: WENN)
RiRi's red sole Christian Louboutin "Devibroda" sandals have already sold out.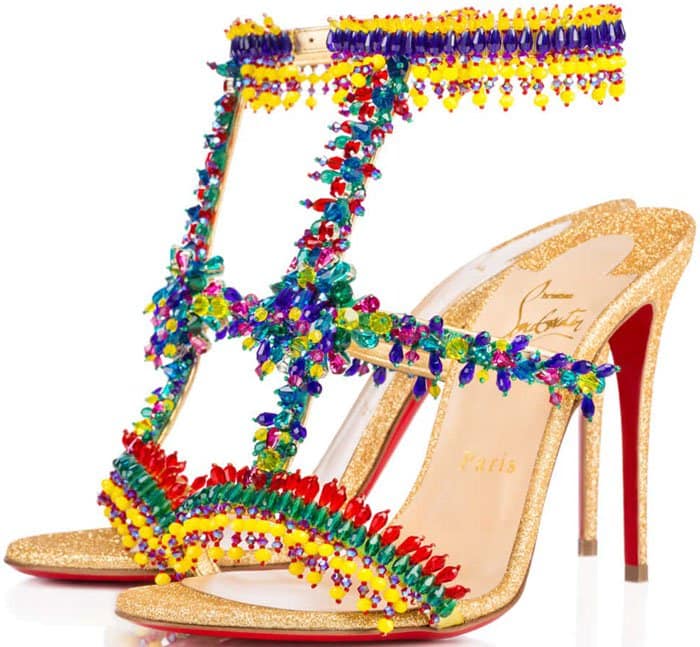 Embellished with a dazzling array of hand-applied crystals and glass beads, this kaleidoscopic 100mm sandal is sure to become every Louboutin lady's dream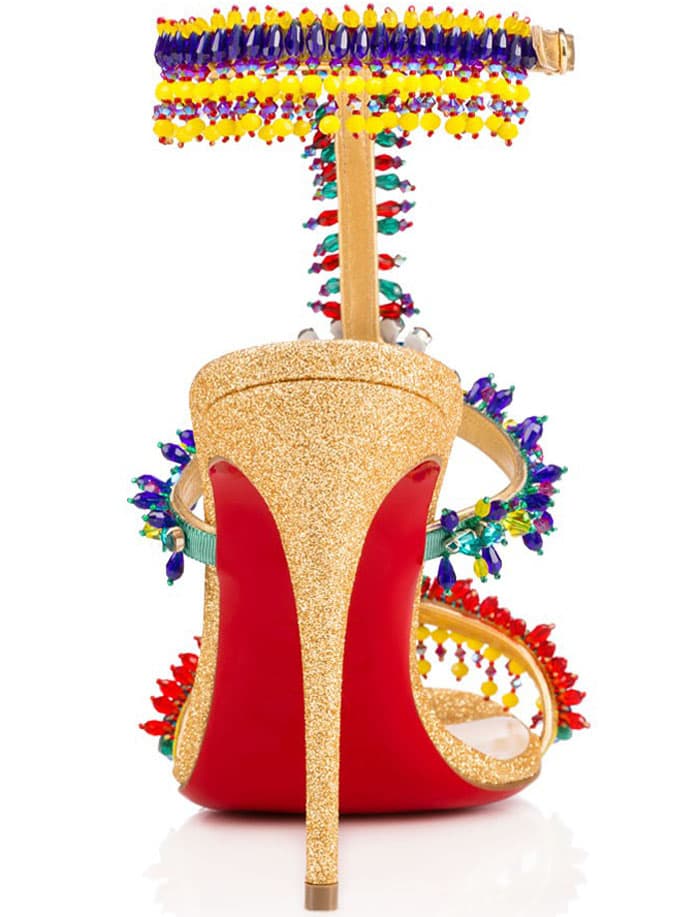 Ignite your evening ensembles with the ravishing red sole Devibroda sandals
Christian Louboutin Devibroda Embellished Sandals