At just 35 years old, Ronda Rousey has lived quite an exciting life. The famous professional wrestler has competed in multiple Olympic games and fought in two different professional leagues.
She's become a household name in recent years and has a net worth of $13 million.
Bantamweight fighters Ronda Rousey (L) of the United States and Bethe Correia of Brazil face off during Ultimate Media Day at Sheraton Hotel on July 30, 2015, in Rio de Janeiro, Brazil (Credit: A.RICARDO / Shutterstock)
Rousey initially started in competitive judo. She was named to the United States Olympic Team at 15. Then the following year, she was the youngest American to earn the national number one ranking in the women's half-middleweight division.
She didn't earn a medal at the 2004 Olympics but she did get the gold that year at the World Junior and Pan American Judo Championships.
Rousey defended her title in 2006, and in 2007 she became the first American woman to earn a World Championship medal in 12 years when she won second place.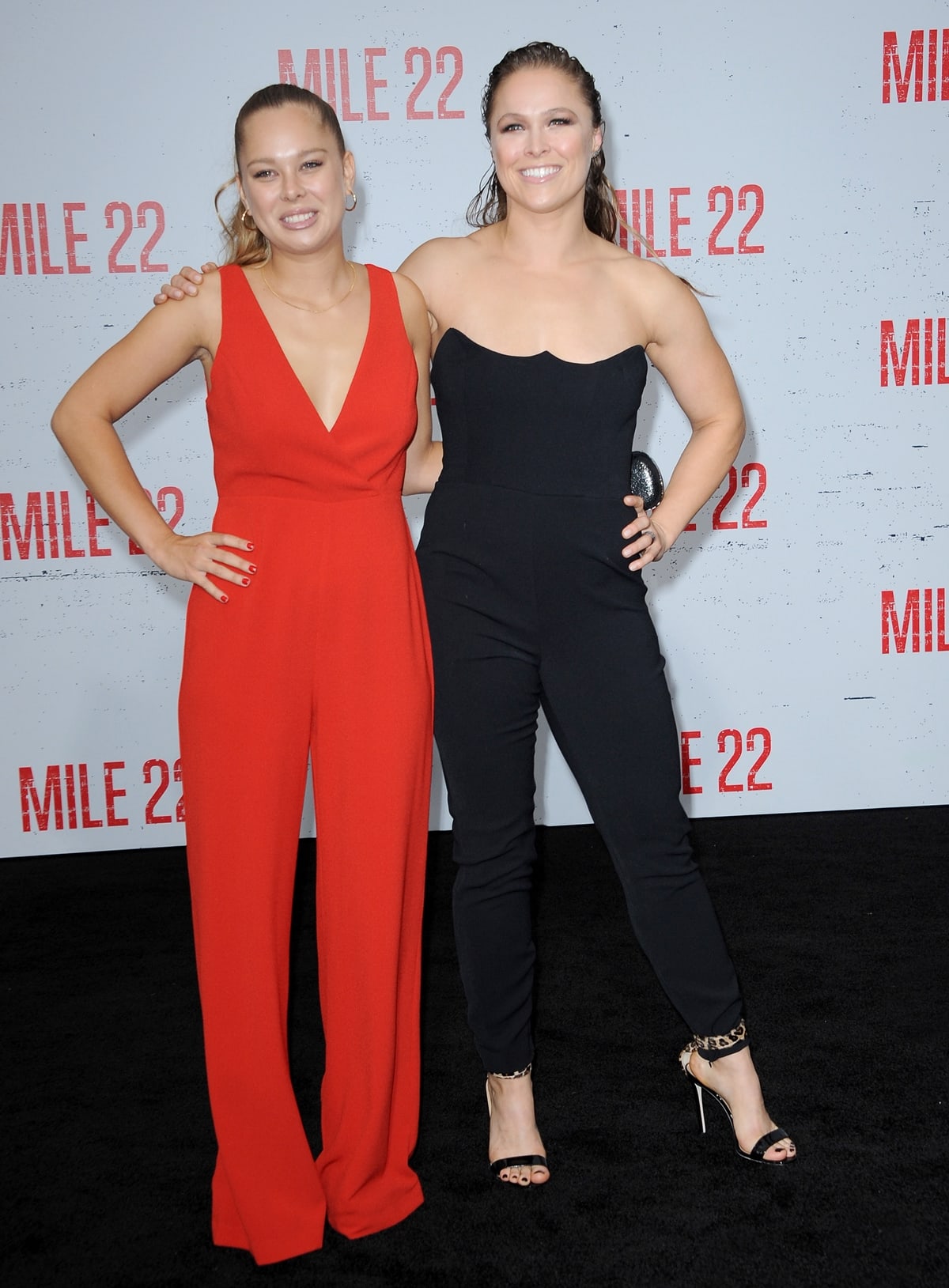 Ronda Rousey (R) and her sister Julia De Mars attend the premiere of STX Films' "Mile 22" at Westwood Village Theatre on August 9, 2018, in Westwood, California (Credit: Tinseltown / Shutterstock)
She won gold at the 2007 Pan American Games with a torn meniscus. Then she earned a bronze medal in the 2008 Olympics before retiring from judo at 21 years old.
After retiring from judo, Rousey decided to move on to mixed martial arts with the UFC. She had a good run of wins over the years and several losses. She's also appeared in movies like The Expendables 3 and Entourage.
Rousey becoming a household name definitely helped with growing the popularity of the sport. UFC 193 took place on November 14, 2015, in Melbourne, Australia. She took on competitor Holly Holm, and it would end up being UFC's most attended fight in history.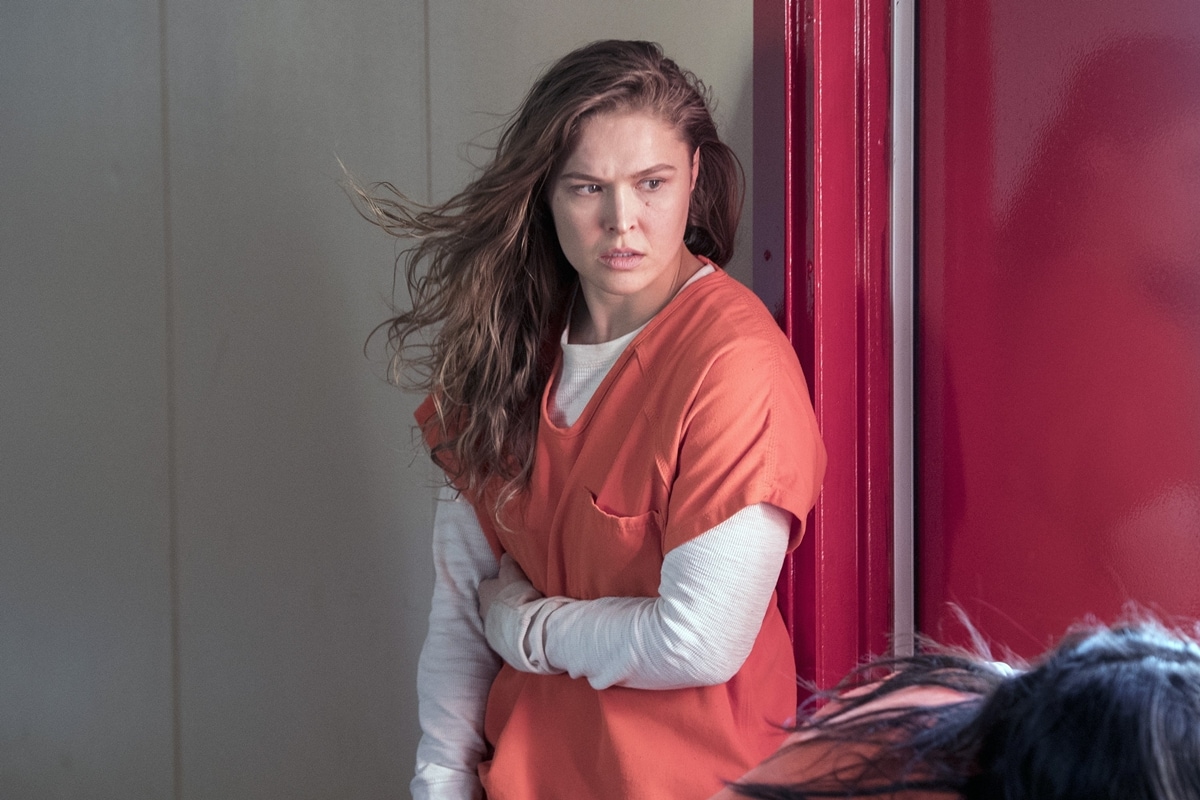 Ronda Rousey as Devon Penberthy in the American crime drama television series Blindspot (Credit: NBC)
Holm ultimately defeated Rousey in their event. Even though she lost to Holm during UFC 193, Rousey still earned a whopping $14 million in 2015 in prizes, endorsements, and more.
Eventually, Rousey's passion for UFC started to wane, so she made the move from UFC to World Wrestling Entertainment in 2018. She told ESPN "This is not a smash and grab: this is not a publicity stunt."
Ronda Rousey as herself in the 2015 American comedy film Entourage (Credit: Warner Bros. Pictures)
While she didn't rule out a return to mixed martial arts, it's clear she's enjoying her time in the WWE.
Her debut at Wrestlemania 34 was successful, and she had continued success at the Raw Women's Championship. She held the title until Becky Lynch defeated her at Wrestlemania 35 in 2019.
No matter what you think of Rousey, it's no doubt that her passions have not only earned her a lot of money but have also earned her a lot of success. We should all be so lucky to find what Rousey has.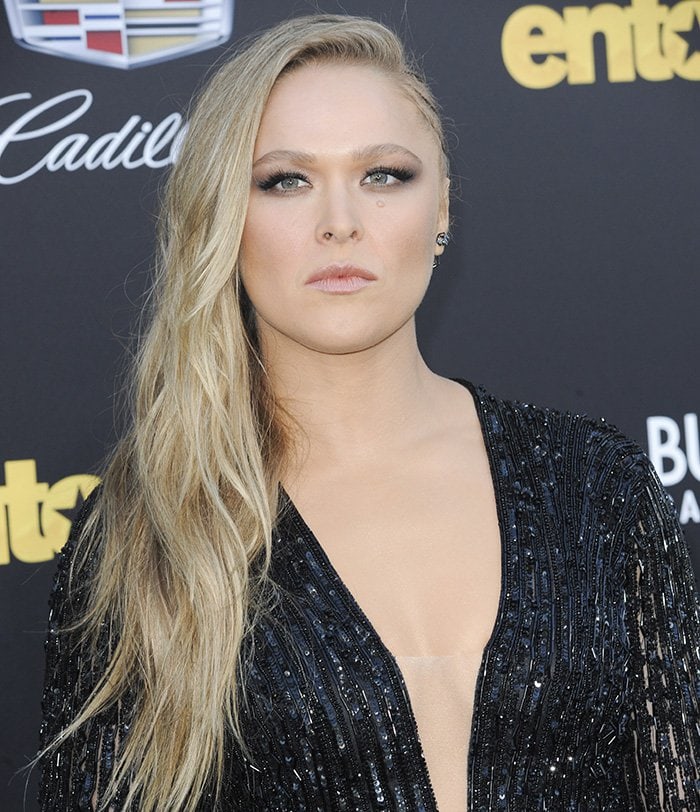 Ronda Rousey wears her blonde hair in braids at the Los Angeles premiere of Warner Bros. Pictures' "Entourage" held on June 1, 2015, at Regency Village Theatre in Westwood, California (Credit: FayesVision / Nicky Nelson / Apega / WENN)
Of course, a movie with a name like "Entourage" is going to bring out, well… an entourage.
In June 2015, several Hollywood A-listers — and some unexpected celebrities — arrived at the premiere of Warner Bros. Pictures' "Entourage," held at Regency Village Theater in Westwood, California.
UFC champion Ronda Rousey was one of those unexpected celebrities to arrive at the premiere.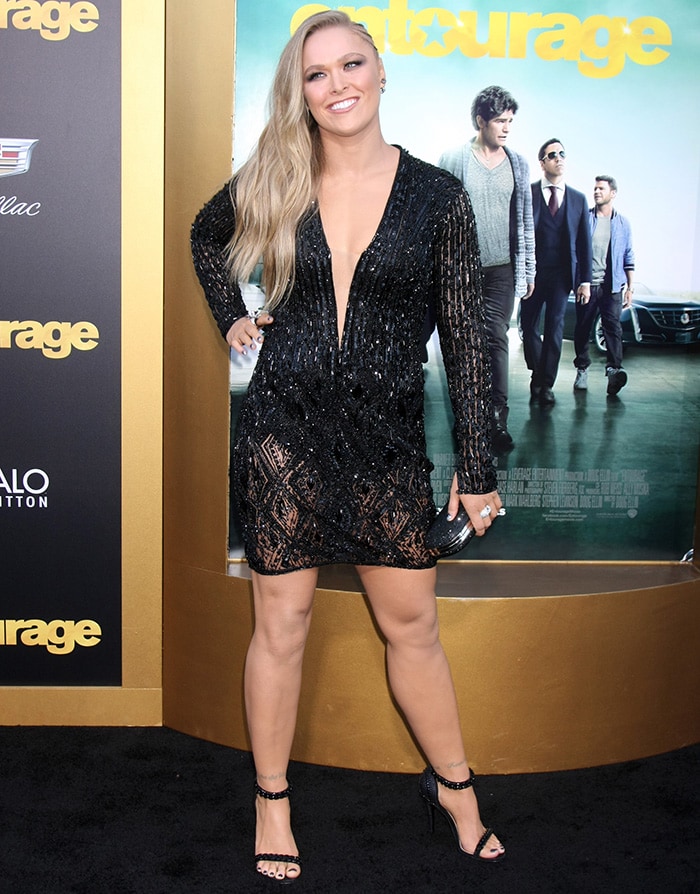 Ronda Rousey wears a glittery black dress with sheer panels (Credit: WENN)
Ronda stepped out of the ring in order to play a cameo role in the comedy-drama movie.
The then-38-year-old was busy preparing to defend her title later the same summer, but she still made time for the film's premiere.
Given that Ronda's had small roles in both "The Expendables 3" and "Furious 7," she's no stranger to red carpets.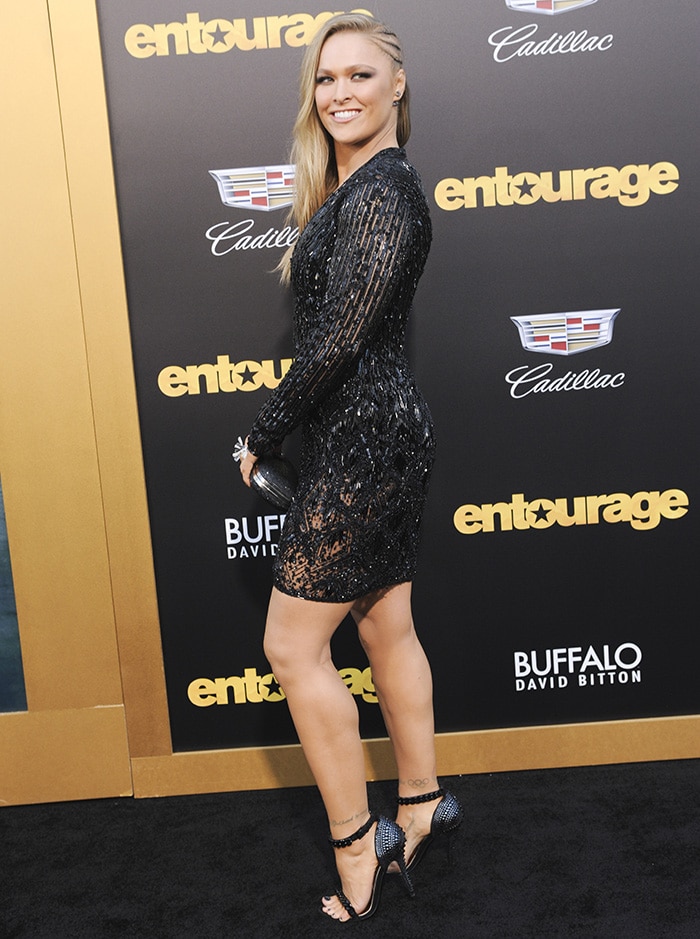 Ronda Rousey shows off her toned legs in a glittery black dress (Credit: WENN)
Ronda showed off her chest and legs in a black sequined frock that featured a deep v-neckline, sheer sleeves, and a sheer skirt.
She wore her blonde hair swept to the side and partially cornrowed and kept her makeup simple.
Travis Browne's wife accessorized with stud earrings, metallic nail polish, statement rings, and a black clutch.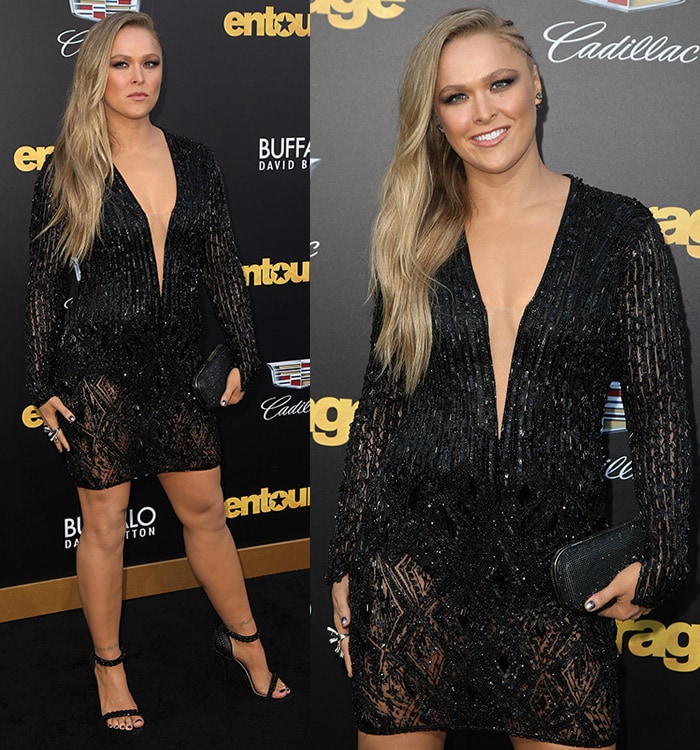 Ronda Rousey wears all black and carries a clutch to the premiere of Entourage (Credit: WENN)
Ronda completed her fierce and daring look by showing off her tattooed feet in a pair of black Fergie "Razor" sandals.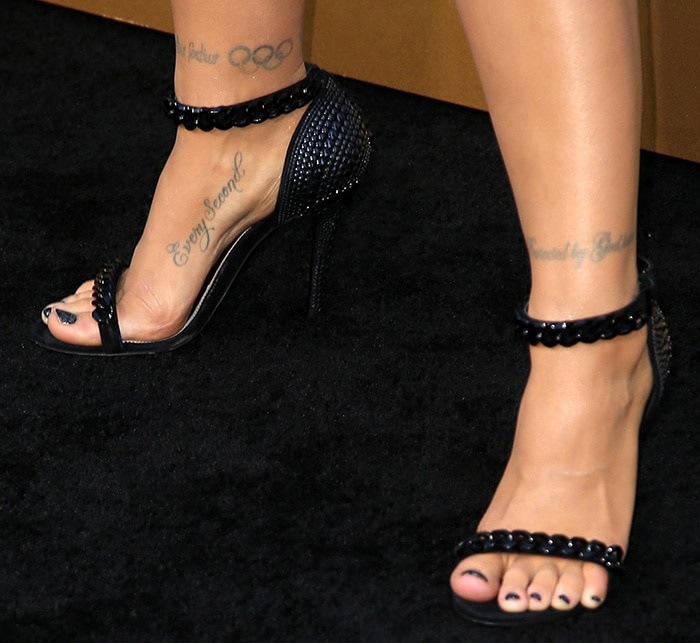 Ronda Rousey's feet and foot tattoos in black Fergie sandals (Credit: WENN)
These faux leather shoes feature chain embellishments on the front and adjustable ankle straps, studded heel counters, and about 4.75-inch studded heels.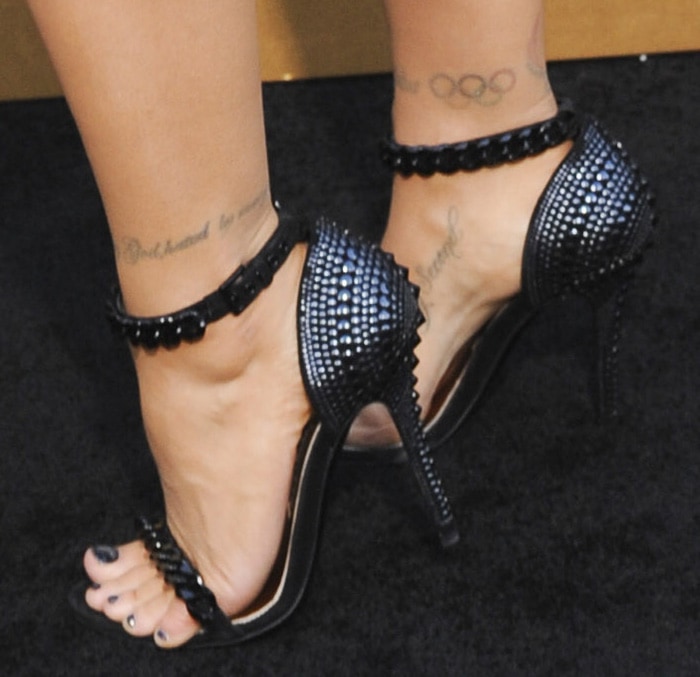 Ronda Rousey's feet and foot tattoos in embellished "Razor" sandals (Credit: WENN)
How do you like Ronda Rousey's outfit? You can purchase her Fergie heels in black-and-white and black-and-gold at Zappos.
We spotted them on Fergie herself at the 2014 Emery Awards in November 2014.
Studded Fergie "Razor" Ankle-Strap Sandals, $27.75 – $92.96