Even tough girls know how to love.
UFC fighter Ronda Rousey may beat people up left and right for work — and has jokingly (?) talked about how she would beat Kim Kardashian up for being famous over a sex video — but the athlete still has a soft side to her.
Ronda Rousey wears her hair down at the 20th anniversary of the "Erasing the Stigma" Leadership Awards held on April 28, 2016, in Los Angeles (Credit: WENN)
In April 2016, Ronda was spotted with her boyfriend of several months, fellow UFC fighter Travis Browne, on the red carpet of "Erasing the Stigma" Leadership Awards in Los Angeles.
They met in 2013 while training at the Glendale Fighting Club, though they only confirmed their relationship in 2015.
"It's true that Travis and I are in a relationship," she told ESPN. "I've really enjoyed the time we have spent together and getting to know one another. And that's all I'm going to say about it."
"She's my woman, and I'm her man," he added. "There's no boyfriend-girlfriend stuff. There's no dating. We're together."
Ronda Rousey wears a black-and-white geometric dress on the red carpet (Credit: WENN)
Ronda showed up in a black-and-white ensemble, which featured a geometrical dress with an off-shoulder cut held up with a strap.
The fighter styled her look with a dainty reptile-embossed purse and showed off her tattooed feet in Givenchy "Nadia" patent sandals that Amanda Seyfried wore in black at 'The Last Word' premiere.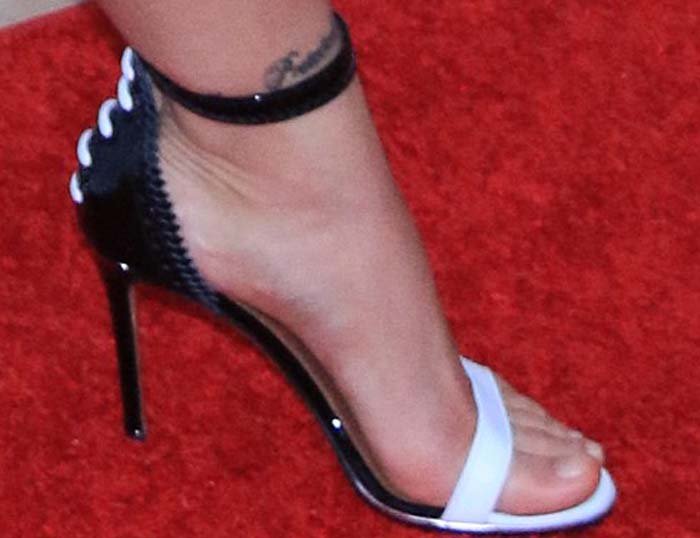 Ronda Rousey's feet and ankle tattoos in black-and-white Givenchy sandals (Credit: WENN)
Ronda was visibly giddy and giggly as she cuddled up next to Travis on the red carpet.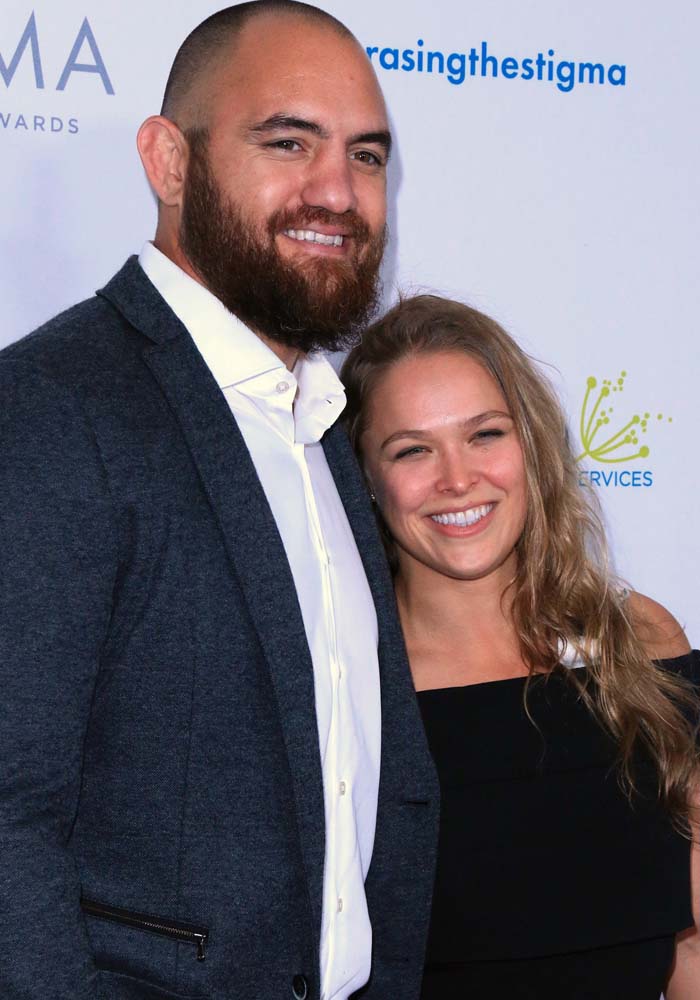 Ronda Rousey and boyfriend Travis Browne pose for photos on the red carpet (Credit: WENN)
Later on, Ronda briefly explained that she needed to take photos with other people, which Travis gave her a quick goodbye kiss for.
In August 2017, the couple announced that they'd married in Hawaii.
"What an amazing day!! She is so perfect in every way! She makes me so happy! She is my other half! I Love You @rondarousey #browsey2017″, he captioned their wedding photo.
View this post on Instagram
In September 2021, Ronda Rousey announced the birth of her first child with her husband, Travis Browne. Their daughter, La'akea Makalapuaokalanipo Browne, was born on September 27, 2021, in Venice, California.
Travis is also the father of two sons, Keawe and Kaleo, from his relationship with ex-wife Erin Browne, with whom he was married until 2009.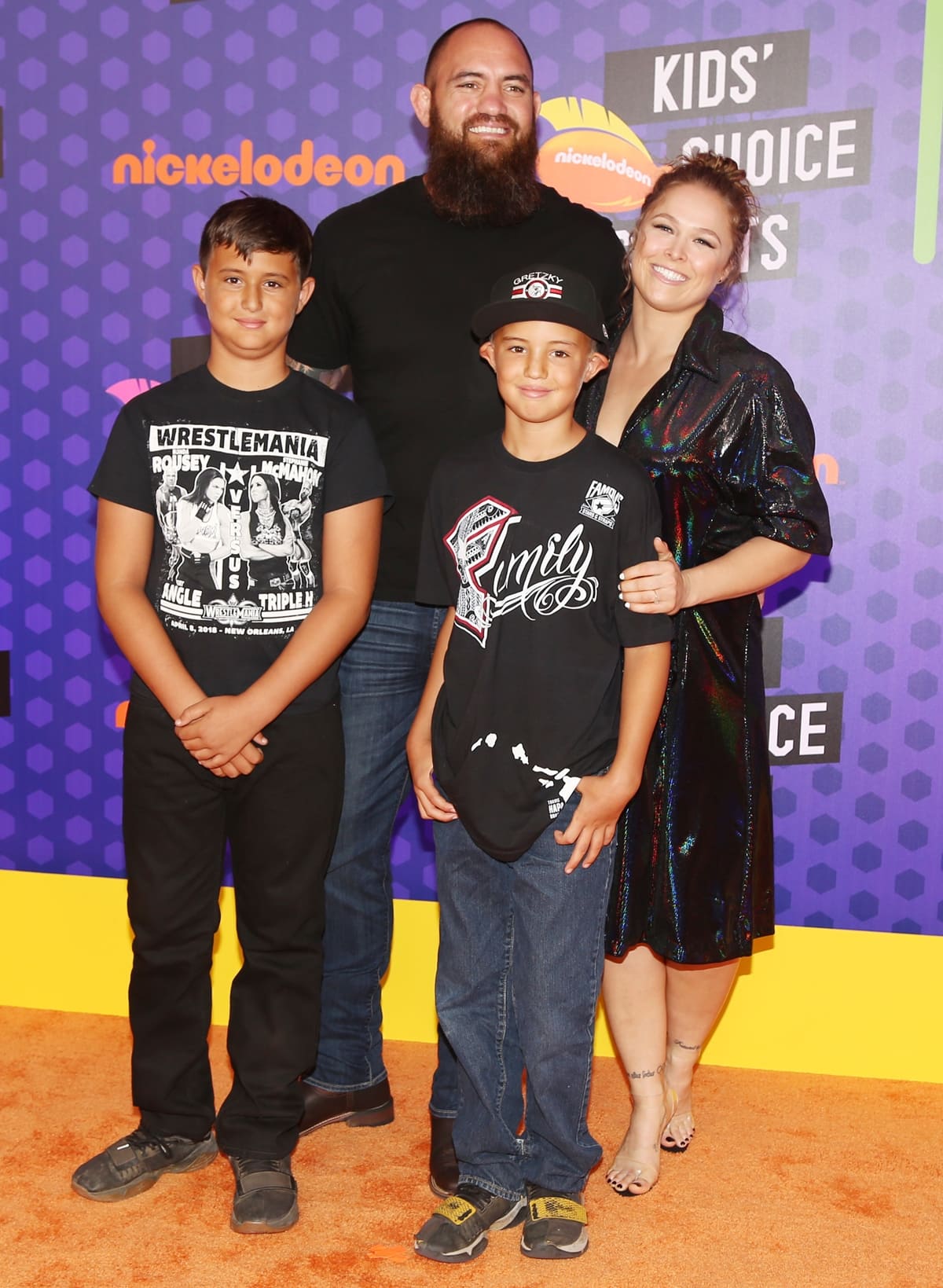 WWE wrestler Ronda Rousey and mixed martial artist Travis Browne with his sons Keawe and Kaleo at the Nickelodeon Kids' Choice Sports Awards 2018 at Barker Hangar on July 19, 2018, in Santa Monica, California (Credit: Milla Cochran / Startraksphoto)
"I was just by myself and a bachelorette completely content to be like, 'Ok, there's nobody out there for me,'" Rousey told E! online about becoming a mother.
"And then it went from that, looking out for number one, to completely an entire family. It taught me how much joy I can get in not really thinking about myself."
"I swore on my life that I would never cook for a man," Rousey added. "And Trav has completely changed my whole mind about everything. He did that not by ever asking me to cook, but for cooking for me for the first year-and-a-half we were together."
View this post on Instagram
Born on July 17, 1982, in Honolulu, Hawaii, Travis Kuualiialoha Browne is five years older than his wife, who was born on February 1, 1987, in Riverside, the fourth largest county in California.
Ronda Rousey measures 5ft 5 (165.1 cm) and is much shorter than her husband, who is 6′ 7″ (200 cm).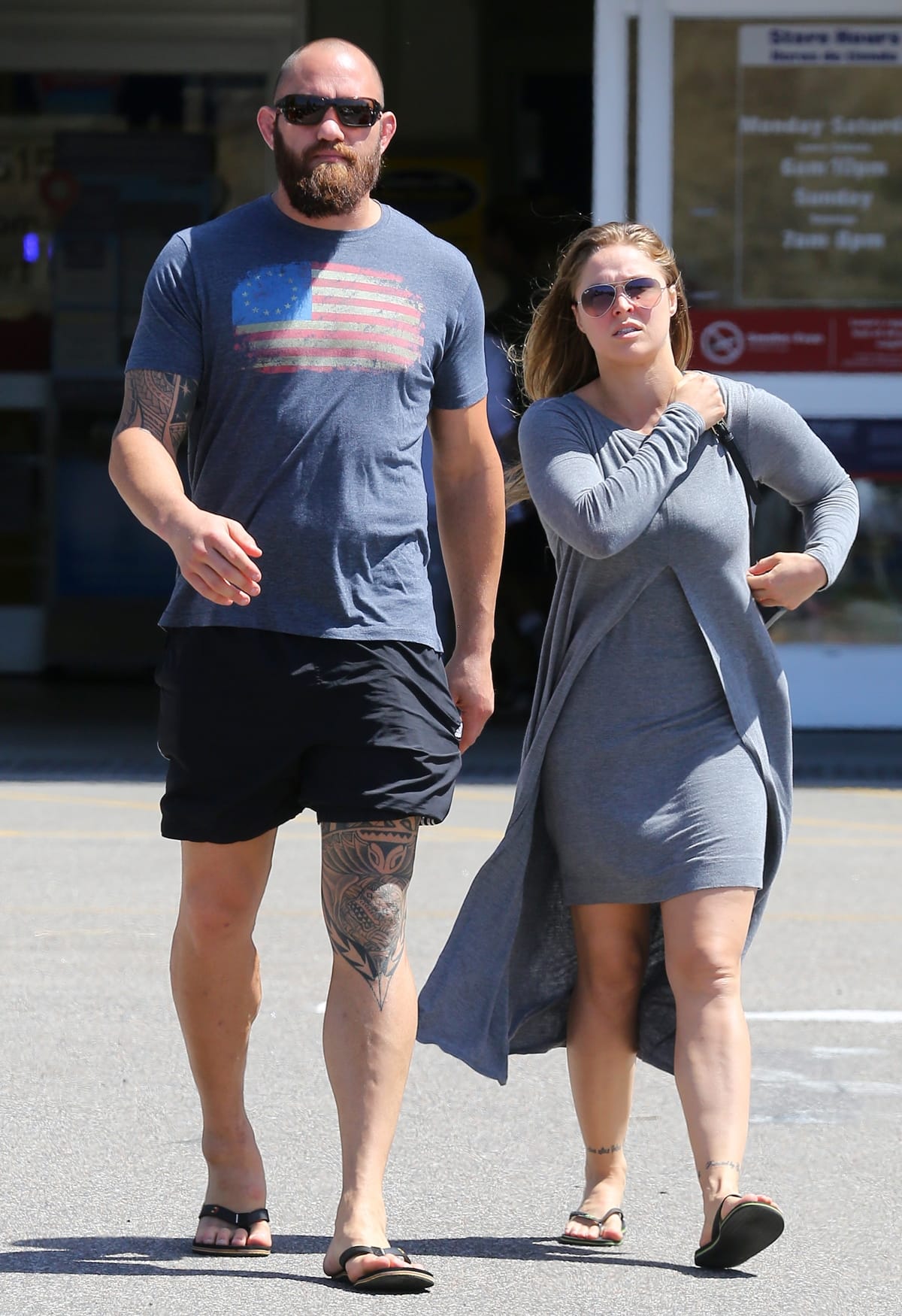 Ronda Jean Rousey is five years younger and much shorter than her husband, Travis Kuualiialoha Browne (Credit: Sasha Lazic / INFphoto)
You can order Ronda's embossed patent Givenchy "Nadia" heels at Farfetch and SSENSE.
Black and White Givenchy "Nadia" Leather Sandals, $950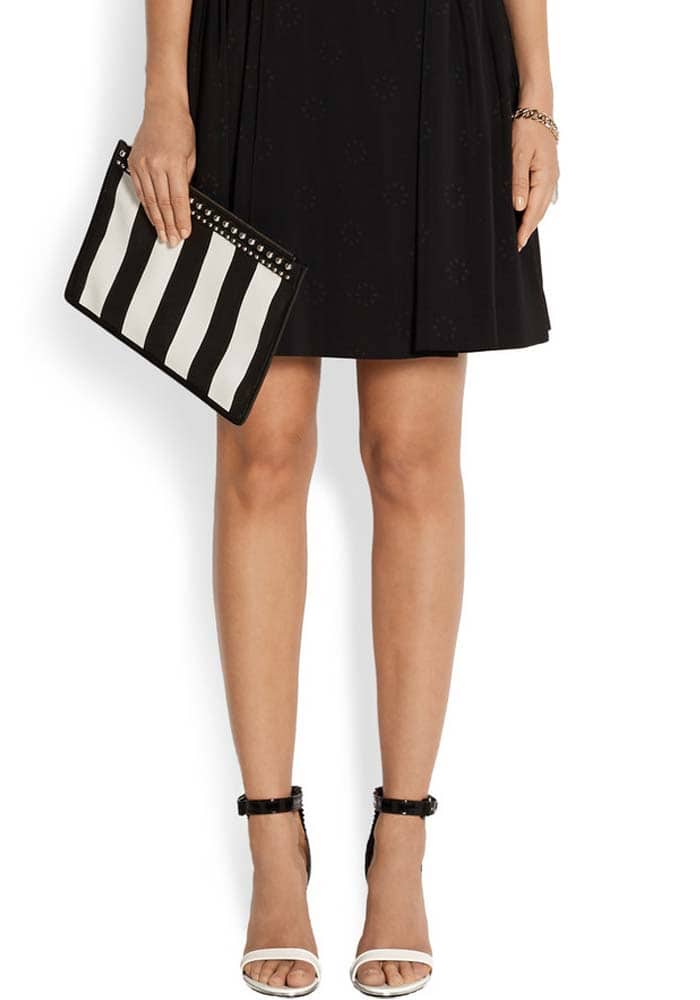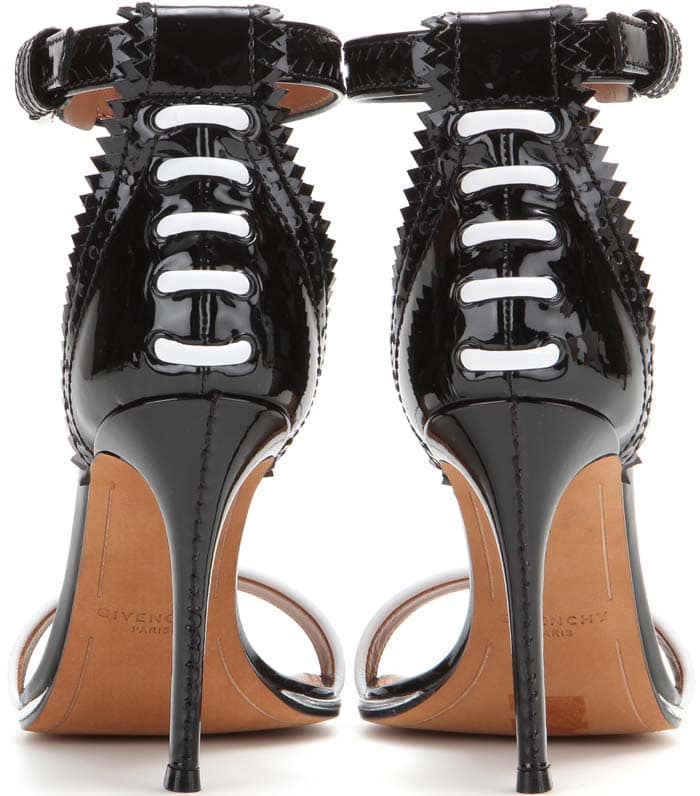 Givenchy's 'Nadia' sandals get a sporty and sleek makeover with monochrome color-blocking